Abstract
The design of biocompatible porous scaffolds that encourage cell adhesion for corneal tissue engineering applications continues to be challenging. In addition to porous hydrogels, nanofibers that can simulate the extracellular matrix structure for cell adhesion would be beneficial. Graphite and nano-hydroxyapatite (nHA) are two bioactive materials that have been used to improve cell adhesion in scaffolds for corneal tissue engineering. In this study, nanofibers were fabricated from hydroxyethyl cellulose and polyvinyl alcohol (PVA) and cross-linked by glutaraldehyde bound to graphite and nano-hydroxyapatite. This scaffold surrounded a transparent hydrogel core from PVA that was cross-linked by freeze-thawing cycles. The chemical and mechanical evaluations demonstrated that nanofibers met the requirements as a scaffold for corneal tissue engineering. The results showed that when the concentration of nHA was approximately 1.66 wt%, the morphology of human epithelial cells did not change, and clot formation occurred around the scaffold during the 1-week in vivo implantation.
Graphic Abstract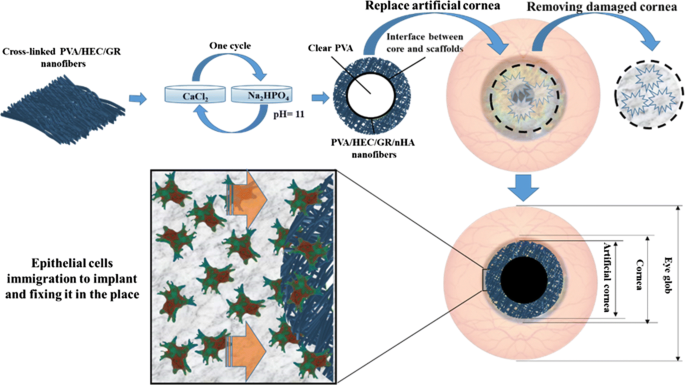 This is a preview of subscription content, log in to check access.
Access options
Buy single article
Instant access to the full article PDF.
US$ 39.95
Tax calculation will be finalised during checkout.
Subscribe to journal
Immediate online access to all issues from 2019. Subscription will auto renew annually.
US$ 199
Tax calculation will be finalised during checkout.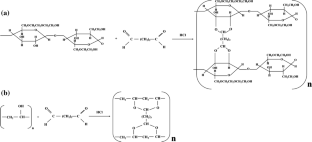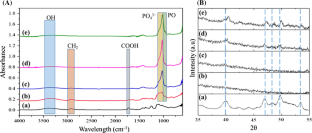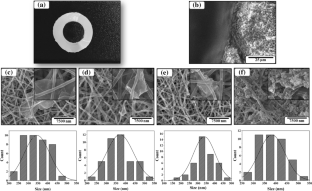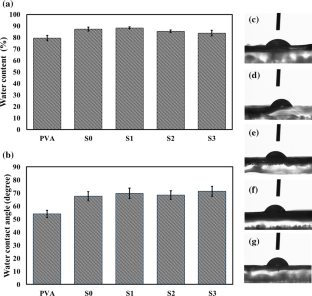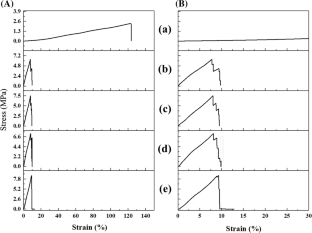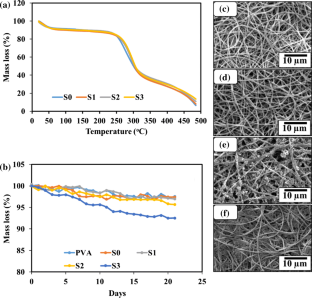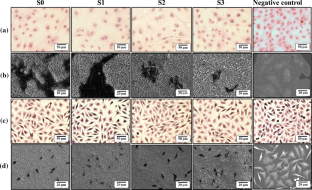 References
Chahal S, Hussain FSJ, Kumar A, Yusoff MM, Rasad MSBA (2015) Electrospun hydroxyethyl cellulose nanofibers functionalized with calcium phosphate coating for bone tissue engineering. RSC Adv 5:29497–29504

Chahal S, Hussain FSJ, Kumar A, Rasad MSBA, Yusoff MM (2016) Fabrication, characterization and in vitro biocompatibility of electrospun hydroxyethyl cellulose/poly (vinyl) alcohol nanofibrous composite biomaterial for bone tissue engineering. Chem Eng Sci 144:17–29

Chahal S, Hussain FSJ, Yusoff MM, Abdull Rasad MSB, Kumar A (2017) Nanohydroxyapatite-coated hydroxyethyl cellulose/poly (vinyl) alcohol electrospun scaffolds and their cellular response. Int J Polym Mater Polym Biomater 66:115–122

Chaouat M, Le Visage C, Baille WE, Escoubet B, Chaubet F, Mateescu MA, Letourneur DJM (2008) A novel cross‐linked poly (vinyl alcohol)(PVA) for vascular grafts. Adv Func Mater 18:2855–2861

Destaye AG, Lin CK, Lee CK (2013) Glutaraldehyde vapor cross-linked nanofibrous PVA mat with in situ formed silver nanoparticles. ACS Appl Mater Interfaces 5(11):4745–4752

Dutta D, Zhao T, Cheah KB, Holmlund L, Willcox MD (2017) Activity of a melimine derived peptide Mel4 against Stenotrophomonas, Delftia, Elizabethkingia, Burkholderia and biocompatibility as a contact lens coating. Contact Lens Anterior Eye 40:175–183

Evans MD, Chaouk H, Wilkie JS, Dalton BA, Taylor S, Xie RZ, Hughes TC, Johnson G, Mcfarland GA, Griesser HHJB (2011) The influence of surface topography of a porous perfluoropolyether polymer on corneal epithelial tissue growth and adhesion. Biomaterials 32:8870–8879

Fenglan X, Yubao L, Xiaoming Y, Hongbing L, Li Z (2007) Preparation and in vivo investigation of artificial cornea made of nano-hydroxyapatite/poly (vinyl alcohol) hydrogel composite. J Mater Sci - Mater Med 18:635–640

Gu M, Wang K, Li W, Qin C, Wang J-J, Dai L (2011) Preparation and characterization of PVA/PU blend nanofiber mats by dual-jet electrospinning. Fibers Polym 12:65–72

Hassan MI, Sultana N (2017) Characterization, drug loading and antibacterial activity of nanohydroxyapatite/polycaprolactone (nHA/PCL) electrospun membrane. 3 Biotech 7:249

Jiang S, Liu S, Feng W (2011) PVA hydrogel properties for biomedical application. J Mech Behav Biomed Mater 4:1228–1233

Khan MQ, Kharaghani D, Nishat N, Shahzad A, Yamamoto T, Inoue Y, Kim IS (2019) In vitro assessment of dual-network electrospun tubes from poly (1, 4 cyclohexane dimethylene isosorbide terephthalate)/PVA hydrogel for blood vessel application. J Appl Polym Sci 136:47222

Kharaghani D, Meskinfam M, Rezaeikanavi M, Balagholi S, Fazili NJIO, Science V (2015) Synthesis and characterization of hybrid nanocomposite via biomimetic method as an artificial cornea. Invest Ophthalmol Vis Sci 56:5024

Kharaghani D, Khan MQ, Tamada Y, Ogasawara H, Inoue Y, Saito Y, Hashmi M, Kim IS (2018) Fabrication of electrospun antibacterial PVA/Cs nanofibers loaded with CuNPs and AgNPs by an in situ method. Polym Testing 72:315–321

Kharaghani D, Gitigard P, Ohtani H, Kim KO, Ullah S, Saito Y, Khan MQ, Kim ISJSR (2019a) Design and characterization of dual drug delivery based on in situ assembled PVA/PAN core-shell nanofibers for wound dressing application. Sci Rep 9:1–11

Kharaghani D, Lee H, Ishikawa T, Nagaishi T, Kim SH, Kim ISJTRJ (2019b) Comparison of fabrication methods for the effective loading of Ag onto PVA nanofibers. Text Res J 89:625–634

Kobayashi H, Kato M, Taguchi T, Ikoma T, Miyashita H, Shimmura S, Tsubota K, Tanaka J (2004) Collagen immobilized PVA hydrogel–hydroxyapatite composites prepared by kneading methods as a material for peripheral cuff of artificial cornea. Mater Sci Eng, C 24:729–735

Kong B, Mi SJM (2016) Electrospun scaffolds for corneal tissue engineering: a review. Materials 9:614

Lee H, Xu G, Kharaghani D, Nishino M, Song KH, Lee JS, Kim IS (2017) Electrospun tri-layered zein/PVP-GO/zein nanofiber mats for providing biphasic drug release profiles. Int J Pharm 531:101–107

Li M, Guo Y, Wei Y, Macdiarmid AG, Lelkes PIJB (2006) Electrospinning polyaniline-contained gelatin nanofibers for tissue engineering applications. Biomaterials 27:2705–2715

Li B, Kan L, Zhang X, Li J, Li R, Gui Q, Qiu D, He F, Ma N, Wang Y (2017) Biomimetic bone-like hydroxyapatite by mineralization on supramolecular porous fiber networks. Langmuir 33:8493–8502

Lin R-R, Mao X, Yu Q-C, Tan B-H (2007) Preparation of bioactive nano-hydroxyapatite coating for artificial cornea. Curr Appl Phys 7:e85–e89

Liu K, Li Y, Xu F, Zuo Y, Zhang L, Wang H, Liao J (2009) Graphite/poly (vinyl alcohol) hydrogel composite as porous ringy skirt for artificial cornea. Mater Sci Eng, C 29:261–266

Miles DH, Thakur A, Cole N, Willcox MD (2007) The induction and suppression of the apoptotic response of HSV-1 in human corneal epithelial cells. Invest Ophthalmol Vis Sci 48:789–796

Myung D, Duhamel PE, Cochran JR, Noolandi J, Ta CN, Frank CW (2008) Development of hydrogel-based keratoprostheses: a materials perspective. Biotechnol Prog 24:735–741

Nuttelman CR et al (2001) Attachment of fibronectin to poly (vinyl alcohol) hydrogels promotes NIH3T3 cell adhesion, proliferation, and migration. J Biomed Mater Res 57:217–223

Ozcelik B, Ho KKK, Glattauer V, Willcox M, Kumar N, Thissen H (2016) Poly (ethylene glycol)-based coatings combining low-biofouling and quorum-sensing inhibiting properties to reduce bacterial colonization. ACS Biomater Sci Eng 3:78–87

Park YR, Ju HW, Lee JM, Kim DK, Lee OJ, Moon BM, Park HJ, Jeong JY, Yeon YK, Park CH (2016) Three-dimensional electrospun silk-fibroin nanofiber for skin tissue engineering. Int J Biol Macromol 93:1567–1574

Parke-Houben R, Fox CH, Zheng LL, Waters DJ, Cochran JR, Ta CN, Frank CW (2015) Interpenetrating polymer network hydrogel scaffolds for artificial cornea periphery. J Mater Sci - Mater Med 26:107

Pennington MR, Capriotti JA, Van de Walle GR (2018) In vitro efficacy of povidone iodine and hydroxyethyl cellulose, alone and in combination, against common feline ocular pathogens. Vet J 241:38–41

Pino M, Stingelin N, Tanner K (2008) Nucleation and growth of apatite on NaOH-treated PEEK, HDPE and UHMWPE for artificial cornea materials. Acta Biomater 4:1827–1836

Pollack SV (1984) The wound healing process. Clin Dermatol 2:8–16

Qian D, Chen D, Jin G, Tian HJCJOTER (2017) Biocompatibility of modified nano-hydroxyapatite/polyvinyl alcohol porous composite hydrogel as an artificial corneal material. Chin J Tissue Eng Res 21:3541–3546

Rošic R, Kocbek P, Baumgartner S, Kristl J (2011) Electro-spun hydroxyethyl cellulose nanofibers: the relationship between structure and process. J Drug Deliv Sci Technol 21:229–236

Sinha A, Guha A (2009) Biomimetic patterning of polymer hydrogels with hydroxyapatite nanoparticles. Mater Sci Eng, C 29:1330–1333

Sinha M, Gupte T (2018) Design and evaluation of artificial cornea with core–skirt design using polyhydroxyethyl methacrylate and graphite. Int Ophthalmol 38:1225–1233

Soares PI, Echeverria C, Baptista AC, João CF, Fernandes SN, Almeida AP, Silva JC, Godinho MH, Borges JP (2017) Hybrid polymer composite materials, vol 4. Elsevier, Amsterdam, p 107

Sroka-Bartnicka A, Borkowski L, Ginalska G, Ślósarczyk A, Kazarian SG (2017) Structural transformation of synthetic hydroxyapatite under simulated in vivo conditions studied with ATR-FTIR spectroscopic imaging. Spectrochim Acta Part A Mol Biomol Spectrosc 171:155–161

Tanpichai S, Oksman K (2016) Cross-linked nanocomposite hydrogels based on cellulose nanocrystals and PVA: mechanical properties and creep recovery. Compos A Appl Sci Manuf 88:226–233

Wallin RF, Arscott E (1998) A practical guide to ISO 10993-5: cytotoxicity. Med Dev Diagn Ind 20:96–98

Wang J, Gao C, Zhang Y, Wan Y (2010) Preparation and in vitro characterization of BC/PVA hydrogel composite for its potential use as artificial cornea biomaterial. Mater Sci Eng, C 30:214–218

Yamaguchi K, Prabakaran M, Ke M, Gang X, Chung IM, Um IC, Gopiraman M, Kim IS (2016) Highly dispersed nanoscale hydroxyapatite on cellulose nanofibers for bone regeneration. Mater Lett 168:56–61

Yan L, Zhao B, Liu X, Li X, Zeng C, Shi H, Xu X, Lin T, Dai L, Liu Y (2016) Aligned nanofibers from polypyrrole/graphene as electrodes for regeneration of optic nerve via electrical stimulation. ACS Appl Mater Interfaces 8:6834–6840

Zajaczkowski MB, Cukierman E, Galbraith CG, Yamada KM (2003) Cell-matrix adhesions on poly (vinyl alcohol) hydrogels. Tissue Eng 9:525–533

Zhou H, Wang Z, Cao H, Hu H, Luo Z, Yang X, Cui M, Zhou LJJOBS, Edition Polymer (2019) Genipin-crosslinked polyvinyl alcohol/silk fibroin/nano-hydroxyapatite hydrogel for fabrication of artificial cornea scaffolds—a novel approach to corneal tissue engineering. J Biomater Sci Polym Ed 30:1–16

Zulkifli FH, Hussain FSJ, Harun WSW, Yusoff MM (2019) Highly porous of hydroxyethyl cellulose biocomposite scaffolds for tissue engineering. Int J Biol Macromol 122:562–571
Ethics declarations
Conflict of interest
The authors declare that they have no conflict of interest.
Additional information
Publisher's Note
Springer Nature remains neutral with regard to jurisdictional claims in published maps and institutional affiliations.
About this article
Cite this article
Kharaghani, D., Dutta, D., Ho, K.K.K. et al. Active loading graphite/hydroxyapatite into the stable hydroxyethyl cellulose scaffold nanofibers for artificial cornea application. Cellulose 27, 3319–3334 (2020). https://doi.org/10.1007/s10570-020-02999-w
Received:

Accepted:

Published:

Issue Date:
Keywords
Artificial cornea

Epithelization

Corneal tissue engineering

Biocompatible scaffolds

Cross-linking