Abstract
The goal of this work was to synthesize hybrid thin films prepared combining polyamide-6 (N6) and microcellulose (CE) at various weight ratios. Products exhibited improved mechanical properties, temperature-tunable hydrophilicity, and antimicrobial features. The obtained N6@CE films were grafted with N-vinylcaprolactam (NVCL) using gamma-rays, providing temperature responsiveness in a range of 37–38 °C. The grafting degree was studied as a function of CE percentage on the film, monomer concentration, and absorbed dose. The grafting degree increased with the percentage of CE on the film, and the maximum grafting was achieved at monomer concentration and the irradiation dose of 20% NVCL and 20 kGy, respectively. NVCL grafting was confirmed by SEM, 13C-CPMAS NMR, FTIR-ATR, and XPS. SEM images attested formation of nanopores on the structure, caused by the grafting process, that consequently triggering on the new characteristics of the final materials. Potential performance of the composites as wound dressings was investigated in terms of their capability to loading and release of antimicrobial agents, such as vancomycin and benzalkonium chloride. NVCL grafting enhanced the uptake of both drugs, especially benzalkonium chloride, and regulated their release demonstrating antimicrobial effectiveness against Staphylococcus aureus.
Graphic abstract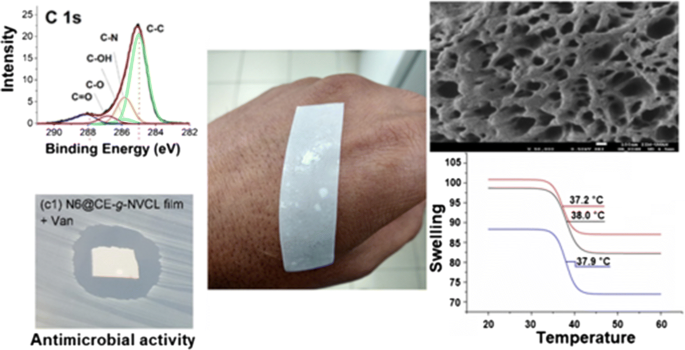 Access options
Buy single article
Instant access to the full article PDF.
US$ 39.95
Tax calculation will be finalised during checkout.
Subscribe to journal
Immediate online access to all issues from 2019. Subscription will auto renew annually.
US$ 119
Tax calculation will be finalised during checkout.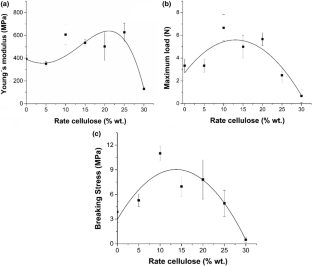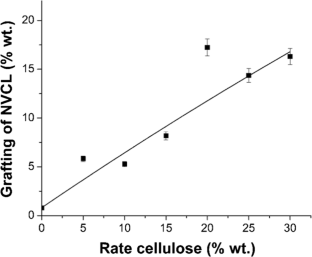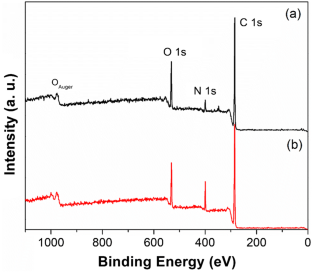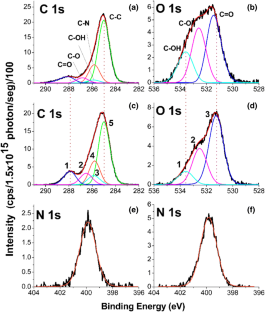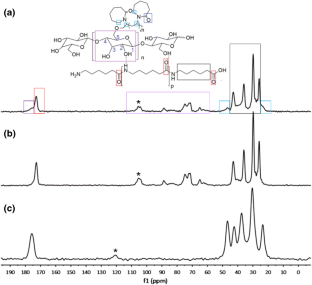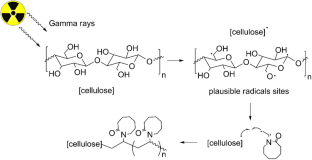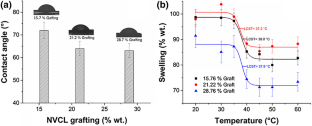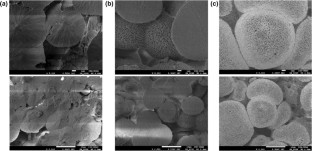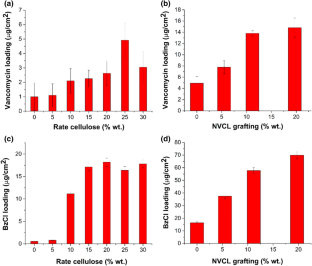 References
Abdal-hay A, Hamdy AS, Khalil KA (2015) Fabrication of durable high performance hybrid nanofiber scaffolds for bone tissue regeneration using a novel, simple in situ deposition approach of polyvinyl alcohol on electrospun nylon 6 nanofibers. Mater Lett 147:25–28. https://doi.org/10.1016/j.matlet.2015.02.005

Arciola CR, Campoccia D, Speziale P et al (2012) Biofilm formation in Staphylococcus implant infections. A review of molecular mechanisms and implications for biofilm-resistant materials. Biomaterials 33:5967–5982. https://doi.org/10.1016/j.biomaterials.2012.05.031

Cai T, Li M, Zhang B et al (2014) Hyperbranched polycaprolactone-click-poly(N-vinylcaprolactam) amphiphilic copolymers and their applications as temperature-responsive membranes. J Mater Chem B 2:814–825. https://doi.org/10.1039/C3TB20752H

Cappannella E, Benucci I, Lombardelli C et al (2016) Immobilized lysozyme for the continuous lysis of lactic bacteria in wine: bench-scale fluidized-bed reactor study. Food Chem 210:49–55. https://doi.org/10.1016/j.foodchem.2016.04.089

Cedillo G, Bucio E (2015) Solid state NMR analysis of two grafted biopolymers. MRS Proc 1767:113–118. https://doi.org/10.1557/opl.2015.234

Cortez-Lemus NA, Licea-Claverie A (2016) Poly(N-vinylcaprolactam), a comprehensive review on a thermoresponsive polymer becoming popular. Prog Polym Sci 53:1–51. https://doi.org/10.1016/j.progpolymsci.2015.08.001

Dash S, Murthy PN, Nath L, Chowdhury P (2010) Kinetic modeling on drug release from controlled drug delivery systems. Acta Pol Pharm 67:217–223

Dubovik AS, Makhaeva EE, Grinberg VY, Khokhlov AR (2005) Energetics of cooperative transitions of N-vinylcaprolactam polymers in aqueous solutions. Macromol Chem Phys 206:915–928. https://doi.org/10.1002/macp.200400554

Flores-Rojas GG, López-Saucedo F, Bucio E (2018) Gamma-irradiation applied in the synthesis of metallic and organic nanoparticles: a short review. Radiat Phys Chem. https://doi.org/10.1016/j.radphyschem.2018.08.011

Flores-Rojas GG, Pino-Ramos VH, López-Saucedo F et al (2017) Improved covalent immobilization of lysozyme on silicone rubber-films grafted with poly(ethylene glycol dimethacrylate-co-glycidylmethacrylate). Eur Polym J 95:27–40. https://doi.org/10.1016/j.eurpolymj.2017.07.040

Fusco NM, Meaney CJ, Wells C et al (2018) Vancomycin versus vancomycin plus rifampin for the treatment of acute pulmonary exacerbations of cystic fibrosis. J Pediatr Pharmacol Ther 23:125–131. https://doi.org/10.5863/1551-6776-23.2.125

García-Vargas M, González-Chomón C, Magariños B et al (2014) Acrylic polymer-grafted polypropylene sutures for covalent immobilization or reversible adsorption of vancomycin. Int J Pharm 461:286–295. https://doi.org/10.1016/j.ijpharm.2013.11.060

Harding JL, Reynolds MM (2014) Combating medical device fouling. Trends Biotechnol 32:140–146. https://doi.org/10.1016/j.tibtech.2013.12.004

Hiriart-Ramírez E, Contreras-García A, Garcia-Fernandez MJ et al (2012) Radiation grafting of glycidyl methacrylate onto cotton gauzes for functionalization with cyclodextrins and elution of antimicrobial agents. Cellulose 19:2165–2177. https://doi.org/10.1007/s10570-012-9782-5

Jabur AR (2017) Antibacterial activity and heavy metal removal efficiency of electrospun medium molecular weight chitosan/nylon-6 nanofibre membranes. Biomed Mater 13:15010. https://doi.org/10.1088/1748-605x/aa9256

Ji Y, Zhu M, Gong Y et al (2017) Thermoresponsive polymers with lower critical solution temperature- or upper critical solution temperature-type phase behaviour do not induce toxicity to human endothelial cells. Basic Clin Pharmacol Toxicol 120:79–85. https://doi.org/10.1111/bcpt.12643

Joshi MK, Tiwari AP, Maharjan B et al (2016) Cellulose reinforced nylon-6 nanofibrous membrane: fabrication strategies, physicochemical characterizations, wicking properties and biomimetic mineralization. Carbohydr Polym 147:104–113. https://doi.org/10.1016/j.carbpol.2016.02.056

Kiziltas A, Gardner DJ, Han Y, Yang H-S (2014) Mechanical properties of microcrystalline cellulose (MCC) filled engineering thermoplastic composites. J Polym Environ 22:365–372. https://doi.org/10.1007/s10924-014-0676-5

Kiziltas EE, Yang H-S, Kiziltas A et al (2016) Thermal analysis of polyamide 6 composites F filled by natural fiber blend. Bioresources. https://doi.org/10.15376/biores.11.2.4758-4769

Korsmeyer RW, Gurny R, Doelker E et al (1983) Mechanisms of solute release from porous hydrophilic polymers. Int J Pharm 15:25–35. https://doi.org/10.1016/0378-5173(83)90064-9

Kozanoǧlu S, Özdemir T, Usanmaz A (2011) Polymerization of N-vinylcaprolactam and characterization of poly(N-vinylcaprolactam). J Macromol Sci Part A 48:467–477. https://doi.org/10.1080/10601325.2011.573350

Li H, Liu K, Williams GR et al (2018) Dual temperature and pH responsive nanofiber formulations prepared by electrospinning. Colloids Surf B Biointerfaces 171:142–149. https://doi.org/10.1016/j.colsurfb.2018.07.020

Liu J, Detrembleur C, Hurtgen M et al (2014) Thermo-responsive gold/poly(vinyl alcohol)-b-poly(N-vinylcaprolactam) core–corona nanoparticles as a drug delivery system. Polym Chem 5:5289–5299. https://doi.org/10.1039/C4PY00352G

López CM, Pich A (2018) Supramolecular stimuli-responsive microgels crosslinked by tannic acid. Macromol Rapid Commun 39:1700808. https://doi.org/10.1002/marc.201700808

Luna-Straffon MA, Cedillo G, Bucio E (2012) Radiation-grafting of cotton-g-DMAEMA for biomedical applications. MRS Proc. https://doi.org/10.1557/opl.2012.1621

Makhaeva EE, Tenhu H, Khokhlov AR (1998) Conformational changes of poly(vinylcaprolactam) macromolecules and their complexes with ionic surfactants in aqueous solution. Macromolecules 31:6112–6118. https://doi.org/10.1021/ma980158s

Ortega A, Bucio E, Burillo G (2008) New interpenetrating polymer networks of N-isopropylacrylamide/N-acryloxysuccinimide: synthesis and characterization. Polym Bull 60:515–524. https://doi.org/10.1007/s00289-007-0870-x

Parodi E, Peters GWM, Govaert LE (2018) Prediction of plasticity-controlled failure in polyamide 6: influence of temperature and relative humidity. J Appl Polym Sci 135:45942. https://doi.org/10.1002/app.45942

Pino-Ramos VH, Flores-Rojas GG, Alvarez-Lorenzo C et al (2018) Graft copolymerization by ionization radiation, characterization, and enzymatic activity of temperature-responsive SR-g-PNVCL loaded with lysozyme. React Funct Polym 126:74–82. https://doi.org/10.1016/j.reactfunctpolym.2018.03.002

Rao MK, Rao SK, Ha C-S (2016) Stimuli responsive poly(vinyl caprolactam) gels for biomedical applications. Gels 2:6–24. https://doi.org/10.3390/gels2010006

Schroeder R (2018) Microgels for long-term storage of vitamins for extended spaceflight. Life Sci Sp Res 16:26–37. https://doi.org/10.1016/j.lssr.2017.10.003

Shen DK, Gu S, Bridgwater AV (2010) The thermal performance of the polysaccharides extracted from hardwood: cellulose and hemicellulose. Carbohydr Polym 82:39–45. https://doi.org/10.1016/j.carbpol.2010.04.018

Shi R, Tan L, Zong L et al (2017) Influence of Na+ and Ca2+ on flame retardancy, thermal degradation, and pyrolysis behavior of cellulose fibers. Carbohydr Polym 157:1594–1603. https://doi.org/10.1016/j.carbpol.2016.11.034

Shrestha BK, Mousa HM, Tiwari AP et al (2016) Development of polyamide-6,6/chitosan electrospun hybrid nanofibrous scaffolds for tissue engineering application. Carbohydr Polym 148:107–114. https://doi.org/10.1016/j.carbpol.2016.03.094

Sreevidya VS, Lenz KA, Svoboda KR, Ma H (2018) Benzalkonium chloride, benzethonium chloride, and chloroxylenol—three replacement antimicrobials are more toxic than triclosan and triclocarban in two model organisms. Environ Pollut 235:814–824. https://doi.org/10.1016/j.envpol.2017.12.108

Thakur VK, Thakur MK (2014) Processing and characterization of natural cellulose fibers/thermoset polymer composites. Carbohydr Polym 109:102–117. https://doi.org/10.1016/j.carbpol.2014.03.039

Tian M, Qu L, Zhang X et al (2014) Enhanced mechanical and thermal properties of regenerated cellulose/graphene composite fibers. Carbohydr Polym 111:456–462. https://doi.org/10.1016/j.carbpol.2014.05.016

Wang S, Peng X, Zhong L et al (2015) An ultralight, elastic, cost-effective, and highly recyclable superabsorbent from microfibrillated cellulose fibers for oil spillage cleanup. J Mater Chem A 3:8772–8781. https://doi.org/10.1039/C4TA07057G

Wang J, Qin L, Lin J et al (2017a) Enzymatic construction of antibacterial ultrathin membranes for dyes removal. Chem Eng J 323:56–63. https://doi.org/10.1016/j.cej.2017.04.089

Wang L-F, Shankar S, Rhim J-W (2017b) Properties of alginate-based films reinforced with cellulose fibers and cellulose nanowhiskers isolated from mulberry pulp. Food Hydrocoll 63:201–208. https://doi.org/10.1016/j.foodhyd.2016.08.041

Wu J-Y, Liu S-Q, Heng PW-S, Yang Y-Y (2005) Evaluating proteins release from, and their interactions with, thermosensitive poly (N-isopropylacrylamide) hydrogels. J Control Release 102:361–372. https://doi.org/10.1016/j.jconrel.2004.10.008

Xu S, Yi S, He J et al (2017) Preparation and properties of a novel microcrystalline cellulose-filled composites based on polyamide 6/high-density polyethylene. Materials (Basel) 10:808–819. https://doi.org/10.3390/ma10070808

Zhang K, Zong L, Tan Y et al (2016) Improve the flame retardancy of cellulose fibers by grafting zinc ion. Carbohydr Polym 136:121–127. https://doi.org/10.1016/j.carbpol.2015.09.026

Zhou Y, Jin Q, Zhu T, Akama Y (2011) Adsorption of chromium (VI) from aqueous solutions by cellulose modified with β-CD and quaternary ammonium groups. J Hazard Mater 187:303–310. https://doi.org/10.1016/j.jhazmat.2011.01.025

Zhuang S, Yin Y, Wang J (2018) Removal of cobalt ions from aqueous solution using chitosan grafted with maleic acid by gamma radiation. Nucl Eng Technol 50:211–215. https://doi.org/10.1016/j.net.2017.11.007
Acknowledgments
The authors thank to DGAPA and CONACYT (CVU: G. G. Flores-Rojas 407270 & F. López-Saucedo 409872). This work was supported by Dirección General de Asuntos del Personal Académico, Universidad Nacional Autónoma de México under Grant IN202320 (Mexico), the Spanish MINECO [SAF2017-83118-R], Agencia Estatal de Investigación (AEI) Spain, Xunta de Galicia [ED431C 2016/008; AEMAT ED431E 2018/08], FEDER, and Interreg V-A POCTEP Program [0245_IBEROS_1_E].
Additional information
Publisher's Note
Springer Nature remains neutral with regard to jurisdictional claims in published maps and institutional affiliations.
About this article
Cite this article
Flores-Rojas, G.G., López-Saucedo, F., Vázquez, E. et al. Synthesis of polyamide-6@cellulose microfilms grafted with N-vinylcaprolactam using gamma-rays and loading of antimicrobial drugs. Cellulose 27, 2785–2801 (2020). https://doi.org/10.1007/s10570-020-02986-1
Received:

Accepted:

Published:

Issue Date:
Keywords
Cellulose microparticles

Temperature responsiveness

Gamma-radiation

N-vinylcaprolactam

Polyamide-6

Antimicrobial activity