Abstract
This study describes the encapsulation of alpha (α)-tocopherol in chitosan nanosphere using the emulsion formation method. The α-tocopherol is a versatile antioxidant yet has limited applications due to its feeble stability in oxidizing environments. However, its encapsulation in a suitable capping agent might improve its stability. Chitosan is non-toxic, biodegradable, biocompatible and low-cost biomaterial. It could be used as an encapsulating agent to increase the stability of α-tocopherol and release when required over a sustained period. Once prepared, the encapsulated α-tocopherol nanospheres were characterized using different analytical techniques followed by application on cotton fabric. The treated fabric exhibited slight decrease in absorbency and tensile strength, and good antibacterial activity against broad spectrum bacterial strains. The release of α-tocopherol from the nanospheres in dispersed form was 64% whereas once applied on cotton fabric, the release was observed as 41%; this might be attributed to the cross-linking of nanospheres which decreased the opportunity to release the active ingredient. The produced cosmetotextiles can be used in skin care products particularly to reduce skin dryness with good antibacterial and antioxidant performance.
Access options
Buy single article
Instant access to the full article PDF.
US$ 39.95
Tax calculation will be finalised during checkout.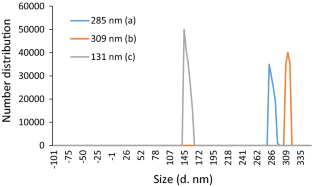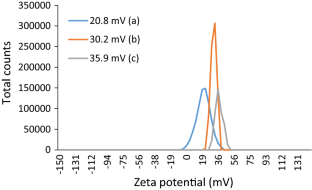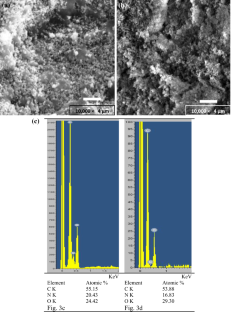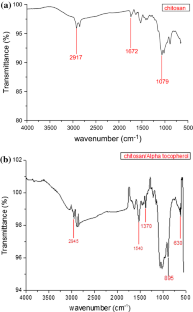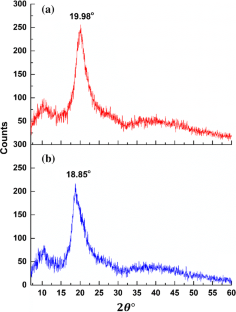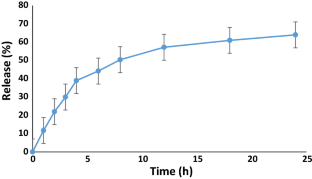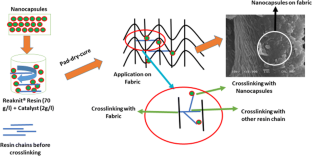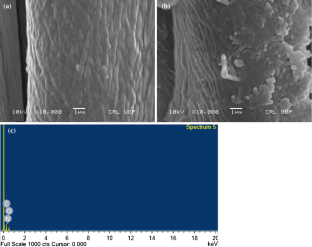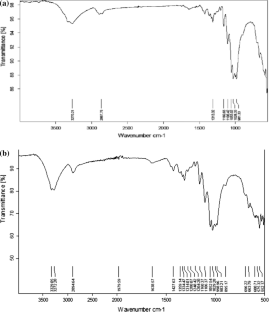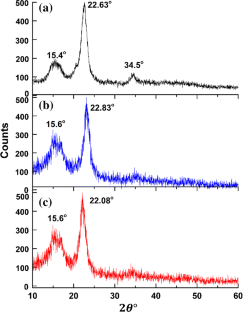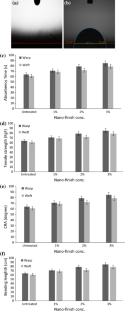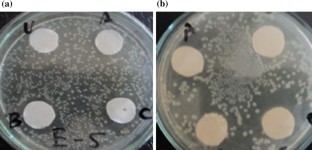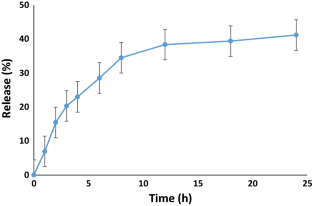 References
Abid S, Raza ZA, Rehman A (2016) Synthesis of poly(3-hydroxybutyrate) nanospheres and deposition thereof into porous thin film. Mater Res Express 3:105042. https://doi.org/10.1088/2053-1591/3/10/105042

Abid S, Hussain T, Nazir A et al (2018) Simultaneous fixation of wrinkle-free finish and reactive dye on cotton using response surface methodology. Cloth Text Res J. https://doi.org/10.1177/0887302X17747048

Anandhavelu S, Thambidurai S (2011) Preparation of chitosan–zinc oxide complex during chitin deacetylation. Carbohydr Polym 83:1565–1569. https://doi.org/10.1016/J.CARBPOL.2010.10.006

Asher MI, Montefort S, Björkstén B et al (2006) Worldwide time trends in the prevalence of symptoms of asthma, allergic rhinoconjunctivitis, and eczema in childhood: ISAAC Phases One and Three repeat multicountry cross-sectional surveys. Lancet 368:733–743. https://doi.org/10.1016/S0140-6736(06)69283-0

Bhatnagar A, Sillanpää M (2009) Applications of chitin- and chitosan-derivatives for the detoxification of water and wastewater—a short review. Adv Colloid Interface Sci 152:26–38. https://doi.org/10.1016/J.CIS.2009.09.003

Bramley P, Elmadfa I, Kafatos A et al (2000) Vitamin E. J Sci Food Agric 80:913–938. https://doi.org/10.1002/(SICI)1097-0010(20000515)80:7%3c913:AID-JSFA600%3e3.0.CO;2-3

Brown MA, Abbas Z, Kleibert A et al (2016) Determination of surface potential and electrical double-layer structure at the aqueous electrolyte-nanoparticle interface. Phys Rev X 6:011007. https://doi.org/10.1103/PhysRevX.6.011007

Chowdhury KP, Chowdhury KP (2018) Effect of special finishes on the functional properties of cotton fabrics. J Text Sci Technol 04:49–66. https://doi.org/10.4236/jtst.2018.42003

Desai KGH, Park HJ (2005) Preparation and characterization of drug-loaded chitosan-tripolyphosphate microspheres by spray drying. Drug Dev Res 64:114–128. https://doi.org/10.1002/ddr.10416

Dhiman G, Chakraborty JN (2017) Assessment of durable press performance of cotton finished with modified DMDHEU and citric acid. Fash Text 4:18. https://doi.org/10.1186/s40691-017-0104-2

Di Mambro VM, Fonseca MJV (2007) Assessment of physical and antioxidant activity stability, in vitro release and in vivo efficacy of formulations added with superoxide dismutase alone or in association with α-tocopherol. Eur J Pharm Biopharm 66:451–459. https://doi.org/10.1016/j.ejpb.2006.11.012

Errico C, Bartoli C, Chiellini F, Chiellini E (2009) Poly(hydroxyalkanoates)-based polymeric nanoparticles for drug delivery. J Biomed Biotechnol 2009:10. https://doi.org/10.1155/2009/571702

Estevinho BN, Rocha F, Santos L, Alves A (2013) Microencapsulation with chitosan by spray drying for industry applications—a review. Trends Food Sci Technol 31:138–155. https://doi.org/10.1016/J.TIFS.2013.04.001

French AD (2014) Idealized powder diffraction patterns for cellulose polymorphs. Cellulose 21:885–896. https://doi.org/10.1007/s10570-013-0030-4

Goy RC, Morais STB, Assis OBG (2016) Evaluation of the antimicrobial activity of chitosan and its quaternized derivative on E. coli and S. aureus growth. Rev Bras Farmacogn 26:122–127. https://doi.org/10.1016/J.BJP.2015.09.010

Harish Prashanth KV, Tharanathan RN (2007) Chitin/chitosan: modifications and their unlimited application potential—an overview. Trends Food Sci Technol 18:117–131. https://doi.org/10.1016/J.TIFS.2006.10.022

Holme I (2007) Innovative technologies for high performance textiles. Color Technol 123:59–73. https://doi.org/10.1111/j.1478-4408.2007.00064.x

Huang W, Shi X, Ren L et al (2010) PHBV microspheres–PLGA matrix composite scaffold for bone tissue engineering. Biomaterials 31:4278–4285. https://doi.org/10.1016/j.biomaterials.2010.01.059

Hussain Z, Tusief MQ, Abid S et al (2016) Effect of different processing stages on the crystallinity % and tensile strength of 100% cotton fabric. Pak J Sci Ind Res Ser A Phys Sci 59:114–117

Jaffary F, Faghihi G, Mokhtarian A, Hosseini SM (2015) Effects of oral vitamin E on treatment of atopic dermatitis: a randomized controlled trial. J Res Med Sci 20:1053–1057. https://doi.org/10.4103/1735-1995.172815

Javid A, Raza ZA, Hussain T, Rehman A (2014) Chitosan microencapsulation of various essential oils to enhance the functional properties of cotton fabric. J Microencapsul 2048:1–8. https://doi.org/10.3109/02652048.2013.879927

Keen MA, Hassan I (2016) Vitamin E in dermatology. Indian Dermatol Online J 7:311–315. https://doi.org/10.4103/2229-5178.185494

Ling Z, Wang T, Makarem M et al (2019) Effects of ball milling on the structure of cotton cellulose. Cellulose 26:305–328. https://doi.org/10.1007/s10570-018-02230-x

López-León T, Carvalho ELS, Seijo B et al (2005) Physicochemical characterization of chitosan nanoparticles: electrokinetic and stability behavior. J Colloid Interface Sci 283:344–351. https://doi.org/10.1016/j.jcis.2004.08.186

Luo Y, Zhang B, Whent M et al (2011) Preparation and characterization of zein/chitosan complex for encapsulation of α-tocopherol, and its in vitro controlled release study. Colloids Surf B Biointerfaces 85:145–152. https://doi.org/10.1016/j.colsurfb.2011.02.020

Mourya VK, Inamdar NN (2008) Chitosan-modifications and applications: opportunities galore. React Funct Polym 68:1013–1051. https://doi.org/10.1016/J.REACTFUNCTPOLYM.2008.03.002

Naghibzadeh M, Amani A, Amini M et al (2010) An Insight into the Interactions between α-tocopherol and chitosan in ultrasound-prepared nanoparticles. J Nanomater 2010:1–7. https://doi.org/10.1155/2010/818717

Pereira GG, Detoni CB, da Silva TL et al (2015) α-Tocopherol acetate-loaded chitosan microparticles: stability during spray drying process, photostability and swelling evaluation. J Drug Deliv Sci Technol 30:220–224. https://doi.org/10.1016/J.JDDST.2015.10.018

Rajalakshmi A, Krithiga N, Jayachitra A (2013) Antioxidant activity of the chitosan extracted from shrimp exoskeleton. Middle-East J Sci Res 16:1446–1451. https://doi.org/10.5829/idosi.mejsr.2013.16.10.12033

Raza ZA, Anwar F (2018) Fabrication of poly(lactic acid) incorporated chitosan nanocomposites for enhanced functional polyester fabric. Polímeros 28:120–124. https://doi.org/10.1590/0104-1428.11216

Raza ZA, Anwar F, Hussain I et al (2019) Fabrication of PLA incorporated chitosan nanoparticles to create enhanced functional properties of cotton fabric. Pigment Resin Technol 48:169–177. https://doi.org/10.1108/PRT-11-2017-0088

Saberi AH, Fang Y, McClements DJ (2013) Fabrication of vitamin E-enriched nanoemulsions by spontaneous emulsification: effect of propylene glycol and ethanol on formation, stability, and properties. Food Res Int 54:812–820. https://doi.org/10.1016/J.FOODRES.2013.08.028

Salaün F (2016) Microencapsulation technology for smart textile coatings. Act Coat Smart Text. https://doi.org/10.1016/B978-0-08-100263-6.00009-5

Sarbon NM, Sandanamsamy S, Kamaruzaman SFS, Ahmad F (2015) Chitosan extracted from mud crab (Scylla olivicea) shells: physicochemical and antioxidant properties. J Food Sci Technol 52:4266–4275. https://doi.org/10.1007/s13197-014-1522-4

Selamat SN, Muhamad II, Idham Z, Pae N (2018) Retention of alpha tocopherol and antioxidant activity of encapsulated palm mixed Vitamin E in formulated blends. MOJ Food Process Technol 6:11–17. https://doi.org/10.15406/mojfpt.2018.06.00175

Sharipova AA, Aidarova SB, Grigoriev D et al (2016) Polymer–surfactant complexes for microencapsulation of vitamin E and its release. Colloids Surfaces B Biointerfaces 137:152–157. https://doi.org/10.1016/j.colsurfb.2015.03.063

Soh SH, Lee LY (2019) Microencapsulation and nanoencapsulation using supercritical fluid (SCF) techniques. Pharmaceutics. https://doi.org/10.3390/pharmaceutics11010021

Song Z, Li G, Guan F, Liu W (2018) Application of chitin/chitosan and their derivatives in the papermaking industry. Polymers (Basel). https://doi.org/10.3390/polym10040389

Sun L, Lu L, Qiu X, Tang Y (2017) Development of low-density polyethylene antioxidant active films containing α-tocopherol loaded with MCM-41(mobil composition of Matter No. 41) mesoporous silica. Food Control 71:193–199. https://doi.org/10.1016/J.FOODCONT.2016.06.025

Thanou M, Verhoef J, Junginger H (2001) Oral drug absorption enhancement by chitosan and its derivatives. Adv Drug Deliv Rev 52:117–126. https://doi.org/10.1016/S0169-409X(01)00231-9

Thomsen SF (2014) Atopic dermatitis: natural history, diagnosis, and treatment. ISRN Allergy 2014:354250. https://doi.org/10.1155/2014/354250

Tiwari D, Upmanyu N, Malik J, Shukla S (2017) Cosmetotextiles used as a medicine. Int J Pharma Chem Res I:3

Tsoureli-Nikita E, Hercogova J, Lotti T, Menchini G (2002) Evaluation of dietary intake of vitamin E in the treatment of atopic dermatitis: a study of the clinical course and evaluation of the immunoglobulin E serum levels. Int J Dermatol 41:146–150

WHO (2018) WHO|recognizing neglected skin diseases: WHO publishes pictorial training guide. https://www.who.int/neglected_diseases/news/WHO-publishes-pictorial-training-guide-on-neglected-skin-disease/en/. Accessed 23 Apr 2019

Yenilmez E, Başaran E, Yazan Y (2011) Release characteristics of vitamin E incorporated chitosan microspheres and in vitro–in vivo evaluation for topical application. Carbohydr Polym 84:807–811. https://doi.org/10.1016/J.CARBPOL.2010.07.002

Zargar V, Asghari M, Dashti A (2015) A review on chitin and chitosan polymers: structure, chemistry, solubility, derivatives, and applications. ChemBioEng Rev 2:204–226. https://doi.org/10.1002/cben.201400025
Acknowledgments
The authors acknowledge the Higher Education Commission of Pakistan for the financial support for this study.
Additional information
Publisher's Note
Springer Nature remains neutral with regard to jurisdictional claims in published maps and institutional affiliations.
About this article
Cite this article
Raza, Z.A., Abid, S., Azam, A. et al. Synthesis of alpha-tocopherol encapsulated chitosan nano-assemblies and their impregnation on cellulosic fabric for potential antibacterial and antioxidant cosmetotextiles. Cellulose 27, 1717–1731 (2020). https://doi.org/10.1007/s10570-019-02862-7
Received:

Accepted:

Published:

Issue Date:
Keywords
Antibacterial

Chitosan

Encapsulation

Nanospheres

Tocopherol