Abstract
In this work, coconut oil was utilized as a natural phase change material (PCM) and applied on cellulosic fabrics for thermo-regulation. Organic coconut oil was microencapsulated in melamine formaldehyde and poly (methyl methacrylate) polymer shells by in situ and suspension polymerization methods, respectively. The fabricated microcapsules were applied on a daily wear stretch denim fabric and a cotton shirting fabric by knife-coating to impart thermo-regulation functionality. The microencapsulated PCMs and the treated fabric samples were characterized using Fourier transform infrared spectroscopy, differential scanning calorimetry, thermal gravimetric analysis and scanning electron microscopy. The results indicated that latent heats of 81.9 J/g and 39.1 J/g at melting peak temperatures of 21.5 °C and 22.1 °C were successfully achieved with the microencapsulated PCMs which enabled the fabrics to possess remarkable latent heats in between 6.7 and 14.9 J/g.
Graphic abstract

Access options
Buy single article
Instant access to the full article PDF.
US$ 39.95
Tax calculation will be finalised during checkout.
Subscribe to journal
Immediate online access to all issues from 2019. Subscription will auto renew annually.
US$ 119
Tax calculation will be finalised during checkout.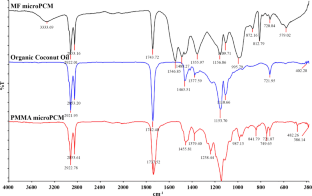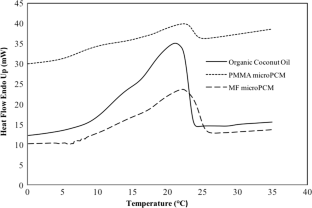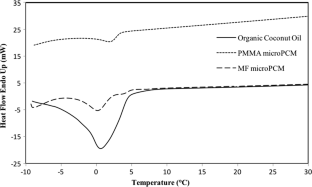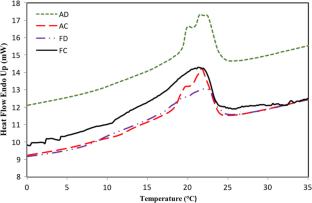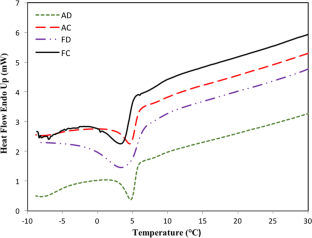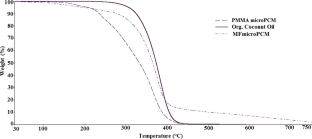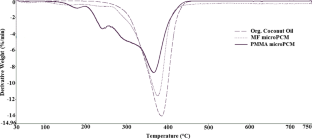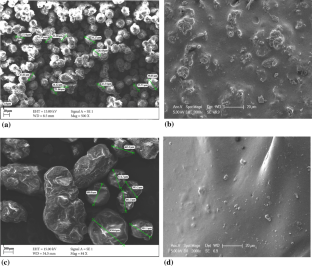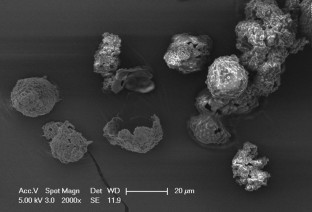 References
AATCC Test Method 61-2013 (2013) Colorfastness to laundering, home and commercial: accelerated. American Association of Textile Chemists and Colorists Technical Manual

Ahangaran F, Navarchian AH, Picchioni F (2019) Material encapsulation in poly(methyl methacrylate) shell: a review. J Appl Polym Sci. https://doi.org/10.1002/app.48039

Alkan C, Alay Aksoy S, Altun Anayurt R (2015) Synthesis of poly(methyl methacrylate-co-acrylic acid)/n-eicosane microcapsules for thermal comfort in textiles. Text Res J 85(19):2051–2058

Chung H, Cho G (2004) Thermal properties and physiological responses of vapor-permeable water-repellent fabrics treated with microcapsule-containing PCMs. Text Res J 74(7):571–575

Doba Kadem F, Saraç EG (2017) An experimental application on denim garment to give thermal regulation property. J Text Inst 108(3):353–360

Fashandi M, Leung SN (2017) Preparation and characterization of 100% bio-based polylactic acid/palmitic acid microcapsules for thermal energy storage. Mater Renew Sustain Energy 6:14

Giro-Paloma J, Martinez M, Cabeza L, Fernandez AI (2016) Types, methods, techniques and applications for microencapsulated phase change materials (MPCM): a review. Renew Sustain Energy Rev 53:1059–1075

Hassabo AG (2014) New approaches to improving thermal regulating property of cellulosic fabric. Carbohydr Polym 101:912–919

Irani F, Ranjbar Z, Moradian S, Jannesari A (2017) Microencapsulation of n-heptadecane phase change material with starch shell. Prog Org Coat 113:31–38

ISO 105-C06: 2010 (2010) Textiles: tests for colour fastness—part C06: colour fastness to domestic and commercial laundering. The International Organization for Standardization (ISO), Geneva

Jamekhorshid A, Sadrameli SM, Farid M (2014) A review of microencapsulation methods of phase change materials (PCMs) as a thermal energy storage (TES) medium. Renew Sustain Energy Rev 31:531–542

Karthikeyan M, Ramachandran T, Shanmuga Sundaram OL (2014a) Nanoencapsulated phase change materials based on polyethylene glycol for creating thermoregulating cotton. J Ind Text 44(1):1301–1346

Karthikeyan M, Ramachandran T, Shanmuga Sundaram OL (2014b) Synthesis, characterization, and development of thermally enhanced cotton fabric using nanoencapsulated phase change materials containing paraffin wax. J Text Inst 105(12):1279–1286

Kim J, Cho G (2002) Thermal storage/release, durability, and temperature sensing properties of thermostatic fabrics treated octadecane-containing microcapsules. Text Res J 72(12):1093–1098

Marina AM, Che Man YB, Nazimah SAH, Amin I (2009) Chemical properties of virgin coconut oil. J Am Oil Chem Soc 86:301–307

Mattila HR (2006) Intelligent textiles and clothing. Woodhead Publishing Ltd., The Textile Institute

Mondal S (2008) Phase change materials for smart textiles—an overview. Appl Therm Eng 28:1536–1550

Nejman A, Goetzendorf-Grabowska B (2013) Heat balance of textile materials modified with the mixtures of PCM. Thermochim Acta 569:144–150

Nemeth B, Nemeth AS, Ujhidy A, Toth J, Trif L, Gyenis J, Feczko T (2018) Fully bio-originated latent heat storing calcium alginate microcapsules with high coconut oil loading. Sol Energy 170:314–322

Önder E, Sarier N, Çimen E (2008) Encapsulation of phase change materials by complex coacervation to improve thermal performances of woven fabrics. Thermochim Acta 467:63–72

Onofrei E, Rocha AM, Catarino A (2010) Textiles integrating PCMs—a review. Bul Inst Polit Iasi t 56(60):99–110

Qui X, Li W, Song G, Chu X, Tang G (2012) Microencapsulated n-octadecane with different methyl methacrylate-based copolymer shells as phase change materials for thermal energy storage. Energy 46:188–199

Sarıer N, Önder E (2012) Organic phase change materials and their textile applications—an overview. Thermochim Acta 540:7–60

Shin Y, Yoo D, Son K (2005) Development of thermoregulating textile materials with microencapsulated phase change materials (PCM) II. Preparation and application of PCM microcapsules. J Appl Polym Sci 96:2005–2010

Shin Y, Son K, Yoo DI (2010) Development of natural dyed textiles with thermo-regulating properties. Thermochim Acta 511:1–7

Silalahi AO et al (2017) Thermophysical parameters of organic PCM coconut oil from T-history method and its potential as thermal energy storage in Indonesia. IOP Conf Ser Mater Sci Eng 214:012034

Tao X (2001) Smart fibres, fabrics and clothing. Woodhead Publishing Ltd., The Textile Institute

Udangawa WMRN, Willard CF, Mancinelli C, Chapman C, Linhardt R, Simmons TJ (2019) Coconut oil–cellulose beaded microfibers by coaxial electrospinning: an eco-model system to study thermoregulation of confined phase change materials. Cellulose 26:1855–1868

Wi S, Seo J, Jeong S, Chang S, Kang Y, Kim S (2015) Thermal properties of shape-stabilized phase change materials using fatty acid ester and exfoliated graphite nanoplatelets for saving energy in buildings. Sol Energy Mater Sol Cells 143:168–173

Zhang H, Wang X (2009) Fabrication and performances of microencapsulated phase change materials based on n-octadecane core and resorcinol modified melamine-formaldehyde shell. Colloids Surf A Physicochem Eng Asp 332:129–138

Zhang H, Wang X, Wu D (2010) Silica encapsulation of n-octadecane via sol–gel process: a novel microencapsulated phase change material with enhanced thermal conductivity and performance. J Colloid Interface Sci 343:246–255
Acknowledgments
The authors gratefully acknowledge the Grant FEN-C-DRP-200318-0117 by the Scientific Research Project Unit (BAPKO) of Marmara University.
Additional information
Publisher's Note
Springer Nature remains neutral with regard to jurisdictional claims in published maps and institutional affiliations.
About this article
Cite this article
Saraç, E.G., Öner, E. & Kahraman, M.V. Microencapsulated organic coconut oil as a natural phase change material for thermo-regulating cellulosic fabrics. Cellulose 26, 8939–8950 (2019). https://doi.org/10.1007/s10570-019-02701-9
Received:

Accepted:

Published:

Issue Date:
Keywords
Phase change material

Coconut oil

Microencapsulation

Thermo-regulation

Cellulosic fabric

Thermal energy storage