Gene cloning and characterization of an organic solvent-stimulated β-glucosidase and its application for the co-production of ethanol and succinic acid
Abstract
Enzymatic activity is a limiting factor for conducting the hydrolysis of lignocellulosic waste materials to generate renewable biofuels and biochemicals. A novel β-glucosidase (BGL) gene from Hypocrea sp. W63 was cloned and expressed in Pichia pastoris. The specific activity of the purified recombinant epB-BGL was 194.25 IU/mg using p-nitrophenyl-β-d-glucoside (pNPG) as a substrate. The optimum pH and temperature for epB-BGL were 5.0 and 70 °C, respectively. The activity of recombinant epB-BGL could be stimulated by 210% with the addition of 10% (v/v) ethanol. Furthermore, other organic solvents were also able to stimulate the activity of the enzyme at concentrations of 1% or 10% (v/v). Due to this distinctive performance, epB-BGL was used to release fermentable sugars from a sugarcane bagasse hydrolysate for ethanol and succinic acid co-production. In the experimental range, succinic acid was reached to 13.3 g/L with a higher yield of 0.91 g/g glucose and the ethanol was at a concentration of approximately 1.41 g/L, respectively. In addition, the by-product acetate, which could potentially be converted to other chemicals, was also produced at 9.745 g/L. This work demonstrates that recombinant epB-BGL can take advantage of incomplete hydrolysis to convert fermentable sugars, suggesting its potential application in lignocellulose bioconversion.
Graphical abstract
Lignocellulose of sugarcane bagassese was hydrolysed to release fermentable sugars which with addition of
epB
-
BGL
for the co-production of ethanol and succinic acid.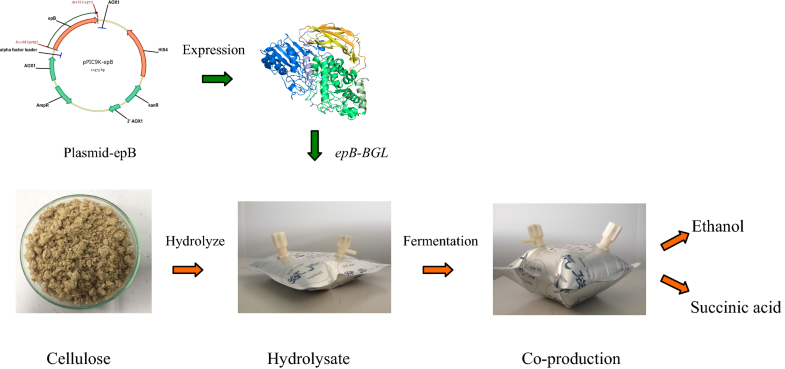 Keywords
β-Glucosidase 
Organic solvent stimulation 
Succinic acid 
Ethanol 
Co-fermentation 
Notes
Acknowledgments
This research was financially supported by the Program of National Natural Science Foundation of China (51676193 and 51861145103), the Youth Innovation Promotion Association, CAS (2017401), the National Key Research and Development Program of China (2018YFC1901201), the Bureau of International Cooperation, the Chinese Academy of Sciences (182344KYSB20160056),Guangdong science and technology research program (2017A010105018 and 2016A010104008), the Municipal Science and Technology Program of Guangzhou (201804010187), and Qiong Wang would like to thank the support of Guangxi Key Laboratory Cultivation Base for Polysaccharide Materials and Modification (GXPSMM18ZD-01).
Author's contribution
All authors contributed equally to this work.
Compliance with ethical standards
Conflict of interest
The authors declare that there are no conflicts of interest.
Copyright information
© Springer Nature B.V. 2019