Abstract
Flame retardant (FR) cotton fabric was facilely prepared using hydrated sodium metaborate (SMB) crystalized in situ in the interstices and on the surface of cotton fabric via one-pot impregnation approach, and the thermal, FR and mechanical properties were investigated. TGA results showed that SMB treatment improved the thermal stability of cotton fabric and enhanced the char yield. The treated cotton also had an LOI value of 28.5% with an afterglow time of less than 1 s in the UL-94 test (V-0). Considerable reductions in peak heat release rate (PHRR ~ 91.8%), total heat release (THR ~ 47.2%), peak carbon monoxide and carbon dioxide produced (PCOP ~ 28.6, PCO2P ~ 85.5%) were obtained. The postburn residues examined by SEM and Raman spectroscopy revealed a preserved fabric structure with high graphite content. SMB treated cotton fabrics demonstrated negligible changes in the tensile strength and the elongation at break. The result demonstrates SMB as an effective flame-retardant for cotton fabrics.
This is a preview of subscription content, log in to check access.
Access options
Buy single article
Instant access to the full article PDF.
US$ 39.95
Price includes VAT for USA
Subscribe to journal
Immediate online access to all issues from 2019. Subscription will auto renew annually.
US$ 199
This is the net price. Taxes to be calculated in checkout.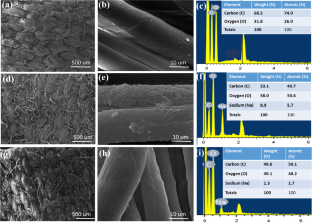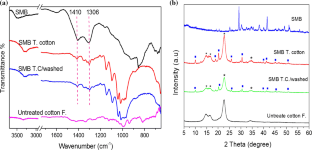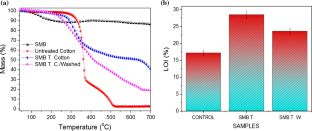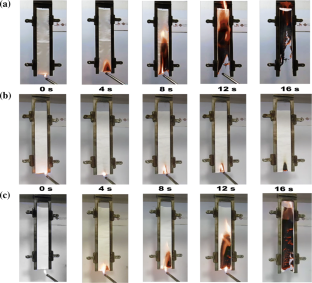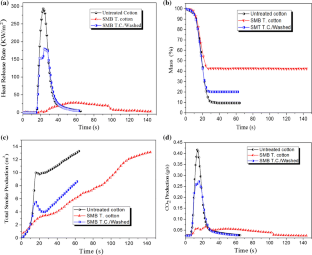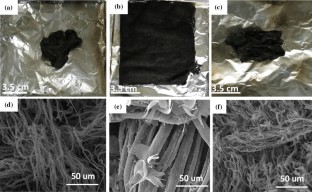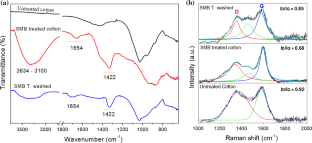 References
Abou-Okeil A, El-Sawy SM, Abdel-Mohdy FA (2013) Flame retardant cotton fabrics treated with organophosphorus polymer. Carbohydr Polym 92:2293–2298. https://doi.org/10.1016/j.carbpol.2012.12.008

Aenishänslin R, Guth C, Hofmann P, Maeder A, Nachbur H (1969) A new chemical approach to durable flame-retardant cotton fabrics. Text Res J 39:375–381

Alongi J, Malucelli G (2015) Cotton flame retardancy: state of the art and future perspectives RSC. Advances 5:24239–24263

Alongi J, Ciobanu M, Malucelli G (2012) Thermal stability, flame retardancy and mechanical properties of cotton fabrics treated with inorganic coatings synthesized through sol–gel processes. Carbohydr Polym 87:2093–2099

Alongi J, Carosio F, Malucelli G (2014) Current emerging techniques to impart flame retardancy to fabrics: an overview. Polym Degrad Stab 106:138–149

Angeli F, Villain O, Schuller S, Charpentier T, de Ligny D, Bressel L, Wondraczek L (2012) Effect of temperature and thermal history on borosilicate glass structure. Phys Rev B 85:054110

Babrauskas V, Peacock RD (1992) Heat release rate: the single most important variable in fire hazard. Fire Saf J 18:255–272

Bashar MM, Khan MA (2013) An overview on surface modification of cotton fiber for apparel use. J Polym Environ 21:181–190

Bayer EA, Lamed R (1992) The cellulose paradox: pollutant par excellence and/or a reclaimable natural resource? Biodegradation 3:171–188

Brillard A, Habermacher D, Brilhac J-F (2017) Thermal degradations of used cotton fabrics and of cellulose: kinetic and heat transfer modeling. Cellulose 24:1579–1595

Chan SY et al (2018) A novel boron–nitrogen intumescent flame retardant coating on cotton with improved washing durability. Cellulose 25:843–857

Chang S, Slopek RP, Condon B, Grunlan JC (2014) Surface coating for flame-retardant behavior of cotton fabric using a continuous layer-by-layer process. Ind Eng Chem Res 53:3805–3812. https://doi.org/10.1021/ie403992x

Chehna AB, Laidlaw A, Ricard LB, Varley AR (2013) Colorfastness to laundering: accelerated (test method 61), in the AATCC Technical Manual. NC, USA. pp 108–112

Chen S, Li X, Li Y, Sun J (2015) Intumescent flame-retardant and self-healing superhydrophobic coatings on cotton fabric. ACS Nano 9:4070–4076

El-Shafei A, ElShemy M, Abou-Okeil A (2015) Eco-friendly finishing agent for cotton fabrics to improve flame retardant and antibacterial properties. Carbohydr Polym 118:83–90. https://doi.org/10.1016/j.carbpol.2014.11.007

Feng J et al (2017) Enhanced thermal stabilities and char yields of carbon fibers reinforced boron containing novolac phenolic resins composites. J Polym Res 24:176

Gaan S, Sun G (2007) Effect of phosphorus flame retardants on thermo-oxidative decomposition of cotton. Polym Degrad Stab 92:968–974

Gann RG, Babrauskas V, Peacock RD, Hall JR (1994) Fire conditions for smoke toxicity measurement. Fire Mater 18:193–199

Hirschler MM (2015) Flame retardants and heat release: review of traditional studies on products and on groups of polymers. Fire Mater 39:207–231

Horrocks A, Kandola BK, Davies P, Zhang S, Padbury S (2005) Developments in flame retardant textiles—a review. Polym Degrad Stab 88:3–12

Huang G, Liang H, Wang X, Gao J (2012) Poly (acrylic acid)/clay thin films assembled by layer-by-layer deposition for improving the flame retardancy properties of cotton. Ind Eng Chem Res 51:12299–12309

Kaplan DL (1998) Introduction to biopolymers from renewable resources. In: Biopolymers from renewable resources. Springer, Berlin, pp 1–29

Li Y-C et al (2010) Flame retardant behavior of polyelectrolyte–clay thin film assemblies on cotton fabric. ACS Nano 4:3325–3337

Lo C-F, Karan K, Davis BR (2007) Kinetic studies of reaction between sodium borohydride and methanol, water, and their mixtures. Ind Eng Chem Res 46:5478–5484. https://doi.org/10.1021/ie0608861

Lu S-Y, Hamerton I (2002) Recent developments in the chemistry of halogen-free flame retardant polymers. Prog Polym Sci 27:1661–1712

Martin C, Hunt B, Ebdon J, Ronda J, Cadiz V (2006a) Synthesis, crosslinking and flame retardance of polymers of boron-containing difunctional styrenic monomers. React Funct Polym 66:1047–1054

Martin C, Ronda J, Cadiz V (2006b) Boron-containing novolac resins as flame retardant materials. Polym Degrad Stab 91:747–754

Nine MJ, Tran DN, ElMekawy A, Losic D (2017a) Interlayer growth of borates for highly adhesive graphene coatings with enhanced abrasion resistance, fire-retardant and antibacterial ability. Carbon 117:252–262

Nine MJ, Tran DN, Tung TT, Kabiri S, Losic D (2017b) Graphene-borate as an efficient fire retardant for cellulosic materials with multiple and synergetic modes of action. ACS Appl Mater Interfaces 9:10160–10168

Paul R (2014) Functional finishes for textiles: improving comfort, performance and protection. Woodhead Publishing Ltd, Cambridge, UK, pp 1–14

Pişkin MB, Figen AK, Ergüven H (2013) Investigation of the reaction mechanism and kinetics of production of anhydrous sodium metaborate (NaBO2) by a solid-state reaction. Res Chem Intermed 39:569–583. https://doi.org/10.1007/s11164-012-0580-3

Ravandi SH, Valizadeh M (2011) Properties of fibers and fabrics that contribute to human comfort. In: Improving comfort in clothing. Elsevier, Amsterdam, pp 61–78

Sabir T (2017) Fibers used for high-performance apparel. In: High-performance apparel. Elsevier, Amsterdam, pp 7–32

Sasaki K, Tenjimbayashi M, Manabe K, Shiratori S (2015) Asymmetric superhydrophobic/superhydrophilic cotton fabrics designed by spraying polymer and nanoparticles. ACS Appl Mater Interfaces 8:651–659

Tawiah B, Yu B, Cheung WY, Chan SY, Yang W, Fei B (2018) Synthesis and application of synergistic azo-boron-BPA/polydopamine as efficient flame retardant for poly (lactic acid). Polym Degrad Stab 152:64–74

Thakur VK, Thakur MK (2014) Processing and characterization of natural cellulose fibers/thermoset polymer composites. Carbohydr Polym 109:102–117

Wang Y-Z (2008) Halogen-free flame retardants. In: Advances in fire retardant materials. Elsevier, Amsterdam, pp 67–94

Wu W, Yang CQ (2007) Comparison of different reactive organophosphorus flame retardant agents for cotton. Part II: fabric flame resistant performance and physical properties. Polym Degrad Stab 92:363–369

Xie K, Gao A, Zhang Y (2013) Flame retardant finishing of cotton fabric based on synergistic compounds containing boron and nitrogen. Carbohydr Polym 98:706–710

Yang Z, Fei B, Wang X, Xin JH (2012a) A novel halogen-free and formaldehyde-free flame retardant for cotton fabrics. Fire Mater 36:31–39

Yang Z, Wang X, Lei D, Fei B, Xin JH (2012b) A durable flame retardant for cellulosic fabrics. Polym Degrad Stab 97:2467–2472

Zhang Q-H, Gu J, Chen G-Q, Xing T-L (2016) Durable flame retardant finish for silk fabric using boron hybrid silica sol. Appl Surf Sci 387:446–453

Zhang J, Horton J, Gao XH (2017) Methods of conferring fire retardancy to wood and fire-retardant wood products. Google Patents

Zhu P, Sui S, Wang B, Sun K, Sun G (2004) A study of pyrolysis and pyrolysis products of flame-retardant cotton fabrics by DSC, TGA, and PY–GC–MS. J Anal Appl Pyrol 71:645–655. https://doi.org/10.1016/j.jaap.2003.09.005

Zhu S et al (2006) Dissolution of cellulose with ionic liquids and its application: a mini-review. Green Chem 8:325–327
Acknowledgments
We are grateful for the funding support of GRF project 15208015.
Ethics declarations
Conflict of interest
The authors declare no competing financial interest for this research work.
Additional information
Publisher's Note
Springer Nature remains neutral with regard to jurisdictional claims in published maps and institutional affiliations.
Electronic supplementary material
Below is the link to the electronic supplementary material.
About this article
Cite this article
Tawiah, B., Yu, B., Yang, W. et al. Facile flame retardant finishing of cotton fabric with hydrated sodium metaborate. Cellulose 26, 4629–4640 (2019). https://doi.org/10.1007/s10570-019-02371-7
Received:

Accepted:

Published:

Issue Date:
Keywords
Cotton fabric

Flame retardant

Cone calorimeter

Sodium metaborate

Mechanical properties