Abstract
Nanocellulose is a material of interest for biomedical applications due to its morphological similarity with tissues' own collagen. New cell culture substrates that mimic the human body tissue stiffness and extracellular matrix can be used to study cell behaviour in a way that is not possible for traditional plastic substrates. Five wood-based micro-and nanofibrillated cellulose films without additives were prepared to investigate the effects of nanocellulose charge density and fibril size on the mechanical properties of the films in liquids. Swelling behaviour of the films was studied in deionized water, in complete cell culture media (DMEM) and in CaCl2 solutions. Atomic force microscopy with a colloidal probe was used to measure Young's modulus at the surface of the thin films submerged in the liquids. Cell culture media and CaCl2 solutions reduced the swelling of the films observed in deionized water, most probably due to a bridging effect by the calcium ions. The reduction was proportional to the charge of the particular nanocellulose. Young's modulus in compression varied randomly on sample surfaces and appeared not to be directly related to topography of the films. In complete DMEM, the average Young's modulus varied from 0.8 to 36.4 kPa, in the same stiffness range as two skin tissue layers, dermis and epidermis. Therefore, from mechanical properties point of view, these films seem suitable as cell culture substrates for skin tissue cells and could be used in skin tissue engineering.
This is a preview of subscription content, log in to check access.
Access options
Buy single article
Instant access to the full article PDF.
US$ 39.95
Price includes VAT for USA
Subscribe to journal
Immediate online access to all issues from 2019. Subscription will auto renew annually.
US$ 199
This is the net price. Taxes to be calculated in checkout.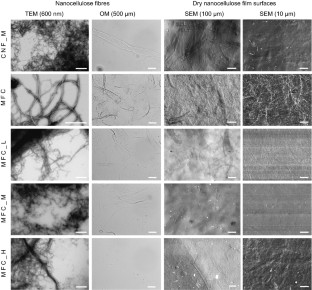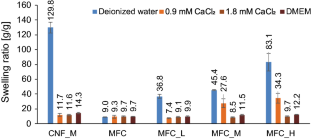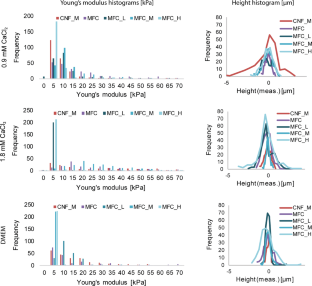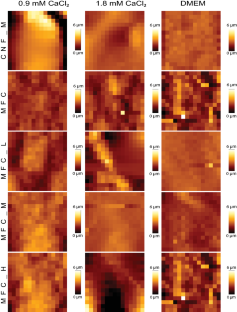 References
Agrawal CM (1998) Reconstructing the human body using biomaterials. JOM 50:31–35. https://doi.org/10.1007/s11837-998-0064-5

Anonymous (2017) Determining the elastic modulus of biological samples using atomic force microscopy. JPK Instrum 9:1–9

Benitez AJ, Walther A (2017) Counterion size and nature control structural and mechanical response in cellulose nanofibril nanopapers. Biomacromolecules 18:1642–1653. https://doi.org/10.1021/acs.biomac.7b00263

Chinga-Carrasco G, Syverud K (2014) Pretreatment-dependent surface chemistry of wood nanocellulose for pH-sensitive hydrogels. J Biomater Appl 29:423–432. https://doi.org/10.1177/0885328214531511

Discher DE, Janmey P, Wang Y (2005) Tissue cells feel and respond to the stiffness of their substrate. Science 310:1139–1143. https://doi.org/10.1126/science.1116995

Dufresne A (2012) Nanocellulose: from nature to high performance tailored materials. De Gruyter, Berlin

Jorfi M, Foster EJ (2015) Recent advances in nanocellulose for biomedical applications. J Appl Polym Sci 132:5. https://doi.org/10.1002/app.41719

Jozala AF, de Lencastre-Novaes LC, de Lopes AM, Carvalho S, Mazzola PG, Pessoa-Jr A, Grotto D, Gerenutti M, Chaud MV (2016) Bacterial nanocellulose production and application: a 10-year overview. Appl Microbiol Biotechnol 100:2063–2072. https://doi.org/10.1007/s00253-015-7243-4

Li Q, Chen W, Li Y, Guo X, Song S, Wang Q, Liu Y, Li J, Yu H, Zeng J (2016) Comparative study of the structure, mechanical and thermomechanical properties of cellulose nanopapers with different thickness. Cellulose 23:1375–1382. https://doi.org/10.1007/s10570-016-0857-6

Lin N, Dufresne A (2014) Nanocellulose in biomedicine: current status and future prospect. Eur Polym J 59:302–325. https://doi.org/10.1016/j.eurpolymj.2014.07.025

Liu J, Korpinen R, Mikkonen KS, Willför S, Xu C (2014) Nanofibrillated cellulose originated from birch sawdust after sequential extractions: a promising polymeric material from waste to films. Cellulose 21:2587–2598. https://doi.org/10.1007/s10570-014-0321-4

Liu J, Cheng F, Grénman H, Spoljaric S, Seppälä JE, Eriksson J, Willför S, Xu C (2016a) Development of nanocellulose scaffolds with tunable structures to support 3D cell culture. Carbohydr Polym 148:259–271. https://doi.org/10.1016/j.carbpol.2016.04.064

Liu J, Chinga-Carrasco G, Cheng F, Xu W, Willför S, Syverud K, Xu C (2016b) Hemicellulose-reinforced nanocellulose hydrogels for wound healing application. Cellulose 23:3129–3143. https://doi.org/10.1007/s10570-016-1038-3

Miller K, Chinzei K, Orssengo G, Bednarz P (2000) Mechanical properties of brain tissue in vivo: experiment and computer simulation. J Biomech 33:1369–1376. https://doi.org/10.1016/S0021-9290(00)00120-2

Mittal N, Janson R, Widhe M, Benselfelt T, Hakansson KMO, Lundell F, Hedhammar M, Soderberg LD (2017) Ultrastrong and bioactive nanostructured bio-based composites. ACS Nano 11:5148–5159. https://doi.org/10.1021/acsnano.7b02305

O'Brien FJ (2011) Biomaterials and scaffolds for tissue engineering. Mater Today 14:88–95. https://doi.org/10.1016/S1369-7021(11)70058-X

Pailler-Mattei C, Bec S, Zahouani H (2008) In vivo measurements of the elastic mechanical properties of human skin by indentation tests. Med Eng Phys 30:599–606. https://doi.org/10.1016/j.medengphy.2007.06.011

Saito T, Kimura S, Nishiyama Y, Isogai A (2007) Cellulose nanofibers prepared by TEMPO-mediated oxidation of native cellulose. Biomacromolecules 8:2485–2491. https://doi.org/10.1021/bm0703970

Shimizu M, Saito T, Isogai A (2016) Water-resistant and high oxygen-barrier nanocellulose films with interfibrillar cross-linkages formed through multivalent metal ions. J Membr Sci 500:1–7. https://doi.org/10.1016/j.memsci.2015.11.002

Sirvio JA, Anttila A, Pirttila AM, Liimatainen H, Kilpelainen I, Niinimaki J, Hormi O (2014) Cationic wood cellulose films with high strength and bacterial anti-adhesive properties. Cellulose 21:3573–3583. https://doi.org/10.1007/s10570-014-0351-y

Smyth M, Fournier C, Driemeier C, Picart C, Foster EJ, Bras J (2017) Tunable structural and mechanical properties of cellulose nanofiber substrates in aqueous conditions for stem cell culture. Biomacromolecules 18:2034–2044. https://doi.org/10.1021/acs.biomac.7b00209

Stolz M, Raiteri R, Daniels AU, VanLandingham MR, Baschong W, Aebi U (2004) Dynamic elastic modulus of porcine articular cartilage determined at two different levels of tissue organization by indentation-type atomic force microscopy. Biophys J 86:3269–3283. https://doi.org/10.1016/S0006-3495(04)74375-1

Wang B, Torres-Rendon J, Yu J, Zhang Y, Walther A (2015) Aligned bioinspired cellulose nanocrystal-based nanocomposites with synergetic mechanical properties and improved hygromechanical performance. ACS Appl Mater Interfaces 7:4595–4607. https://doi.org/10.1021/am507726t
Acknowledgments
Atomic force spectroscopy was performed at the Cell Imaging Core, Turku Centre for Biotechnology, University of Turku and Åbo Akademi University. The authors wish to thank Takahiro Deguchi for atomic force spectroscopy training and Jun Liu for helping with nanocellulose preparations.
Electronic supplementary material
Below is the link to the electronic supplementary material.
About this article
Cite this article
Kummala, R., Xu, W., Xu, C. et al. Stiffness and swelling characteristics of nanocellulose films in cell culture media. Cellulose 25, 4969–4978 (2018). https://doi.org/10.1007/s10570-018-1940-y
Received:

Accepted:

Published:

Issue Date:
Keywords
Nanocellulose

Indentation

Skin tissue

AFM

Swelling

Young's modulus