Effect of aluminosilicate on flame-retardant and mechanical properties of lignocellulose composite
Abstract
Functionalized lignocellulose (LC) wrapped with aluminosilicate was fabricated via a facial mechanical grinding assisted hot-pressing method, which used for flame retardant composite. The aluminosilicate particles with an average size of 3 μm were distributed on the lignocellulose surface by hydrogen bonds and viscous polyacrylamide (PAM). The as-prepared aluminosilicate-PAM/lignocellulose (A-PAM/LC) composite exhibited the excellent flame-retardancy and mechanical properties. The thermal decomposition of A-PAM/LC composite delayed by 31 °C as the aluminosilicate was loaded. The heat release rate (HRR) and total heat release (THR) of A-PAM/LC composite was reduced by 20.6 and 41.1%, respectively. Meanwhile, the A-PAM/LC composite showed the maximum bending strength of 34.23 ± 1.52 MPa and increased by 67.3% compared to the PAM/LC composite.
Graphical Abstract
Aluminosilicate wrapped PAM/lignocellulose composite showed excellent flame-retardant and mechanical properties.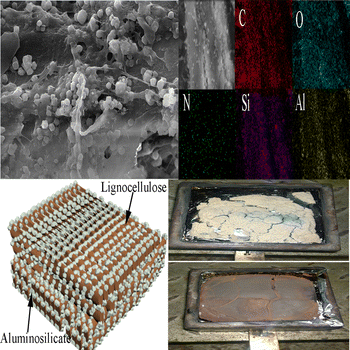 Keywords
Lignocellulose 
Flame retardancy 
Mechanical properties 
Thermal analysis 
Notes
Acknowledgments
This research was supported by Special Fund for Forest Scientific Research in the Public Welfare (Grant No. 201504501), Scientific Research Foundation of Zhejiang A&F University (Grant No. 2014FR077).
Compliance with ethical standards
Conflict of interest
The authors declare no conflict of interests.
Copyright information
© Springer Science+Business Media B.V., part of Springer Nature 2018