Abstract
Cellulose derivatives are an attractive sustainable material used frequently in biomaterials, however their solubility in safe, green solvents is not widely exploited. In this work three cellulose derivatives; ethyl cellulose, cellulose acetate and carboxymethyl cellulose were subjected to electrohydrodynamic processing. All were processed with safe, environmentally friendly solvents; ethanol, acetone and water. Ethyl cellulose was electrospun and an interesting transitional region was identified. The morphological changes from particles with tails to thick fibres were charted from 17 to 25 wt% solutions. The concentration and solvent composition of cellulose acetate (CA) solutions were then changed; increasing the concentration also increased fibre size. At 10 wt% CA, with acetone only, fibres with heavy beading were produced. In an attempt to incorporate water in the binary solvent system to reduce the acetone content, 80:20 acetone/water solvent system was used. It was noted that for the same concentration of CA (10 wt%), the beading was reduced. Finally, carboxymethyl cellulose was electrospun with poly(ethylene oxide), with the molecular weight and polymer compositions changed and the morphology observed.
Access options
Buy single article
Instant access to the full article PDF.
USD 39.95
Price excludes VAT (USA)
Tax calculation will be finalised during checkout.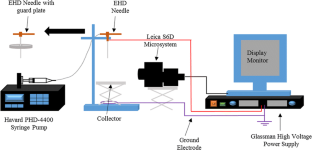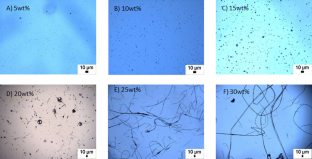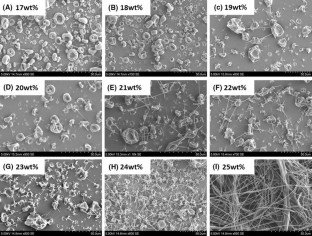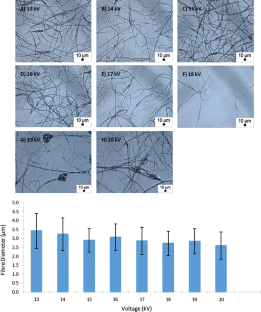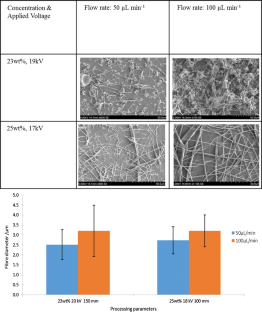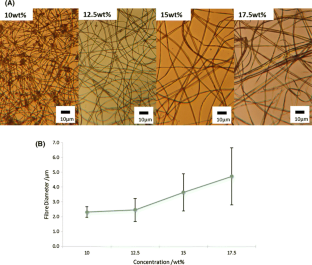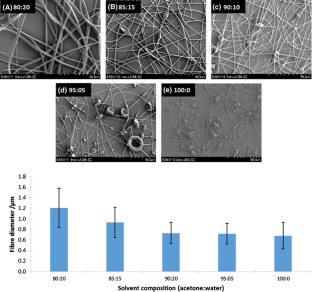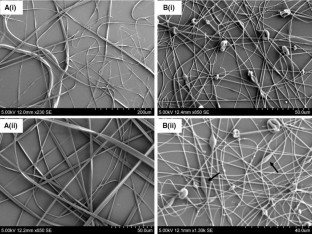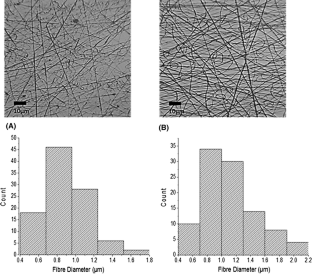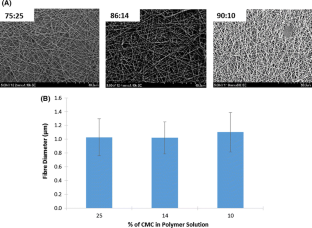 References
Agarwal S, Wendorff JH, Greiner A (2008) Use of electrospinning technique for biomedical applications. Polymer 49(26):5603–5621

Almeria B, Deng W, Fahmy TM, Gomez A (2010) Controlling the morphology of electrospray-generated PLGA microparticles for drug delivery. J Colloid Interface Sci 343(1):125–133

Brako F, Raimi-Abraham B, Mahalingam S, Craig DQM, Edirisinghe M (2015) Making nanofibres of mucoadhesive polymer blends for vaginal therapies. Eur Polym J 70:186–196

Castilla-Casadiego DA, Maldonado M, Sundaram P, Almodovar J (2016) "Green" electrospinning of a collagen/hydroxyapatite composite nanofibrous scaffold. MRS Commun 6(04):402–407

Cui W, Zhou Y, Chang J (2016) Electrospun nanofibrous materials for tissue engineering and drug delivery. Sci Technol Adv Mater 11(1):014108

Deitzel JM, Kleinmeyer J, Harris D, Beck Tan NC (2001) The effect of processing variables on the morphology of electrospun nanofibers and textiles. Polymer 42:261–272

Duarte AR, Gordillo MD, Cardoso MM, Simplicio AL, Duarte CM (2006) Preparation of ethyl cellulose/methyl cellulose blends by supercritical antisolvent precipitation. Int J Pharm 311(1–2):50–54

Eltayeb M, Bakhshi PK, Stride E, Edirisinghe M (2013) Preparation of solid lipid nanoparticles containing active compound by electrohydrodynamic spraying. Food Res Int 53(1):88–95

Formhals A (1934) Process and apparatus for preparing artificial threads. US Patent 1975504A, 1934

Frenot A, Henriksson MW, Walkenström P (2007) Electrospinning of cellulose-based nanofibers. J Appl Polym Sci 103(3):1473–1482

Frey MW (2008) Electrospinning cellulose and cellulose derivatives. Polym Rev 48(2):378–391

Garg K, Bowlin GL (2011) Electrospinning jets and nanofibrous structures. Biomicrofluidics 5(1):13403

Han T, Reneker DH, Yarin AL (2007) Buckling of jets in electrospinning. Polymer 48(20):6064–6076

Hayati I, Bailey A, Tadros TF (1987) Investigations into the mechanism of electrohydrodynamic spraying of liquids: II. Mechanism of stable jet formation and electrical forces acting on a liquid cone. J Colloid Interface Sci 117(1):222–230

Hohman MM, Shin M, Rutledge G, Brenner MP (2001) Electrospinning and electrically forced jets. I. Stability theory. Phys Fluids 13(8):2201

Husain O, Lau W, Edirisinghe M, Parhizkar M (2016) Investigating the particle to fibre transition threshold during electrohydrodynamic atomization of a polymer solution. Mater Sci Eng C Mater Biol Appl 65:240–250

Jeun JP, Lim YM, Choi JH, La HS, Kang PH, Nho YC (2007) Preparation of ethyl-cellulose nanofibers via an electrospinning. Solid State Phenom 119:255–258

Kessick R, Tepper G (2003) Microscale electrospinning of polymer nanofiber interconnections. Appl Phys Lett 83(3):557

Lee KH, Kim HY, Bang HJ, Jung YH, Lee SG (2003) The change of bead morphology formed on electrospun polystyrene fibers. Polymer 44(14):4029–4034

Li Z, Wang C (2013) Effects of working parameters on electrospinning. In: One-dimensional nanostructures: electrospinning technique and unique nanofibers. Springer, Berlin, Heidelberg, pp 15–28

Liu H, Hsieh Y-L (2002) Ultrafine fibrous cellulose membranes from electrospinning of cellulose acetate. J Polym Sci B Polym Phys 40(18):2119–2129

Liu X, Lin T, Gao Y, Xu Z, Huang C, Yao G, Jiang L, Tang Y, Wang X (2012) Antimicrobial electrospun nanofibers of cellulose acetate and polyester urethane composite for wound dressing. J Biomed Mater Res B Appl Biomater 100(6):1556–1565

Loffler H, Kampf G, Schmermund D, Maibach HI (2007) How irritant is alcohol? Br J Dermatol 157(1):74–81

Luo C, Edirisinghe M (2014) Core-liquid-induced transition from coaxial electrospray to electrospinning of low-viscosity poly (lactide-co-glycolide) sheath solution. Macromolecules 47(22):7930–7938

Luo C, Nangrejo M, Edirisinghe M (2010) A novel method of selecting solvents for polymer electrospinning. Polymer 51(7):1654–1662

Luo CJ, Stride E, Edirisinghe M (2012) Mapping the influence of solubility and dielectric constant on electrospinning polycaprolactone solutions. Macromolecules 45(11):4669–4680

Miyamoto T, Takahashi S-I, Ito H, Inagaki H (1989) Tissue biocompatibility of cellulose and its derivatives. J Biomed Mater Res 23:125–133

Park J-Y, Kim J-I, Lee I-H (2015) Fabrication and characterization of antimicrobial ethyl cellulose nanofibers using electrospinning techniques. J Nanosci Nanotechnol 15(8):5672–5675

Reneker DH, Yarin AL, Fong H, Koombhongse S (2000) Bending instability of electrically charged liquid jets of polymer solutions in electrospinning. J Appl Phys 87(9):4531

Shenoy SL, Bates WD, Frisch HL, Wnek GE (2005) Role of chain entanglements on fiber formation during electrospinning of polymer solutions: good solvent, non-specific polymer–polymer interaction limit. Polymer 46(10):3372–3384

Shokri J, Adibki K (2013) Application of cellulose and cellulose derivatives in pharmaceutical industries. In: Van De Ven TGM (ed) Cellulose - medical, pharmaceutical and electronic applications. InTech, pp 47–66

Smallwood IM (1996) Handbook of organic solvent properties. Hodder Headline Group, London

Son WK, Youk JH, Lee TS, Park WH (2003) Electrospinning of ultrafine cellulose acetate fibers: studies of a new solvent system and deacetylation of ultrafine cellulose acetate fibers. J Polym Sci Polym Phys 42:5–11

Son WK, Youk JH, Park WH (2006) Antimicrobial cellulose acetate nanofibers containing silver nanoparticles. Carbohydr Polym 65(4):430–434

Taylor G (1964) Disintegration of water drops in an electric field. In: Proceedings of the Royal Society of London, The Royal Society, London

Tungprapa S, Puangparn T, Weerasombut M, Jangchud I, Fakum P, Semongkhol S, Meechaisue C, Supaphol P (2007) Electrospun cellulose acetate fibers: effect of solvent system on morphology and fiber diameter. Cellulose 14(6):563–575

Yang Y, Jia Z, Liu J, Li Q, Hou L, Wang L, Guan Z (2008) Effect of electric field distribution uniformity on electrospinning. J Appl Phys 103(10):104307

Yuan X, Zhang Y, Dong C, Sheng J (2004) Morphology of ultrafine polysulfone fibers prepared by electrospinning. Polym Int 53(11):1704–1710

Zhang C, Yuan X, Wu L, Han Y, Sheng J (2005) Study on morphology of electrospun poly(vinyl alcohol) mats. Eur Polymer J 41(3):423–432
Acknowledgments
MCM wishes to thank University College London for part funding this work.
About this article
Cite this article
Crabbe-Mann, M., Tsaoulidis, D., Parhizkar, M. et al. Ethyl cellulose, cellulose acetate and carboxymethyl cellulose microstructures prepared using electrohydrodynamics and green solvents. Cellulose 25, 1687–1703 (2018). https://doi.org/10.1007/s10570-018-1673-y
Received:

Accepted:

Published:

Issue Date:

DOI: https://doi.org/10.1007/s10570-018-1673-y
Keywords
Cellulose derivatives

Green solvents

Electrohydrodynamic processing

Microstructures