Abstract
Functionalized magnesium hydroxide fluids (MHFs) with both grafting reactive acrylate groups and organic long chain ion are successfully fabricated and then incorporated in poly(ethylene glycol) diacrylate (PEGDA) to produce flexible MHFs/PPEGDA coated hybrid cotton fabric via UV photo-polymerization. The morphology, composition, transparency, rheological behavior, mechanical and flame retardant properties of MHFs/PPEGDA coating are systematically characterized by various techniques. It is found that tensile strength and young's modulus of MHFs/PPEGDA/cotton composite are as high as 46 and 556 MPa at MHFs loading amount of 40 wt%, respectively, an enhancement of 58.6 and 66.4% in comparison with PPEGDA/cotton composite. What's more, the addition of MHFs not only reduces the surface energy of PEGDA to improve its film-forming property during polymerization process, but also maintains high transparency over 90%. Besides the above mentioned advantages, MHFs/PPEGDA coating as thermal induced shape memory material could be fixed their shape at − 4 °C and rapidly recover their original shape at 60 °C, which is related to the melting transition temperature of MHFs. More importantly, with the synergistic effect of magnesium hydroxide and surface grafted organic long chain ion molecules, the flame retardant property of MHFs/PPEGDA/cotton is also significantly improved. These functionalized organic/inorganic fluids provide a simple approach to fabricate high performance cellulose fabrics with tunable properties in the textile industry.
Access options
Buy single article
Instant access to the full article PDF.
US$ 39.95
Tax calculation will be finalised during checkout.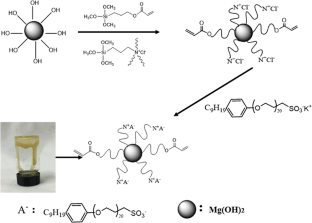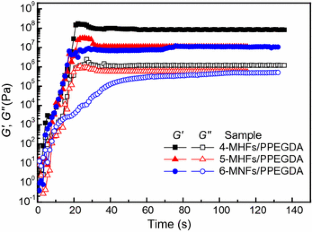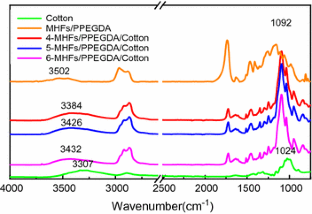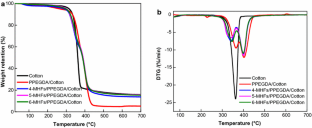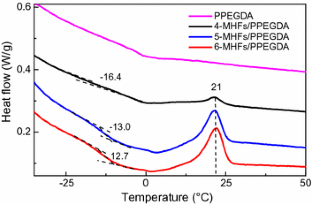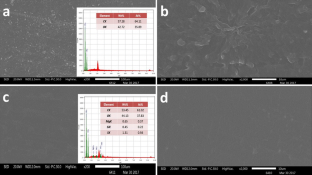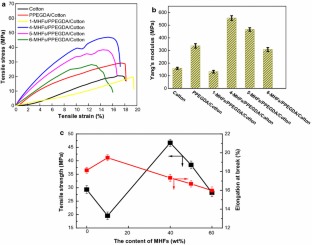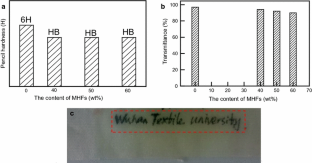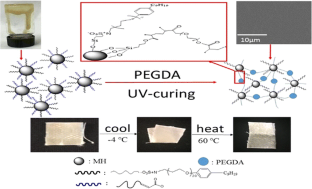 References
Agarwal P, Chopra M, Archer LA (2011) Nanoparticle netpoints for shape-memory polymers. Angew Chem Int Ed Engl 50:8670–8673

Bartosz Z, Zeliha A, Simon G, Robert B, Andreas H, Fraser KJ, Dermot D (2013) Mechanical properties and UV curing behavior of poly(N-isopropylacrylamide) in phosphonium-based ionic liquids. Macromol Chem Phys 214:787–796

Burja K, Šegedin U, Skale S, Berce P, Šket P, Prosen P, Kukanja D (2015) Improved anticorrosion properties of polyurethane coatings based on high-solids acrylics synthesized in a high pressure reactor. Prog Org Coat 78:275–286

Chen D, Chen F, Zhang H, Yin X, Zhou Y (2015) Preparation and characterization of novel hydrophobic cellulose fabrics with polyvinylsilsesquioxane functional coatings. Cellulose 23:941–953

Dong R, Liu L (2016) Preparation and properties of acrylic resin coating modified by functional graphene oxide. Appl Surf Sci 368:378–387

Etmimi HM, Mallon PE (2013) In situ exfoliation of graphite oxide nanosheets in polymer nanocomposites using miniemulsion polymerization. Polymer 54:6078–6088

Fernandes NJ, Wallin TJ, Vaia RA, Koerner H, Giannelis EP (2014) Nanoscale ionic materials. Chem Mater 26:84–96

Gu J, Du J, Dang J, Geng W, Hu S, Zhang Q (2014) Thermal conductivities, mechanical and thermal properties of graphite nanoplatelets/polyphenylene sulfide composites. RSC Adv 4:22101–22105

Gui H, Zhang X, Liu Y, Dong W, Wang Q, Gao J, Song Z, Lai J, Qiao J (2007) Effect of dispersion of nano-magnesium hydroxide on the flammability of flame retardant ternary composites. Compos Sci Technol 67:974–980

Lecouvet B, Sclavons M, Bourbigot S, Devaux J, Bailly C (2011) Water-assisted extrusion as a novel processing route to prepare polypropylene/halloysite nanotube nanocomposites: structure and properties. Polymer 52:4284–4295

Li S, Zhang S, Wang X (2008) Fabrication of superhydrophobic cellulose-based materials through a solution-immersion process. Langmuir ACS J Surf Colloids 24:5585–5590

Li P, Zheng Y, Li M, Shi T, Li D, Zhang A (2016) Enhanced toughness and glass transition temperature of epoxy nanocomposites filled with solvent-free liquid-like nanocrystal-functionalized graphene oxide. Mater Des 89:653–659

Liao F, Zeng X, Huang G (2009) Preparation and properties of UV-curable epoxy acrylate resin/SiO_2 hybrid coatings. Paint Coat Ind 39:15–18

Liu A, Honma I, Ichihara M, Zhou H (2006) Poly(acrylic acid)-wrapped multi-walled carbon nanotubes composite solubilization in water: definitive spectroscopic properties. Nanotechnology 17:2845–2849

Liu Y, Li Y, Zhang C, Wang R, Run M, Song H (2016) Shape memory polybenzoxazines based on a siloxane-containing diphenol. J Polym Sci Part B Polym Phys 54:1255–1266

Nakayama N, Hayashi T (2007) Preparation and characterization of TiO–ZrO and thiol-acrylate resin nanocomposites with high refractive index via UV-induced crosslinking polymerization. Compos A 38:1996–2004

Natu AM, Mark MRVD (2015) Synthesis and characterization of an acid catalyst for acrylic-melamine resin systems based on colloidal unimolecular polymer (CUP) particles of MMA-AMPS. Prog Org Coat 81:35–46

Sain M, Park SH, Suhara F, Law S (2004) Flame retardant and mechanical properties of natural fibre–PP composites containing magnesium hydroxide. Polym Degrad Stab 83:363–367

Sang Z, Zhang W, Zhou Z, Fu H, Tan Y, Sui K, Xia Y (2017) Functionalized alginate with liquid-like behaviors and its application in wet-spinning. Carbohydr Polym 174:933–940

Shi W, Chen J, Yang Q, Wang S, Xiong C (2016) Novel three-dimensional carbon nanotube-graphene architecture with abundant chambers and its application in lithium-silicon batteries. J Phys Chem C 120:13807–13814

Shirkavand S, Moslehifard E (2014) Effect of TiO2 nanoparticles on tensile strength of dental acrylic resins. J Dent Res Dent Clin Dent Prospects 8:197–203

Sierra-Fernandez A, Gomez-Villalba LS, Milosevic O, Fort R, Rabanal ME (2014) Synthesis and morpho-structural characterization of nanostructured magnesium hydroxide obtained by a hydrothermal method. Ceram Int 40:12285–12292

Song P, Xu Z, Lu Y, Guo Q (2015) Bio-inspired hydrogen-bond cross-link strategy toward strong and tough polymeric materials. Macromolecules 48:3957–3964

Texter J, Qiu Z, Crombez R, Byrom J, Shen W (2011) Nanofluid acrylate composite resins-initial preparation and characterization. Polym Chem 2:1778–1788

Texter J, Qiu ZQ, Crombez R, Shen W (2013) Nanofluid polyurethane/polyurea resins-thin films and clearcoats. J Polym Sci Part A Polym Chem 51:3439–3448

Vallittu PK (1999) Flexural properties of acrylic resin polymers reinforced with unidirectional and woven glass fibers. J Prosthet Dent 81:318–326

Yang S, Li S, Yin X, Wang L, Chen D, Zhou Y, Wang H (2016a) Preparation and characterization of non-solvent halloysite nanotubes nanofluids. Appl Clay Sci 126:215–222

Yang S, Liu J, Pan F, Yin X, Wang L, Chen D, Zhou Y, Xiong C, Wang H (2016b) Fabrication of self-healing and hydrophilic coatings from liquid-like graphene@SiO2 hybrids. Compos Sci Technol 136:133–144

Yang S, Tan Y, Yin X, Chen S, Chen D, Wang L, Zhou Y, Xiong C (2016c) Preparation and characterization of monodisperse solvent-free silica nanofluids. J Dispers Sci Technol 38:425–431

Yerro O, Radojević V, Radović I, Kojović A, Uskoković PS, Stojanović DB, Aleksić R (2016) Enhanced thermo-mechanical properties of acrylic resin reinforced with silanized alumina whiskers. Ceram Int 42:10779–10786

Yin X, Weng P, Yang S, Han L, Du Z, Wang L, Tan Y (2017a) Preparation of viscoelastic gel-like halloysite hybrids and their application in halloysite/polystyrene composites. Polym Int 66:1372–1381

Yin X, Weng P, Yang S, Han L, Tan Y, Pan F, Chen D, Wang L, Qin J, Wang H (2017b) Suspended carbon black fluids reinforcing and toughening of poly(vinyl alcohol) composites. Mater Des 130:37–47

Zhang X, Zheng YP, Yang RL, Yang HC (2014) Nanocomposites with liquid-like multiwalled carbon nanotubes dispersed in epoxy resin without solvent process. Int J Polym Sci 2014:1–6

Zhao Q, Zou W, Luo Y, Xie T (2016) Shape memory polymer network with thermally distinct elasticity and plasticity. Sci Adv 2:1501297
Acknowledgments
This work was partially supported by the National Natural Science Foundation of China (51403165, 51403113). The Open Project Program of High-Tech Organic Fibers Key Laboratory of Sichuan Province (PLN2016-02) and Guidance Project of China Textile Industry Association (2015017) and Natural Science Foundation for Distinguished Young Scientists of Shandong Province (BS2014CL007), Postdoctoral Science Foundation of China and Shandong Province (2016T90610, 2015M571994 and 201501007), and Project of Shandong Province Higher Educational Science and Technology Program (J14LA19).
Electronic supplementary material
Below is the link to the electronic supplementary material.
About this article
Cite this article
Weng, P., Yin, X., Yang, S. et al. Functionalized magnesium hydroxide fluids/acrylate-coated hybrid cotton fabric with enhanced mechanical, flame retardant and shape-memory properties. Cellulose 25, 1425–1436 (2018). https://doi.org/10.1007/s10570-017-1611-4
Received:

Accepted:

Published:

Issue Date:
Keywords
Magnesium hydroxide

Fluids

Coating

Cotton fabric

Acrylate