Abstract
Cellulose nanofibers (CNFs) have emerged as a promising nanofiller for effective reinforcement of nanocomposites due to their excellent mechanical properties. In this study, CNFs were fabricated by a simple grinding method and used to strengthen polyacrylamide (PAM) gels through in situ free radical polymerization. The morphology, compression properties, and chemical structure of the prepared gels were investigated. The results showed that large amounts of nanofibers embedded inside the PAM matrix and formed network structure by increasing the CNF content. Significantly, PAM/CNF gel with 5 wt% CNF exhibited highly improved compression strength by 6.8-fold as compared to that of pure PAM gel. The FTIR analysis indicated that hydrogen bondings between CNF and PAM chains mainly contributed to the superior mechanical properties of the hybrid gels. In summary, this study provides a novel alternative approach for preparing tough composite gels by combing rigid CNF and soft polymer and extending the application of biomedical load-bearing gel materials such as artificial cartilage and other soft tissues.
Access options
Buy single article
Instant access to the full article PDF.
US$ 39.95
Tax calculation will be finalised during checkout.
Subscribe to journal
Immediate online access to all issues from 2019. Subscription will auto renew annually.
US$ 119
Tax calculation will be finalised during checkout.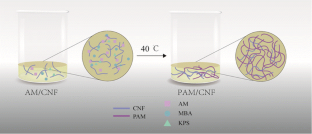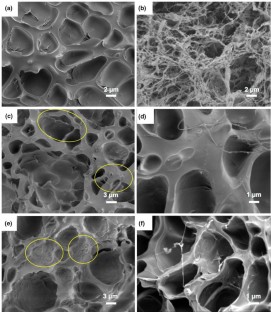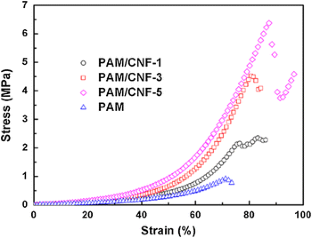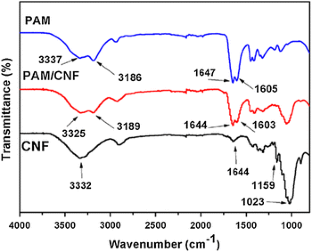 References
Abe K, Yano H (2011) Formation of hydrogels from cellulose nanofibers. Carbohyd Polym 85:733–737

Abe K, Yano H (2012) Cellulose nanofiber-based hydrogels with high mechanical strength. Cellulose 19:1907–1912

Abe K, Iwamoto S, Yano H (2007) Obtaining cellulose nanofibers with a uniform width of 15 nm from wood. Biomacromolecules 8:3276–3278

Chen C, Li D, Yano H, Abe K (2014) Dissolution and gelation of α-chitin nanofibers using a simple NaOH treatment at low temperatures. Cellulose 21:3339–3346

Chen C, Yano H, Li D, Abe K (2015) Preparation of high-strength α-chitin nanofiber-based hydrogels under mild conditions. Cellulose 22:2543–2550

Fox J et al (2012) High-strength, healable, supramolecular polymer nanocomposites. J Am Chem Soc 134:5362–5368

Hagiwara Y, Putra A, Kakugo A, Furukawa H, Gong JP (2009) Ligament-like tough double-network hydrogel based on bacterial cellulose. Cellulose 17:93–101

Haraguchi K (2011) Synthesis and properties of soft nanocomposite materials with novel organic/inorganic network structures. Polym J 43:223–241

He C, Jiao K, Zhang X, Xiang M, Li Z, Wang H (2011) Nanoparticles, microgels and bulk hydrogels with very high mechanical strength starting from micelles. Soft Matter 7:2943

Huang B, Lu Q, Tang L (2016) Research progress of nanocellulose manufacture and application. J For Eng 1:1–9

Jiang F, Zhang Y, Wang Z et al (2015) Combination of magnetic and enhanced mechanical properties for copolymer-grafted magnetite composite thermoplastic elastomers. ACS Appl Mater Interfaces 7(19):10563–10575

Kurihara T, Isogai A (2013) Properties of poly(acrylamide)/TEMPO-oxidized cellulose nanofibril composite films. Cellulose 21:291–299

Kurihara T, Isogai A (2014) The effect of electric charge density of polyacrylamide (PAM) on properties of PAM/cellulose nanofibril composite films. Cellulose 22:499–506

Kurihara T, Isogai A (2015) Mechanism of TEMPO-oxidized cellulose nanofibril film reinforcement with poly(acrylamide). Cellulose 22:2607–2617

Ma L, Xue X, Wang S, Zhang Y (2016) Preparing nanocellulose whisker reinforced ABS composites by liquid mixing method. J For Eng 1:91–95

Nishino T, Takano K, Nakamae K (1995) Elastic modulus of the crystalline regions of cellulose polymorphs. J Polym Sci Part B Polym Phys 33(11):1647–1651

Siqueira G, Bras J, Dufresne A (2010) Cellulosic bionanocomposites: a review of preparation, properties and applications. Polymers 2(4):728–765

Siró I, Plackett D (2010) Microfibrillated cellulose and new nanocomposite materials: a review. Cellulose 17(3):459–494

Wang Z, Zhang Y, Yuan L et al (2016) Biomass approach toward robust, sustainable, multiple-shape-memory materials. ACS Macro Lett 5(5):602–606

Xu X, Liu F, Jiang L et al (2013) Cellulose nanocrystals vs. cellulose nanofibrils: a comparative study on their microstructures and effects as polymer reinforcing agents. ACS Appl Mater Interfaces 5(8):2999–3009

Yang J, Han C-R, Duan J-F, Ma M-G, Zhang X-M, Xu F, Sun R-C (2013) Synthesis and characterization of mechanically flexible and tough cellulose nanocrystals–polyacrylamide nanocomposite hydrogels. Cellulose 20:227–237

Yang J, Han C-R, Zhang X-M, Xu F, Sun R-C (2014) Cellulose nanocrystals mechanical reinforcement in composite hydrogels with multiple cross-links: correlations between dissipation properties and deformation mechanisms. Macromolecules 47:4077–4086

Zhao X (2014) Multi-scale multi-mechanism design of tough hydrogels: building dissipation into stretchy networks. Soft Matter 10:672–687

Zhou C, Wu Q (2011) A novel polyacrylamide nanocomposite hydrogel reinforced with natural chitosan nanofibers. Colloids Surf B 84:155–162

Zhou C, Wu Q, Yue Y, Zhang Q (2011) Application of rod-shaped cellulose nanocrystals in polyacrylamide hydrogels. J Colloid Interface Sci 353:116–123
Acknowledgments
This work was financially supported by Key Laboratory of Bio-based Material Science and Technology (Northeast Forestry University), Ministry of Education (SWZCL2016-07), Natural Science Foundation of Jiangsu Province (CN) (No. BK20170925 20150875), National Natural Science Foundation of China (NSFC 31370557 31670555), and Innovation Fund for Young Scholars of Nanjing Forestry University (201701).
Ethics declarations
Conflict of interest
The authors declare that they have no conflict of interest.
About this article
Cite this article
Chen, C., Wang, H., Li, S. et al. Reinforcement of cellulose nanofibers in polyacrylamide gels. Cellulose 24, 5487–5493 (2017). https://doi.org/10.1007/s10570-017-1512-6
Received:

Accepted:

Published:

Issue Date:
Keywords
Cellulose nanofibers

Polyacrylamide gels

Reinforcement

Compression properties