Abstract
This research intends to enhance the antimicrobial activity of cotton fabrics coated with metallized TiO2-based colloids through integrating noble metals (Ag, Au) and silica in the synthesis process. Colloids were synthesized through a low-temperature sol–gel method and applied to the surface of fabrics at ambient temperature. Four molar ratios of metal to TiO2 (0.01, 0.1, 0.5 and 1%) were used in the synthesis process of colloids to elucidate the impacts of metal type and concentration on the antimicrobial activity of fabrics. The antimicrobial property of coated fabrics was studied through monitoring the growth reduction rate of Escherichia coli (E. coli) bacterium in dark. The UV protection property of coated fabrics was analyzed based on the ultraviolet protection factor (UPF) and UV transmittance rates of fabrics. Moreover, the impact of coating process on the mechanical characteristics of fabrics was examined based on changes in fabric tensile strength and air permeability. The surface morphology and elemental composition of coated fabrics were characterized using SEM images and EDS analysis, respectively. It was observed that the presence of noble metals significantly enhanced the antimicrobial property of fabrics particularly for samples coated with Ag-modified colloids. Also, the presence of metals and silica showed positive and negative impacts on UPF values of fabrics, respectively. While the fabrics' tensile strength improved, the air permeability decreased to some extent after coating. The role of influencing parameters such as the type and concentration of metals, the presence of silica, and the associated mechanisms were discussed.
Access options
Buy single article
Instant access to the full article PDF.
US$ 39.95
Tax calculation will be finalised during checkout.
Subscribe to journal
Immediate online access to all issues from 2019. Subscription will auto renew annually.
US$ 119
Tax calculation will be finalised during checkout.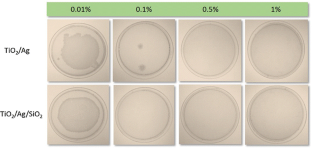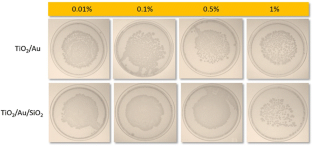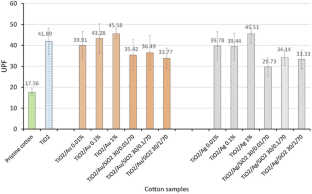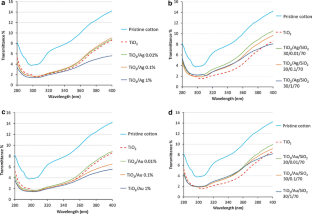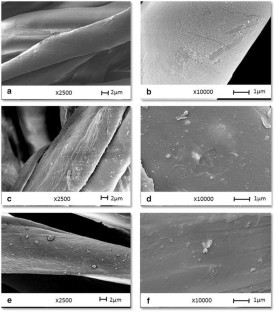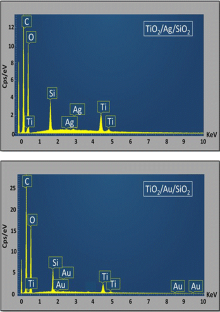 References
Ahearn DG, May LL, Gabriel MM (1995) Adherence of organisms to silver-coated surfaces. J Ind Microbiol 15:372–376

Bingham S, Daoud WA (2011) Recent advances in making nano-sized TiO2 visible-light active through rare-earth metal doping. J Mater Chem 21:2041–2050

Busila M, Musat V, Textor T, Mahltig B (2015) Synthesis and characterization of antimicrobial textile finishing based on Ag:ZnO nanoparticles/chitosan biocomposites. RSC Adv 5:21562–21571

Cui Y, Zhao Y, Tian Y, Zhang W, Lü X, Jiang X (2012) The molecular mechanism of action of bactericidal gold nanoparticles on Escherichia coli. Biomaterials 33:2327–2333

Daoud WA, Xin JH (2004) Low temperature sol–gel processed photocatalytic titania coating. J Sol-Gel Sci Technol 29:25–29

Daoud WA, Xin JH, Zhang Y-H (2005) Surface functionalization of cellulose fibers with titanium dioxide nanoparticles and their combined bactericidal activities. Surf Sci 599:69–75

Dastjerdi R, Montazer M (2010) A review on the application of inorganic nano-structured materials in the modification of textiles: focus on anti-microbial properties. Colloids Surf B Biointerfaces 79:5–18

Dev VRG, Venugopal J, Sudha S, Deepika G, Ramakrishna S (2009) Dyeing and antimicrobial characteristics of chitosan treated wool fabrics with henna dye. Carbohydr Polym 75:646–650

Egger S, Lehmann RP, Height MJ, Loessner MJ, Schuppler M (2009) Antimicrobial properties of a novel silver–silica nanocomposite material. Appl Environ Microbiol 75:2973–2976

El-Nahrawy AM, Ali AI, Abou Hammad AB, Youssef AM (2016) Influences of Ag-NPs doping chitosan/calcium silicate nanocomposites for optical and antibacterial activity. Int J Biol Macromol 93:267–275

Fan J, Hunter L (2009) Engineering apparel fabrics and garments. Woodhead Publishing Limited, Cambridge, UK

Fatahi I, Yazdi AA (2010) Assessment of the relationship between air permeability of woven fabrics and its mechanical properties. Fibres Text East Eur 18:68–71

Feng Q, Wu J, Chen G, Cui F, Kim T, Kim J (2000) A mechanistic study of the antibacterial effect of silver ions on Escherichia coli and Staphylococcus aureus. J Biomed Mater Res 52:662–668

Fu G, Vary PS, Lin C-T (2005) Anatase TiO2 nanocomposites for antimicrobial coatings. J Phys Chem B 109:8889–8898

Fujishima A, Rao TN, Tryk DA (2000) Titanium dioxide photocatalysis. J Photochem Photobiol C Photochem Rev 1:1–21

Yuan G, Cranston R (2008) Recent advances in antimicrobial treatments of textiles. Text Res J 78:60–72

Gashti MP (2014) Nanocomposite coatings: state of the art approach in textile finishing. J Text Sci Eng 4:1

Gashti MP, Eslami S (2015) A robust method for producing electromagnetic shielding cellulose via iron oxide pillared clay coating under ultraviolet irradiation. Funct Mater Lett 8:1550073

Gashti MP, Gashti MP (2013) Effect of colloidal dispersion of clay on some properties of wool fiber. J Dispers Sci Technol 34:853–858

Gashti MP, Yousefpour Navid M, Hossein Rahimi M (2013) Effects of coating of nano-and microemulsion silicones on thermal properties and flammability of polyethylene terephthalate textile. Pigment Resin Technol 42:34–44

Gashti MP, Ghehi ST, Arekhloo SV, Mirsmaeeli A, Kiumarsi A (2015) Electromagnetic shielding response of UV-induced polypyrrole/silver coated wool. Fibers Polym 16:585–592

Gashti MP, Pakdel E, Alimohammadi F (2016) Nanotechnology-based coating techniques for smart textiles. In: HU J (ed) Active coatings for smart textiles. Woodhead Publishing, Duxford

Han S, Yang Y (2005) Antimicrobial activity of wool fabric treated with curcumin. Dyes Pigments 64:157–161

Havlová M (2013) Air permeability and costructional parameters of woven fabrics. Fibres Text East Eur 21:84–89

Hebeish AA, Abdelhady MM, Youssef AM (2013) TiO2 nanowire and TiO2 nanowire doped Ag-PVP nanocomposite for antimicrobial and self-cleaning cotton textile. Carbohydr Polym 91:549–559

Kim JS, Kuk E, Yu KN, Kim J-H, Park SJ, Lee HJ, Kim SH, Park YK, Park YH, Hwang C-Y, Kim Y-K, Lee Y-S, Jeong DH, Cho M-H (2007a) Antimicrobial effects of silver nanoparticles. Nanomed Nanotechnol Biol Med 3:95–101

Kim YH, Lee DK, Cha HG, Kim CW, Kang YS (2007b) Synthesis and characterization of antibacterial Ag–SiO2 nanocomposite. J Phys Chem C 111:3629–3635

Ladhari N, Baouab MHV, Ben Dekhil A, Bakhrouf A, Niquette P (2007) Antibacterial activity of quaternary ammonium salt grafted cotton. J Text Inst 98:209–218

Lakshmanan A, Chakraborty S (2017) Coating of silver nanoparticles on jute fibre by in situ synthesis. Cellulose 24:1563–1577

Lewin M (2007) Handbook of fiber chemistry, 3rd edn. Taylor and Francis Group LLC, Boca Raton

Li W-R, Xie X-B, Shi Q-S, Zeng H-Y, Ou-Yang Y-S, Chen Y-B (2010) Antibacterial activity and mechanism of silver nanoparticles on Escherichia coli. Appl Microbiol Biotechnol 85:1115–1122

Li G, Liu H, Zhao H, Gao Y, Wang J, Jiang H, Boughton RI (2011) Chemical assembly of TiO2 and TiO2@Ag nanoparticles on silk fiber to produce multifunctional fabrics. J Colloid Interface Sci 358:307–315

Li Z, Wang L, Chen S, Feng C, Chen S, Yin N, Yang J, Wang H, Xu Y (2015) Facilely green synthesis of silver nanoparticles into bacterial cellulose. Cellulose 22:373–383

Linsebigler AL, Lu G, Yates JT Jr (1995) Photocatalysis on TiO2 surfaces: principles, mechanisms, and selected results. Chem Rev 95:735–758

Liu J, Liu C, Liu Y, Chen M, Hu Y, Yang Z (2013) Study on the grafting of chitosan–gelatin microcapsules onto cotton fabrics and its antibacterial effect. Colloids Surf B Biointerfaces 109:103–108

Ma M, Sun Y, Sun G (2003) Antimicrobial cationic dyes: part 1: synthesis and characterization. Dyes Pigments 58:27–35

Mahltig B, Gutmann E, Reibold M, Meyer DC, Böttcher H (2009) Synthesis of Ag and Ag/SiO2 sols by solvothermal method and their bactericidal activity. J Sol-Gel Sci Technol 51:204–214

Mahltig B, Fiedler D, Fischer A, Simon P (2010) Antimicrobial coatings on textiles–modification of sol–gel layers with organic and inorganic biocides. J Sol-Gel Sci Technol 55:269–277

Mahltig B, Tatlises B, Fahmi A, Haase H (2013) Dendrimer stabilized silver particles for the antimicrobial finishing of textiles. J Text Inst 104:1042–1048

Montazer M, Pakdel E (2010) Reducing photoyellowing of wool using nano TiO2. Photochem Photobiol 86:255–260

Montazer M, Pakdel E (2011) Functionality of nano titanium dioxide on textiles with future aspects: focus on wool. J Photochem Photobiol Photochem C Rev 12:293–303

Montazer M, Behzadnia A, Pakdel E, Rahimi MK, Moghadam MB (2011a) Photo induced silver on nano titanium dioxide as an enhanced antimicrobial agent for wool. J Photochem Photobiol B Biol 103:207–214

Montazer M, Pakdel E, Behzadnia A (2011b) Novel feature of nano-titanium dioxide on textiles: antifelting and antibacterial wool. J Appl Polym Sci 121:3407–3413

Nooralian Z, Parvinzadeh Gashti M, Ebrahimi I (2016) Fabrication of a multifunctional graphene/polyvinylphosphonic acid/cotton nanocomposite via facile spray layer-by-layer assembly. RSC Adv 6:23288–23299

Pakdel E, Daoud W (2013) Self-cleaning cotton functionalized with TiO2/SiO2: focus on the role of silica. J Colloid Interface Sci 401:1–7

Pakdel E, Daoud WA, Wang X (2013) Self-cleaning and superhydrophilic wool by TiO2/SiO2 nanocomposite. Appl Surf Sci 275:397–402

Pakdel E, Daoud WA, Sun L, Wang X (2014a) Visible and UV functionality of TiO2 ternary nanocomposites on cotton. Appl Surf Sci 321:447–456

Pakdel E, Daoud WA, Wang X (2014b) Assimilating the photo-induced functions of TiO2-based compounds in textiles: emphasis on the sol–gel process. Text Res J 85:1404–1428

Pakdel E, Daoud WA, Afrin T, Sun L, Wang X (2015) Self-cleaning wool: effect of noble metals and silica on visible-light-induced functionalities of nano TiO2 colloid. J Text Inst 106:1348–1361

Paul R, Bautista L, De La Varga M, Botet JM, Casals E, Puntes V, Marsal F (2010) Nano-cotton fabrics with high ultraviolet protection. Text Res J 80:454–462

Periolatto M, Ferrero F, Vineis C, Rombaldoni F (2013) Multifunctional finishing of wool fabrics by chitosan UV-grafting: an approach. Carbohydr Polym 98:624–629

Qi K, Daoud WA, Xin JH, Mak CL, Tang W, Cheung WP (2006) Self-cleaning cotton. J Mater Chem 16:4567–4574

Rai M, Yadav A, Gade A (2009) Silver nanoparticles as a new generation of antimicrobials. Biotechnol Adv 27:76–83

Rai A, Prabhune A, Perry CC (2010) Antibiotic mediated synthesis of gold nanoparticles with potent antimicrobial activity and their application in antimicrobial coatings. J Mater Chem 20:6789–6798

Shateri Khalil-Abad M, Yazdanshenas ME, Nateghi MR (2009) Effect of cationization on adsorption of silver nanoparticles on cotton surfaces and its antibacterial activity. Cellulose 16:1147

Singh R, Jain A, Panwar S, Gupta D, Khare SK (2005) Antimicrobial activity of some natural dyes. Dyes Pigments 66:99–102

Sondi I, Salopek-Sondi B (2004) Silver nanoparticles as antimicrobial agent: a case study on E. coli as a model for gram-negative bacteria. J Colloid Interface Sci 275:177–182

Sun Y, Sun G (2001) Novel regenerable N-halamine polymeric biocides. III. Grafting hydantoin-containing monomers onto synthetic fabrics. J Appl Polym Sci 81:1517–1525

Sun G, Worley SD (2005) Chemistry of durable and regenerable biocidal textiles. J Chem Educ 82:60

Tang B, Sun L, Li J, Kaur J, Zhu H, Qin S, Yao Y, Chen W, Wang X (2015a) Functionalization of bamboo pulp fabrics with noble metal nanoparticles. Dyes Pigments 113:289–298

Tang B, Yao Y, Li J, Qin S, Zhu H, Kaur J, Chen W, Sun L, Wang X (2015b) Functional application of noble metal nanoparticles in situ synthesized on ramie fibers. Nanoscale Res Lett 10:366

Tung WS, Daoud WA (2009a) Effect of wettability and silicone surface modification on the self-cleaning functionalization of wool. J Appl Polym Sci 112:235–243

Tung WS, Daoud WA (2009b) Photocatalytic self-cleaning keratins: a feasibility study. Acta Biomater 5:50–56

Virk RK, Ramaswamy GN, Bourham M, Bures BL (2004) Plasma and antimicrobial treatment of nonwoven fabrics for surgical gowns. Text Res J 74:1073–1079

Wang J, Zhao J, Sun L, Wang X (2014) A review on the application of photocatalytic materials on textiles. Text Res J 10:1104–1118

Yadav A, Prasad V, Kathe A, Raj S, Yadav D, Sundaramoorthy C, Vigneshwaran N (2006) Functional finishing in cotton fabrics using zinc oxide nanoparticles. Bull Mater Sci 29:641–645

Youssef AM, Abdel-Aziz MS (2013) Preparation of polystyrene nanocomposites based on silver nanoparticles using marine bacterium for packaging. Polym-Plast Technol Eng 52:607–613

Yuranova T, Rincon AG, Bozzi A, Parra S, Pulgarin C, Albers P, Kiwi J (2013) Antibacterial textiles prepared by RF-plasma and vacuum-UV mediated deposition of silver. J Photochem Photobiol A Chem 161:27–34
Acknowledgement
This research was financially supported by Deakin University, Australia. The last author would also like to acknowledge support from the Australian Research Council under the Future Fibres Hub project (IH140100018).
Electronic supplementary material
Below is the link to the electronic supplementary material.
About this article
Cite this article
Pakdel, E., Daoud, W.A., Afrin, T. et al. Enhanced antimicrobial coating on cotton and its impact on UV protection and physical characteristics. Cellulose 24, 4003–4015 (2017). https://doi.org/10.1007/s10570-017-1374-y
Received:

Accepted:

Published:

Issue Date:
Keywords
Antimicrobial property

Cotton

TiO2

Silver

Sol–gel

UPF