Abstract
For hydrogel materials used in surgery to prevent post-operative adhesion formation, the ability to reduce adhesion formation effectively through ease of application is the most outstanding attribute for improving their clinical utility. In this study, hydrogel formulation with carboxymethyl cellulose (CMC) and water soluble sodium oxidized regenerated cellulose (ORC) powder was developed. The formulation was achieved with different molecular weights and degrees of substitution of the CMC to investigate the effects of these two variables on adhesion prevention. In vivo studies showed that hydrogel formulations with medium molecular weight and a higher degree of substitution gave the best anti-adhesion performance. Histological analyses indicated the materials did not damage the tissue at the surgery area. Promising results were obtained for the development of ORC containing hydrogel formulations for post-operative adhesion prevention applications.
Access options
Buy single article
Instant access to the full article PDF.
US$ 39.95
Tax calculation will be finalised during checkout.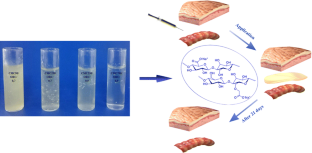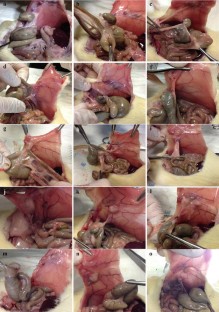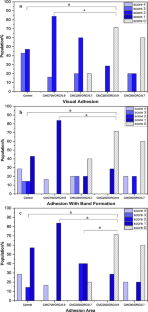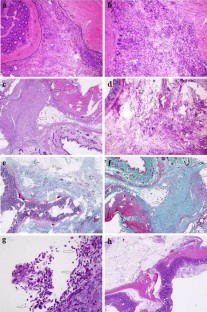 References
Bae SH, Son SR, Kumar SS, Nguyen TH, Kim SW, Min YK, Lee BT (2014) Evaluation of the potential anti-adhesion effect of the PVA/Gelatin membrane. J Biomed Mater Res, Part B 102(4):840–849. doi:10.1002/jbm.b.33066

Barbucci R, Magnani A, Consumi M (2000) Swelling behavior of carboxymethylcellulose hydrogels in relation to cross-linking, pH, and charge density. Macromolecules 33(20):7475–7480. doi:10.1021/ma0007029

Basagaoglu Demirekin Z, Aydemir Sezer U, Ulusoy Karatopuk D, Sezer S (2015) Development of metal ion binded oxidized regenerated cellulose powder as hemostatic agent: a comparative study with in vivo performance. Ind Eng Chem Res 54(18):4906–4914. doi:10.1021/ie504985b

Bolgen N, Vargel I, Korkusuz P, Menceloglu YZ, Piskin E (2007) In vivo performance of antibiotic embedded electrospun PCL membranes for prevention of abdominal adhesions. J Biomed Mater Res, Part B 81(2):530–543. doi:10.1002/jbm.b.30694

Brochhausen C, Schmitt VH, Planck CNE, Rajab TK, Hollemann D, Tapprich C, Krämer B, Wallwiener C, Hierlemann H, Zehbe R, Planck H, Kirkpatrick CJ (2012) Current strategies and future perspectives for intraperitoneal adhesion prevention. J Gastrointest Surg 16(6):1256–1274. doi:10.1007/s11605-011-1819-9

Dimitrijevich SD, Tatarko M, Gracy RW, Linsky CB, Olsen C (1990) Biodegradation of oxidized regenerated cellulose. Carbohydr Res 195:247–256. doi:10.1016/0008-6215(90)84303-C

diZerega GS (2000) Peritoneal surgery. In: DeCherney AH, Diamond MP, Ellis H, Gomel V, Haney AF, Holmdahl L, Rock JA, Rodgersr KE, Thompson JN (eds) 1st edn. Springer, New York, p 469

Ewoldt JM, Anderson DE, Hardy J, Weisbrode SE (2004) Evaluation of a sheep laparoscopic uterine trauma model and repeat laparoscopy for evaluation of adhesion formation and prevention with sodium carboxymethylcellulose. Vet Surg 33(6):668–672. doi:10.1111/j.1532-950x.2004.04090.x

Falabella CA, Melendez MM, Weng L, Chen W (2010) Novel macromolecular crosslinking hydrogel to reduce intra-abdominal adhesions. J Surg Res 159(2):772–778. doi:10.1016/j.jss.2008.09.035

Fredericks CM, Kotry I, Holtz G, Askalani AH, Serour GI (1986) Adhesion prevention in the rabbit with sodium carboxymethylcellulose solutions. Am J Obstet Gynecol 155(3):667–670. doi:10.1016/0002-9378(86)90304-2

Gago LA, Saed G, Elhammady E, Diamond MP (2006) Effect of oxidized regenerated cellulose (Interceed®) on the expression of tissue plasminogen activator and plasminogen activator inhibitor-1 in human peritoneal fibroblasts and mesothelial cells. Fertil Steril 86(4):1223–1227. doi:10.1016/j.fertnstert.2006.04.021

Gao X, Deng X, Wei X, Shi H, Wang F, Ye T, Shao B, Nie W, Li Y, Luo M, Gong C, Huang N (2013) Novel thermosensitive hydrogel for preventing formation of abdominal adhesions. Int J Nanomed 8:2453–2463. doi:10.2147/IJN.S46357

Guillaume O, Teuschl AH, Gruber-Blum S, Fortelny RH, Redl H, Petter-Puchner A (2015) Emerging trends in abdominal wall reinforcement: bringing bio-functionality to meshes. Adv Healthcare Mater 4(12):1763–1789. doi:10.1002/adhm.201500201

Hoare T, Yeo Y, Bellas E, Bruggeman JP, Kohane DS (2014) Prevention of peritoneal adhesions using polymeric rheological blends. Acta Biomater 10(3):1187–1193. doi:10.1016/j.actbio.2013.12.029

Ito T, Yeo Y, Highley CB, Bellas E, Kohane DS (2007) Dextran-based in situ cross-linked injectable hydrogels to prevent peritoneal adhesions. Biomaterials 28(23):3418–3426. doi:10.1016/j.biomaterials.2007.04.017

Kamel RM (2010) Prevention of postoperative peritoneal adhesions. Eur J Obstet Gynecol Reprod Biol 150(2):111–118. doi:10.1016/j.amjsurg.2010.02.008

Kling J (1996) Genzyme's Seprafilm gets FDA marketing nod. Nat Biotechnol 14(5):572. doi:10.1038/nbt0596-572a

Li L, Wang N, Jin X, Deng R, Nie S, Sun L, Wu Q, Wei Y, Gong C (2014) Biodegradable and injectable in situ cross-linking chitosan-hyaluronic acid based hydrogels for postoperative adhesion prevention. Biomaterials 35(12):3903–3917. doi:10.1016/j.biomaterials.2014.01.050

Nair SK, Bath IK, Aurora AL (1974) Role of proteolytic enzyme in the prevention of postoperative intraperitoneal adhesions. Arch Surg 108(6):849–853. doi:10.1001/archsurg.1974.01350300081019

Phillips RKS, Dudley HAF (1984) The effect of tetracyline lavage and trauma on visceral and parietal peritoneal ultrastructure and adhesion formation. Br J Surg 71(7):537–539. doi:10.1002/bjs.1800710722

Reeves R, Ribeiro A, Lombardo L, Boyer R, Leach JB (2010) Synthesis and characterization of carboxymethylcellulose-methacrylate hydrogel cell scaffolds. Polymers 2:252–264. doi:10.3390/polym2030252

Rodgers KE, Robertson JT, Espinoza T, Oppeltc W, Cortesec S, diZerega GS, Berg RA (2003) Reduction of epidural fibrosis in lumbar surgery with Oxiplex adhesion barriers of carboxymethylcellulose and polyethylene oxide. Spine J 3(4):277–283. doi:10.1016/S1529-9430(03)00035-4

Ryan CK, Sax HC (1995) Evaluation of a carboxymethylcellulose sponge for prevention of postoperative adhesions. Am J Surg 169(1):154–159. doi:10.1016/S0002-9610(99)80125-1

Sakai S, Ueda K, Taya M (2015) Peritoneal adhesion prevention by a biodegradable hyaluronic acid-based hydrogel formed in situ through a cascade enzyme reaction initiated by contact with body fluid on tissue surfaces. Acta Biomater 24:152–158. doi:10.1016/j.actbio.2015.06.023

Schnüriger B, Barmparas G, Branco BC, Lustenberger T, Inaba K, Demetriades D (2011) Prevention of postoperative peritoneal adhesions: a review of the literature. Am J Surg 201(1):111–121. doi:10.1016/j.amjsurg.2010.02.008

Sheldon HK, Gainsbury ML, Cassidy MR, Chu DI, Stucchi AF, Becker JM (2012) A sprayable hyaluronate/carboxymethylcellulose adhesion barrier exhibits regional adhesion reduction efficacy and does not impair intestinal healing. J Gastrointest Surg 16(2):325–333. doi:10.1007/s11605-011-1709-1

Wallwiener M, Brucker S, Hierlemann H, Brochhausen C, Solomayer E, Wallwiener C (2006) Innovative barriers for peritoneal adhesion prevention: Liquid or solid? A rat uterine horn model. Fertil Steril 86(4):1266–1276. doi:10.1016/j.fertnstert.2006.05.023

Wei CZ, Hou CL, Gu QS, Jiang LX, Zhu B, Sheng AL (2009) A thermosensitive chitosan-based hydrogel barrier for post-operative adhesions' prevention. Biomaterials 30(29):5534–5540. doi:10.1016/j.biomaterials.2009.05.084

Yang B, Yang GC, Yong QZ, Zhao X, Yu LZ, Tao ZS, Rong QX, Zhong Q, Luo F, Quan WY (2011) Prevention of abdominal adhesion formation by thermosensitive PECE-hydrogel in a rat uterine horn model. J Biomed Mater Res, Part B 96(1):57–66. doi:10.1002/jbm.b.31739

Yelimlies B, Alponat A, Cubukcu A, Kuru M, Oz S, Ercin C, Gonullu N (2003) Carboxymethylcellulose coated on visceral face of polypropylene mesh prevents adhesion without impairing wound healing in incisional hernia model in rats. Hernia 7(3):130–133. doi:10.1007/s10029-003-0125-1

Yeo Y, Adil M, Bellas E, Astashkina A, Chaudhary N, Kohane DS (2007) Prevention of peritoneal adhesions with an in situ cross-linkable hyaluronan hydrogel delivering budesonide. J Control Release 120(3):178–185. doi:10.1016/j.jconrel.2007.04.016

Yu L, Hu H, Chen L, Bao X, Li Y, Chen L, Xu G, Ye X, Ding J (2014) Comparative studies of thermogels in preventing post-operative adhesions and corresponding mechanisms. Biomater Sci 2:1100–1109. doi:10.1039/C4BM00029C

Zhang Z, Ni J, Chen L, Yu L, Xu J, Ding J (2011) Biodegradable and thermoreversible PCLA-PEG-PCLA hydrogel as a barrier for prevention of post-operative adhesion. Biomaterials 32(21):4725–4736. doi:10.1016/j.biomaterials.2011.03.046
Acknowledgments
We gratefully acknowledge the financial support by The Scientific and Technological Research Council of Turkey (BIYOTEG-5130028 Project).
About this article
Cite this article
Aktekin, A., Sahin, I., Aydemir Sezer, U. et al. Carboxymethyl cellulose/oxidized regenerated cellulose hydrogels as adhesion barriers: comparative study with different molecular weights and substitution degrees. Cellulose 23, 3145–3156 (2016). https://doi.org/10.1007/s10570-016-1014-y
Received:

Accepted:

Published:

Issue Date:
Keywords
Postoperative adhesion

Adhesion barrier

Hydrogel

Oxidized regenerated cellulose

Carboxymethyl cellulose