Abstract
In this study, the effect of cellulose coating on dyeing and other properties of cotton fabric was investigated. Three different reactive dyes were used for dyeing coated cotton fabric. The effect of cellulose coating on the dyeing properties of cotton fabric was studied by determining the K/S values of coated substrate at different concentrations of cellulose and dye. The K/S value decreased by 40–60 % with increasing coating concentration of cellulose from 0 to 5 %. The results show that the stiffness was increased from 0.16 to 2.50 N/m by coating of cellulose on the surface of cotton fabric. The stiffness was permanent as confirmed by ten multiple washings. Mechanical properties remained excellent. X-ray diffraction analysis showed that the amount of cellulose II increased slightly after solvent treatment. Fastness properties of cellulose-coated cotton fabrics against rubbing, washing, and perspiration were good.
Access options
Buy single article
Instant access to the full article PDF.
USD 39.95
Price excludes VAT (USA)
Tax calculation will be finalised during checkout.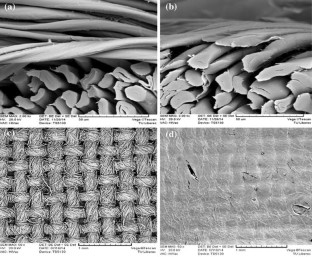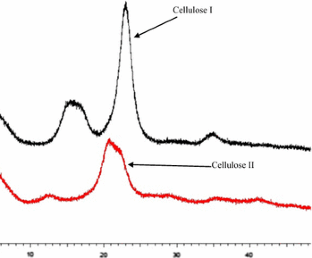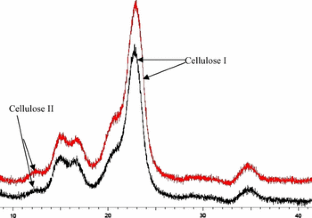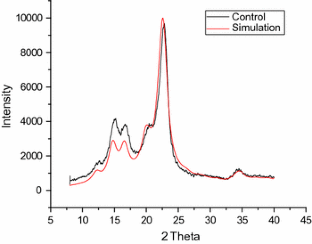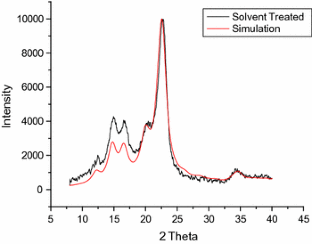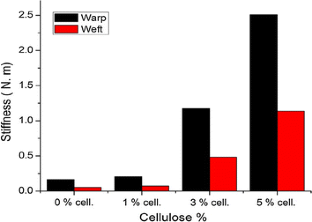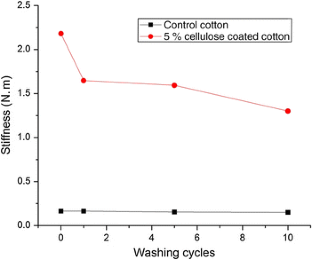 References
Ali S, Mughal MA, Shoukat U, Baloch MA, Kim SH (2015) Cationic starch (Q-TAC) pre-treatment of cotton fabric: influence on dyeing with reactive dye. Carbohydr Polym 117:271–278. doi:10.1016/j.carbpol.2014.09.064

Cook JG (1984) Handbook of textile fibres, natural fibres. Merrow, Cambridge

Dev VRG, Venugopal J, Sudha S, Deepika G, Ramakrishna S (2009) Dyeing and antimicrobial characteristics of chitosan treated wool fabrics with henna dye. Carbohydr Polym 75(4):646–650. doi:10.1016/j.carbpol.2008.09.003

Dollase WA (1986) Correction of intensities for preferred orientation in powder diffractometry: application of the March model. J Appl Crystallogr 19(4):267–272

Dupont AL (2003) Cellulose in lithium chloride/N,N-dimethylacetamide, optimisation of a dissolution method using paper substrates and stability of the solutions. Polymer 44(15):4117–4126. doi:10.1016/S0032-3861(03)00398-7

French AD (2014) Idealized powder diffraction patterns for cellulose polymorphs. Cellulose 21(2):885–896

Fridrichova L (2013) A new method of measuring the bending rigidity of fabrics and its application to the determination of the their anisotropy. Text Res J 83(9):883–892. doi:10.1177/0040517512467133

Gao Q, Shen X, Lu X (2011) Regenerated bacterial cellulose fibers prepared by the NMMO·H2O process. Carbohydr Polym 83(3):1253–1256. doi:10.1016/j.carbpol.2010.09.029

Gruneberger F, Kunniger T, Huch A, Zimmermann T, Arnold M (2015) Nanofibrillated cellulose in wood coatings: dispersion and stabilization of ZnO as UV absorber. Prog Org Coat 87:112–121

Gupta KM, Jiang J (2015) Cellulose dissolution and regeneration in ionic liquids: a computational perspective. Chem Eng Sci 121:180–189. doi:10.1016/j.ces.2014.07.025

Hes L, Loghin C (2009) Heat, moisture and air transfer properties of selected woven fabrics in wet state. J Fiber Bioeng Inf 2(3):141–149. doi:10.3993/jfbi12200901

Imran M, El-Fahmy S, Revol-Junelles A, Desobry S (2010) Cellulose derivative based active coatings: effects of nisin and plasticizer on physico-chemical and antimicrobial properties of hydroxypropyl methylcellulose films. Carbohydr Polym 81:119–225. doi:10.1016/j.carbpol.2010.02.021

Isobe N, Noguchi K, Nishiyama Y, Kimura S, Wada M, Kuga S (2012) Role of urea in alkaline dissolution of cellulose. Cellulose 20(1):97–103. doi:10.1007/s10570-012-9800-7

Jin H, Zha C, Gu L (2007) Direct dissolution of cellulose in NaOH/thiourea/urea aqueous solution. Carbohydr Res 342(6):851–858. doi:10.1016/j.carres.2006.12.023

Kimura A, Nagasawa N, Taguchi M (2014) Cellulose gels produced in room temperature ionic liquids by ionizing radiation. Radiat Phys Chem 103:216–221. doi:10.1016/j.radphyschem.2014.06.003

Klemm D, Heublein B, Fink HP, Bohn A (2005) Cellulose: fascinating biopolymer and sustainable raw material. Angew Chem Int Ed 44(22):3358–3393. doi:10.1002/anie.200460587

Lavoine N, Desloges I, Bras J (2014) Microfibrillated cellulose coatings as new release systems for active packaging. Carbohydr Polym 103:528–537. doi:10.1016/j.carbpol.2013.12.035

Leon K, Mery D, Pedreschi F, Leon J (2006) Color measurement in L∗a∗b∗ units from RGB digital images. Food Res Int 39(10):1084–1091. doi:10.1016/j.foodres.2006.03.006

Macrae CF, Bruno IJ, Chisholm JA, Edginston PR, McCabe P, Pidcock E (2008) Mercury CSD 2.0-new features for the visualization and investigation of crystal structures. J Appl Crystallogr 41(2):466–470. doi:10.1107/S0021889807067908

Molgaard SL, Henriksson M, Cardenas M, Svagan AJ (2014) Cellulose-nanofiber/polygalacturonic acid coatings with high oxygen barrier and targeted release properties. Carbohydr Polym 114:179–182. doi:10.1016/j.carbpol.2014.08.011

Nam S, French AD, Condon BD, Concha M (2016) Segal crystallinity index revisited by the simulation of X-ray diffraction patterns of cotton cellulose Iβ and cellulose II. Carbohydr Polym 135:1–9

Raeisi M, Tajik H, Aliakbarlu J, Mirhosseini SH, Hosseini SMH (2015) Effect of carboxymethyl cellulose-based coatings incorporated with Zataria multiflora Boiss. essential oil and grape seed extract on the shelf life of rainbow trout fillets. Food Sci Tech 64:898–904

Renfrew AHM, Taylor JA (1990) Cellulose reactive dyes: recent developments and trends. Rev Progr Color Relat Top 20:1–9. doi:10.1111/j.1478-4408.1990.tb00068.x

Shen L, Worrell E, Patel MK (2010) Environmental impact assessment of man-made cellulose fibres. Resour Conserv Recycl 55(2):260–274. doi:10.1016/j.resconrec.2010.10.001

Wang X, Xu M, Liu Z, Cao Y (2013) Impact of oxygen-reinforced alkali extraction on eucalyptus sulfate pulp for viscose fiber production. Bioresources 8(2):2558–2567

Yuan Z, Zhang J, Jiang A, Lv W, Wang Y, Geng H, Wang J, Qin M (2015) Fabrication of cellulose self-assemblies and high-strength ordered cellulose films. Carbohydr Polym 117:414–421. doi:10.1016/j.carbpol.2014.10.003

Yue Y, Han J, Han G, Zhang Q, French AD, Wu Q (2015) Characterization of cellulose I/II hybrid fibers isolated from energycane bagasse during the delignification process: morphology, crystallinity and percentage estimation. Carbohydr Polym 133:438–447

Zhang P, Zhang L, Cheng S (2000) Effects of urea and sodium hydroxide on the molecular weight and conformation of α-(1 → 3)-d-glucan from Lentinusedodes in aqueous solution. Carbohydr Res 327:431–438

Zhang S, Li FX, Yu J, Hsieh YL (2010) Dissolution behaviour and solubility of cellulose in NaOH complex solution. Carbohydr Polym 81(3):668–674. doi:10.1016/j.carbpol.2010.03.029

Zhou J, Zhang L (2000) Solubility of cellulose in NaOH/urea aqueous solution. Polym J 32(10):866–870. doi:10.1295/polymj.32.866
Acknowledgments
This work was supported under the Student Grant Scheme (SGS)-30162 by the Technical University of Liberec, Czech Republic. The authors acknowledge Dr. David Tavakoli of the School of Material Science and Engineering, Georgia Institute of Technology, USA for providing the X-ray diffraction pattern. The authors also acknowledge Dr. A. D. French of the Southern Regional Research Center, New Orleans, USA for providing the crystallographic information file for estimation of cellulose II.
About this article
Cite this article
Kale, B.M., Wiener, J., Militky, J. et al. Dyeing and stiffness characteristics of cellulose-coated cotton fabric. Cellulose 23, 981–992 (2016). https://doi.org/10.1007/s10570-015-0847-0
Received:

Accepted:

Published:

Issue Date:

DOI: https://doi.org/10.1007/s10570-015-0847-0
Keywords
Cellulose coating

Stiffness

Bending rigidity

Cellulose II

Dyeing