Abstract
The interaction of copper ions with chitosan and three synthesized derivatives with different chelating centers, N-benzylidene chitosan, N-benzyl chitosan and poly-N-(4-(4-R-methoxyphenyl)diazenyl)-benzyl-chitosan using CuSO4·5H2O and CuCl2·2H2O salts was studied. The content of Cu2+ in the complexes was determined by atomic absorption spectrometry and the results showed that chitosan exhibited higher chelating capacity for both salts. Morphological changes of derivatives and complexes were demonstrated by SEM–EDS. In addition, the presence of some crystals attributed to copper sulfate adsorbed on the polymer surface was also observed, which indicates that part of the metal content is in the salt adsorbed and might influence in the use of the materials for further application studies. This result was supported by Raman spectroscopy results in which vibrations of O=S=O groups were observed. X-ray diffraction patterns showed that the chemical modification of chitosan and formation of complexes resulted in the decrease of crystallinity. Electron paramagnetic resonance was used to investigate structural aspects of the materials complexed with Cu2+ ions in the solid state.
Access options
Buy single article
Instant access to the full article PDF.
US$ 39.95
Tax calculation will be finalised during checkout.
Subscribe to journal
Immediate online access to all issues from 2019. Subscription will auto renew annually.
US$ 119
Tax calculation will be finalised during checkout.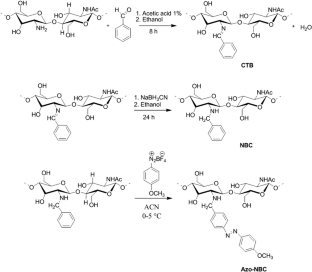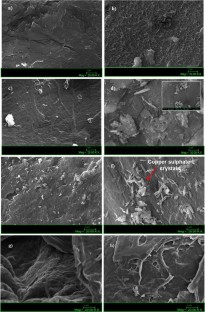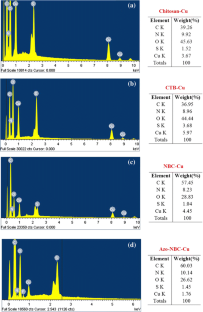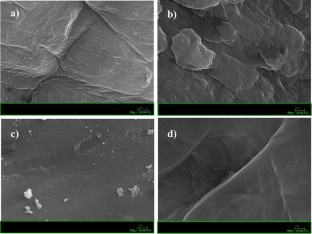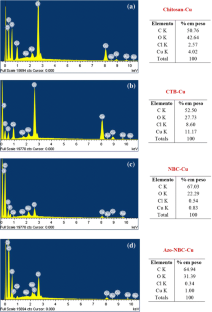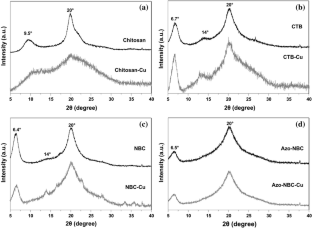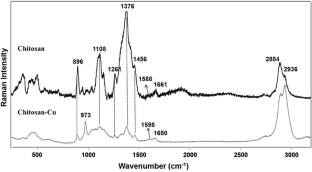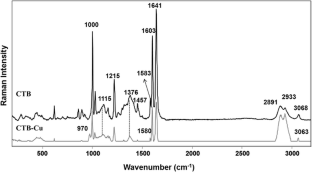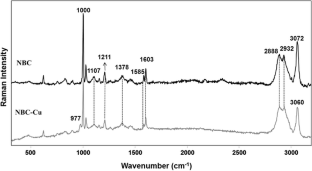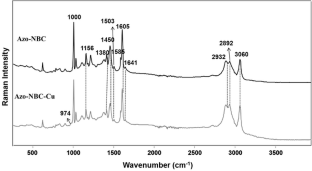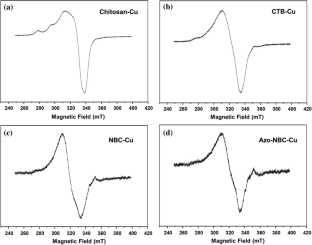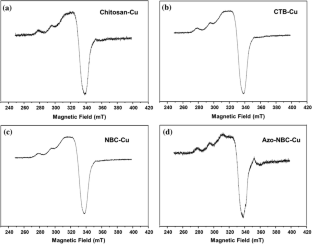 References
Adlim M, Bakar A, Liew KY, Ismail J (2004) Synthesis of chitosan-stabilized platinum and palladium nanoparticles and their hydrogenation activity. J Mol Catal A Chem 212:141–149

Anan NA, Hassan SM, Saad EM, Butler IS, Mostafa IS (2011) Preparation, characterization and pH-metric measurements of 4-hydroxysalicylidenechitosan Schiff-base complexes of Fe(III), Co(II), Ni(II), Cu(II), Zn(II), Ru(III), Rh(III), Pd(II) and Au(III). Carbohydr Res 346:775–793

Anastas PT, Kirchhoff MM, Williamson TC (2001) Catalysis as a foundational pillar of green chemistry. Appl Catal A Gen 221:3–13

Bassi R, Prasher SO, Simpson BK (2000) Removal of selected metal ions from aqueous solutions using chitosan flakes. Sep Sci Technol 35:547–560

Borch RF, Bernstei MD, Durst HD (1971) Cyanohydridoborate anion as a selective reducing agent. J Am Chem Soc 93:2897–2904

Calo V, Nacci A, Monopoli A, Fornaro A, Sabbatini L, Cioffi N, Ditaranto N (2004) Heck reaction catalyzed by nanosized palladium on chitosan in ionic liquids. Organometallics 23:5154–5158

Cárdenas G, Taboada E, Bravo A, Miranda SP (2003) SEM–EDX studies of chitosan derivatives–metal adducts. J Chil Chem Soc 48(4):49–53

Chassary P, Vincen T, Guibal E (2004) Metal anion sorption on chitosan and derivative materials: a strategy for polymer modification and optimum use. React Funct Polym 60:137–149

Das SD, Mukherjee S, Lopes LMF, Ilharco LM, Ferraria AM, Rego AMB, Pombeiro AJL (2014) Synthesis, characterization and heterogeneous catalytic application of copper integrated mesoporous matrices. Dalton Trans 43:3215–3226

Delben F, Stefancich S, Muzzarelli RAA (1992) Chelating ability and enzymatic hydrolysis of water-soluble chitosans. Carbohydr Polym 19:17–23

Dobetti L, Delben F (1992) Binding of metal cations by N-carboxymethyl chitosans in water. Carbohydr Polym 18:273–282

Domard A (1987) pH and c.d. measurements on a fully deacetylated chitosan: application to CuII–polymer interactions. Int J Biol Macromol 9:98–104

Dulcevscaia GM et al (2013) New copper(II) complexes with isoconazole: synthesis, structures and biological properties. Polyhedron 52:106–114

Facchin G, Kremer E, Barrio DA, Etcheverry SB, Costa-Filho AJ, Torre MH (2009) Interaction of Cu–dipeptide complexes with Calf Thymus DNA and antiproliferative activity of [Cu(ala-phe)] in osteosarcoma-derived cells. Polyhedron 28:2329–2334

Focher B, Beltrame PL, Naggi A, Torri G (1990) Alkaline N-deacetylation of chitin enhanced by flash treatments. Reaction kinetics and structure modification. Carbohydr Polym 12:405–418

Genin JM, Biles C, Keiser JB, Poppe SM, Swaney SM, Tarapley WG, Romero DL, Yagi Y (2000) Novel 1,5-diphenylpyrazole nonnucleoside HIV-1 reverse transcriptase inhibitors with enhanced activity versus the delavirdine-resistant P236L mutant: lead identification and SAR of 3- and 4-substituted derivatives. J Med Chem 43:1034–1040

Giovagnini L, Sitran S, Caparrotta L, Corsini M, Rosani C, Zanello P, Dou QP, Fregona D (2008) Chemical and biological profiles of novel copper(II) complexes containing S-donor ligands for the treatment of cancer. Inorg Chem 47(14):2

Guibal E (2004) Interactions of metal ions with chitosan-based sorbents: a review. Sep Purif Technol 38:43–74

Guibal E (2005) Heterogeneous catalysis on chitosan-based materials: a review. Prog Polym Sci 30:71–109

Haas LK, Franz JK (2009) Application of metal coordination chemistry to explore and manipulate cell biology. Chem Rev 109:4921–4960

Huang C, Chuang YC, Liou MR (1996) Adsorption of Cu(II) and Ni(II) by pelletized biopolymer. J Hazard Mater 45:265–277

Hug SJ (1997) In situ fourier transform infrared measurements of sulfate adsorption on hematite in aqueous solutions. J Colloid Interface Sci 188:415–422

Iakovidis I, Delimaris I, Piperakis SM (2011) Copper and its complexes in medicine: a biochemical approach. Mol Biol Int

Jeon C, Höll WH (2003) Chemical modification of chitosan and equilibrium study for mercury ion removal. Water Res 37:4770–4780

Jiang N, Li P, Wang Y, Wang J, Haike Y, Thomas RK (2005) Aggregation behavior of hexadecyltrimethylammonium surfactants with various counterions in aqueous solution. J Colloid Interface Sci 286:755–760

Jiao TF, Zhou J, Zhou JX, Gao LH, Xing YY, Li XH (2001) Synthesis and characterization of chiosan-based Schiff base compounds with aromatic substituent groups. Iran Polym J 20:123–136

Katwal R, Kaur H, Kapur BK (2013) Applications of copper –Schiff's base complexes: a review. Sci Rev Chem Commun 3:1–15

Li-xia W, Zi-wei W, Guo-song W, Xiao-dong L, Jian-guo R (2010) Catalytic performance of chitosan-Schiff base supported Pd/Co bimetallic catalyst for acrylamide with phenyl halide. Polym Adv Technol 21:244–249

Molochnikov LS, Pesto AV, Zabolotskaya EV, Yatluk YG (2008) Solid-state structure of copper complexes of N-(2-carboxyethyl)chitosan. J Appl Spectrosc 75:648–652

Ogawa K, Oka K (1993) X-ray study of chitosan–transition metal complexes. Chem Mater 5:726–728

Ogawa K, Oka K, Miyanish T, Hirano S (1984) X-ray diffraction study of chitosan-metal complexes, in Chitin, Chitosan and Related Enzimes. Academic Press, Orlando, pp 327–345

Pereira FS, da Silva Agostini DL, Job AE, González ERP (2013) Thermal studies of chitin–chitosan derivatives. J Therm Anal Calorim 114:321–327

Pereira FS, Nascimento HDL, Magalhães A, Peter MG, Bataglion GA, Eberlin MN, González ERP (2014) ESI(+)-MS and GC-MS study of the hydrolysis of N-Azobenzyl derivatives of chitosan. Molecules 19:17604–17618

Pye CC, Rudolph WW (2001) An ab initio and Raman investigation of sulfate ion hydration. J Phys Chem A 105:905–912

Rhazi M, Desbrières J, Tolaimate A, Rinaudo M, Vottero P, Alagui A (2002) Contribution to the study of complexation of copper by chitosan and oligomers. Polymer 43:1267–1276

Rodrigues CA, Laranjeira MCM, de Favere VT, Sadler E (1998) Interaction of Cu(II) on N-(2-pyridylmethyl) and N-(4-pyridylmethyl) chitosan. Polymer 39:5121–5126

Rudolph WW, Irmer G, Hefter GT (2003) Raman spectroscopic investigation of speciation in MgSO4(aq). Phys Chem Chem Phys 5:5253–5261

Sajomsang W, Tantayanon S, Tangpasuthadol V, Thatte M, Daly WH (2006) Synthesis and characterization of N-benzyl chitosan derivatives. Polym Prepr 47:294–295

Sakaguchi U, Addison AW (1979) Spectroscopic and redox studies of some copper (II) complexes with biomimetic donor atoms: implications for protein copper centres. J Chem Soc Dalton Trans 4:600–608

Schlick SH (1986) Binding sites of Cu2+ in chitin and chitosan. An electron spin resonance study. Macromolecules 19:192–195

Schrader B (1995) Infrared and Raman spectroscopy, methods and applications. VCH Publishers, Inc., New York

Socrates G (2001) Infrared and Raman characteristic group frequencies, 3rd edn. Wiley-VCH, England

Suslick KS, Reinert TJ (1985) The synthetic analogs of O2-binding heme proteins. Novel 1,5-diphenylpyrazole nonnucleoside HIV-1 reverse transcriptase inhibitors with enhanced activity versus the delavirdine-resistant P236L Mutant: lead Identification and SAR of 3- and 4-substituted derivatives. J Chem Educ 62:974–983

Torre MH, Gambino D, Araujo J, Cerecetto H, González M, Lavaggi ML, Azqueta A, Cerain AL, Vega AM, Abram U, Costa-Filho AJ (2005) Novel Cu(II) quinoxaline N1, N4-dioxide as selective hypoxic cytotoxins. Eur J Med Chem 40:473–480

Urquiola C, Gambino D, Cabrera M, Lavaggi ML, Cerecetto H, González M, Cerain AL, Monge A, Costa-Filho AJ, Torre MH (2008) New copper-based complexes with quinoxaline N1, N4-dioxide derivatives, potential antitumoral agents. J Inorg Biochem 102:119–126

Valdés ET, Triviño GC (2009) Chitosan metal complexes and chitosan–Cu ESR studies. J Chil Chem Soc 54(1):1–5

Wang XH, Du YM, Fan LH, Huang RH, Zhang LN, Hu L (2005) Chitosan–metal complexes as antimicrobial agent: synthesis, characterization and structure–activity study. Polym Bull 55:105–113

Wang H, Bao C, Li F, Kong X, Xu J (2010) Preparation and application of 4-amino-4′-nitro azobenzene modified chitosan as a selective adsorbent for the determination of Au(III) and Pd(II). Microchim Acta 168:99–105

Wang H, Li C, Bao C, Liu L, Liu X (2011) Adsorption and determination of Pd(II) and Pt(IV) onto 3′-nitro-4-amino azobenzene modified chitosan. J Chem Eng Data 56:4203–4207

Yi Y, Wang Y, Ye F (2006) Synthesis and properties of diethylene triamine derivative of chitosan. Colloids Surf A 277:69–74

Zheng Y, Yi Y, Qi Y, Wang Y, Zang W, Du M (2006) Preparation of chitosan–copper complexes and their antitumor activity. Bioorg Med Chem Lett 16:4127–4129
Acknowledgments
The authors gratefully thank Fundação de Apoio a Pesquisa do Estado de São Paulo (FAPESP), 2012/13901-3, Programa de Pós-graduação em Ciência e Tecnologia de Materiais (POSMAT) and Coordenação de Aperfeiçoamento de Pessoal de Nível Superior (CAPES) for financial support and post-graduation fellowship. The authors thank Leonardo Negri Furini (UNESP—Presidente Prudente, SP) and Dr. Jose Vicente García Ramos (CSIC—Madrid, Spain) for Raman Spectroscopy analyses.
About this article
Cite this article
Pereira, F.S., de Souza, G.G., Moraes, P.G.P. et al. Study of chitosans interaction with Cu(II) from the corresponding sulfate and chloride salts. Cellulose 22, 2391–2407 (2015). https://doi.org/10.1007/s10570-015-0673-4
Received:

Accepted:

Published:

Issue Date:
Keywords
Chitosan

Derivatives

Copper

Complexes