Abstract
The present study was undertaken to develop edible nisin-microencapsulated beads in order to inhibit growth of Listeria monocytogenes in ready-to-eat (RTE) ham. Different concentrations of nisin (16, 31, and 63 μg/ml) were microencapsulated into alginate-cellulose nanocrystal beads. Microencapsulation kept the available nisin (63 μg/ml) content 20 times greater compared with free nisin (63 μg/ml) during 28 days of storage at 4 °C. Results showed that 63 μg/ml microencapsulated nisin exhibited 31.26 μg/ml available nisin content after 28 days of storage at 4 °C, whereas there was no available nisin content left for free nisin. Cooked ham slices were then coated by the microencapsulated nisin beads, inoculated with L. monocytogenes [~3 log colony-forming units (CFU)/g], and stored at 4 °C under vacuum packaging for 28 days. The beads containing 16, 31, and 63 μg/ml nisin significantly (P ≤ 0.05) reduced the L. monocytogenes counts by 2.65, 1.50, and 3.04 log CFU/g after 28 days of storage compared with free nisin. Furthermore, microencapsulated nisin beads did not change the physicochemical properties (pH and color) of RTE ham during storage.
Access options
Buy single article
Instant access to the full article PDF.
USD 39.95
Price includes VAT (USA)
Tax calculation will be finalised during checkout.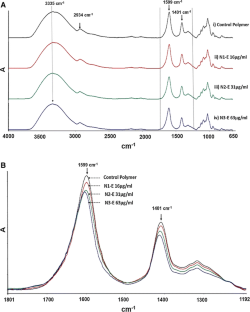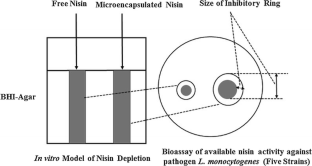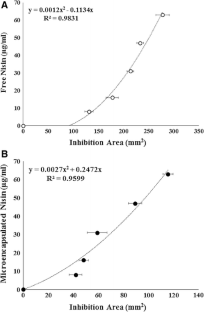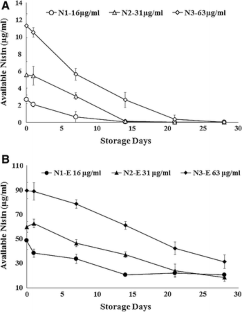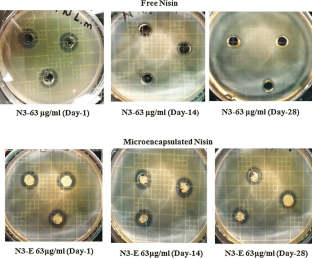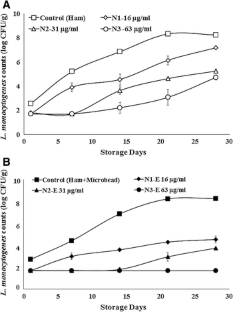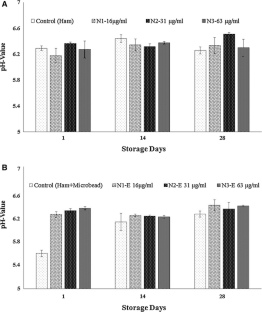 References
Alexandrescu L, Syverud K, Gatti A, Chinga-Carrasco G (2013) Cytotoxicity tests of cellulose nanofibril-based structures. Cellulose 20:1765–1775

Anonymous (1994) Meat inspection. Inspection requirements; adulteration and misbranding, 21 U.S. Code, Section 601. Government Printing Office, Washington

Asaduzzaman SM, Sonomoto K (2009) Lantibiotics: diverse activities and unique modes of action. J Biosci Bioeng 107(5):475–487

Bi L, Yang L, Narsimhan G, Bhunia AK, Yao Y (2011a) Designing carbohydrate nanoparticles for prolonged efficacy of antimicrobial peptide. J Control Release 150:150–156

Bi L, Yang L, Bhunia AK, Yao Y (2011b) Carbohydrate nanoparticle-mediated colloidal assembly for prolonged efficacy of bacteriocin against food pathogen. Biotechnol Bioeng 108(7):1529–1536

"Canada links Toronto plant to deadly listeriosis outbreak". CNN. 2008-08-24. Archived from the original on 27 Aug 2008. Retrieved 24 Aug 2008

Chen H, Hoover DG (2003) Bacteriocins and their food applications. Compr Rev Food Sci Food Saf 2:81–100

Chidanandaiah KRC, Sanyal MK (2009) Effect of sodium alginate coating with preservatives on the quality of meat patties during refrigerated (4 ± 1C) storage. J Muscle Foods 20:275–292

Chmiel M, Slowinski M, Dasiewicz K (2011) Lightness of the color measured by computer image analysis as a factor for assessing the quality of pork meat. Meat Sci 88:566–570

Cleveland J, Montville TJ, Nes IF, Chikindas ML (2001) Bacteriocins: safe, natural antimicrobials for food preservation. Int J Food Microbiol 71:1–20

Coma V (2008) Bioactive packaging technologies for extended shelf life of meat-based products. Meat Sci 78:90–103

Dong XM, Revol JF, Gray DG (1998) Effect of microcrystalline preparation conditions on the formation of colloid crystals of cellulose. Cellulose 5:19–32

Driessen AJ, Van den Hooven HW, Kuiper W, Van de KM, Sahl HG, Konings RN, Konings WN (1995) Mechanistic studies of lantibiotic-induced permeabilization of phospholipid vesicles. Biochemistry 34:1606–1614

Dussault D, Vu KD, Lacroix M (2014) In vitro evaluation of antimicrobial activities of various commercial essential oils, oleoresin and pure compounds against food pathogens and application in ham. Meat Sci 96:514–520

Giatrakou V, Ntzimani A, Savvaidis IN (2010) Effect of chitosan and thyme oil on a ready to cook chicken product. Food Microbiol 27:132–136

Giroux M, Ouattara B, Yefsah R, Smoragiewicz W, Saucier L, Lacroix M (2001) Combined effect of ascorbic acid and gamma irradiation on microbial and sensorial characteristics of beef patties during refrigerated storage. J Agric Food Chem 49:919–925

Goh CH, Heng PWS, Chan LW (2012) Alginates as a useful natural polymer for microencapsulation and therapeutic applications. Carbohydr Polym 88:1–12

Hosseini SM, Hosseini H, Mohammadifar MA, German JB, Mortazavian AM, Mohammadi A, Khosravi-Darani K, Shojaee-Aliabadi S, Khaksar R (2014) Preparation and characterization of alginate and alginate-resistant starch microparticles containing nisin. Carbohydr Polym 103:573–580

Huq T, Salmieri S, Khan A, Khan RA, Le Tien C, Riedl B, Fraschinic C, Bouchard J, Uribe-Calderon J, Kamal MR, Lacroix M (2012) Nanocrystalline cellulose (NCC) reinforced alginate based biodegradable nanocomposite film. Carbohydr Polym 90:1757–1763

Juck G, Neetoo H, Chen H (2010) Application of an active alginate coating to control the growth of Listeria monocytogenes on poached and deli turkey products. Int J Food Microbiol 142:302–308

Karam L, Jama C, Dhulster P, Nour-Eddine C (2013) Study of surface interactions between peptides, materials and bacteria for setting up antimicrobial surfaces and active food packaging. J Mater Environ Sci 4(5):798–821

Kim Y-M, Paik H-D, Lee D-S (2002) Shelf-life characteristics of fresh oysters and ground beef as affected by bacteriocin-coated plastic packaging film. J Sci Food Agric 82:998–1002

León K, Mery D, Pedreschi F, León J (2006) Color measurement in L*a*b* units from RGB digital image. Food Res Int 39(10):1084–1091

Lins L, Ducarme P, Breukink E, Brasseu R (1999) Computational study of nisin interaction with model membrane. Biochim Biophys Acta 1420:111–120

Mancini RA, Hunt MC (2005) Current research in meat color. Meat Sci 71:100–121

Mancini RA, Kropf DH, Hunt MC, Johnson DE (2005) Effects of end point temperature, pH and storage time on cooked internal color reversion of pork longissimus chops. J Muscle Foods 16(1):16–26

Millette M, Tien CL, Smoragiewicz W, Lacroix M (2007) Inhibition of Staphylococcus aureus on beef by nisin-containing modified films and beads. Food Control 18(8):878–884

Nguyen VT, Gidley MJ, Dykes GA (2008) Potential of a nisin-containing bacterial cellulose film to inhibit Listeria monocytogenes on processed meats. Food Microbiol 25:471–478

Ojcius DM, Young JD (1991) Cytolytic pore-forming proteins and peptides: is there a common structural motif? Trends Biochem Sci 16:225–229

Pawar SP, Edgar KJ (2012) Alginate derivatization: a review of chemistry, properties and applications. Biomaterials 33:3279–3305

Quintavalla S, Vicini L (2002) Antimicrobial food packaging in meat industry. Meat Sci 62:373–380

Rajaonarivony M, Vauthier C, Couarraze G, Puisieuxa F, Couvreur P (1993) Development of a new drug carrier made from alginate. J Pharm Sci 82(9):912–917

Rose NL, Sporns P, Stiles ME, McMullen LM (1999) Inactivation of nisin by glutathione in fresh meat. J Food Sci 64:759–762

Scallan E, Hoekstra RM, Angulo FJ, Tauxe RV, Widdowson M-A, Roy SL, Jones JL, Griffin PM (2011) Foodborne illness acquired in the United States—major pathogens. Emerg Infect Dis 17(1):7–15

Sebti I, Coma V (2002) Active edible polysaccharide coating and interactions between solution coating compounds. Carbohydr Polym 49:139–144

Sebti I, Delves-Broughton J, Coma V (2003) Physicochemical properties and bioactivity of nisin-containing cross-linked hydroxypropylmethylcellulose films. J Agric Food Chem 51:6468–6474

Sindelar JJ, Milkowski AL (2011) Sodium nitrite in processed meat and poultry meats: a review of curing and examining the risk/benefit of its use. Am Meat Sci Assoc White Pap Ser 3:1–14

Stekelenburg FK, Kant-Muermans MLT (2001) Effects of sodium lactate and other additives in a cooked ham product on sensory quality and development of a strain of Lactobacillus curvatus and Listeria monocytogenes. Int J Food Microbiol 66:197–203

Stergiou VA, Thomas LV, Adams MR (2006) Interactions of nisin with glutathione in a model protein system and meat. J Food Prot 69(4):951–956

Swinnen IAM, Bernaerts K, Dens EJJ, Geeraerd AH, Impe JFV (2004) Predictive modelling of the microbial lag phase: a review. Int J Food Microbiol 94:137–159

Van De Ven FJM, Van Den Hooven HW, Konings RNH, Hilbers CW (1991) NMR studies of lantibiotics, the structure of nisin in aqueous solution. Eur J Biochem 202:1181–1188

Zohri M, Alavidjeh MS, Haririan I, Ardestani MS, Ebrahimi SES, Sani HT (2010) A comparative study between the antibacterial effect of nisin and nisin-loaded chitosan/alginate nanoparticles on the growth of Staphylococcus aureus in raw and pasteurized milk samples. Probiotics Antimicrob Proteins 2(4):258–266
Acknowledgments
This research was supported by the Natural Sciences and Engineering Research Council of Canada (NSERC) and by FPInnovations (Pointe-Claire, Quebec, Canada) through the RDC program. The authors would also like to thank BSA Food Ingredients s.e.c./l.p. for providing salt ingredients (Montreal, Quebec, Canada). Tanzina Huq is the recipient of a scholarship from Fondation Universitaire Armand-Frappier.
About this article
Cite this article
Huq, T., Riedl, B., Bouchard, J. et al. Microencapsulation of nisin in alginate-cellulose nanocrystal (CNC) microbeads for prolonged efficacy against Listeria monocytogenes . Cellulose 21, 4309–4321 (2014). https://doi.org/10.1007/s10570-014-0432-y
Received:

Accepted:

Published:

Issue Date:
Keywords
Microencapsulation

Nisin

Microbeads

Listeria monocytogenes

RTE meat

Cellulose nanocrystals