Abstract
Cellulose powders hydrophobized by surface esterification with carboxylic acids with different chain lengths (3, 10 and 18 carbons) were dispersed in a polypropylene matrix. Quality of the dispersion and nucleation activity of the filler were investigated by means of differential scanning calorimetry and optical microscopy. The results showed that the esterification decreases the crystallization rate in case of cellulose esterified with propionic or decanoic acid. On the other hand, the oleic acid ester demonstrated slightly higher crystallization rates than the unmodified cellulose, which was ascribed primarily to the newly arisen non-esterified surface after disintegration of the filler. Optical microscopy with hot stage showed the high nucleation ability of the natural cellulose fiber and its suppression in case of esterified surfaces. A complete inability to nucleate polypropylene crystallization was observed in case of decanoyl ester, while the other two retained some activity, but lower than that of the natural fiber. Finally, analysis of the filler dispersion and distribution revealed that the decanoyl and octadecanoyl esters disintegrate during melt mixing, while both dispersion and distribution of the fibers modified with propionic acid are poor.
Access options
Buy single article
Instant access to the full article PDF.
US$ 39.95
Tax calculation will be finalised during checkout.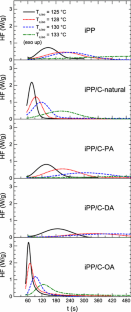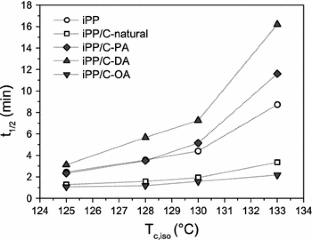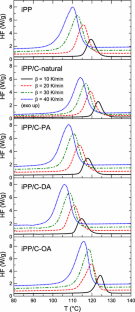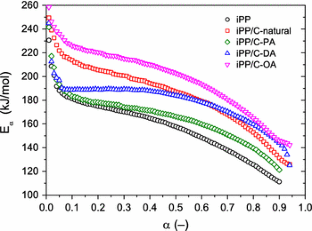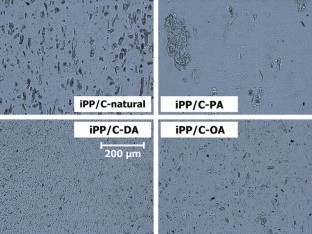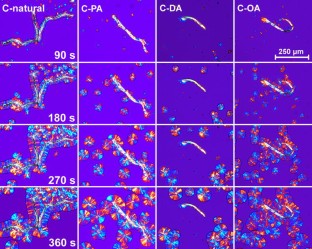 References
Borysiak S (2009) Supermolecular structure of wood/polypropylene composites: I. The influence of processing parameters and chemical treatment of the filler. Polym Bull 64:275–290. doi:10.1007/s00289-009-0202-4

Borysiak S (2012) Fundamental studies on lignocellulose/polypropylene composites: effects of wood treatment on the transcrystalline morphology and mechanical properties. J Appl Polym Sci 127:1309–1322. doi:10.1002/app.37651

Borysiak S, Doczekalska B (2009) The influence of chemical modification of wood on its nucleation ability in polypropylene composites. Polimery 54:820–827

Chvatalova L, Navratilova J, Cermak R, Raab M, Obadal M (2009) Joint effects of molecular structure and processing history on specific nucleation of isotactic polypropylene. Macromolecules 42:7413–7417. doi:10.1021/ma9005878

George J, Sreekala MS, Thomas S (2001) A review on interface modification and characterization of natural fiber reinforced plastic composites. Polym Eng Sci 41:1471–1485. doi:10.1002/pen.10846

Gray DG (2007) Transcrystallization of polypropylene at cellulose nanocrystal surfaces. Cellulose 15:297–301. doi:10.1007/s10570-007-9176-2

Heinze T, Liebert T (2001) Unconventional methods in cellulose functionalization. Prog Polym Sci 26:1689–1762. doi:10.1016/S0079-6700(01)00022-3

Janicek M, Krejci O, Cermak R (2013) Thermal stability of surface-esterified cellulose and its composite with polyolefinic matrix. Cellulose 20:2745–2755. doi:10.1007/s10570-013-0070-9

Jawaid M, Abdul Khalil HPS (2011) Cellulosic/synthetic fibre reinforced polymer hybrid composites: a review. Carbohydr Polym 86:1–18. doi:10.1016/j.carbpol.2011.04.043

John MJ, Thomas S (2008) Biofibres and biocomposites. Carbohydr Polym 71:343–364. doi:10.1016/j.carbpol.2007.05.040

Lamberti G (2011) Isotactic polypropylene crystallization: analysis and modeling. Eur Polym J 47:1097–1112. doi:10.1016/j.eurpolymj.2011.02.005

Pijpers TFJ, Mathot VBF, Goderis B, Scherrenberg RL, van der Vegte EW (2002) High-speed calorimetry for the study of the kinetics of (de)vitrification, crystallization, and melting of macromolecules. Macromolecules 35:3601–3613. doi:10.1021/ma011122u

Sbirrazzuoli N, Vincent L, Mija A, Guigo N (2009) Integral, differential and advanced isoconversional methods. Chemom Intell Lab Syst 96:219–226. doi:10.1016/j.chemolab.2009.02.002

Schneider CA, Rasband WS, Eliceiri KW (2012) NIH Image to ImageJ: 25 years of image analysis. Nat Methods 9:671–675. doi:10.1038/nmeth.2089

Son SJ, Lee YM, Im SS (2000) Transcrystalline morphology and mechanical properties in polypropylene composites containing cellulose treated with sodium hydroxide and cellulase. J Mater Sci 5:5767–5778. doi:10.1023/A:1004827128747

Uschanov P, Johansson LS, Maunu SL, Laine J (2010) Heterogeneous modification of various celluloses with fatty acids. Cellulose 18:393–404. doi:10.1007/s10570-010-9478-7

Vyazovkin S, Linert W (1995) Kinetic analysis of reversible thermal decomposition of solids. Int J Chem Kinet 27:73–84. doi:10.1002/kin.550270109

Vyazovkin S, Sbirrazzuoli N (2003) Isoconversional analysis of calorimetric data on nonisothermal crystallization of a polymer melt. J Phys Chem B 107:882–888. doi:10.1021/jp026592k

Vyazovkin S, Wight CA (1997) Kinetics in solids. Annu Rev Phys Chem 48:125–149. doi:10.1146/annurev.physchem.48.1.125

Vyazovkin S, Burnham AK, Criado JM, Perez-Maqueda LA, Popescu C, Sbirrazzuoli N (2011) ICTAC kinetics committee recommendations for performing kinetic computations on thermal analysis data. Thermochim Acta 520:1–19. doi:10.1016/j.tca.2011.03.034

Wang C, Liu CR (1999) Transcrystallization of polypropylene composites: nucleating ability of fibres. Polymer 40:289–298. doi:10.1016/S0032-3861(98)00240-7
Acknowledgments
Authors gratefully acknowledge a financial support of this work by internal grants of Tomas Bata University in Zlin, No. IGA/FT/2013/012 and No. IGA/FT/2014/014, funded from the resources of specific university research.
About this article
Cite this article
Janicek, M., Polaskova, M., Holubar, R. et al. Surface-esterified cellulose fiber in a polypropylene matrix: impact of esterification on crystallization kinetics and dispersion. Cellulose 21, 4039–4048 (2014). https://doi.org/10.1007/s10570-014-0404-2
Received:

Accepted:

Published:

Issue Date:
Keywords
Cellulose

Esterification

Hydrophobization

Crystallization kinetics

Dispersion

Composite