Abstract
Using ionic liquid 1-allyl-3-methylimidazolium chloride as reaction medium, a series of novel cellulose esters containing phosphorus including cellulose diphenyl phosphate (C-Dp) and cellulose acetate (CA)–diphenyl phosphate mixed esters was synthesized homogeneously. The degree of substitution was well controlled by altering reaction conditions, such as the molar ratio of the acylating reagents/anhydroglucose unit and reaction time. The structure and thermal properties of cellulose esters were characterized by FTIR, NMR, wide-angle X-ray powder diffraction and differential scanning calorimetry. All the products possessed excellent solubility in some common organic solvents, and transparent films of cellulose esters were obtained by solution casting. In contrast to C-Dp, CA–diphenyl phosphate mixed esters showed clear glass transitions. More interestingly, these cellulose mixed esters exhibited thermoplastic behavior and could be processed by traditional melt processing methods.
Access options
Buy single article
Instant access to the full article PDF.
US$ 39.95
Tax calculation will be finalised during checkout.
Subscribe to journal
Immediate online access to all issues from 2019. Subscription will auto renew annually.
US$ 119
Tax calculation will be finalised during checkout.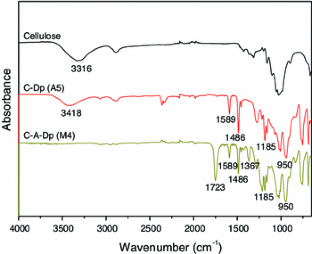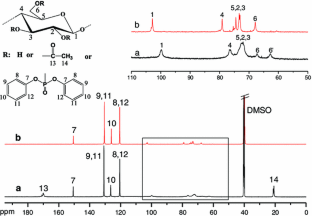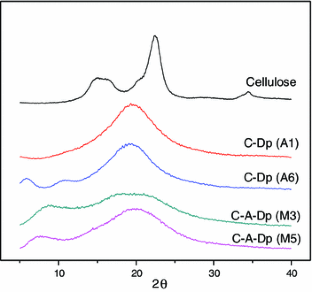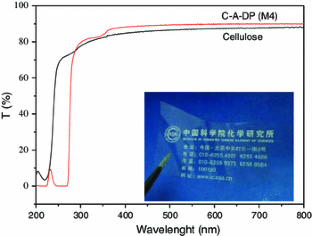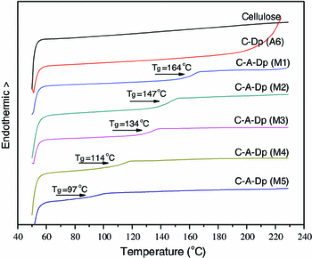 References
Barthel S, Heinze T (2006) Acylation and carbanilation of cellulose in ionic liquids. Green Chem 8:301–306. doi:10.1039/B513157J

Cao Y, Li HQ, Zhang J (2011) Homogeneous synthesis and characterization of cellulose acetate butyrate (CAB) in 1-allyl-3-methylimidazolium chloride (AmimCl) ionic liquid. Ind Eng Chem Res 50:7808–7814. doi:10.1021/ie2004362

Castiñeiras A, Gómez MC, Sevillano P (2000) 2-(2, 3-Dihydro-1, 3-benzothiazol-2-yl) phenyl (diphenyl) phosphine oxide. Synthesis and characterization by IR and NMR spectroscopy and X-ray diffractometry. J Mol Struct 554:301–306. doi:10.1016/S0022-2860(00)00680-3

Edgar KJ (2007) Cellulose esters in drug delivery. Cellulose 14:49–64. doi:10.1007/s10570-006-9087-7

Edgar KJ, Buchanan CM, Debenham JS, Rundquist PA, Seiler BD, Shelton MC, Tindall D (2001) Advances in cellulose ester performance and application. Prog Polym Sci 26:1605–1688. doi:10.1016/S0079-6700(01)00027-2

Fidale LC, Possidonio S, El Seoud OA (2009) Application of 1-allyl-3-(1-butyl)imidazolium chloride in the synthesis of cellulose esters: properties of the ionic liquid, and comparison with other solvents. Macromol Biosci 9:813–821. doi:10.1002/mabi.200900034

Gericke M, Liebert T, Heinze T (2009) Interaction of ionic liquids with polysaccharides, 8-synthesis of cellulose sulfates suitable for polyelectrolyte complex formation. Macromol Biosci 9:343–353. doi:10.1002/mabi.200800329

Glasser WG, Samaranayake G, Dumay M, Dave V (1995) Novel cellulose derivatives. III. Thermal analysis of mixed esters with butyric and hexanoic acid. J Polym Sci Polym Phys 33:2045–2054. doi:10.1002/polb.1995.090331406

Goodlett VW, Dougherty JT, Patton HW (1971) Characterization of cellulose acetates by nuclear magnetic resonance. J Polym Sci Polym Chem 9:155–161. doi:10.1002/pol.1971.150090114

Granström M, Kavakka J, King A, Majoinen J, Mäkelä V, Helaja J, Hietala S, Virtanen T, Maunu S-L, Argyropoulos DS, Kilpeläinen I (2008) Tosylation and acylation of cellulose in 1-allyl-3-methylimidazolium chloride. Cellulose 15:481–488. doi:10.1007/s10570-008-9197-5

Hatakeyama T, Nakamura K (1982) Studies on heat capacity of cellulose and lignin by differential scanning calorimetry. Polymer 23:1801–1804. doi:10.1016/0032-3861(82)90125-2

Heinze TJ, Liebert TF (2001) Unconventional methods in cellulose functionalization. Prog Polym Sci 26:1689–1762. doi:10.1016/S0079-6700(01)00022-3

Heinze TJ, Schwikal K, Barthel S (2005) Ionic liquids as reaction medium in cellulose functionalization. Macromol Biosci 5:520–525. doi:10.1002/mabi.200500039

Huang KL, Wang B, Cao Y, Li HQ, Wang JS, Lin WJ, Mu CS, Liao DK (2011) Homogeneous preparation of cellulose acetate propionate (CAP) and cellulose acetate butyrate (CAB) from sugarcane bagasse cellulose in ionic liquid. J Agric Food Chem 59:5376–5381. doi:10.1021/jf104881f

Jang BN, Wilkie CA (2005) The effects of triphenylphosphate and recorcinolbis(diphenylphosphate) on the thermal degradation of polycarbonate in air. Thermochim Acta 433:1–12. doi:10.1016/j.tca.2005.01.071

Jeong KU, Kim JJ, Yoon TH (2001) Synthesis and characterization of novel polyimides containing fluorine and phosphine oxide moieties. Polymer 42:6019–6030. doi:10.1016/S0032-3861(01)00012-X

Klemm D, Heublein B, Fink HP, Bohn A (2005) Cellulose: fascinating biopolymer and sustainable raw material. Angew Chem Int Ed 44:3358–3393. doi:10.1002/anie.200460587

Köhler S, Heinze T (2007) Efficient synthesis of cellulose furoates in 1-N-butyl-3-methylimidazolium chloride. Cellulose 14:489–495. doi:10.1007/s10570-007-9138-8

Liebert TF, Heinze TJ, Edgar KJ (2010) Cellulose solvents: for analysis, shaping and chemical modification. American Chemical Society, Washington

Luo GS, Niang M, Schaetzel P (1997) Development of cellulose acetate propionate membrane for separation of ethanol and ethyl tert-butyl ether mixtures. Sep Sci Technol 32:1143–1156. doi:10.1080/01496399708000952

Pinkert A, Marsh KN, Pang SS, Staiger MP (2009) Ionic liquids and their interaction with cellulose. Chem Rev 109:6712–6728. doi:10.1021/cr9001947

Possidonio S, Fidale LC, El Seoud OA (2009) Microwave-assisted derivatization of cellulose in an ionic liquid: an efficient, expedient synthesis of simple and mixed carboxylic esters. J Polym Sci Polym Chem 48:134–143. doi:10.1002/pola.23770

Sealey JE, Frazier CE, Samaranayake G, Glasser WG (2000) Novel cellulose derivatives. V. Synthesis and thermal properties of esters with trifluoroethoxy acetic acid. J Polym Sci Polym Phys 38:486–494. doi:10.1002/(SICI)1099-0488(20000201)38:3<486:AID-POLB14>3.0.CO;2-S

Takahashi Y, Matsunaga H (1991) Crystal structure of native cellulose. Macromolecules 24:3968–3969. doi:10.1021/ma00013a035

Vaca-Garcia C, Borredon ME, Gaseta A (2001) Determination of the degree of substitution (DS) of mixed cellulose esters by elemental analysis. Cellulose 8:225–231. doi:10.1023/A:1013133921626

Van Vlierberghe S, Dubruel P, Schacht E (2011) Biopolymer-based hydrogels as scaffolds for tissue engineering applications: a review. Biomacromolecules 12:1387–1408. doi:10.1021/bm200083n

Wang H, Gurau G, Rogers RD (2012) Ionic liquid processing of cellulose. Chem Soc Rev 41:1519–1537. doi:10.1039/c2cs15311d

Wawrzyn E, Schartel B, Ciesielski M, Kretzschmar B, Braun U, Döring M (2012) Are novel aryl phosphates competitors for bisphenol A bis(diphenyl phosphate) in halogen-free flame-retarded polycarbonate/acrylonitrile–butadiene–styrene blends? Eur Polym J 48:1561–1574. doi:10.1016/j.eurpolymj.2012.06.015

Wu J, Zhang J, Zhang H, He JS, Ren Q, Guo ML (2004) Homogeneous acetylation of cellulose in a new ionic liquid. Biomacromolecules 5:266–268. doi:10.1021/bm034398d

Xu XT, Duan WG, Huang M, Li GH (2011) Synthesis of cellulose dehydroabietate in ionic liquid [bmim]Br. Carbohydr Res 346:2024–2027. doi:10.1016/j.carres.2011.06.011

Zhang H, Wu J, Zhang J, He JS (2005) 1-Allyl-3-methylimidazolium chloride room temperature ionic liquid: a new and powerful nonderivatizing solvent for cellulose. Macromolecules 38:8272–8277. doi:10.1021/ma0505676

Zhang JM, Wu J, Cao Y, Sang SM, Zhang J, He JS (2009) Synthesis of cellulose benzoates under homogeneous conditions in an ionic liquid. Cellulose 16:299–308. doi:10.1007/s10570-008-9260-2
Acknowledgments
This work was supported by the National Science Foundation of China (nos. 21174151, 51103167), Chinese Academy of Sciences (no. KJCX2-YW-H-19, KJCX2-YW-H30-03) and the Major State Basic Research Development Program of China (973 Program) (no. 2010CB934705).
About this article
Cite this article
Xiao, P., Zhang, J., Feng, Y. et al. Synthesis, characterization and properties of novel cellulose derivatives containing phosphorus: cellulose diphenyl phosphate and its mixed esters. Cellulose 21, 2369–2378 (2014). https://doi.org/10.1007/s10570-014-0256-9
Received:

Accepted:

Published:

Issue Date:
Keywords
Cellulose ester

Cellulose diphenyl phosphate

Cellulose mixed ester

Ionic liquid