Abstract
Natural wool/cellulose blends were prepared in an ionic liquid green solvent, 1-butyl-3-methylimidazolium chloride (BMIMCl) and the films were formed subsequently from the coagulated solutions. The wool/cellulose blend films show significant improvement in thermal stability compared to the coagulated wool and cellulose. Moreover, the blend films exhibited an increasing trend of tensile strength with increase in cellulose content in the blends which could be used for the development of wool-based materials with improved mechanical properties, and the elongations of the blends were considerably improved with respect to the coagulated films of wool and cellulose. It was found that there was hydrogen bonding interaction between hydroxyl groups of wool and cellulose in the coagulated wool/cellulose blends as determined by Fourier transform infrared (FTIR) spectroscopy. The ionic liquid was completely recycled with high yield and purity after the blend film was prepared. This work presents a green processing route for development of novel renewable blended materials from natural resource with improved properties.
Access options
Buy single article
Instant access to the full article PDF.
USD 39.95
Price excludes VAT (USA)
Tax calculation will be finalised during checkout.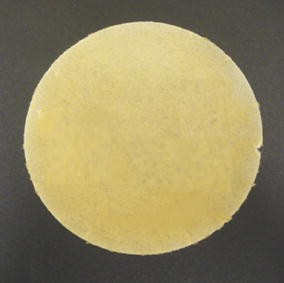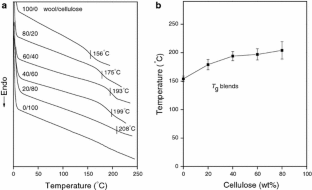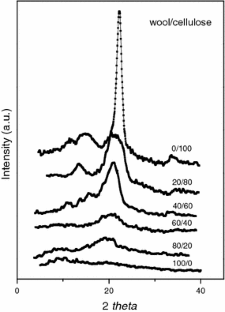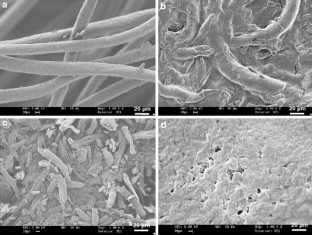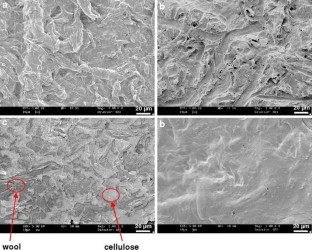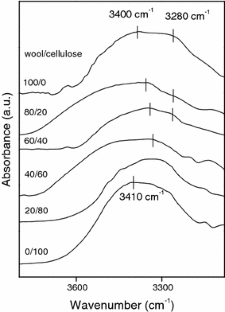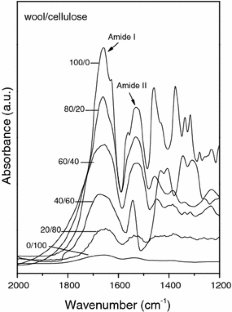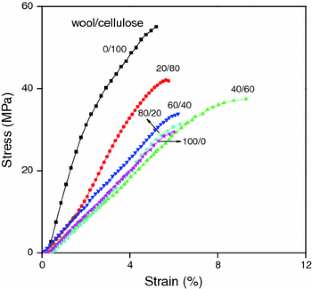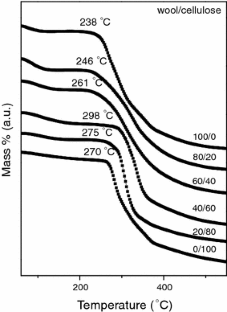 References
Anastas PT, Warner JC (1998) Green chemistry: theory and practice. Oxford University Press, New York

Antonietti M, Kuang D, Smarsly B, Xhou Y (2004) Ionic liquids for the convenient synthesis of functional nanoparticles and other inorganic nanostructures. Angew Chem Int Ed 43:4988–4992

Block RJ, Bolling D, Brand FC, Schein A (1939) The composition of keratins: The amino acid composition of hair, wool, horn and other eukeratins. J Biol Chem 128:181–186

Church JS, Millington KR (1996) Photodegradation of wool keratin: Part I. Vibrational spectroscopic studies. Biospectroscopy 2:249–258

Crawford RL (1981) Lignin biodegradation and transformation. John Wiley and Sons, New York

Davis JHJr, Fox PA (2003) From curiosities to commodities: ionic liquids begin the transition. Chem Commun 11:1209–1212

Dupont J, de Souza RF, Suarez PAZ (2002) Ionic Liquid (Molten Salt) Phase Organometallic Catalysis. Chem Rev 102:3667–3692

Earle MJ, Seddon KR (2000) Ionic liquids: Green solvents for the future. Pure Appl Chem 72:1391–1398

Garrett RH, Grisham CM (2002) Biochemistry, 2nd edn. Beijing, Higher Education Press

Guo Q (1999) In: Shonaike GO, Simon G (eds) Polymer blends and alloys, Marcel Dekker: New York, Chap. 6, p 155

Hames BD, Hooper NM (2003) Biochemistry, 2nd edn. Beijing, Science Press

Hoffmann MM, Heitz MP, Carr JB, Tubbs JD (2003) Surfactants in green solvent systems: current and future research directions. J Dispers Sci Technol 24:155–171

Huddleston JG, Visser AE, Reichert WM, Willauer HD, Broker GA, Rogers RD (2001) Characterization and comparison of hydrophilic and hydrophobic room temperature ionic liquids incorporating the imidazolium cation. Green Chem 3:156–164

Kadokawa J, Murakami M, Takegawa A, Kaneko Y (2009) Preparation of cellulose–starch composite gel and fibrous material from a mixture of the polysaccharides in ionic liquid. Carbohydr Polym 75:180–183

Kaplan DL (1998) Biopolymers from renewable resources. New York, Springer

Klemm D, Heublein B, Fink HP, Bohn A (2005) Cellulose: Fascinating Biopolymer and Sustainable Raw Material. Angew Chem Int Ed 44:3358–3393

Kubat J, Pattyrante C (1967) Transition in Cellulose in the Vicinity of −30 °C. Nature 215:390–391

Morton WE, Hearle JWS (1993) Physical properties of textile fibres, 3rd edn. The Textile Institute, Manchester, UK

Nishiyama Y, Langan P, Chanzy H (2002) Crystal structure and hydrogen-bonding system in cellulose Iβ from synchrotron X-ray and neutron fiber diffraction. J Am Chem Soc 124:9074–9082

Novoselov NP, Sashina ES, Kuzmina OG, Troshenkova SV (2007) Ionic liquids and their use for the dissolution of natural polymers. Russ J Gen Chem 77:1395–1405

Phillips DM, Drummy LF, Conrady DJ, Fox DM, Naik RR, Stone MO, Trulove PC, De Long HC, Mantz RA (2004) Dissolution and regeneration of bombyx mori silk fibroin using ionic liquids. J Am Chem Soc 126:14350–14351

Rippon JA (1992) The structure of wool. In: Lewis DM (ed) Wool dyeing. Society of Dyers and Colourists, Bradford (UK)

Rippon JA (2003) Wool, in encyclopedia of polymer science and technology. Interscience Publishers, New York

Seddon KR (1999) Ionic liquids for clean technology. J Chem Technol Biotechnol 68:351–356

Sheldon R (2001) Catalytic reactions in ionic liquids. Chem Commun 23:2347–2399

Slark AT, Hadgett PM (1999) The effect of polymer structure on specific interactions between dye solutes and polymers. Polymer 40:1325–1332

Song CE (2004) Enantioselective chemo- and bio-catalysis in ionic liquids. Chem Commun 9:1033–1043

Swatloski RP, Spear SK, Holbrey JD, Rogers RD (2002) Dissolution of cellulose with ionic liquids. J Am Chem Soc 124:4974–4975

Updegraff DM (1969) Semimicro determination of cellulose in biological materials. Anal Biochem 32:420–424

Wasserscheid P, Keim W (2000) Ionic liquids—new solutions for transition metal catalysis. Angew Chem Int Ed 39:3772–3789

Welton T (1999) Room-temperature ionic liquids. Solvents for synthesis and catalysis. Chem Rev 99:2071–2084

Wilkes JS (2002) A short history of ionic liquids—from molten salts to neoteric solvents. Green Chem l4:73–80

Wilkes JS, Zaworotko MJ (1992) Air and water stable 1-ethyl-3-methylimidazolium based ionic liquids. J Chem Soc Chem Commun 13:965–969

Wu J, Zhang J, Zhang H, He JS, Ren Q, Guo ML (2004) Homogeneous acetylation of cellulose in a new ionic liquid. Biomacromolecules 5:266–268

Wu RL, Wang XL, Li F, Li HZ, Wang YZ (2009) Green composite films prepared from cellulose, starch and lignin in room-temperature ionic liquid. Bioresour Technol 100:2569–2574

Xie H, Li S, Zhang S (2005) Ionic liquids as novel solvents for the dissolution and blending of wool keratin fibers. Green Chem 75:606–608

Xie H, Zhang S, Lib S (2006) Chitin and chitosan dissolved in ionic liquids as reversible sorbents of CO2. Green Chem 8:630–633

Zhang H, Wu J, Zhang J, He J (2005) 1-Allyl-3-methylimidazolium chloride room temperature ionic liquid: a new and powerful nonderivatizing solvent for cellulose. Macromolecules 38:8272–8277

Zhang Y, Shen Y, Yuan J, Han D, Wang Z, Zhang Q, Niu L (2006) Design and synthesis of multifunctional materials based on an ionic-liquid backbone. Angew Chem 118:5867–5870

Zhang H, Wang Z, Zhang Z, Wu J, Zhang J, He J (2007) Regenerated cellulose/ multiwalled-carbon-nanotube composite fibers with enhanced mechanical properties prepared with the ionic liquid 1-allyl-3- methylimidazolium chloride. Adv Mater 19:698–704
Acknowledgments
The authors are thankful to Dr Peter Lamb for gift of the raw wool.
About this article
Cite this article
Hameed, N., Guo, Q. Blend films of natural wool and cellulose prepared from an ionic liquid. Cellulose 17, 803–813 (2010). https://doi.org/10.1007/s10570-010-9411-0
Received:

Accepted:

Published:

Issue Date:

DOI: https://doi.org/10.1007/s10570-010-9411-0
Keywords
Cellulose

Wool

Blends

Ionic liquid