Abstract
Mesogenic cellulose derivative chains cross-linked into free-standing thin films were prepared by a shear-casting technique from anisotropic precursor solutions of thermotropic (acetoxypropyl)cellulose. After shear cessation a macroscopically oriented serpentine structure with the director in average along the shear direction is locked resulting in anisotropic optical and mechanical properties of the material. These films were submitted to an external uniaxial mechanical field perpendicular and parallel to the shear direction. Stretching perpendicular to the shear direction produced significant director rotations and a reset of order of the director order parameter for a deformation in the range 2–3 as detected by X-rays and optical microscopy. The different response found for strains imposed parallel and perpendicular to the initial average director orientation indicates that even though our system shows a serpentine director modulation that is either attenuated or reinforced by deformations parallel or perpendicular to the shear direction, its behaviour is similar to theoretical predictions for monodomain nematic elastomers described in the literature.
Access options
Buy single article
Instant access to the full article PDF.
USD 39.95
Price includes VAT (USA)
Tax calculation will be finalised during checkout.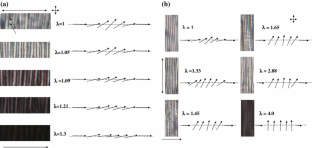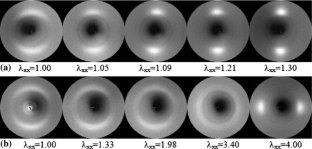 References
Adams JM, Warner M (2005) Eur Phys J E 16:97. doi:10.1140/epje/e2005-00012-3

Andresen EM, Mitchell GR (1998) Europhys Lett 43:296. doi:10.1209/epl/i1998-00355-6

Bladon P, Warner M, Terentjev EM (1994) Macromolecules 27:7067. doi:10.1021/ma00102a010

Clarke SM, Tajbakhsh AR, Terentjev EM, Remillat C, Tomlinson GR, House JR (2001) J Appl Phys 89:6530. doi:10.1063/1.1368177

Costa I, Filip D, Figueirinhas JL, Godinho MH (2007) Carbohydr Polym 68:159

Deutsch M (1991) Phys Rev A 44:8264. doi:10.1103/PhysRevA.44.8264

Evmenenko G, Yu C-J, Kewalramani S, Dutta P (2004) Langmuir 20:1698

Filip D, Costa I, Figuerinhas JL, Godinho Liq MH (2006) Liq Cryst 33:109

Finkelmann H, Kundler I, Terentjev EM, Warner M (1997) J Phys II 7:1059. doi:10.1051/jp2:1997171

Godinho MH, Fonseca JG, Ribeiro AC, Melo LV, Brogueira P (2002) Macromolecules 35:5932. doi:10.1021/ma0118769

Godinho MH, van der Klink JJ, Martins AF, Phys J (2003) C-Cond Mat 15:5461

Laivins GV, Sixou P, Gray DG (1986) J Polym Sci Polym Phys 24:2779. doi:10.1002/polb.1986.090241213

Mori N, Marimoto M, Nakamura K (1999) Adv Mater 11:1049. doi:10.1002/(SICI)1521-4095(199908)11:12<1049::AID-ADMA1049>3.0.CO;2-D

Navard P, Zachariades AE (1987) J Polym Sci Polym Phys 25:1089. doi:10.1002/polb.1987.090250510

Roberts PM, Mitchell GR, Davis FJ (1997) J Phys II 7:1337. doi:10.1051/jp2:1997190

Rusig I, Dedier J, Filliatre C, Godinho MH, Varichon L, Sixou P (1992) J Polym Sci Polym Chem 30:895. doi:10.1002/pola.1992.080300521

Tseng SL, Valente A, Gray DG (1981) Macrmolecules 14:715. doi:10.1021/ma50004a049

Verwey GC, Warner M, Terentjev EM (1996) J Phys II 6:1273. doi:10.1051/jp2:1996130

Viney C, Putnam WS (1995) Polymer (Guildf) 36:1731. doi:10.1016/0032-3861(95)90921-N

Wang J, Labes MM (1992) Macromolecules 25:5790. doi:10.1021/ma00047a034

Yan L, Zhu Q, Ikeda T (2003) Polym Int 52:265. doi:10.1002/pi.1088

Zhao C-T, Zhang G-L, Cai B-L, Xu M (1998) Macromol Chem Phys 199:1485. doi:10.1002/(SICI)1521-3935(19980801)199:8<1485::AID-MACP1485>3.0.CO;2-O
Acknowledgments
Dr. D. Filip acknowledges Portuguese Science Foundation (FCT) for the granted fellowship SFRH/BPD/19722/2004. This work was partially supported by projects POCTI/CTM/56382/2004 and by FCT through multi-annual contracts with CENIMAT .
About this article
Cite this article
Godinho, M.H., Filip, D., Costa, I. et al. Liquid crystalline cellulose derivative elastomer films under uniaxial strain. Cellulose 16, 199–205 (2009). https://doi.org/10.1007/s10570-008-9258-9
Received:

Accepted:

Published:

Issue Date:
Keywords
Cellulose elastomer

Liquid crystalline cellulose film

Strained cellulose film