Abstract
This study investigates the adsorption of (glucurono)arabinoxylan (GAX) on cellulose fibres and the properties thereof. A water-soluble GAX, from barley husks (Hordeum vulgare), was isolated using chlorite delignification and alkaline extraction followed by enzymatic purification. The isolated GAX fraction showed an arabinose to xylose ratio of 0.22 and a weight average molar mass of 20,200 g/mol, as determined by size exclusion chromatography (SEC) in DMSO:H2O. The GAX was adsorbed on cellulose fibres under well controlled conditions, where temperature and initial concentration of GAX proved to be important parameters in controlling the level of adsorption. The adsorption process was also dependent on xylan molecular structure. Carbohydrate analysis on the modified fibres showed a preferential adsorption of low substituted xylans (arabinose to xylose ratio of ∼0.10). During the adsorption process the GAX solution was analyzed using SEC-RI-MALLS in aqueous solvent, which demonstrated a molecular xylan adsorption on cellulose fibres. Additionally, a decrease in light scattering responses, which corresponds to an adsorption of aggregated xylan and/or xylan with a great tendency towards self-association, could be observed during the adsorption process. This was demonstrated by adsorption of GAX on regenerated cellulose fibres (Lyocell), which compared to native fibres possesses a relatively smooth fibre surface. Atomic force microscopy analysis visualised a heterogeneous decoration of the Lyocell fibres with xylan agglomerates. The effect of GAX adsorption on paper strength was also investigated. A GAX modified kraft pulp showed an evident increase in tensile strength, which might be due to a retained fibre–fibre bonding ability for xylan coated fibrils after drying and rewetting.
Access options
Buy single article
Instant access to the full article PDF.
USD 39.95
Price excludes VAT (USA)
Tax calculation will be finalised during checkout.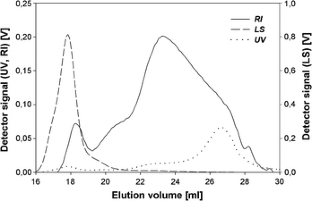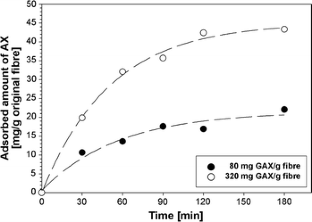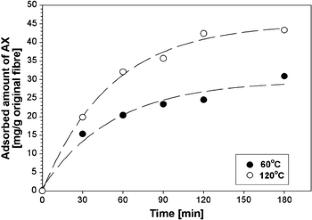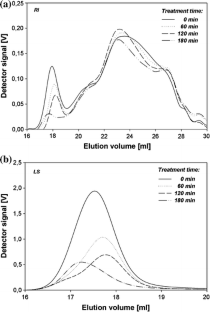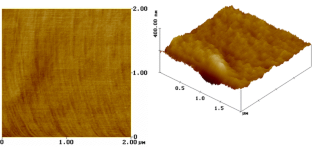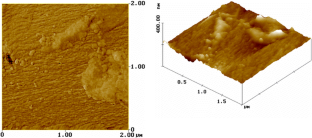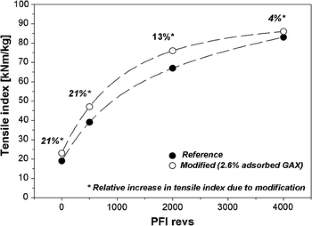 References
Andrewartha KA, Phillips RD, Stone BA (1979) Solution properties of wheat-flour arabinoxylans and enzymically modified arabinoxylans. Carbohydr Res 77:191–204

Aspinall GO, Ferrier RJ (1957) The constitution of barley husk hemicellulose. J Chem Soc 840:4188–4194

Blake JD, Richards GN (1971) Evidence for molecular aggregation in hemicelluloses. Carbohydr Res 18:11–21

Brumer H III, Zhou Q, Baumann MJ, Carlsson K, Teeri TT (2004) Activation of crystalline cellulose surfaces through the chemoenzymatic modification of xyloglucans. J Am Chem Soc 126(18):5715–5721

Christiernin M, Henriksson G, Lindström ME, Brumer H, Teeri TT, Lindström T, Laine J (2003) The effects of xyloglucan on the properties of paper made from bleached kraft pulp. Nord Pulp Paper Res J 18(2):182–187

Dea ICM, Rees DA, Beveridge RJ, Richards GN (1973) Aggregation with change of conformation in solutions of hemicellulose xylans. Carbohydr Res 29:363–372

Duchesne I, Hult EL, Molin U, Daniel G, Iversen T, Lennholm H (2001) The influence of hemicellulose on fibril aggregation of kraft pulp fibres as revealed by FE-SEM and CP/MAS 13C-NMR. Cellulose 8(2):103–111

Ebringerova A, Hromadkova Z, Burchard W, Dolega R, Vorwerg W (1994) Solution properties of water-insoluble rye-bran arabinoxylan. Carbohydr Polym 24:161–169

Esker A, Becker U, Jamin S, Beppu S, Renneckar S, Glasser W (2004) Self-assembly behavior of some co- and heteropolysaccharides related to hemicelluloses. In: Gatenholm P, Tenkanen M (eds) Hemicelluloses: science and technology. ACS Symp Ser 864:198–219

Evans DF, Wennerström H (1999) The colloidal domain. Wiley-VCH, Toronto, pp 351–400

Glasser WG, Kaar WE, Jain RK, Sealey JE (2000) Isolation options for non-cellulosic heteropolysaccharides (HetPS). Cellulose 7(3):299–317

Gradwell SE, Renneckar S, Esker AR, Heinze T, Gatenholm P, Vaca-Garcia C, Glasser W (2004) Surface modification of cellulose fibers: towards wood composites by biomimetics. C R Biol 327:945–953

Gross RA, Kalra B (2002) Biodegradable polymers for the environment. Science 297:803–807

Hannuksela T, Tenkanen M, Holmbom B (2002) Sorption of dissolved galactoglucomannans and galactomannans to bleached kraft pulp. Cellulose 9(3/4):251–261

Hannuksela T, Holmbom B, Mortha G, Lachenal D (2004) Effect of sorbed galactoglucomannans and galactomannans on pulp and paper handsheet properties, especially strength properties. Nord Pulp Paper Res J 19(2):237–244

Hansson J-Å (1970) Sorption of hemicelluloses on cellulose fibres. Part 3. The temperature dependence on sorption of birch xylan and pine glucomannan at kraft pulping conditions. Svensk Papperstid 73(3):49–53

Hartler N, Lund A (1962) Sorption of xylans on cotton. Svensk Papperstidn 65(23):951–955

Henriksson Å, Gatenholm P (2001) Controlled assembly of glucuronoxylans onto cellulose fibres. Holzforschung 55(5):494–502

Henriksson Å, Gatenholm P (2002) Surface properties of CTMP fibers modified with xylans. Cellulose 9(1):55–64

Höije A, Gröndahl M, Tommeraas K, Gatenholm P (2005) Isolation and characterization of physicochemical and material properties of arabinoxylans from barley husks. Carbohydr Polym 61:266–275

Höije A, Sandström C, Roubroeks JP, Andersson R, Gohil S, Gatenholm P (2006) Evidence of the presence of 2-O-β-d-xylopyranosyl-α-l-arabinofuranose side chains in barley husk arabinoxylan. Carbohydr Res 341:2959–2966

Kabel MS, van den Borne H, Vincken JP, Voragen AGJ, Schols HA (2007) Structural differences of xylans affect their interaction with cellulose. Carbohydr Polym 69(1):94–105

Köhnke T, Gatenholm P (2007) The effect of controlled glucuronoxylan adsorption on drying-induced strength loss of bleached softwood pulp. Nordic Pulp Paper Res J 22(4):508–515

LeBel RG, Goring DA, Timell TE (1963) Solution properties of birch xylan. I. Measurement of molecular weight. J Polym Sci Part C 2:9–28

Lima DU, Oliveira RC, Buckeridge MS (2003) Seed storage hemicelluloses as wet-end additives in papermaking. Carbohydr Polym 52(4):367–373

Lima DU, Loh W, Buckeridge MS (2004) Xyloglucan-cellulose interaction depends on the sidechains and molecular weight of xyloglucans. Plant Physiol Biochem 42(5):389–394

Linder Å, Gatenholm P (2004) Effect of cellulose substrate on assembly of xylans. In: Gatenholm P, Tenkanen M (eds) Hemicelluloses: science and technology. ACS Symp Ser 864:236–253

Linder Å, Bergman R, Bodin A, Gatenholm P (2003) Mechanism of assembly of xylan onto cellulose surfaces. Langmuir 19(12):5072–5077

Lindström T, Wågberg L, Larsson PT (2005) On the nature of joint strength in paper—a review of dry and wet strength resins used in paper manufacturing. In: I'Anson SJ (ed) Adv Paper Sci Technol. Trans 13th Fund Res Symp, Cambridge, UK, pp 457–562

McNeil M, Albersheim P, Taiz L, Jones RL (1975) The structure of plant cell walls. VII. Barley aleurone cells. Plant Physiol 55(1):64–68

Oksanen T, Buchert J, Viikari L (1997) The role of hemicelluloses in the hornification of bleached kraft pulps. Holzforschung 51(4):355–360

Paananen A, Österberg M, Rutland M, Tammelin T, Saarinen T, Tappura K, Stenius P (2004) Interaction between cellulose and xylan: an atomic force microscope and quartz crystal microbalance study. In: Gatenholm P, Tenkanen M (eds) Hemicelluloses: science and technology. ACS Symp Ser 864:269–290

Puls J, Schröder N, Stein A, Janzon R, Saake B (2006) Xylans from oat spelts and birch kraft pulp. In: Fischer K, Heinze T (eds) Hemicelluloses. Macromol Symp 232:85–92

Ragauskas AJ, Williams CK, Davison BH, Britovsek G, Cairney J, Eckert CA, Frederick WJ Jr, Hallet JP, Leak DJ, Liotta CL, Mielenz JR, Murphy R, Templer R, Tschaplinski T (2006) The path forward for biofuels and biomaterials. Science 311:484–489

Sarkanen KV, Ludwig CH (1971) Lignins. Occurrence, formation, structure and reactions. Wiley-Interscience, New York, pp 193–194

Saake B, Kruse Th, Puls J (2001) Investigation on molar mass, solubility and enzymatic fragmentation of xylans by multi-detected SEC chromatography. Bioresour Technol 80:195–204

Schönberg C, Oksanen T, Suurnäkki A, Kettunen H, Buchert J (2001) The importance of xylan for the strength properties of spruce kraft pulp fibre. Holzforschung 55(6):639–644

Suurnäkki A, Oksanen T, Kettunen H, Buchert J (2003) The effect of mannan on physical properties of ECF bleached softwood kraft fibre handsheets. Nord Pulp Paper Res J 18(4):429–435

Teeri TT, Brumer H III, Daniel G, Gatenholm P (2007) Biomimetic engineering of cellulose-based materials. Trends Biotechnol 25(7):299–306

Theander O, Westerlund EA (1986) Studies on dietary fiber. 3. Improved procedures for analysis of dietary fiber. J Agric Food Chem 34(2):330–336

Theander O, Åman P, Westerlund E, Andersson R, Pettersson D (1995) Total dietary fiber determined as neutral sugar residues, uronic acid residues, and Klason lignin (The Uppsala method): collaborative study. J AOAC Int 78(4):1030–1044

van Wyk JPH (2001) Biotechnology and the utilization of biowaste as a resource for bioproduct development. Trends Biotechnol 19(5):172–177

Westbye P, Köhnke T, Glasser W, Gatenholm P (2007) The influence of lignin on the self-assembly behaviour of xylan rich fractions from birch (Betula pendula). Cellulose 14(6):603–613

Westbye P, Köhnke T, Gatenholm P (2008) Fractionation and characterization of xylan rich extracts from birch. Holzforschung 62(1):31–37
Acknowledgments
Lyckeby Stärkelsen is acknowledged for providing the barley husks. Södra Cell R&D is acknowledged for pulp analyses. Dr. Bodo Saake at vTI-Institute for Wood Technology and Biology in Hamburg, Germany, is gratefully acknowledged for the SEC measurements in DMSO. The authors also gratefully acknowledge Södra Cell and the Knowledge Foundation through its graduate school, YPK, for financial support.
About this article
Cite this article
Köhnke, T., Pujolras, C., Roubroeks, J.P. et al. The effect of barley husk arabinoxylan adsorption on the properties of cellulose fibres. Cellulose 15, 537–546 (2008). https://doi.org/10.1007/s10570-008-9209-5
Received:

Accepted:

Published:

Issue Date:

DOI: https://doi.org/10.1007/s10570-008-9209-5
Keywords
Adsorption

Aggregation

Barley husk

Beatability

Cellulose fibre

Extraction

(Glucurono)arabinoxylan

Isolation

Softwood kraft pulp

Tensile strength