Abstract
Background
Self-regulation has frequently been shown to be context-sensitive, suggesting the influence of different cultural contexts on its development. However, up until now, self-regulation has been mainly studied in Western countries with similar cultural contexts.
Objective
Thus, with the present study we compared self-regulation of preschool children in Iran and Germany, hypothesizing that self-regulation differs between these two countries.
Methods
In total, 148 preschool children (n = 100 Iranian, n = 48 German) participated in this study. Self-regulation was operationalized as waiting in the delay of gratification task. Moreover, behavioral strategies (i.e., focusing, withholding, and distracting) used by children while waiting in the task were video recorded and later rated using a behavioral rating scale.
Results
On average, Iranian children waited less time than their German peers and used fewer withholding strategies to stop themselves from touching the reward. Interestingly, focusing strategies directing attention towards the reward undermined the waiting time in the delay of gratification task for German but not Iranian children.
Conclusion
Our findings are consistent with previous cross-cultural/national studies in suggesting that childhood self-regulation may be developed and applied differently depending on cultural context. However, based on our results, the assumption that children from Eastern countries generally show a greater level of self-regulation than children from Western countries as discussed in previous cross-cultural/national studies is to be viewed critically.
Access options
Buy single article
Instant access to the full article PDF.
USD 39.95
Price excludes VAT (USA)
Tax calculation will be finalised during checkout.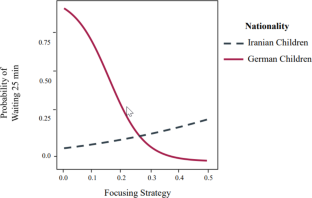 Data Availability
The datasets generated and/or analyzed during the current study are available from the first or corresponding author on reasonable request.
Notes
All children who did not wait for 25 min in the delay of gratification task, despite their different waiting times, were grouped in one category (i.e., did not wait for 25 min) and the investigation of factors that enhanced or decreased the probability of waiting was limited due to this restricted grouping. Thus, to cover all waiting times, correlation matrix for the waiting time as the continuous outcome variable and study measures is presented separately for Iranian and German children who did not wait for 25 min in the delay of gratification task in Appendix B. The results showed no significant correlations between waiting time and study measures in both groups.
References
Aiken, L. S., & West, S. G. (1991). Testing and interpreting interactions in multiple regression. Thousand Oaks, CA: SAGE Publications

Arnett, J. J. (2008). The neglected 95%: Why American psychology needs to become less American. American Psychologist, 63, 602–614

Ayduk, O., Mendoza-Denton, R., Mischel, W., Downey, G., Peake, P. K., & Rodriguez, M. L. (2000). Regulating the interpersonal self: Strategic self-regulation for coping with rejection sensitivity. Journal of Personality and Social Psychology, 79, 776–792

Benga, O., Susa-Erdogan, G., Friedlmeier, W., Corapci, F., & Romonti, M. (2019). Maternal self- construal, maternal socialization of emotions and child emotion regulation in a sample of Romanian mother-toddler dyads. Frontiers in psychology, 9, 2680

Blair, C., & Ursache, A. (2011). A bidirectional model of executive functions and self-regulation. In R. F. Baumeister, & K. D. Vohs (Eds.), Handbook of self-regulation: Research, theory and applications (2nd ed., pp. 300–320). New York: Guilford Press

Bradley, R. H., & Corwyn, R. F. (2002). Socioeconomic status and child development. Annual review of psychology, 53(1), 371–399

Calkins, S. D. (2007). The emergence of self-regulation: Biological and behavioral control mechanisms supporting toddler competencies. In C. A. Brownell, & C. B. Kopp (Eds.), Socioemotional development in the toddler years: Transitions and transformations (pp. 261–284). New York, NY: Guilford Press

Camras, L. A., Oster, H., Campos, J., Campos, R., Ujiie, T., Miyake, K., & Meng, Z. (1998). Production of emotional facial expressions in European American, Japanese, and Chinese infants. Developmental Psychology, 34, 616–628

Chasiotis, A., Kiessling, F., Hofer, J., & Campos, D. (2006). Theory of mind and inhibitory control in three cultures: Conflict inhibition predicts false belief understanding in Germany, Costa Rica, and Cameroon. International Journal of Behavioral Development, 30, 249–260

Darwish, A. F. E., & Huber, G. L. (2003). Individualism vs collectivism in different cultures: a cross-cultural study. Intercultural Education, 14(1), 47–56

Doebel, S. (2020). Rethinking executive function and its development. Perspectives on Psychological Science, 15(4), 942–956

Duckworth, A. L., & Kern, M. L. (2011). A meta-analysis of the convergent validity of self-control measures. Journal of research in personality, 45(3), 259–268

Duckworth, A., & Seligman, M. (2005). Self-discipline outdoes IQ in predicting academic performance of adolescents. Psychological Science, 16, 939–944

Eigsti, I. M., Zayas, V., Mischel, W., Shoda, Y., Ayduk, O., Dadlani, M. B., & Casey, B. J. (2006). Predicting cognitive control from preschool to late adolescence and young adulthood. Psychological Science: A Journal of the American Psychological Society / APS, 17(6), 478–484

Eisenberg, N., Guthrie, I. K., Fabes, R. A., Shephard, S., Losoya, S., Murphy, B. C., & Reiser, M. (2000). Prediction of elementary school children`s externalizing problem behaviors from attentional and behavioral regulation and negative emotionality. Child Development, 71, 1367–1382

Ellefson, M., Ng, F. F., Wang, Q., & Hughes, C. (2017). Efficiency of executive function: a two-generation cross-cultural comparison of samples from Hong Kong and the United Kingdom. Psychological Science, 28, 555–566. doi: https://doi.org/10.1177/0956797616687812

Entwisle, D. R., & Astone, N. M. (1994). Some practical guidelines for measuring youth's race/ethnicity and socioeconomic status. Child Development, 65, 1521–1540

Field, A. (2013). Discovering statistics using IBM SPSS statistics. Thousand Oaks, CA: SAGE Publications

Freeman, M. A. (1997). Demographic correlates of individualism and collectivism: A study of social values in Sri Lanka. Journal of Cross-Cultural Psychology, 28(3), 321–341

Hallgreen, K. (2012). Computing inter-rater reliability for observational data: an overview and tutorial. Tutorials in Quantitative Methods for Psychology, 8(2), 23–34

Henrich, J., Heine, S. J., & Norenzayan, A. (2010). The weirdest people in the world? Behavioral and Brain Sciences, 33, 61–83

Higgins, E. T., Pierro, A., & Kruglanski, A. W. (2008). Re-thinking culture and personality: How self-regulatory universals create cross-cultural differences. In R. M. Sorrentino & S. Yamaguchi (Eds.), Handbook of Motivation and Cognition within and across Cultures (pp. 161–190). New York, NY: Guilford Press

Hofsteds, G. (1980). Culture's consequences. Thousand Oaks, CA:: SAGE Publications

Iyengar, S. S., & Lepper, M. R. (1999). Rethinking the value of choice: A cultural perspective on intrinsic motivation. Journal of Personality and Social Psychology, 76, 349–366

Jaramillo, J. M., Rendón, M. I., Muñoz, L., Weis, M., & Trommsdorff, G. (2017). Children's self-regulation in cultural contexts: the role of parental socialization theories, goals, and practices. Frontiers in psychology, 8, Article 923

Kashima, Y., Kokubo, T., Kashima, E. S., Boxall, D., Yamaguchi, S., & Macrae, K. (2004). Culture and self: Are there within-culture differences in self between metropolitan areas and regional cities? Personality and Social Psychology Bulletin, 30(7), 816–823

Kass, R. E., & Raftery, A. E. (1995). Bayes factors. Journal of the American Statistical Association, 90(430), 773–795

Keller, H., & Kärtner, J. (2013). Development: The culture-specific solution of universal developmental tasks. In M. L. Gelfand, C. Y. Chiu, & Y. Y. Hong (Eds.), Advances in culture and psychology (3 vol., pp. 63–116). Oxford, NY: Oxford University Press

Keller, H., Yovsi, R., Borke, J., Kärtner, J., Jensen, H., & Papaligoura, Z. (2004). Developmental consequences of early parenting experiences: Self-recognition and self-regulation in three cultural communities. Child Development, 75(6), 1745–1760

Lamm, B., Keller, H., Teiser, J., Gudi, H., Yovsi, R. D., Freitag, C., & Vöhringer, I. (2018). Waiting for the second treat: Developing culture-specific modes of self‐regulation. Child development, 89(3), 261–277

Legare, C. H., Dale, M. T., Kim, S. Y., & Deák, G. O. (2018). Cultural variation in cognitive flexibility reveals diversity in the development of executive functions. Scientific Reports, 8(1), Article 16326. doi:https://doi.org/10.1038/s41598-018-34756-2

Oh, S., & Lewis, C. (2008). Korean preschoolers' advanced inhibitory control and its relation to other executive skills and mental state understanding. Child Development, 79, 80–99

Manfra, L., Davis, K. D., Ducenne, L., & Winsler, A. (2014). Preschoolers' motor and verbal self-control strategies during a resistance-to-temptation task. The Journal of Genetic Psychology, 175(4), 332–345

Markus, H., & Kitayama, S. (1991). Culture and the self: Implications for cognition, emotion and motivation. Psychological Review, 98, 224–253

Mischel, W., Ayduk, O., Berman, M. G., Casey, B. J., Gotlib, I. H., Jonides, J., & Shoda, Y. (2011). 'Willpower' over the life span: Decomposing self-regulation. Social Cognitive and Affective Neuroscience, 6(2), 252–256. doi:https://doi.org/10.1093/scan/nsq081

Mischel, W., Ayduk, O., & Mendoza-Denton, R. (2003). Sustaining delay of gratification over time: A hot-cool systems perspective. In G. Loewenstein, D., R. Read, & Baumeister (Eds.), Time and decision: Economic and psychological perspectives on intertemporal choice (pp. 175–200). New York, NY: Russell Sage

Mischel, W. (2014). The Marshmallow test. Understanding self-control and how to master it. London, UK: Bantam Press

Mischel, W. (1996). From good intentions to willpower. In P. Gollwitzer, & J. Bargh (Eds.), The psychology of action: Linking cognition and motivation to behavior (pp. 197–218). New York, NY: Guilford Press

Mischel, W., Shoda, Y., & Rodriguez, M. L. (1989). Delay of gratification in children. Science, 244, 933–938

Metcalfe, J., & Mischel, W. (1999). A hot/cool-system analysis of delay of gratification: dynamics of willpower. Psychological Review, 106(1), 3–19

Mittal, R., Russell, B. S., Britner, P. A., & Peake, P. K. (2013). Delay of gratification in two-and three-year-olds: Associations with attachment, personality, and temperament. Journal of Child and Family Studies, 22(4), 479–489

Mulder, H., van Ravenswaaij, H., Verhagen, J., Moerbeek, M., & Leseman, P. P. (2019). The process of early self-control: An observational study in two-and three-year-olds. Metacognition and Learning, 14(3), 239–264

Neuenschwander, R., & Blair, C. (2017). Zooming in on children's behavior during delay of gratification: Disentangling impulsigenic and volitional processes underlying self-regulation. Journal of Experimental Child Psychology, 154(November 2016), 46–63

Norman, D. (1983). Some Observations on Mental Models. In D. Gentner, & A. L. Stevens (Eds.), Mental Models (pp. 7–14). New York, NY: Psychology Press

Obradovic´, J., Finch, J. E., Portilla, X., Rasheed, M., Tirado-Strayer, N., & Yousafzai, A. (2019). Early executive functioning in a global context: Developmental continuity and family protective factors. Developmental Science, 22(5), doi:https://doi.org/10.1111/desc.12795. Article e12795

Rodriguez, M. L., Mischel, W., & Shoda, Y. (1989). Cognitive person variables in the delay of gratification of older children at risk. Journal of Personality and Social Psychology, 57(2), 358–367

Rogoff, B. (2003). The cultural nature of development. New York, NY: Oxford University Press

Sabbagh, M. A., Carlson, S. M., Moses, L. J., & Lee, K. (2006). The development of executive functioning and theory of mind: A comparison of Chinese and U.S. Psychological Science, 17, 74–81

Senzaki, S., Masuda, T., Takada, A., & Okada, H. (2016). The communication of culturally dominant modes of attention from parents to children: a comparison of Canadian and Japanese parent-child conversations during a joint scene description task. Plos One, 11, e0147199. doi: https://doi.org/10.1371/journal.pone.0147199

Shoda, Y., Mischel, W., & Peake, P. K. (1990). Predicting adolescent cognitive and self-regulatory competencies from preschool delay of gratification: Identifying diagnostic conditions. Developmental Psychology, 26(6), 978–986

Tõugu, P., Tulviste, T., Kasearu, K., Talves, K., & Albert, I. (2018). Independence and Interdependence Values in Changing Societies: A Three-Generation Comparative Study in Estonia, Germany, and Russia. Studies of Transition States and Societies, 9(2), 41–58

Triandis, H. C., Bontempo, R., Villareal, M. J., Asai, M., & Lucca, N. (1988). Individualism and collectivism: Cross-cultural perspectives on self-ingroup relationships. Journal of personality and Social Psychology, 54(2), 323–338

Trommsdorff, G. (2009). Culture and development of self-regulation. Social and Personality Psychology Compass, 3, 687–701

Trommsdorff, G., & Friedlmeier, W. (2010). Preschool girls' distress and mothers' sensitivity in Japan and Germany. European Journal of Developmental Psychology, 7, 350–370

von Suchodoletz, A., Trommsdorff, G., Heikamp, T., Wieber, F., & Gollwitzer, P. M. (2009). Transition to school: The role of kindergarten children's behavior regulation. Learning and Individual Differences, 19, 561–566

von Suchodoletz, A., Uka, F., & Larsen, R. A. (2015). Self-regulation across different contexts: Findings in young Albanian children. Early Education and Development, 26(5–6), 829–846

Watts, T. W., Duncan, G. J., & Quan, H. (2018). Revisiting the marshmallow test: A conceptual replication investigating links between early delay of gratification and later outcomes. Psychological science, 29(7), 1159–1177

World Health Organization Process of Translation and Adaptation of Instruments (n.d.). Retrieved from http://www.who.int/substance_abuse/research_tools/translation/en/index.html. 15 April 2015

Ziehm, J., Trommsdorff, G., Heikamp, T., & Park, S. Y. (2013). German and Korean mothers' sensitivity and related parenting beliefs. Frontiers in psychology, 4, 561
Acknowledgements
We would like to thank all participating families and children. This research was funded by a grant from German Academic Exchange Service (DAAD): Research Scholarship for Doctorate students and young researchers for more than 6 months, 2014/15 (57048249) to PN and budget funds from the School Psychology and Diagnostics and Cognitive Neuropsychology research groups. We would also like to thank Azarmidokht Elahi, Mina Habibnejad Behtash, Farimah Tabei, and Toba Setayeshfar in Iran and Anne Eppinger, Anna Schwarz, and Lisa Margaretha Mauel in Germany for supporting our data recruitment and analysis and Zoe Lauren Kirste and Sebastian Sandbrink for their help in language proofreading of the manuscript.
Ethics declarations
Conflict of Interest
The authors have no conflicts of interest to declare. All authors have seen and agree with the contents of the manuscript and there is no financial interest to report.
Ethics Approval
The study was approved by the ethics committee of the Tehran University of Medical Sciences in Iran (No. approval: IR.TUMS.VCR.REC.1395.206) and the local ethics committee of the University of Tübingen in Germany (No. approval: EK-Antrag-Revision_1_Gawrilow_2017_0331_57).
Additional information
Publisher's Note
Springer Nature remains neutral with regard to jurisdictional claims in published maps and institutional affiliations.
Rights and permissions
Springer Nature or its licensor holds exclusive rights to this article under a publishing agreement with the author(s) or other rightsholder(s); author self-archiving of the accepted manuscript version of this article is solely governed by the terms of such publishing agreement and applicable law.
About this article
Cite this article
Nemati, P., Kühnhausen, J., Mehri, A. et al. Delay of Gratification in Iranian and German Preschool Children. Child Youth Care Forum 52, 855–874 (2023). https://doi.org/10.1007/s10566-022-09710-z
Received:

Revised:

Accepted:

Published:

Issue Date:

DOI: https://doi.org/10.1007/s10566-022-09710-z
Keywords