Abstract
Background
No study to date has examined the effectiveness of integrating clinical decision support tools, like electronic health record (EHR) alerts, into the clinical care of youth at-risk for suicide.
Objective
This study aimed to examine the feasibility and acceptability of using an EHR alert to increase clinicians' use of safety planning with youth at-risk for suicide in an outpatient pediatric psychiatry clinic serving an urban low-income Latino community.
Methods
An alert intervention was developed to remind clinicians to complete a safety plan whenever they documented that their patient endorsed suicidal ideation, plan, or attempt during a visit in EHR notes. The alert appeared as a separate window containing a reminder message to complete a safety plan once a clinician finished visit documentation.
Results
There were 69 at-risk patients between the ages of 13–21 in the intervention period (M = 15.71; SD = 1.86; 66.7% female) and 64 (M = 15.38; SD = 1.93; 68.6% female) in the control period. Logistic regression analyses indicated that patients in the intervention period were significantly more likely than patients in the control period to receive a safety plan (p < .01). The pattern of results remained the same after adjusting for demographic variables (p = .01). Forty clinicians also completed a questionnaire assessing their satisfaction with the EHR alert, indicating moderate satisfaction (M = 3.01; SD = 0.63; range = 1.11–4.11).
Conclusions
EHR alerts are associated with changes in clinicians' behavior and improved compliance with best clinical practices for at-risk youth.
Access options
Buy single article
Instant access to the full article PDF.
US$ 39.95
Tax calculation will be finalised during checkout.
Subscribe to journal
Immediate online access to all issues from 2019. Subscription will auto renew annually.
US$ 79
Tax calculation will be finalised during checkout.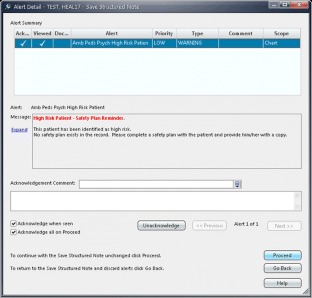 References
Brady, T. M., Neu, A. M., Miller, E. R., III, Appel, L. J., Siberry, G. K., & Solomon, B. S. (2015). Real-time electronic medical record alerts increase high blood pressure recognition in children. Clinical Pediatrics, 54(7), 667–675.

Brent, D. A., Greenhill, L. L., Compton, S., Emslie, G., Wells, K., Walkup, J. T., et al. (2009). The Treatment of Adolescent Suicide Attempters study (TASA): Predictors of suicidal events in an open treatment trial. Journal of the American Academy of Child and Adolescent Psychiatry, 48(10), 987–996.

Chesin, M. S., Stanley, B., Haigh, E. A., Chaudhury, S. R., Pontoski, K., Knox, K. L., et al. (2017). Staff views of an emergency department intervention using safety planning and structured follow-up with suicidal veterans. Archives of Suicide Research, 21(1), 127–137.

Co, J. P. T., Johnson, S. A., Poon, E. G., Fiskio, J., Rao, S. R., Van Cleave, J., et al. (2010). Electronic health record decision support and quality of care for children with ADHD. Pediatrics, 126(2), 239–246.

Curtin, S. C., Hedegaard, H., Minino, A. M., & Warner, M. (2016). Death rates for motor vehicle traffic injury, suicide, and homicides among children and adolescents aged 10–14 years-United States, 1999–2014. Morbidity and Mortality Weekly Report, 65, 1203.

de Beurs, D. P., de Groot, M. H., de Keijser, J., Mokkenstorm, J., van Duijn, E., de Winter, R. F., et al. (2015). The effect of an e-learning supported Train-the-Trainer programme on implementation of suicide guidelines in mental health care. Journal of Affective Disorders, 175, 446–453.

Duarte-Velez, Y., & Bernal, G. (2007). Suicide behavior among Latino and Latina adolescents: Conceptual and methodological issues. Death Studies, 31(5), 435–455.

Fiks, A. G., Hunter, K. F., Localio, A. R., Grundmeier, R. W., Bryant-Stephens, T., Luberti, A. A., et al. (2009). Impact of electronic health record-based alerts on influenza vaccination for children with asthma. Pediatrics, 124(1), 159–169.

Glenn, C. R., & Nock, M. K. (2014). Improving the short-term prediction of suicidal behavior. American Journal of Preventive Medicine, 47(3), S176–S180.

Goldstein, A. B., Frosch, E., Davarya, S., & Leaf, P. J. (2007). Factors associated with a six-month return to emergency services among child and adolescent psychiatric patients. Psychiatric Services, 58(11), 1489–1492.

Guo, S., Kataoka, S. H., Bear, L., & Lau, A. S. (2014). Differences in school-based referrals for mental health care: Understanding racial/ethnic disparities between Asian American and Latino youth. School Mental Health, 6(1), 27–39.

Hough, R. L., Hazen, A. L., Soriano, F. I., Wood, P., McCabe, K., & Yeh, M. (2002). Mental health care for Latinos: Mental health services for Latino adolescents with psychiatric disorders. Psychiatric Services, 53(12), 1556–1562.

Husky, M. M., Olfson, M., He, J.-P., Nock, M. K., Swanson, S. A., & Merikangas, K. R. (2012). Twelve-month suicidal symptoms and use of services among adolescents: Results from the National Comorbidity Survey. Psychiatric Services, 63(10), 989–996.

Jarlais, D. C., Lyles, C., Crepaz, N., & the TREND Group. (2004). Improving the reporting quality of nonrandomized evaluations of behavioral and public health interventions: T he TREND statement. American Journal of Public Health, 94(3), 361–366.

Kann, L., McManus, T., Harris, W. A., Shanklin, S. L., Flint, K. H., Hawkins, J., et al. (2016). Youth risk behavior surveillance—United States, 2013. MMWR Surveill Summ, 65, 1–174.

Kharbanda, E. O., Nordin, J. D., Sinaiko, A. R., Ekstrom, H. L., Stultz, J. M., Sherwood, N. E., et al. (2015). TeenBP: Development and piloting of an EHR-linked clinical decision support system to improve recognition of hypertension in adolescents. eGEMs, 3(2), Article 9.

Lau, A. S. (2006). Making the case for selective and directed cultural adaptations of evidence-based treatments: Examples from parent training. Clinical Psychology: Science and Practice, 13(4), 295–310.

Mayne, S. L., Feemster, K. A., Localio, A. R., Grundmeier, R. W., & Fiks, A. G. (2014). Effect of decision support on missed opportunities for human papillomavirus vaccination. American Journal of Preventive Medicine, 47(6), 734–744.

Office of the Surgeon General (US) and National Action Alliance for Suicide Prevention (US). (2012). 2012 national strategy for suicide prevention: Goals and objectives for action: A report of the US surgeon general and of the national action alliance for suicide prevention. Retrieved from http://www.surgeongeneral.gov/library/reports/national-strategy-suicide-prevention/full-report.pdf.

Peters, T. E. (2017). Transformational impact of health information technology on the clinical practice of child and adolescent psychiatry. Child and Adolescent Psychiatric Clinics of North America, 26(1), 55–66.

Price, J. H., & Khubchandani, J. (2017). Latina adolescents health risk behaviors and suicidal ideation and suicide attempts: Results from the National Youth Risk Behavior Survey 2001–2013. Journal of Immigrant Minority Health, 19, 533–542.

Rapp, A. M., Lau, A., & Chavira, D. A. (2017). Differential associations between social anxiety disorder, family cohesion, and suicidality across racial/ethnic groups: Findings from the National Comorbidity Survey-Adolescent (NCS-A). Journal of Anxiety Disorders, 48, 13–21.

Spirito, A., Boergers, J., Donaldson, D., Bishop, D., & Lewander, W. (2002). An intervention trial to improve adherence to community treatment by adolescents after a suicide attempt. Journal of the American Academy of Child and Adolescent Psychiatry, 41(4), 435–442.

Stahel, P. F., Mehler, P. S., Clarke, T. J., & Varnell, J. (2009). The 5th anniversary of the" Universal Protocol": Pitfalls and pearls revisited. Patient Safety in Surgery, 3(1), 1–5.

Stanley, B., & Brown, G. K. (2012). Safety planning intervention: A brief intervention to mitigate suicide risk. Cognitive and Behavioral Practice, 19(2), 256–264.

Stanley, B., Brown, G. K., Karlin, B., Kemp, J. E., & VonBergen, H. A. (2008). Safety plan treatment manual to reduce suicide risk: Veteran version. Washington, DC: United States Department of Veterans Affairs.

Stockwell, M. S., Catallozzi, M., Camargo, S., Ramakrishnan, R., Holleran, S., Findley, S. E., et al. (2015). Registry-linked electronic influenza vaccine provider reminders: A cluster-crossover trial. Pediatrics, 135(1), e75–e82.

Weinmann, S., Koesters, M., & Becker, T. (2007). Effects of implementation of psychiatric guidelines on provider performance and patient outcome: Systematic review. Acta Psychiatrica Scandinavica, 115(6), 420–433.

Zayas, L. H., Hausmann-Stabile, C., & Kuhlberg, J. (2011). Can better mother-daughter relations reduce the chance of a suicide attempt among Latinas? Depression Research and Treatment, 2011, 1–7.

Zuckerbrot, R. A., Cheung, A. H., Jensen, P. S., Stein, R. E., & Laraque, D. (2007). Guidelines for Adolescent Depression in Primary Care (GLAD-PC): I. Identification, assessment, and initial management. Pediatrics, 120(5), e1299–e1312.
Funding
This study was supported by the Sallie Foundation Child and Adolescent Mental Health Technology Program Postdoctoral Fellowship and the National Center for Advancing Translational Sciences, National Institutes of Health, through Grant Number UL1 TR000040. The content is solely the responsibility of the authors and does not necessarily represent the official views of the NIH.
Ethics declarations
Conflict of interest
The authors declare that they have no conflict of interest.
Ethical Approval
All procedures performed in studies involving human participants were in accordance with the ethical standards of the institutional and/or national research committee and with the 1964 Helsinki declaration and its later amendments or comparable ethical standards. Informed consent was obtained from all individual participants included in the study.
Electronic supplementary material
Below is the link to the electronic supplementary material.
About this article
Cite this article
Reyes-Portillo, J.A., Chin, E.M., Toso-Salman, J. et al. Using Electronic Health Record Alerts to Increase Safety Planning with Youth At-Risk for Suicide: A Non-randomized Trial. Child Youth Care Forum 47, 391–402 (2018). https://doi.org/10.1007/s10566-018-9435-4
Keywords
Suicide prevention

Adolescent

Safety planning

Clinical decision support

Health information technology