Abstract
Background
Peer bullying is associated with internalizing problems for children and adolescents. However, less is known about how these same behaviors are related to student well-being when they occur within the context of the sibling relationship and how supportive behavior may benefit those experiencing bullying.
Objective
The purpose of this study was to examine the unique associations among peer and sibling bullying and internalizing problems, and the role of peer and sibling social support in relation to social-emotional outcomes.
Methods
Data on students' experiences of peer and sibling bullying, perceptions of social support and internalizing symptoms were collected from a sample of 372 elementary school students using the Revised Olweus Bully/Victim Questionnaire (OBVQ; Olweus 1996), a modified version of the OBVQ created to assess bullying by siblings, the Child and Adolescent Social Support Scale (CASSS; Malecki et al. 2000), and three subscales from the Behavior Assessment System for Children, Second Edition, Self-Report of Personality (Reynolds and Kamphaus 2004).
Results
Results indicated that Sibling Bullying was significantly related to internalizing problems above and beyond Peer Bullying alone. Additionally, social support from peers moderated the association between Sibling Bullying and Depression; and social support from siblings moderated the association between Peer Bullying and Social Stress. Gender differences in study findings were also uncovered.
Conclusions
Results of this study suggest that bullying behaviors are detrimental to student social-emotional well-being, regardless of whom the perpetrator may be, and that being bullied by siblings is associated with similar outcomes as traditional bullying.
Access options
Buy single article
Instant access to the full article PDF.
USD 39.95
Price excludes VAT (USA)
Tax calculation will be finalised during checkout.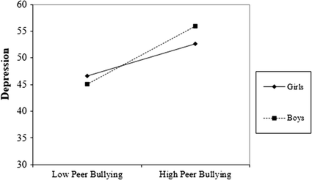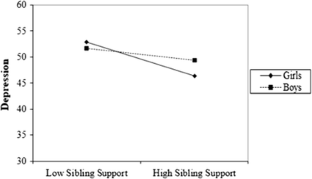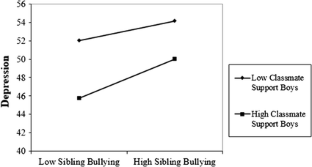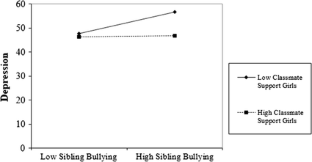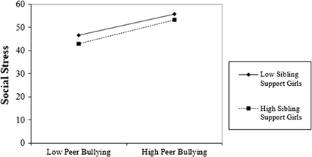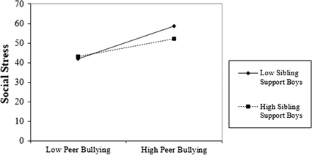 References
Abramovitch, R., Corter, C., & Lando, B. (1979). Sibling interaction in the home. Child Development, 50, 997–1003.

Arseneault, L., Milne, B. J., Taylor, A., Adams, F., Delgado, K., Caspi, A., et al. (2008). Being bullied as an environmentally mediated contributing factor to children's internalizing problems. Archives of Pediatrics and Adolescent Medicine, 162, 145–150.

Bank, L., Burraston, B., & Snyder, J. (2004). Sibling conflict and ineffective parenting as predictors of adolescent boys antisocial behavior and peer difficulties: additive and interactional effects. Journal of Research on Adolescence, 14, 99–125.

Baron, R. M., & Kenny, D. A. (1986). The moderator-mediator variable distinction in social psychological research: Conceptual, strategic, and statistical considerations. Journal of Personality and Social Psychology, 51, 1173–1182.

Bouman, T., van der Meulen, M., Goossens, F. A., Olthof, T., Vermande, M. M., & Aleva, E. A. (2012). Peer and self-reports of victimization and bullying: Their differential association with internalizing problems and social adjustment. Journal of School Psychology, 50(6), 759–774.

Bowers, L., Smith, P. K., & Binney, V. (1992). Cohesion and power in the families of children involved in bully/victim problems at school. Journal of Family Therapy, 14, 371–387.

Branje, S. T., van Lieshout, F. M., van Aken, M. G., & Haselager, G. T. (2004). Perceived support in sibling relationships and adolescent adjustment. Journal of Child Psychology and Psychiatry, 45(8), 1385–1396. doi:10.1111/j.1469-7610.2004.00332.x.

Brown, B., & Larson, J. (2009). Peer relationships in adolescence. In R. M. Lerner & L. Steinberg (Eds.), Handbook of adolescent psychology (pp. 74–103). Hoboken: Wiley.

Buist, K. L., & Vermande, M. (2014). Sibling relationship patterns and their associations with child competence and problem behavior. Journal of Family Psychology, 28(4), 529–537.

Card, N. A., Stucky, B. D., Sawalani, G. M., & Little, T. D. (2008). Direct and indirect aggression during childhood and adolescence: A meta-analytic review of gender differences, intercorrelations, and relations to maladjustment. Child Development, 79(5), 1185–1229.

Cohen, J., Cohen, P., West, S. G., & Aiken, L. S. (2003). Applied multiple regression/correlation analysis for the behavioral sciences (3rd ed.). Mahwah: Erlbaum.

Cohen, S., & Wills, T. A. (1985). Stress, social support, and the buffering hypothesis. Psychological Bulletin, 98, 310–357.

Connolly, I., & O'Moore, M. (2003). Personality and family relations of children who bully. Personality and Individual Differences, 35(3), 559–567.

Cook, C. R., Williams, K. R., Guerra, N. G., Kim, T. E., & Sadek, S. (2010). Predictors of bullying and victimization in childhood and adolescence: A meta-analytic investigation. School Psychology Quarterly, 25(2), 65–83. doi:10.1037/a0020149.

Crick, N. R., Bigbee, M. A., & Howes, C. (1996). Gender differences in children's normative beliefs about aggression: How do I hurt thee? Let me count the ways. Child Development, 67, 1003–1014.

Cummings, E. M., Keller, P. S., & Davies, P. T. (2005). Towards a family process model of maternal and paternal depressive symptoms: exploring multiple relations with child and family functioning. Journal of Child Psychology and Psychiatry, 46(5), 479–489.

Davidson, L. M., & Demaray, M. K. (2007). Social support as a moderator between victimization and internalizing/externalizing behaviors from bullying. School Psychology Review, 36, 383–405.

de Bruyn, E. H., Cillessen, A. H., & Wissink, I. B. (2010). Associations of peer acceptance and perceived popularity with bullying and victimization in early adolescence. Journal of Early Adolescence, 30, 543–566.

Delveaux, K. D., & Daniels, T. (2000). Children's social cognitions: Physically and relationally aggressive strategies and children's goals in peer conflict situations. Merrill-Palmer Quarterly, 1982-, 672–692.

Demaray, M. K., & Malecki, C. K. (2002). Critical levels of perceived social support associated with student adjustment. School Psychology Quarterly, 17(3), 213–241.

Dindia, K., & Allen, M. (1992). Sex differences in self-disclosure: A meta-analysis. Psychological Bulletin, 112(1), 106–124. doi:10.1037/0033-2909.112.1.106.

Duncan, R. D. (1999). Peer and sibling aggression: An investigation of intra and extra familial bullying. Journal of Interpersonal Violence, 14, 871–886.

Dunn, J. (1983). Sibling relationships in early childhood. Child Development, 54(4), 787–811.

Ensor, R., Marks, A., Jacobs, L., & Hughes, C. (2010). Trajectories of antisocial behaviour towards siblings predict antisocial behaviour towards peers. Journal of Child Psychology and Psychiatry, 51(11), 1208–1216.

Espelage, D., & Swearer, S. M. (2003). Research on school bullying and victimization: What have we learned and where do we go from here? School Psychology Review, 32(3), 365–383.

Finkelhor, D., Turner, H., Ormrod, R., & Hamby, S. L. (2009). Violence, abuse, and crime exposure in a national sample of children and youth. Pediatrics, 124(5), 1411–1423.

Furlong, M. J., Chung, A., Bates, M., & Morrison, R. L. (1995). Who are the victims of school violence? A comparison of student non-victims and multi-victims. Education and Treatment of Children, 18(3), 282–298.

Garcia, M., Shaw, D. S., Winslow, E. B., & Yaggi, K. W. (2000). Destructive sibling conflict and the development of conduct problems in young boys. Developmental Psychology, 36, 44–53.

Gladden, R. M., Vivolo-Kantor, A. M., Hamburger, M. E., & Lumpkin, C. D. (2014). Bullying surveillance among youths: Uniform de nitions for public health and recommended data elements, version 1.0. Atlanta, GA; National Center for Injury Prevention and Control, Centers for Disease Control and Prevention and U.S. Department of Education; 2014. Retrieved from http://www.cdc.gov/violenceprevention/pdf/bullying-definitions-final-a.pdf.

Honig, A. S., & Zdunowski, N. (2010). Adolescents with emotional problems: Responses to a younger sibling who has experienced bullying. Adolescence and Youth, 16, 1–20.

Honig, A. S., & Zdunowski, N. (2014). Bullied children: Parents and school supports. In the special issue entitled "Violence and neglect in childhood: current research. Early Child Development and Care, 184, 1378–1402.

Jacobs, K., & Sillars, A. (2012). Sibling support during post-divorce adjustment: An idiographic analysis of support forms, functions, and relationship types. Journal of Family Communication, 12, 167–187. doi:10.1080/15267431.2011.584056.

Kettery, H. H., & Emery, B. C. (2006). The discourse of sibling violence. Journal of Family Violence, 21, 407–416.

Kolak, A. M., & Volling, B. L. (2011). Sibling jealousy in early childhood: Longitudinal links to sibling relationship quality. Infant and Child Development, 20(2), 213–226.

Kosonen, M. (1996). Siblings as providers of support and care during middle childhood: Children's perceptions. Children and Society, 10(4), 267–279.

Kyriakides, L., Kaloyirou, C., & Lindsay, J. (2006). An analysis of the revised Olweus bully/victim questionnaire using the Rasch measurement model. British Journal of Educational Psychology, 76, 781–801. doi:10.1348/000709905X53499.

Lee, T., & Cornell, D. (2010). Concurrent validity of the Olweus Bully/Victim Questionnaire. Journal of School Violence, 9, 1–18.

Malecki, C. K., & Demaray, M. K. (2002). Measuring perceived social support: Development of the Child and Adolescent Social Support Scale. Psychology in the Schools, 39, 1–18.

Malecki, C. K., Demaray, M. K., & Davidson, L. M. (2007). The relationship among social support, victimization, and student adjustment in a predominantly Latino sample. Journal of School Violence, 7(4), 48–71.

Malecki, C. K., Demaray, M. K., & Elliott, S. N. (2000). The child and adolescent social support scale. Dekalb: Northern Illinois University.

Menesini, E., Camodeca, M., & Nocetini, A. (2010). Bullying among siblings: The role of personality and relational variables. British Journal of Developmental Psychology, 28, 921–939.

Milevsky, A. (2005). Compensatory pattern of sibling support in emerging adulthood: Variations in loneliness, self-esteem, depression and life satisfaction. Journal of Social and Personal Relationships, 22(6), 743–755. doi:10.1177/0265407505056447.

Nansel, T. R., Overpeck, M., Pilla, R. S., Ruan, W. J., Simons-Morton, B., & Scheidt, P. (2001). Bullying behaviors among U.S. youth: Prevalence and association with psychosocial adjustment. Journal of American Medical Association, 285(16), 2094–2100.

Olweus, D. (1996). The revised Olweus Bully/Victim Questionnaire, Mimeo. Bergen, Norway: Research Center for Health Promotion (HIMIL), University of Bergen.

Olweus, D. (1997). Bully/victim problems in school: Facts and intervention. European Journal of Psychology in Education, 12, 495–510.

Poortman, A. R., & Voorpostel, M. (2008). Parental divorce and sibling relationships: A research note. Journal of Family Issues, 30, 74–91.

Prinstein, M. J., Boergers, J., & Vernberg, E. M. (2001). Overt and relational aggression in adolescents: social-psychological adjustment of aggressors and victims. Journal of Clinical Child and Adolescent Psychology, 30(4), 479–491.

Reynolds, C. R., & Kamphaus, R. W. (2004). Behavior assessment system for children (2nd ed.). Circle Pines: AGS Publishing.

Rose, A. J. (2002). Co-rumination in the friendships of girls and boys. Child Development, 73(6), 1830–1843.

Rose, A. J., Carlson, W., & Waller, E. M. (2007). Prospective associations of co-rumination with friendship and adjustment: considering the socioemotional trade offs of co-rumination. Developmental Psychology, 43(4), 1019–1031.

Rose, A. J., & Rudolph, K. D. (2006). A review of sex differences in peer relationship processes: Potential trade-offs for the emotional and behavioral development of girls and boys. Psychological Bulletin, 132(1), 98–131. doi:10.1037/0033-2909.132.1.98.

Rothon, C., Head, J., Klineberg, E., & Stansfeld, S. (2011). Can social support protect bullied adolescents from adverse outcomes? A prospective study on the effects of bullying on the educational achievement and mental health of adolescents at secondary schools in East London. Journal of adolescence, 34(3), 579–588.

Rueger, S. Y., Malecki, C. K., & Demaray, M. K. (2010). Relationship between multiple sources of perceived social support and psychological and academic adjustment in early adolescence: Comparisons across sex. Journal of Youth and Adolescence, 39, 47–61.

Salmivalli, C., Karhunen, J., & Lagerspetz, K. M. (1996). How do the victims respond to bullying? Aggressive Behavior, 22(2), 99–109.

Salmivalli, C., & Kaukiainen, A. (2004). "Female aggression" revisited: Variable-and person-centered approaches to studying gender differences in different types of aggression. Aggressive Behavior, 30(2), 158–163.

Sentse, M., Kretschmer, T., & Salmivalli, C. (2015). The longitudinal interplay between bullying, victimization, and social status: Age-related and gender differences. Social Development, 24(3), 659–677.

Skinner, J. A., & Kowalski, R. M. (2013). Profiles of sibling bullying. Journal of Interpersonal Violence, 28(8), 1726–1736. doi:10.1177/0886260512468327.

Solberg, M., & Olweus, D. (2003). Prevalence estimation of school bullying with the Olweus Bully/Victim Questionnaire. Aggressive Behavior, 29, 239–268.

Stevens, V., De Bourdeaudhuij, I., & Van Oost, P. (2002). Relationship of the family environment to children's involvement in bully/victim problems at school. Journal of Youth and Adolescence, 31(6), 419–428.

Tucker, C. J., Cox, G., Sharp, E. H., Van Gundy, K. T., Rebellon, C., & Stracuzzi, N. F. (2013a). Sibling proactive and reactive aggression in adolescence. Journal of Family Violence, 28, 299–310. doi:10.1007/s10896-012-9483-8.

Tucker, C. J., Finkelhor, D., Shattuck, A. M., & Turner, H. (2013b). Prevalence and correlates of sibling victimization types. Child Abuse and Neglect, 37, 213–223.

Tucker, C. J., Finkelhor, D., Turner, H., & Shattuck, A. (2013c). Association of sibling aggression with child and adolescent mental health. Pediatrics, 132(1), 79–84.

Underwood, M. K. (2003). Social aggression among girls. Guilford Press.

Veenstra, R., Lindenberg, S., Oldehinkel, A. J., De Winter, A. F., Verhulst, F. C., & Ormel, J. (2005). Bullying and victimization in elementary schools: a comparison of bullies, victims, bully/victims, and uninvolved preadolescents. Developmental Psychology, 41(4), 672.

Wolke, D., & Samara, M. M. (2004). Bullied by siblings: Association with peer victimization and behavior problems in Israeli lower secondary school children. Journal of Child Psychology and Psychiatry, 45(5), 1015–1029.

Wolke, D., & Skew, A. J. (2012). Bullying among siblings. International Journal of Adolescent Mental Health, 24(1), 1–9. doi:10.1515/IJAMH.2012.004.

Wolke, D., Tippett, N., & Dantchev, S. (2015). Bullying in the family: sibling bullying. The Lancet Psychiatry, 2(10), 917–929.
Ethics declarations
Conflict of interest
All authors declare that they have no conflict of interest.
Ethical Approval
This study was not funded by any external sources and was approved by the University Institutional Review Board. All of the procedures outlined in the study were in accordance with the University IRB and meet ethical standards.
About this article
Cite this article
Coyle, S., Demaray, M.K., Malecki, C.K. et al. The Associations Among Sibling and Peer-Bullying, Social Support and Internalizing Behaviors. Child Youth Care Forum 46, 895–922 (2017). https://doi.org/10.1007/s10566-017-9412-3
Published:

Issue Date:

DOI: https://doi.org/10.1007/s10566-017-9412-3
Keywords
Bullying

Peer relations

Sibling relations

Social support

Internalizing problems