Abstract
The existence of a well-established drug resistance mechanism in cancer stem cells (CSC) complicates the cancer treatment. Clusterin (CLU) plays a key role in maintaining the integrity of endoplasmic reticulum (ER) during drug-induced stress. Hence, silencing the CLU could significantly reduce the inherent drug resistance mechanism of CSC. The combination of drug-induced cytotoxicity, as well as the suppression of drug resistance in CSC, could circumvent the recurrence capability of the tumor. In the present study, camptothecin (CPT)-induced apoptosis and necrosis in CSC with and without siCLU treatment were simultaneously measured using Qdot-based total internal reflection fluorescence microscope (TIRF). In addition, to elucidate the mechanism of CPT-induced cytotoxicity in CLU-suppressed CSC, expression of Bcl-2, Bax, Bak, and PARP and mitochondrial permeability transition pore (MPTP) were studied. EC50 values of CPT-induced apoptosis and necrosis were significantly reduced (p < 0.01) in CLU-suppressed MCF-7 and CSC. Significantly increased MPTP (p < 0.001) and cytosolic Ca2+ (p < 0.001) were observed in CPT-treated CLU-suppressed CSC as compared to the normal CSC. Elevated expression of Bax, Bak, and cleaved PARP and reduced expression of Bcl-2 and cytosolic ATP were observed in CPT-treated CLU-suppressed CSC. Observed results indicate that silencing the expression of CLU could improve the anticancer efficacy of CPT at 128.4-nM concentration by equally inducing necrotic signals along with apoptosis. Furthermore, the developed high content TIRF assay based on the CLU-suppressed CSC could be an ideal and beneficial tool for rapidly analyzing the cytotoxicity of anti-cancer agents.
Access options
Buy single article
Instant access to the full article PDF.
USD 39.95
Price excludes VAT (USA)
Tax calculation will be finalised during checkout.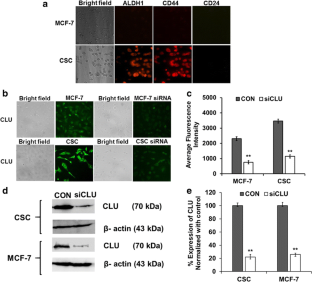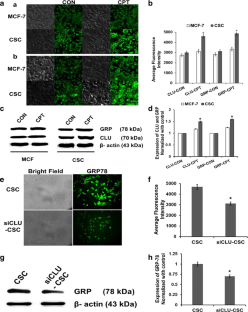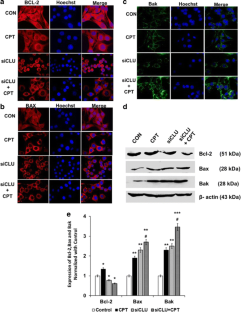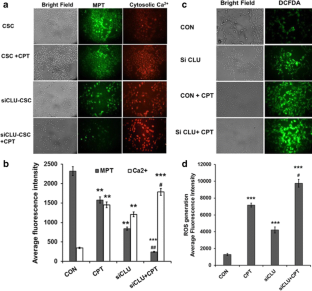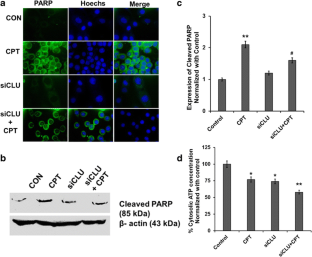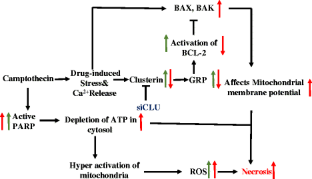 References
Ahn J, Xia T, Konno H, Konno K, Ruiz P, Barber GN. Inflammation-driven carcinogenesis is mediated through sting. Nature communications. 2014;5.

Al Nakouzi N, Wang CK, Beraldi E, Jager W, Ettinger S, Fazli L, et al. Clusterin knockdown sensitizes prostate cancer cells to taxane by modulating mitosis. EMBO molecular medicine. 2016;e201506059.

Amodio G, Sasso E, D'Ambrosio C, Scaloni A, Moltedo O, Franceschelli S, et al. Identification of a microrna (mir-663a) induced by er stress and its target gene plod3 by a combined micrornome and proteome approach. Cell biology and toxicology. 2016;1–19.

Axelrod D, Burghardt TP, Thompson NL. Total internal reflection fluorescence. Annu Rev Biophys Bioeng. 1984;13:247–68.

Bahar E, Kim H, Yoon H. Er stress-mediated signaling: action potential and Ca2+ as key players. Int J Mol Sci. 2016;17:1558.

Berlina AN, Taranova NA, Zherdev AV, Vengerov YY, Dzantiev BB. Quantum dot-based lateral flow immunoassay for detection of chloramphenicol in milk. Anal Bioanal Chem. 2013;405:4997–5000.

Bonora M, Pinton P. The mitochondrial permeability transition pore and cancer: molecular mechanisms involved in cell death. Front Oncol. 2014;4:3389.

Bravo-Sagua R, Rodriguez AE, Kuzmicic J, Gutierrez T, Lopez-Crisosto C, Quiroga C, et al. Cell death and survival through the endoplasmic reticulum-mitochondrial axis. Curr Mol Med. 2013;13:317–29.

Delbridge A, Strasser A. The bcl-2 protein family, bh3-mimetics and cancer therapy. Cell Death & Differentiation. 2015;22:1071–80.

Elmore S. Apoptosis: a review of programmed cell death. Toxicol Pathol. 2007;35:495–516.

Flanagan L, Whyte L, Chatterjee N, Tenniswood M. Effects of clusterin over-expression on metastatic progression and therapy in breast cancer. BMC Cancer. 2010;10:1.

Fu Y, Lai Y, Liu J, Liu X, You Z, Yang G. Lentivirus-mediated shrna interference of clusterin blocks proliferation, motility, invasion and cell cycle in the ovarian cancer cells. Journal of ovarian research. 2015;8:1.

Karch J, Kwong JQ, Burr AR, Sargent MA, Elrod JW, Peixoto PM, et al. Bax and bak function as the outer membrane component of the mitochondrial permeability pore in regulating necrotic cell death in mice. Elife. 2013;2

Karch J, Molkentin JD. Regulated necrotic cell death: the passive aggressive side of bax and bak. Circ Res. 2015;116:1800–9.

Keta O, Bulat T, Golić I, Incerti S, Korać A, Petrović I, et al. The impact of autophagy on cell death modalities in crl-5876 lung adenocarcinoma cells after their exposure to γ-rays and/or erlotinib. Cell Biol Toxicol. 2016;32:83–101.

Koltai T. Clusterin: a key player in cancer chemoresistance and its inhibition. Oncotargets and Therapy. 2014;7:447–56.

Lee AS. Glucose regulated proteins in cancer: molecular mechanisms and therapeutic potential. Nat Rev Cancer. 2014;14:263.

Luo B, Lee AS. The critical roles of endoplasmic reticulum chaperones and unfolded protein response in tumorigenesis and anticancer therapies. Oncogene. 2013;32:805–18.

Mollereau B. Establishing links between endoplasmic reticulum-mediated hormesis and cancer. Mol Cell Biol. 2013;33:2372–4.

Niforou K, Cheimonidou C, Trougakos IP. Molecular chaperones and proteostasis regulation during redox imbalance. Redox Biol. 2014;2:323–32.

Oplustilova L, Wolanin K, Mistrik M, Korinkova G, Simkova D, Bouchal J, et al. Evaluation of candidate biomarkers to predict cancer cell sensitivity or resistance to parp-1 inhibitor treatment. Cell Cycle. 2012;11:3837–50.

Parthasarathy A, Gopi V, Umadevi S, Simna A, Sheik MJY, Divya H, et al. Suppression of atrial natriuretic peptide/natriuretic peptide receptor-a-mediated signaling upregulates angiotensin-II-induced collagen synthesis in adult cardiac fibroblasts. Mol Cell Biochem. 2013;378:217–28.

Pucci S, Mazzarelli P, Nucci C, Ricci F, Spagnoli L. Clu "in and out": looking for a link. Adv Cancer Res. 2009;105:93–113.

Rangasamy S, Ju H, Um S, Oh D-C, Song JM. Mitochondria and DNA targeting of 5, 10, 15, 20-tetrakis (7-sulfonatobenzo [b] thiophene) porphyrin-induced photodynamic therapy via intrinsic and extrinsic apoptotic cell death. J Med Chem. 2015;58:6864–74.

Rodríguez-Vargas JM, Ruiz-Magaña MJ, Ruiz-Ruiz C, Majuelos-Melguizo J, Peralta-Leal A, Rodríguez MI, et al. Ros-induced DNA damage and parp-1 are required for optimal induction of starvation-induced autophagy. Cell Res. 2012;22:1181–98.

Scaffidi P, Misteli T, Bianchi ME. Release of chromatin protein hmgb1 by necrotic cells triggers inflammation. Nature. 2002;418:191–5.

Segawa K, Nagata S. An apoptotic 'eat me'signal: phosphatidylserine exposure. Trends Cell Biol. 2015;25:639–50.

Shamanna RA, Lu H, Croteau DL, Arora A, Agarwal D, Ball G, et al. Camptothecin targets wrn protein: mechanism and relevance in clinical breast cancer. Oncotarget. 2016;7:13269–84.

Shapiro B, Tocci P, Haase G, Gavert N, Ben-Ze'ev A. Clusterin, a gene enriched in intestinal stem cells, is required for l1-mediated colon cancer metastasis. Oncotarget. 2015;6:34389.

Shim Y, Song JM. Spectral overlap-free quantum dot-based determination of benzo [a] pyrene-induced cancer stem cells by concurrent monitoring of cd44, cd24 and aldehyde dehydrogenase 1. Chem Commun. 2015;51:2118–21.

Tang D, Kang R, Zeh 3rd HJ, Lotze MT. High-mobility group box 1 and cancer. Biochim Biophys Acta. 2010;1799:131–40.

Wang C, Jiang K, Gao DM, Kang XN, Sun C, Zhang QL, et al. Clusterin protects hepatocellular carcinoma cells from endoplasmic reticulum stress induced apoptosis through grp78. Plos One. 2013;8.

Wang C, Jin GZ, Jin HJ, Wang N, Luo Q, Zhang YR, et al. Clusterin facilitates metastasis by eif3i/akt/mmp13 signaling in hepatocellular carcinoma. Oncotarget. 2015;6:2903–16.

Westphal D, Kluck R, Dewson G. Building blocks of the apoptotic pore: how Bax and Bak are activated and oligomerize during apoptosis. Cell Death & Differentiation. 2014;21:196–205.

Whelan RS, Konstantinidis K, Wei A-C, Chen Y, Reyna DE, Jha S, et al. Bax regulates primary necrosis through mitochondrial dynamics. Proc Natl Acad Sci. 2012;109:6566–71.

Whitesell L, Lindquist SL. Hsp90 and the chaperoning of cancer. Nat Rev Cancer. 2005;5:761–72.

Wickman GR, Julian L, Mardilovich K, Schumacher S, Munro J, Rath N, et al. Blebs produced by actin-myosin contraction during apoptosis release damage-associated molecular pattern proteins before secondary necrosis occurs. Cell Death Differ. 2013;20:1293–305.

Won YS, Lee SJ, Yeo SG, Park DC. Effects of female sex hormones on clusterin expression and paclitaxel resistance in endometrial cancer cell lines. Int J Med Sci. 2012;9:86–92.

Yanai H, Ban T, Wang ZC, Choi MK, Kawamura T, Negishi H, et al. Hmgb proteins function as universal sentinels for nucleic-acid-mediated innate immune responses. Nature. 2009;462:99–U110.

Zhang D, Sun B, Zhao X, Cui Y, Xu S, Dong X, et al. Secreted clu is associated with the initiation of triple-negative breast cancer. Cancer biology & therapy. 2012;13:321–9.

Zhang H, Kim JK, Edwards CA, Xu Z, Taichman R, Wang CY. Clusterin inhibits apoptosis by interacting with activated bax. Nat Cell Biol. 2005;7:909–15.

Zong WX, Thompson CB. Necrotic death as a cell fate. Genes Dev. 2006;20:1–15.
Acknowledgements
This work was supported by the National Research Foundation of Korea (NRF) grant funded by the Ministry of Education, Science and Technology (MEST) (2015R1A2A1A05001842 and 2016R1A4A1010796). This work was also supported by the Agency for Defense Development through Chemical and Biological Defense Research Center. We are grateful to the Research Institute of Pharmaceutical Sciences at Seoul National University for providing experimental equipment. The authors declare no competing financial interests.
Ethics declarations
Conflict of interest
The authors declare that they have no conflict of interest.
About this article
Cite this article
Arumugam, P., Samson, A., Ki, J. et al. Knockdown of clusterin alters mitochondrial dynamics, facilitates necrosis in camptothecin-induced cancer stem cells. Cell Biol Toxicol 33, 307–321 (2017). https://doi.org/10.1007/s10565-016-9378-1
Received:

Accepted:

Published:

Issue Date:

DOI: https://doi.org/10.1007/s10565-016-9378-1
Keywords
Clusterin

Topoisomerase inhibitor-1

Necrosis

Mitochondrial permeability transition pore

Total internal reflection fluorescence microscope