Abstract
Ultraviolet A (UVA) irradiation is suggested to contribute to melanogenesis through promoting cellular oxidative stress and impairing antioxidant defenses. An overproduction of melanin can be associated with melanoma skin cancer and hyperpigmentation. Therefore, developing effective antimelanogenic agents is of importance. Alpinia galanga (AG) and Curcuma aromatica (CA) are traditional medicinal plants widely used for skin problems. Hence, this study investigated the antimelanogenic effects of AG and CA extracts (3.8–30 μg/ml) by assessing tyrosinase activity, tyrosinase mRNA levels, and melanin content in human melanoma cells (G361) exposed to UVA. The roles in protecting against melanogenesis were examined by evaluating their inhibitory effects on UVA-induced cellular oxidative stress and modulation of antioxidant defenses including antioxidant enzymes, catalase (CAT) and glutathione peroxidase (GPx), and intracellular glutathione (GSH). In addition, possible active compounds accountable for biological activities of the extracts were identified by thin layer chromatography (TLC)-densitometric analysis. Our study demonstrated that UVA (8 J/cm2) induced both tyrosinase activity and mRNA levels and UVA (16 J/cm2)-mediated melanin production were suppressed by the AG or CA extracts at noncytotoxic concentrations. Both extracts were able to protect against UVA-induced cellular oxidant formation and depletion of CAT and GPx activities and GSH content in a dose-dependent manner. Moreover, TLC-densitometric analysis detected the presence of eugenol and curcuminoids in AG and CA, respectively. This is the first report representing promising findings on AG and CA extract-derived antityrosinase properties correlated with their antioxidant potential. Inhibiting cellular oxidative stress and improving antioxidant defenses might be the mechanisms by which the extracts yield the protective effects on UVA-dependent melanogenesis.
This is a preview of subscription content,
to check access.
Access this article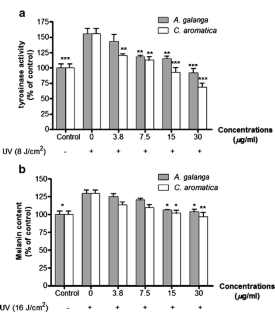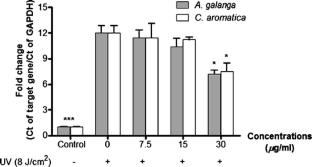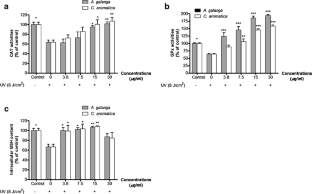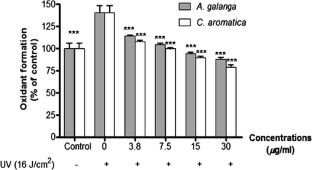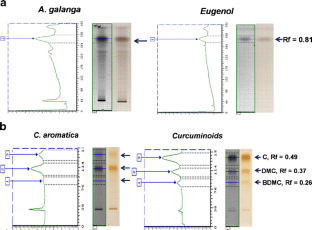 References
Ahmad I, Beg AZ. Antimicrobial and phytochemical studies on 45 Indian medicinal plants against multi-drug resistant human pathogens. J Ethnopharmacol 2001;74:113–23. doi:10.1016/S0378-8741(00)00335-4.

Baliga MS, Katiyar SK. Chemoprevention of photocarcinogenesis by selected dietary botanicals. Photochem Photobiol Sci 2006;5:243–53. doi:10.1039/b505311k.

Benathan M. Opposite regulation of tyrosinase and glutathione peroxidase by intracellular thiols in human melanoma cells. Arch Dermatol Res 1997;289:341–6. doi:10.1007/s004030050202.

Carsberg CJ, Warenius HM, Friedmann PS. Ultraviolet radiation-induced melanogenesis in human melanocytes. Effects of modulating protein kinase C. J Cell Sci 1994;107:2591–7.

Choi SW, Lee SK, Kim EO, Oh JH, Yoon KS, Parris N, Hicks KB, Moreau RA. Antioxidant and antimelanogenic activities of polyamine conjugates from corn bran and related hydroxycinnamic acids. J Agric Food Chem 2007;55:3920–5. doi:10.1021/jf0635154.

Darshan S, Doreswamy R. Patented antiinflammatory plant drug development from traditional medicine. Phytother Res 2004;18:343–57. doi:10.1002/ptr.1475.

Eguchi A, Kaneko Y, Murakami A, Ohigashi H. Zerumbone suppresses phorbol ester-induced expression of multiple scavenger receptor genes in THP-1 human monocytic cells. Biosci Biotechnol Biochem 2007;71:935–45. doi:10.1271/bbb.60596.

Eller MS, Ostrom K, Gilchrest BA. DNA damage enhances melanogenesis. Proc Natl Acad Sci USA 1996;93:1087–92. doi:10.1073/pnas.93.3.1087.

Englaro W, Bahadoran P, Bertolotto C, Busca R, Derijard B, Livolsi A, et al. Tumor necrosis factor alpha-mediated inhibition of melanogenesis is dependent on nuclear factor kappa B activation. Oncogene 1999;18:1553–9. doi:10.1038/sj.onc.1202446.

Fang JY, Leu YL, Hwang TL, Cheng HC, Hung CF. Development of sesquiterpenes from Alpinia oxyphylla as novel skin permeation enhancers. Eur J Pharm Sci 2003;19:253–62. doi:10.1016/S0928-0987(03)00118-0.

Gomez-Cordoves C, Bartolome B, Vieira W, Virador VM. Effects of wine phenolics and sorghum tannins on tyrosinase activity and growth of melanoma cells. J Agric Food Chem 2001;49:1620–4. doi:10.1021/jf001116h.

Han YT, Han ZW, Yu GY, Wang YJ, Cui RY, Wang CB. Inhibitory effect of polypeptide from Chlamys farreri on ultraviolet A-induced oxidative damage on human skin fibroblasts in vitro. Pharmacol Res 2004;49:265–74. doi:10.1016/j.phrs.2003.09.009.

Hasegawa T, Takano F, Takata T, Niiyama M, Ohta T. Bioactive monoterpene glycosides conjugated with gallic acid from the leaves of Eucalyptus globules. Phytochemistry 2008;69:747–53. doi:10.1016/j.phytochem.2007.08.030.

Kadekaro AL, Kavanagh RJ, Wakamatsu K, Ito S, Pipitone MA, Abdel-Malek ZA. Cutaneous photobiology. The melanocyte vs. the sun: who will win the final round? Pigment Cell Res 2003;16:434–47. doi:10.1034/j.1600-0749.2003.00088.x.

Kang SC, Lee CM, Choi H, Lee JH, Oh JS, Kwak JH, et al. Evaluation of oriental medicinal herbs for estrogenic and antiproliferative activities. Phytother Res 2006;20:1017–9. doi:10.1002/ptr.1987.

Ketsawatsakul U. Modulation by bicarbonate of the protective effects of phenolic antioxidants on peroxynitrite-mediated cell cytotoxicity. Sci Asia 2007;33:273–82. doi:10.2306/scienceasia1513-1874.2007.33.273.

Kim YJ, Kang KS, Yokozawa T. The anti-melanogenic effect of pycnogenol by its anti-oxidative actions. Food Chem Toxicol 2008;46:2466–71. doi:10.1016/j.fct.2008.04.002.

Kvam E, Tyrrell RM. The role of melanin in the induction of oxidative DNA base damage by ultraviolet A irradiation of DNA or melanoma cells. J Invest Dermatol 1999;113:209–13. doi:10.1046/j.1523-1747.1999.00653.x.

Lin JY, Fisher DE. Melanocyte biology and skin pigmentation. Nature 2007;445:843–50. doi:10.1038/nature05660.

Lobner D. Comparison of the LDH and MTT assays for quantifying cell death: validity for neuronal apoptosis? J Neurosci Methods 2000;96:147–52. doi:10.1016/S0165-0270(99)00193-4.

Marongiu B, Piras A, Porcedda S, Tuveri E, Sanjust E, Meli M, et al. Supercritical CO2 extract of Cinnamomum zeylanicum: chemical characterization and antityrosinase activity. J Agric Food Chem 2007;55:10022–7. doi:10.1021/jf071938f.

Marrot L, Meunier JR. Skin DNA photodamage and its biological consequences. J Am Acad Dermatol 2008;58:139–48. doi:10.1016/j.jaad.2007.12.007.

Masaki H, Okano Y, Sakurai H. Differential role of catalase and glutathione peroxidase in cultured human fibroblasts under exposure of H2O2 or ultraviolet B light. Arch Dermatol Res 1998;290:113–8. doi:10.1007/s004030050275.

Mastore M, Kohler L, Nappi AJ. Production and utilization of hydrogen peroxide associated with melanogenesis and tyrosinase-mediated oxidations of DOPA and dopamine. FEBS J 2005;272:2407–15. doi:10.1111/j.1742-4658.2005.04661.x.

Matsuda H, Pongpiriyadacha Y, Morikawa T, Ochi M, Yoshikawa M. Gastroprotective effects of phenylpropanoids from the rhizomes of Alpinia galanga in rats: structural requirements and mode of action. Eur J Pharmacol 2003;471:59–67. doi:10.1016/S0014-2999(03)01785-0.

Morikawa T, Ando S, Matsuda H, Kataoka S, Muraoka O, Yoshikawa M. Inhibitors of nitric oxide production from the rhizomes of Alpinia galanga: structures of new 8–9′ linked neolignans and sesquineolignan. Chem Pharm Bull (Tokyo) 2005;53:625–30. doi:10.1248/cpb.53.625.

Nakamura Y, Torikai K, Ohto Y, Murakami A, Tanaka T, Ohigashi H. A simple phenolic antioxidant protocatechuic acid enhances tumor promotion and oxidative stress in female ICR mouse skin: dose-and timing-dependent enhancement and involvement of bioactivation by tyrosinase. Carcinogenesis 2000;21:1899–907. doi:10.1093/carcin/21.10.1899.

Oka M, Nagai H, Ando H, Fukunaga M, Matsumura M, Araki K, et al. Regulation of melanogenesis through phosphatidylinositol 3-kinase-Akt pathway in human G361 melanoma cells. J Invest Dermatol 2000;115:699–703. doi:10.1046/j.1523-1747.2000.00095.x.

Pisano M, Pagnan G, Loi M, Mura ME, Tilocca MG, Palmieri G, et al. Antiproliferative and pro-apoptotic activity of eugenol-related biphenyls on malignant melanoma cells. Mol Cancer 2007;6:8–19. doi:10.1186/1476-4598-6-8.

Poole CF. Planar chromatography at the turn of the century. J Chromatogr A 1999;856:399–427. doi:10.1016/S0021-9673(99)00430-6.

Riley PA. Melanogenesis and melasma. Pigment Cell Res 2003;16:548–52. doi:10.1034/j.1600-0749.2003.00069.x.

Saikia AP, Ryakala VK, Sharma P, Goswami P, Bora U. Ethnobotany of medicinal plants used by Assamese people for various skin ailments and cosmetics. J Ethnopharmacol 2006;106:149–57. doi:10.1016/j.jep.2005.11.033.

Schallreuter KU, Kothari S, Chavan B, Spencer JD. Regulation of melanogenesis—controversies and new concepts. Exp Dermatol 2008;17:395–404. doi:10.1111/j.1600-0625.2007.00675.x.

Slominski A, Tobin DJ, Shibahara S, Wortsman J. Melanin pigmentation in mammalian skin and its hormonal regulation. Physiol Rev 2004;84:1155–228. doi:10.1152/physrev.00044.2003.

Surh Y. Molecular mechanisms of chemopreventive effects of selected dietary and medicinal phenolic substances. Mutat Res 1999;428:305–27. doi:10.1016/S1383-5742(99)00057-5.

Virador VM, Kobayashi N, Matsunaga J, Hearing VJ. A standardized protocol for assessing regulators of pigmentation. Anal Biochem 1999;270:207–19. doi:10.1006/abio.1999.4090.

Xiao L, Matsubayashi K, Miwa N. Inhibitory effect of the water-soluble polymer-wrapped derivative of fullerene on UVA-induced melanogenesis via downregulation of tyrosinase expression in human melanocytes and skin tissues. Arch Dermatol Res 2007;299:245–57. doi:10.1007/s00403-007-0740-2.

Zoecklein BW, Marcy JE, Williams JM, Jasinski Y. Effect of native yeasts and selected strains of Saccharomyces cerevisiae on glycosyl glucose, potential volatile terpenes, and selected aglycones of White Riesling (Vitis vinifera L.) wines. J Food Compost Anal 1997;10:55–65. doi:10.1006/jfca.1996.0518.
Acknowledgements
Appreciation is expressed to the Thailand Research Fund (TRF) and Siriraj Graduate Thesis Scholarship, Faculty of Medicine Siriraj Hospital, and Faculty of Graduate Studies, Mahidol University for generous research funding and support. We thank Mrs. Srisamorn Sudtim and Department of Dermatology, Faculty of Medicine Siriraj Hospital, Mahidol University for valuable technical assistance related to the UV device.
About this article
Cite this article
Panich, U., Kongtaphan, K., Onkoksoong, T. et al. Modulation of antioxidant defense by Alpinia galanga and Curcuma aromatica extracts correlates with their inhibition of UVA-induced melanogenesis. Cell Biol Toxicol 26, 103–116 (2010). https://doi.org/10.1007/s10565-009-9121-2
Received:

Accepted:

Published:

Issue Date:

DOI: https://doi.org/10.1007/s10565-009-9121-2
Keywords