Abstract
There is a growing body of evidence showing that vitamin A induces toxic effects in several experimental models and in human beings. In the present work, we have investigated the effects of short-term vitamin A supplementation on the adult rat liver redox status. We have found that vitamin A at therapeutic doses induces a hepatic oxidative insult. Furthermore, we have observed increased antioxidant enzyme activity in the liver of vitamin-A-treated rats. Additionally, some mitochondrial dysfunction was found since superoxide anion production was increased in vitamin-A-treated rat liver submitochondrial particles, which may be the result of impaired mitochondrial electron transfer chain activity, as assessed here. We have also isolated rat liver mitochondria and challenged it with 75 μM CaCl2, a non-oxidant agent that is able to induce mitochondrial oxidative stress indirectly. We have found that mitochondria isolated from vitamin-A-treated rat liver are more sensitive to CaCl2 than control mitochondria regarding the redox status. Importantly, vitamin A seems to alter mitochondrial redox status independently of the participation of the mitochondrial permeability transition pore, which is activated by Ca2+ ions since cyclosporin A did not prevent the oxidative insult elicited by Ca2+ addition. Overall, we show here that mitochondria are a target of vitamin-A-associated toxicity also in vivo.
Access options
Buy single article
Instant access to the full article PDF.
US$ 39.95
Tax calculation will be finalised during checkout.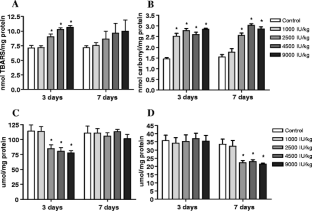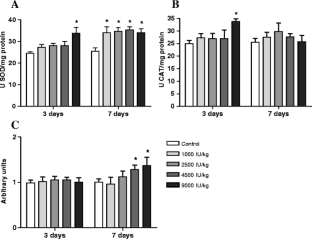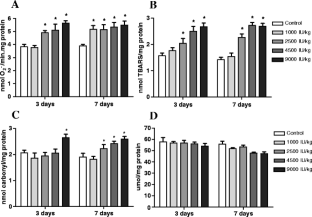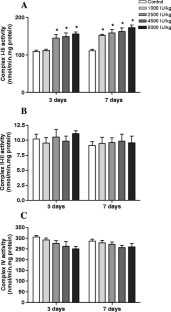 Abbreviations
CsA:

Cyclosporin A

METC:

Mitochondrial electron transfer chain

MPTP:

Mitochondrial permeability transition pore

SMP:

Submitochondrial particles
References
Aebi H. Catalase in vitro. Methods Enzymol 1984;105:121–6

Aon MA, Cortassa S, Maack C, O'Rourke B. Sequential opening of mitochondrial ion channels as a function of glutathione redox thiol status. J Biol Chem 2007;282:21889–900. doi:10.1074/jbc.M702841200.

Badger DA, Sauer JM, Hoglen NC, Jolley CS, Sipes IG. The role of inflammatory cells and cytochrome P450 in the potentiation of CCl4-induced liver injury by a single dose of retinol. Toxicol Appl Pharmacol 1996;141:507–19. doi:10.1006/taap.1996.0316.

Borutaite V, Morkuniene R, Brown GC. Release of cytochrome c from heart mitochondria is induced by high Ca2+ and peroxynitrite and is responsible for Ca2+-induced inhibition of substrate oxidation. Biochim Biophys Acta 1999;1453:41–8.

Cai J, Jones DP. Superoxide in apoptosis. Mitochondrial generation triggered by citochrome c loss. J Biol Chem 1998;273:11401–4. doi:10.1074/jbc.273.19.11401.

Croquet V, Pilette C, Lespine A. Hepatic hypervitaminosis A: importance of retinyl ester level determination. Eur J Gastroenterol Hepatol 2000;12:361–4.

Dal-Pizzol F, Klamt F, Frota MLC Jr, Moraes LF, Moreira JCF, Benfato MS. Retinol supplementation induces DNA damage and modulates iron turnover in rat Sertoli cells. Free Radic Res 2000;33:677–87. doi:10.1080/10715760000301191.

Dal-Pizzol F, Klamt F, Benfato MS, Bernard EA, Moreira JCF. Retinol supplementation induces oxidative stress and modulate antioxidant enzyme activities in rat Sertoli cells. Free Radic Res 2001;34:395–404. doi:10.1080/10715760100300331.

De Oliveira MR, Moreira JCF. Acute and chronic vitamin A supplementation at therapeutic doses induces oxidative stress in submitochondrial particles isolated from cerebral cortex and cerebellum of adult rats. Toxicol Lett 2007;173:145–50. doi:10.1016/j.toxlet.2007.07.002.

De Oliveira MR, Pasquali MAB, Silvestrin RB, Mello e Souza T, Moreira JCF. Vitamin A supplementation induces a prooxidative state in the striatum and impairs locomotory and exploratory activity of adult rats. Brain Res 2007a;1169:112–9. doi:10.1016/j.brainres.2007.07.008.

De Oliveira MR, Silvestrin RB, Mello e Souza T, Moreira JCF. Oxidative stress in the hippocampus, anxiety-like behavior and decreased locomotory and exploratory activity of adult rats: effects of sub acute vitamin A supplementation at therapeutic doses. Neurotoxicology 2007b;28:1191–9. doi:10.1016/j.neuro.2007.07.008.

Draper HH, Hadley M. Malondialdehyde determination as an index of lipid peroxidation. Methods Enzymol 1990;186:421–31. doi:10.1016/0076-6879(90)86135-I.

Duchen MR. Mitochondria and Ca2+ in cell physiology and pathophysiology. Cell Calcium 2000;28:339–48. doi:10.1054/ceca.2000.0170.

Ellis JK, Russell RM, Makrauer FL, Schaefer EJ. Increased risk for vitamin A toxicity in severe hypertriglyceridemia. Ann Intern Med 1986;105:877–9.

Ellman GL. Tissue sulfhydryl groups. Arch Biochem Biophys 1959;82:70–7. doi:10.1016/0003-9861(59)90090-6.

Elsisi AED, Hall P, Sim WLW, Earnest DL, Sipes IG. Characterization of vitamin A potentiation of carbon tetrachloride-induced liver injury. Toxicol Appl Pharmacol 1993a;119:280–8. doi:10.1006/taap.1993.1070.

Elsisi AED, Earnest DL, Sipes IG. Vitamin A potentiation of carbon tetrachloride hepatotoxicity: enhanced lipid peroxidation without enhanced biotransformation. Toxicol Appl Pharmacol 1993b;119:289–94. doi:10.1006/taap.1993.1071.

Fenaux P, Chomienne C, Degos L. Treatment of acute promyelocytic leukaemia. Best Pract Res Clin Haematol 2001;14:153–74. doi:10.1053/beha.2000.0121.

Fisher JC, Ruitenbeek W, Berden JÁ, Trijbels JM, Veerkamp JH, Stadhouders M, Sengers RC, Janssen AJ. Differential investigation of the capacity of succinate oxidation in human skeletal muscle. Clin Chim Acta 1985;153:23–36. doi:10.1016/0009-8981(85)90135-4.

Frota MLC Jr, Klamt F, Dal-Pizzol F, Schiengold M, Moreira JCF. Retinol-induced mdr1 and mdr3 modulation in cultured rat Sertoli cells is attenuated by free radical scavengers. Redox Rep 2004;9:161–5. doi:10.1179/135100004225005192.

Geelen JAG. Hypervitaminosis A induced teratogenesis. CRC Crit Rev Toxicol 1979;6:351–75. doi:10.3109/10408447909043651.

Goodall AH, Fisher D, Lucy JA. Cell fusion, haemolysis and mitochondrial swelling induced by retinol and derivatives. Biochim Biophys Acta 1980;595:9–14. doi:10.1016/0005-2736(80)90242-4.

Halliwell B. Oxidative stress and neurodegeneration: where are we now. J Neurochem 2006;97:1634–58. doi:10.1111/j.1471-4159.2006.03907.x.

Hengartner MO. The biochemistry of apoptosis. Nature 2000;401:770–6. doi:10.1038/35037710.

Hull PR, D'Arcy C. Isotretinoin use and subsequent depression and suicide: presenting the evidence. Am J Clin Dermatol 2003;4:493–505. doi:10.2165/00128071-200304070-00005.

Inder RE, Bray BJ, Sipes IG, Rosengren RJ. Role of cytochrome P4502E1 in retinol's attenuation of carbon tetrachloride-induced hepatotoxicity in the Swiss Webster mouse. Toxicol Sci 1999;52:130–9. doi:10.1093/toxsci/52.1.130.

Jick SS, Kremers HM, Vasilakis-Scaramozza C. Isotretinoin use and risk of depression, psychotic symptoms, suicide, and attempted suicide. Arch Dermatol 2000;136:1231–6. doi:10.1001/archderm.136.10.1231.

Kagan VE, Borisenko GG, Tyurina YY, Tyurin VA, Jiang J, Potapovich AI, Kini V, Amoscato AA, Fuji Y. Oxidative lipidomics of apoptosis: redox catalytic interactions of cytochrome c with cardiolipina and phosphatidylserine. Free Radic Biol Med 2004;37:1963–85. doi:10.1016/j.freeradbiomed.2004.08.016.

Kim TS, Yun BY, Kim IY. Induction of the mitochondrial permeability transition by selenium compounds mediated by oxidation of the protein thiol groups and generation of the superoxide. Biochem Pharmacol 2003;66:2301–11. doi:10.1016/j.bcp.2003.08.021.

Klamt F, Dal-Pizzol F, Ribeiro NC, Bernard EA, Benfato MS, Moreira JCF. Retinol-induced elevation in ornithine decarboxylase activity in cultured Sertoli cells is attenuated by free radical scavenger and by iron chelator. Mol Cell Biochem 2000;208:71–6. doi:10.1023/A:1007081703928.

Klamt F, de Oliveira MR, Moreira JCF. Retinol induces permeability transition and cytochrome c release from rat liver mitochondria. Biochim Biophys Acta 2005;1726:14–20.

Kowaltowski AJ, Netto LES, Vercesi AE. The thiol-specific antioxidant enzyme prevents mitochondrial permeability transition. Evidence for the participation of reactive oxygen species in this mechanism. J Biol Chem 1998;273:12766–9. doi:10.1074/jbc.273.21.12766.

Lam HS, Chow CM, Poon WT, Lai CK, Chan KCA, Yeung WL, Hui J, Chan AYW, Ng PC. Risk of vitamin A toxicity from candy-like chewable vitamin supplements for children. Pediatrics 2006;118:820–4. doi:10.1542/peds.2006-0167.

Levine RL, Garland D, Oliver CN, Amici A, Climent I, Lenz AG, Ahn BW, Shaltiel S, Stadman ER. Determination of carbonyl content in oxidatively modified proteins. Methods Enzymol 1990;186:464–78. doi:10.1016/0076-6879(90)86141-H.

Lowry OH, Rosebrough AL, Randal RJ. Protein measurement with the folin phenol reagent. J Biol Chem 1951;193:265–75.

Mills JP, Tanumihardjo SA. Vitamin A toxicity in wild-caught African green vervet monkeys (Chlorocebus aethiops) after 2 years in captivity. Comp Med 2006;56:421–5.

Misra HP, Fridovich I. The role of superoxide anion in the autoxidation of epinephrine and a simple assay for superoxide dismutase. J Biol Chem 1972;247:3170–5.

Moreira JCF, Dal-Pizzol F, Von Endt D, Bernard EA. Effect of retinol on chromatin structure in Sertoli cells: 1,10-phenanthroline inhibit the increased DNAse I sensitivity induced by retinol. Med Sci Res 1997;25:635–8.

Myhre AM, Carlsen MH, Bohn SK, Wold HL, Laake P, Blomhoff R. Water-miscible, emulsified, and solid forms of retinol supplements are more toxic than oil-based preparations. Am J Clin Nutr 2003;78:1152–9.

Napoli JL. Biochemical pathways of retinoids transport, metabolism, and signal transduction. Clin Immunol Immunopathol 1996;80:S52–62. doi:10.1006/clin.1996.0142.

Napoli JL. Interactions of retinoids binding proteins and enzymes in retinoids metabolism. Biochim Biophys Acta 1999;1440:139–62.

Norum KR. Acute myeloid leukaemia and retinoids. Eur J Clin Nutr 1993;47:77–87.

Olson J, Gunning D. The storage form of vitamin A in rat liver cells. J Nutr 1983;113:2184–91.

O'Reilly KC, Shumake J, Gonzalez-Lima F, Lane MA, Bailey SJ. Chronic administration of 13-cis-retinoic acid increases depression-related behavior in mice. Neuropsychopharmacology 2006;31:1919–27. doi:10.1038/sj.npp.1300998.

Ott M, Robertson JD, Gogvadze V, Zhivotovsky B, Orrenius S. Cytochrome c release from mitochondria proceeds by a two-step process. Proc Natl Acad Sci U S A 2002;99:1259–63. doi:10.1073/pnas.241655498.

Pfahl M, Piedrafita FJ. Retinoid targets for apoptosis induction. Oncogene 2003;22:9058–62. doi:10.1038/sj.onc.1207109.

Poderoso JJ, Carreras MC, Lisdero C, Riobo N, Schopfer F, Boveris A. Nitric oxide inhibits electron transfer and increases superoxide radical production in rat heart mitochondria and submitochondrial particles. Arch Biochem Biophys 1996;328:85–92. doi:10.1006/abbi.1996.0146.

Rigobello MP, Scutari G, Friso A, Barzon E, Artusi S, Bindoli A. Mitochondrial permeability transition and release of cytochrome c induced by retinoic acids. Biochem Pharmacol 1999;58:665–70. doi:10.1016/S0006-2952(99)00149-5.

Rosengren RJ, Sipes IG. Retinol pretreatment potentiates acetaminophen-induced hepatotoxicity in the male Swiss Webster mouse. Toxicologist 1995;15:219.

Rosengren RJ, Sauer JM, Hooser SB, Sipes IG. The interactions between retinol and five different hepatotoxicants in the Swiss Webster mouse. Fundam Appl Toxicol 1995;25:281–92. doi:10.1006/faat.1995.1064.

Russell RM, Boyer JL, Bagheri SA, Hruban Z. Hepatic injury from chronic vitaminosis A resulting in portal hypertension and ascites. N Engl J Med 1974;291:435–40.

Rustin P, Chretien D, Bourgeron T, Gérard B, Rötig A, Saudubray JM, Munnich A. Biochemical and molecular investigations in respiratory chain deficiencies. Clin Chim Acta 1994;228:35–51. doi:10.1016/0009-8981(94)90055-8.

Shapira AH, Mann VM, Cooper JM, Dexter D, Daniel SE, Jenner P, Clark JB, Marsden CD. Anatomic and disease specificity of NADH CoQ1 reductase (complex I) deficiency in Parkinson's disease. J Neurochem 1990;55:2142–5. doi:10.1111/j.1471-4159.1990.tb05809.x.

Zamzami N, Kroemer G. The mitochondrion in apoptosis: how Pandora's box opens. Nat Rev Mol Cell Biol 2001;2:67–71. doi:10.1038/35048073.
Acknowledgments
This work was supported by grants of CNPq, FAPERGS, and PROPESQ-UFRGS. M.R. de Oliveira, M.W.S. Oliveira, R. Lorenzi, and R.F. da Rocha are recipients of CNPq fellowships.
About this article
Cite this article
de Oliveira, M.R., Oliveira, M.W.S., Lorenzi, R. et al. Short-term vitamin A supplementation at therapeutic doses induces a pro-oxidative state in the hepatic environment and facilitates calcium-ion-induced oxidative stress in rat liver mitochondria independently from permeability transition pore formation. Cell Biol Toxicol 25, 545–560 (2009). https://doi.org/10.1007/s10565-008-9111-9
Received:

Accepted:

Published:

Issue Date:
Keywords
Vitamin A

Oxidative stress

Rat liver

Mitochondria

Calcium ions