Abstract
Biodiesel is one of the renewable energy (RE) sources that has received much interest due to its promising properties. Recently, the use of coconut oil as biodiesel has caught the attention of many researchers. As a result, this paper presents a comprehensive overview of the current catalysts used to produce coconut oil biodiesel via the transesterification method.
Graphical Abstract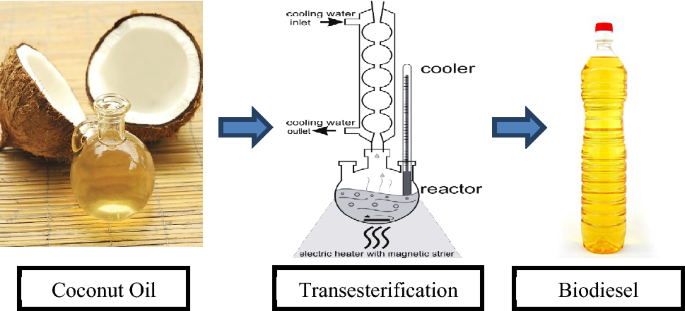 Access options
Buy single article
Instant access to the full article PDF.
USD 39.95
Price excludes VAT (USA)
Tax calculation will be finalised during checkout.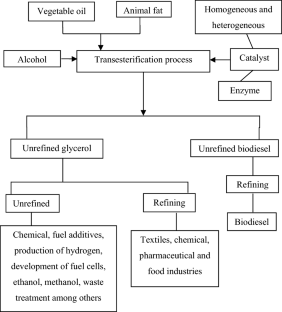 References
Jahirul MI, Brown RJ, Senadeera W, O'Hara IM, Ristovski ZD (2013) Energies 6(8):3764

Thangaraj B, Solomon PR, Muniyandi B, Ranganathan S, Lin L (2019) Clean Energy 3(1):2

Wong YC, Tan YP, Taufiq-Yap YH, Ramli I (2014) SainsMalaysiana 43(5):783

Habibullah M, Masjuki HH, Kalam MA, Rahman SA, Mofijur M, Mobarak HM, Ashraful AM (2015) Renew Sustain Energy Rev 50:819

Sulaiman S, Raman AAA, Aroua MK (2010) 2nd International Conference on Chemical, Biological and Environmental Engineering, p. 254

Aransiola EF, Ojumu TV, Oyekola OO, Madzimbamuto TF, Ikhu-Omoregbe DIO (2014) Biomass Bioenerg 61:276

Altın R, Cetinkaya S, Yücesu HS (2001) Energy Convers Manage 42(5):529

Borges ME, Díaz L (2012) Renew Sustain Energy Rev 16(5):2839

Adeyemi NA, Mohiuddin AKM, Jameel AT (2012) Int Energy J 12(1):15

Ma F, Hanna MA (1999) Biores Technol 70(1):1

Zexue DU, Zhong TANG, Haijing WANG, Jianli ZENG, Yanfeng CHEN, Enze MIN (2013) Chin J Catal 34(1):101

Nakpong P, Wootthikanokkhan S (2010) Renewable Energy 35(8):1682

Leung DYC, Guo Y (2006) Fuel Process Technol 87(10):883

Darunde Dhiraj S, Deshmukh Mangesh M (2012) Int J Emer Technol Adv Eng 2(10):179

Mumtaz MW, Adnan A, Mukhtar H, Rashid U, Danish M (2017) Clean Energy for Sustainable Development, p. 465

Karki S, Sanjel N, Poudel J, Choi JH, Oh SC (2017) Appl Sci 7(6):632

Firdaus MY, Guo Z, Fedosov SN (2016) Biochem Eng J 105:52

Sánchez-Arreola E, Bach H, Hernández LR (2019) Biores Technol Rep 7:100220

Tariq M, Ali S, Khalid N (2012) Renew Sustain Energy Rev 16(8):6303

Alonso DM, Mariscal R, Granados ML, Maireles-Torres P (2009) Catal Today 143(1–2):167

Mohadesi M, Hojabri Z, Moradi G (2014) Biofuel Res J 1(1):30

Chen CL, Huang CC, Tran DT, Chang JS (2012) Biores Technol 113:8

Demirbas A (2010) Energy Convers Manage 51(12):2595

Avhad MR, Marchetti JM (2015) Renew Sustain Energy Rev 50:696

Dalai AK, Issariyakul T, Baroi C (2012) Biodiesel production using homogeneous and heterogeneous catalysts a review. In: Guczi L, Erdôhelyi A (eds) Catalysis for Alternative Energy Generation. Springer, NY

Rachimoellah HM, Resti DA, Zibbeni A, Susila IW (2009) Jurnal Teknik Mesin 11(2):85

Mahfud M, Suryanto A, Qadariyah L, Suprapto S, Kusuma HS (2018) Korean Chem Eng Res 56(2):275

Jaggernauth-Ali P, John E, Bridgemohan P (2015) Fuel 158(143):372

Talha NS, Sulaiman S (2018) Waste Manage 78:929

Kiss FE, Jovanović M, Bošković GC (2010) Fuel Process Technol 91(10):1316

Zareh P, Zare AA, Ghobadian B (2017) Energy 139:883

Sulaiman S, Aziz AA, Aroua K (2014) Adv Environ Biol 781

Sulaiman S, Aziz AA, Aroua MK (2013) J Taiwan Inst Chem Eng 44(2):233

Baskar G, Kalavathy G, Aiswarya R, Selvakumari IA (2019) Advances in bio-oil extraction from nonedible oil seeds and algal biomass. Advances in Eco-Fuels for a Sustainable Environment, p. 187

Khang DS, Razon LF, Madrazo CF, Tan RR (2014) Chem Eng Res Des 92(8):1512

Guldhe A, Singh P, Ansari FA, Singh B, Bux F (2017) Fuel 187:180

Narowska B, Kułażyński M, Łukaszewicz M, Burchacka E (2019) Renew Energy 135:176

Du L, Ding S, Li Z, Lv E, Lu J, Ding J (2018) Energy Convers Manage 173:728

Faruque MO, Razzak SA, Hossain MM (2020) Catalysts 10(9):1025

Sharma S, Saxena V, Baranwal A, Chandra P, Pandey LM (2018) Mater Sci Energy Technol 1(1):11

Norjannah B, Ong HC, Masjuki HH, Juan JC, Chong WT (2016) RSC Adv 6(65):60034

Lopresto CG, Naccarato S, Albo L, De Paola MG, Chakraborty S, Curcio S, Calabro V (2015) Ecotoxicol Environ Saf 121:229

Christopher LP, Kumar H, Zambare VP (2014) Appl Energy 119:497

Budžaki S, Miljić G, Sundaram S, Tišma M, Hessel V (2018) Appl Energy 210:268

Malani RS, Umriwad SB, Kumar K, Goyal A, Moholkar VS (2019) Energy Convers Manage 188:142

Aghababaie M, Beheshti M, Razmjou A, Bordbar AK (2019) Renew Energy 140:104

Sandoval G, Casas-Godoy L, Bonet-Ragel K, Rodrigues J, Ferreira-Dias S, Valero F (2017) Curr Biochem Eng 4(2):109

Veljković VB, Avramović JM, Stamenković OS (2012) Renew Sustain Energy Rev 16(2):1193

Zhang X, Yan S, Tyagi RD, Surampalli RY, Valéro JR (2014) Biores Technol 169:175

Subhedar PB, Gogate PR (2016) Ultrason Sonochem 29:67

Rincon LE, Jaramillo JJ, Cardona CA (2014) Renewable Energy 69:479

Ali J, Rasheed T, Afreen M, Anwar MT, Nawaz Z, Anwar H, Rizwan K (2020) Sci Total Environ 727:138610

Santori G, Nicola GD, Moglie M, Polonara F (2012) Appl Energy 92:109

Tabatabaei M, Karimi K, Horvath IS, Kumar R (2015) Biofuel Res J 7:258

Sahar, Sadaf S, Iqbal J, Ullah I, Bhatti HN, Nouren S, Habib-ur-Rehman, Nisar J, Iqbal M (2018) Sustain Cities Soc 41:220

Uddin MN, Techato K, Rasul MG, Hassan NMS, Mofijur M (2019) Energy Procedia 160:677

Chen C, Chaudhary A, Mathys A (2020) Resour Conserv Recycling 160:104912

Appaiah P, Sunil L, Prasanth Kumar PK, Gopala Krishna AG (2014) J Am Oil Chem Soc 91(6):917

Bello EI, Adekanbi IT, Akinbode FO (2015) European J Eng Technol 3(3):25

Ghani NAA, Channip AA, Phoebe CHH, Ja'afar F, Yasin HM, Usman A (2018) Food Sci Nutr 1

Prasanth Kumar PK, Gopala Krishna AG (2015) Grasas Aceites 66(1):e062

Karnasuta S, Punsuvon V, Nokkaew R (2015) Walailak J Sci Technol 12(3):291

Maitera ON, Louis H, Dass PM, Akakuru UO, Joshua Y (2017) World News Nat Sci 9:62

Sulaiman S, Abdul Aziz AR, Aroua MK (2013) Optimization and modeling of extraction of solid coconut waste oil. J Food Eng 114:228

Krupa R, Gowda RVS, Shreyas R, Srijan AV, Subash S (2018) Int J Res Appl Sci Eng Technol 6(4):2135

Oh TH, Hasanuzzaman M, Selvaraj J, Teo SC, Chua SC (2018) Renew Sustain Energy Rev 81:3021

Chong C, Ni W, Ma L, Liu P, Li Z (2015) Energies 8(4):2828

Abd Rahman NA, Kamaruzzaman SN, Akashah FW (2019) Scenario and strategy towards energy efficiency in Malaysia: a review. MATEC Web Conf 266:02012

Hannan MA, Begum RA, Abdolrasol MG, Lipu MH, Mohamed A, Rashid MM (2018) Renew Sustain Energy Rev 94:551

Abdullah WSW, Osman M, Ab Kadir MZA, Verayiah R (2019) The potential and status of renewable energy development in Malaysia. Energies 12(12):2437

Shafie SM, Mahlia TMI, Masjuki HH, Andriyana A (2011) Renew Sustain Energy Rev 15(9):4370

Alyaqoubi S, Abdullah A, Samudi M, Abdullah N, Addai ZR, Musa KH (2015) J Chem Pharm Res 7(4):967

Chhetri AB, Chris Watts K, Rafiqul Islam M (2008) Energies 1:3

Bautista LF, Vicente G, Rodriguez R, Pacheco M (2009) Biomass Bioenerg 33:862

Koshima Y, Kitamura Y, Islam MZ, Kokawa M (2020) Food Science and Technology 26(4):545

Muangrat R, Pongsirikul I (2019) CyTa Journal of Food 17(1):334

Carmona-Cabello M, Saez-Bastante J, Pinzi S, Dorado MP (2019) Fuel 255:115817

Aransiola EF, Daramola MO, Ojumu TV, Aremu MO, Layokun SK, Solomon BO (2012) Int J Renew Energy Res 2(2):317

Akbar E, Yaakob Z, Kamarudin SK, Ismail M, Salimon J (2009) Eur J Sci Res 29(3):396

Azeez AM, Fasakin AO, Orege JI (2019) Green Sustain Chem 9(1):1–10

Salimon J, Mohd Noor DA, Nazrizawati AT, Mohd Firdaus MY, Noraishah A (2010) Sains Malays 35(9):761

Patel VR, Dumancas GG, Kasi Vismanath LC, Maples R, Subong BJJ (2016) Lipid Insights 9:1

Naik M, Meher LC, Naik SN, Das LM (2008) Biomass Bioenerg 32:354

Nayak SK, Mishra PC, Kumar A, Behera GR, Nayak (2017) Energy Sources A: Recovery Util Environ Eff 39(3):306

Alves CT, Oliveira A, Carneiro SAV, Silva AG, Andrade HMC, Viera de Melo SAB, Torres EA (2013) Fuel Process Technol 106:102

Borah MJ, Das A, Das V, Bhuyan N, Deka D (2019) Fuel 242:345

Zango ZU, Kadir HA, Imam SS, Ibrahim Muhammad A, Abu IG (2019) Am J Chem 9(2):27

Widayat W, Putra DA, Nursafitri I (2019) Materials Today: Proceeding 13:97

Sulaiman NF, Nor Hashim AN, Toeman S, Mat Rosid SJ, Wan Mokhtar WNA, Nadarajan R, Wan Abu Bakar WA (2020) Renew Energy 153:1

Rabie AM, Shaban M, Abukhadra MR, Hosny R, Ahmed SA, Negm NA (2019) J Mol Liq 279:224

Mohd Shohaimi NA, Marodzi FNS (2018) Malaysian J Anal Sci 22(1):157

Tarigan JB, Ginting M, Mubarokah SN, Sebayang F, Karo-karo J, Nguyen TT, Ginting J, Sitepu EK (2019) RSC Adv 9:35109–35116

Caetano NS, Silva VFM, Mata TM (2012) Chem Eng Trans 26:267

Karmee SK (2020) Biofuels 11(2):155

Park J, Kim B, Lee JW (2016) Bioresour Technol 221:55

Barik S, Paul KK, Priyadarshi D (2018) IOP Conf Series Earth Environ Sci 167:012031

Redzwan G, Mohd Amin M, Zulkarnain NN, Abu Mansor MR, Mohamad Annuar MS, Ilham Z (2015) J Mater Cycles Waste Manag 19:676. https://doi.org/10.1007/s10163-015-0463-y

Karmee SK, Linardi D, Lee J, Lin CSK (2015) Waste Manage 41:169

Nahadi JJ, Atadashi MI (2018) Int J Res-Granthaalayah 6(9):487

Ribeiro LMO, Santos BCS, Almeida RMRG (2012) Biomass Bioenergy 47:498

Bouaid A, Acherki H, Garcia A, Martinez M, Aracil J (2017) Fuel 209:141

Lan TTB, Hoa PN (2015) Biol Chem Res 258
Acknowledgements
The authors would like to thank Ministry of Higher Education, Malaysia under FRGS/1/2018/STG01/UNISZA/02/4/RR281 and Universiti Sultan Zainal Abidin for human capital.
Ethics declarations
Conflict of interest
On behalf of all authors, the corresponding author states that there is no conflict of interest.
Additional information
Publisher's Note
Springer Nature remains neutral with regard to jurisdictional claims in published maps and institutional affiliations.
About this article
Cite this article
Ahmad, A.F., Zulkurnain, N., Rosid, S.J.M. et al. Catalytic Transesterification of Coconut Oil in Biodiesel Production: A Review. Catal Surv Asia 26, 129–143 (2022). https://doi.org/10.1007/s10563-022-09358-8
Received:

Accepted:

Published:

Issue Date:

DOI: https://doi.org/10.1007/s10563-022-09358-8
Keywords