Abstract
Novel isosorbide initiated polyepichlorohydrin cored PPI dendronized polymer (ISO-PECH-Amine-G1) has been prepared and its structure was determined by different spectro- analytical techniques. The catalytic activity of ISO-PECH-Amine-G1 was explored for the synthesis of polyhydroquinolines and 4-arylidene-3-methylisoxazol-5(4H)-ones. From an eco-benign perspective, the notable advantages of this protocol are as follows: (i) water as reaction medium, (ii) transition metal-free, (iii) no toxic by-products, (iv) room temperature reaction, (v) simple experimental and work-up procedure, (vi) high conversion, (vii) shorter reaction time, (viii) diverse substrate scope, (ix) no need of solvent extraction and (x) facile reusability of the catalyst. In addition, computational calculations were performed using the B3LYP/6-31G level of theory to explore various density functional theory (DFT) based descriptors such as dipole moment, hardness, chemical potential, electrophilicity index, and the nucleophilicity index of the synthesized derivatives.
Graphic Abstract

Access options
Buy single article
Instant access to the full article PDF.
USD 39.95
Price includes VAT (USA)
Tax calculation will be finalised during checkout.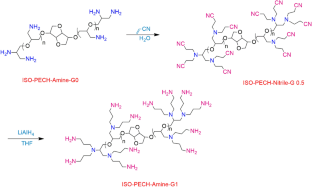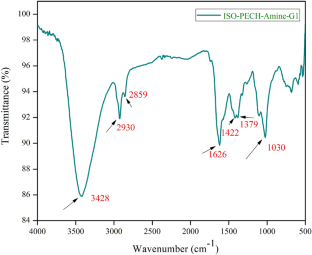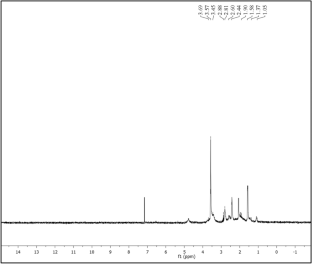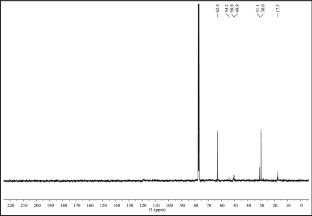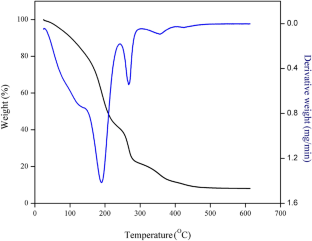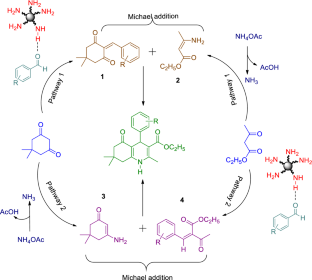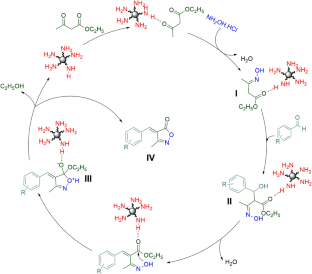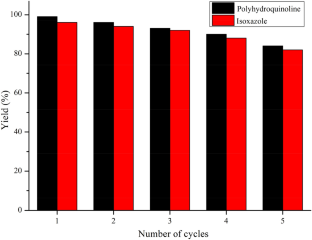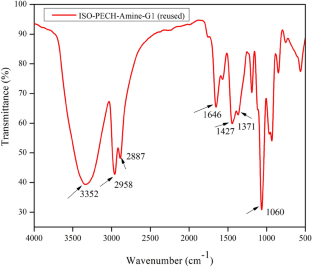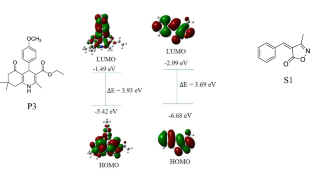 References
1.

Zarganes-Tzitzikas T, Chandgude AL, Dömling A (2015) Chem Rec 15:981

2.

Neochoritis CG, Zarganes-Tzitzikas T, Katsampoxaki-Hodgetts K, Dömling A (2020) J Chem Educ 97:3739

3.

Rotstein BH, Zaretsky S, Rai V, Yudin AK (2014) Chem Rev 114:8323

4.

Allais C, Grassot JM, Rodriguez J, Constantieux T (2014) Chem Rev 114:10829

5.

Afshari R, Shaabani A, Comb ACS (2018) Sci 20:499

6.

Rostamnia S, Doustkhah E (2014) RSC Adv 4:28238

7.

Doustkhah E, Baghban A, Assadi MHN, Luque R, Rostamnia S (2019) Catalysis Lett 149:591

8.

Hajizadeh F, Maleki B, Zonoz FM, Amiri A (2021) J Iran Chem Soc 18:793

9.

Heidarizadeh M, Doustkhah E, Saberi F, Rostamnia S, Hassankhani A, Rezaei PF, Ide Y (2018) ChemistrySelect 3:7137

10.

Percec V, Cho WD, Ungar G (2000) J Am Chem Soc 122:10273

11.

Helms B, Frechet JM (2006) Adv Synth Catal 348:1125

12.

Astruc D, Chardac F (2001) Chem Rev 101:2991

13.

Kalaria PN, Satasia SP, Raval DK (2014) Eur J Med Chem 78:207

14.

Karad SC, Purohit VB, Raval DK, Kalaria PN, Avalani JR, Thakor P, Thakkar VR (2015) RSC Adv 5:16000

15.

Bossert F, Meyer H, Wehinger E (1989) Angew Chem Int Ed Engl 20:762

16.

Surasani R, Kalita D, Rao AD, Yarbagi K, Chandrasekhar KB (2012) J Fluor Chem 135:91

17.

Bretzel RG, Bollen CC, Maeser E, Federlin KF (1993) Am J Kidney Dis 21:S53

18.

Sawada Y, Kayakiri H, Abe Y, Mizutani T, Inamura N, Asano M, Hatori C, Aramori I, Oku T, Tanaka H (2004) J Med Chem 47:2853

19.

Rathee G, Kohli S, Singh N, Awasthi A, Chandra R (2020) ACS Omega 5:15673

20.

Quinonero O, Lemaitre C, Jean M, Vanthuyne N, Roussel C, Bonne D, Constantieux T, Bressy C, Bugaut X, Rodriguez J (2021) Organic Lett 23:3394

21.

Ghorbani-Choghamarani A, Aghavandi H, Mohammadi M (2021) J Porous Mater 28:1167

22.

Hussain-Khil N, Ghorbani-Choghamarani A, Mohammadi M (2021) Sci Rep 11:15657

23.

Pourian E, Javanshir S, Dolatkhah Z, Molaei S, Maleki A (2018) ACS Omega 3:5012

24.

Maleki B, Atharifar H, Reiser O, Sabbaghzadeh R (2021) Polycycl Aromat Compd 41:721

25.

Nguyen HT, Truong VA, Tran PH (2020) RSC Adv 10:25358

26.

Nguyen VT, Nguyen HT, Tran PH (2021) New J Chem 45:4507

27.

Kumar A, Maurya RA (1946) Tetrahedron 2007:63

28.

Aghaei-Hashjin M, Yahyazadeh A, Abbaspour-Gilandeh E (2021) RSC Adv 11:10497

29.

Shabir J, Gupta P, Sah D, Mozumdar S (2020) New J Chem 44:21152

30.

Santos MM, Faria N, Iley J, Coles SJ, Hursthouse MB, Martins ML, Moreira R (2010) Bioorg Med Chem Lett 20:193

31.

Mao J, Yuan H, Wang Y, Wan B, Pieroni M, Huang Q, Breemen RB, Kozikowski AP, Franzblau SG (2009) J Med Chem 52:6966

32.

Kafle B, Aher NG, Khadka D, Park H, Cho H (2011) Chem Asian J 6:2073

33.

Patil MS, Mudaliar C, Chaturbhuj GU (2017) Tetrahedron Lett 58:3256

34.

Naka K, Horii E, Chujo Y (2000) Polym J 32:73

35.

Zhang XH, Zhan YH, Chen D, Wang F, Wang LY (2012) Dyes Pigm 93:1408

36.

Liu Q, Wu RT (2011) J Chem Res 35:598

37.

Chauhan SS, Joshi YC (2008) Rasayan J Chem 1:475

38.

Gadkari YU, Jadhav NL, Hatvate NT, Telvekar VN (2020) ChemistrySelect 5:12320

39.

Ahmadzadeh M, Zarnegar Z, Safari J (2018) Green Chem Lett Rev 11:78

40.

Zhang YQ, Wang C, Zhang MY, Cui PL, Li YM, Zhou X, Li JC (2008) Chin J Org Chem 28:914

41.

Atharifar H, Keivanloo A, Maleki B (2020) Org Prep Proced Int 52:517

42.

Kalhor M, Sajjadi SM, Dadras A (2020) RSC Adv 10:27439

43.

Mirzazadeh M, Mahdavinia GH (2012) Eur J Chem 9:425

44.

Kour P, Ahuja M, Sharma P, Kumar A (2020) J Chem Sci 132:1

45.

Maleki B, Chahkandi M, Tayebee R, Kahrobaei S, Alinezhad H, Hemmati S (2019) Appl Organomet Chem 33:5118

46.

Hiba K, Sreekumar K (2021) React Funct Polym 160:104827

47.

Hiba K, Shaibuna M, Sherly mole PB, Shebitha AM, Letcy VT, Avudaiappan G, Sreekumar K (2020) J Heterocycl Chem 57:3310

48.

Song SJ, Shan ZX, Jin Y (2010) Synth Commun 40:3067

49.

Kumar S, Sharma P, Kapoor KK, Hundal MS (2008) Tetrahedron 64:536

50.

Ko S, Yao CF (2006) Tetrahedron 62:7293

51.

Heydari A, Khaksar S, Tajbakhsh M, Bijanzadeh HR (2009) J Fluor Chem 130:609

52.

Ghorbani-Choghamarani A, Mohammadi M, Shiri L, Taherinia Z (2019) Res Chem Intermed 45:5705

53.

Basak P, Dey S, Ghosh P (2020) ChemistrySelect 5:626

54.

Manley TR, Murray B (1972) Br Polym J 4:291

55.

Dobrovszky K, Ronkay F (2014) Waste Manage 34:2104

56.

Sharma S, Singh UP, Singh AP (2021) Polyhedron 199:115102

57.

Zare E, Rafiee Z (2020) J Taiwan Inst Chem Eng 116:205

58.

Sajjadifar S, Azmoudehfard Z (2019) Appl Organomet Chem 33:5101

59.

Ashraf MA, Liu Z, Peng WX, Gao C (2020) Catal Lett 150:683

60.

Tamoradi T, Mousavi SM, Mohammadi M (2020) New J Chem 44:3012

61.

Frisch MJ, Trucks GW, Schlegel HB, Scuseria GE, Robb MA, Cheeseman JR, Scalmani G, Barone V, Mennucci B, Petersson GA, Nakatsuji H, Caricato M, Li X, Hratchian HP, Izmaylov AF, Bloino J, Zheng G, Sonnenberg JL (2010) Gaussian 09. Gaussian Inc, Wallingford CT

62.

Schlegel HB (1982) J Comput Chem 3:214

63.

Kosar B, Albayrak C (2011) Spectrochim Acta 78:160

64.

Pearson RG (2005) J Chem Sci 117:369

65.

Kiyooka SI, Kaneno D, Fujiyama R (2013) Tetrahedron Lett 54:339

66.

Sharma P, Ahuja M, Kumar A, Sahu V (2015) Chem Phys Lett 628:85

67.

Ahuja M, Reen GK, Kumar A, Sharma P (2016) Chem Lett 45:752

68.

Jaramillo P, Domingo LR, Chamorro E, Pérez P (2008) J Mol Struc-Theochem 865:68
Acknowledgements
H. K. gratefully acknowledges financial support in the form of a Senior Research Fellowship from the University Grants Commission (UGC), New Delhi, India, and India SAP UGC.
Ethics declarations
Conflict of interest
There are no conflicts to declare.
Additional information
Publisher's Note
Springer Nature remains neutral with regard to jurisdictional claims in published maps and institutional affiliations.
Supplementary Information
Below is the link to the electronic supplementary material.
Supplementary file1 Experimental procedure for the synthesis of the catalyst ISO-PECH-Amine-G1, polyhydroquinoline scaffolds, and 4-arylidene-3-methylisoxazol-5(4H)-ones. Structure, analytical data, GC/MS, 1H NMR and 13C NMR of synthesized polyhydroquinolines and 4-arylidene-3-methylisoxazol-5(4H)-ones (DOCX 2894 kb)
About this article
Cite this article
Hiba, K., Prathapan, S. & Sreekumar, K. Amine Functionalized Dendronized Polymer as a Homogeneous Base Catalyst for the Synthesis of Polyhydroquinolines and 4-Arylidene-3-Methylisoxazol-5(4H)-Ones. Catal Lett (2021). https://doi.org/10.1007/s10562-021-03829-9
Received:

Accepted:

Published:
Keywords
PPI dendronized polymer

Homogeneous catalyst

Polyhydroquinolines

4-arylidene-3-methylisoxazol-5(4H)-ones

Reusable catalyst