Abstract
Alkyl levulinates (AL), which are important biomass derivatives, have the potential of conversion into different valuable compounds. This study addressed the production of alkyl levulinate from xylose by applying mesoporous zirconium phosphates (AL-MZP-Pr-SO3H, MZP-Pr-SO3H), which served as good heterogeneous catalysts. The characterization of these catalysts was done using FT-IR spectroscopy, low and wide-angle XRD, N2 adsorption–desorption, ICP, TEM, and SEM. Then the impact of a large number of parameters, like the temperature of reaction, the time of reaction, the catalyst amount, and xylose initial amount was probed. The findings revealed that the maximum n-butyl levulinate yield was 82% at the temperature of 170 °C, after 6 h; meanwhile, the maximum ethyl levulinate yield was 49% at 150 °C, after 6 h. The catalysts can be easily separated from the reaction mixture and regenerated by a simple activation step, with the possibility of reusing at least four times without significant reduction in the catalytic activity.
Graphic Abstract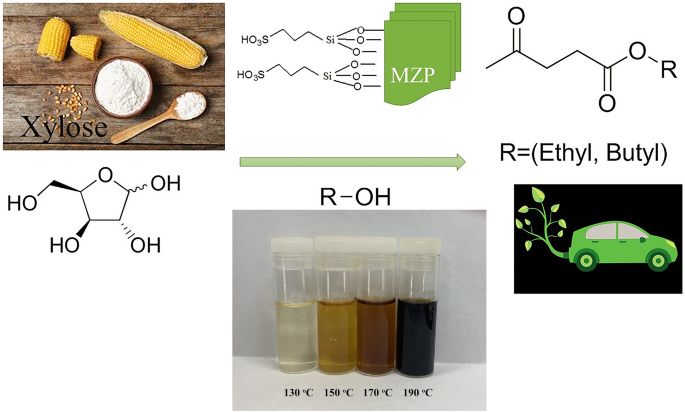 Access options
Buy single article
Instant access to the full article PDF.
USD 39.95
Price includes VAT (USA)
Tax calculation will be finalised during checkout.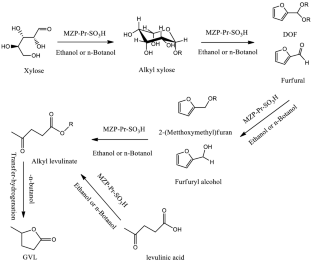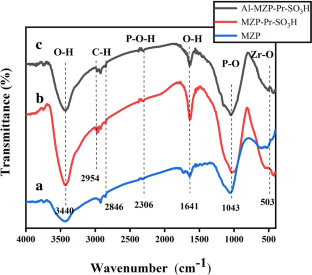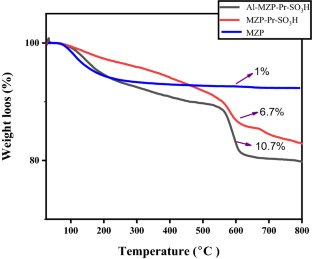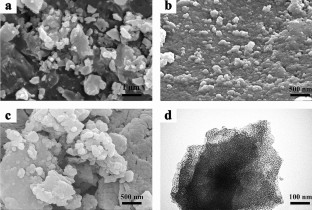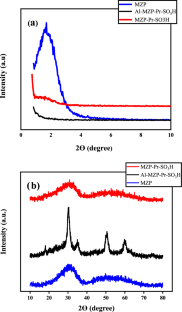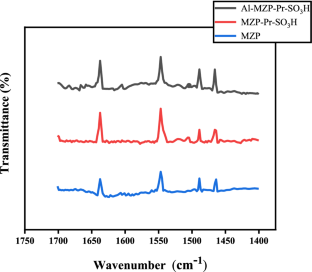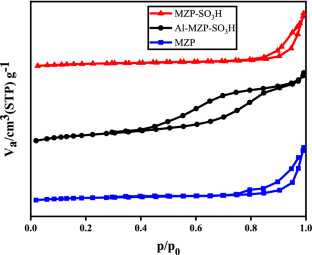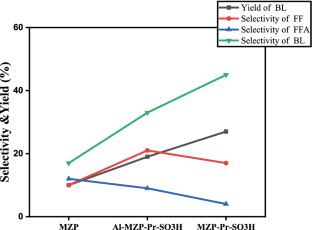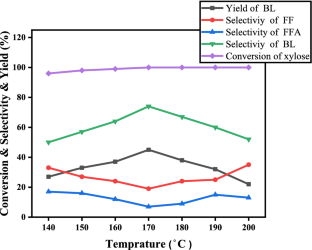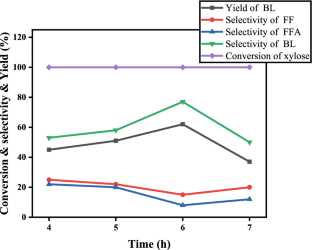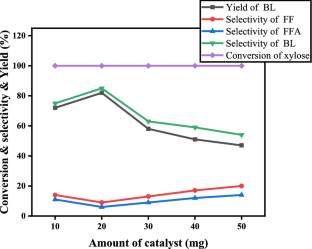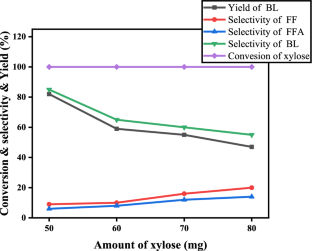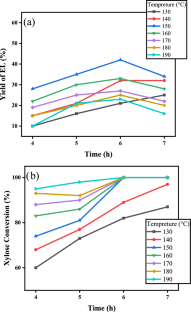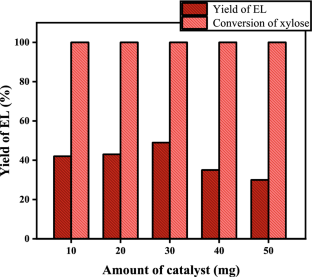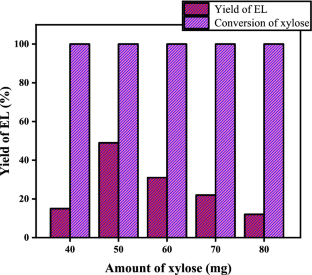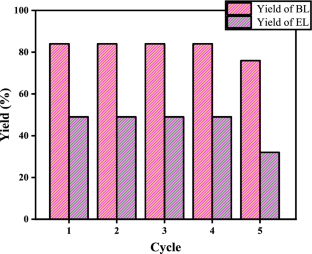 References
1.

Farrán A, Cai C, Sandoval M, Xu Y, Liu J, Hernáiz MJ, Linhardt RJ (2015) Chem Rev 115:6811

2.

Hafizi H, Chermahini AN, Saraji M, Mohammadnezhad G (2016) Chem Eng J 294:380

3.

Himmel ME, Ding S-Y, Johnson DK, Adney WS, Nimlos MR, Brady JW, Foust TD (2007) Science 315:804

4.

Kang S, Fu J, Zhang G (2018) Renew Sust Energ Rev 94:340

5.

Dhyani V, Bhaskar T (2018) Renew Energ 129:695

6.

Rackemann DW, Doherty WO (2011) Biofuel Bioprod Biorefin 5:198

7.

Mohammadbagheri Z, Chermahini AN (2020) Renew Energ 147:2229

8.

Chheda JN, Huber GW, Dumesic JA (2007) Angew Chem Int Ed 46:7164

9.

Huber GW, Iborra S, Corma A (2006) Chem Rev 106:4044

10.

Morone A, Apte M, Pandey R (2015) Renew Sust Energ Rev 51:548

11.

Bozell JJ, Moens L, Elliott D, Wang Y, Neuenscwander G, Fitzpatrick S, Bilski R, Jarnefeld J (2000) Resour Recycl 28:227

12.

Leonard RH (1956) J Ind Eng Chem 48:1330

13.

Cirujano F, Corma A, i Xamena FL, (2015) Chem Eng J 124:52

14.

Badgujar KC, Badgujar VC, Bhanage BM (2020) Fuel Process. Technol. 197:106213

15.

Guo H, Lian Y, Yan L, Qi X, Smith RL (2013) Green Chem 15:2167

16.

Jacobson K, Gopinath R, Meher LC, Dalai AK (2008) Appl Catal B 85:86

17.

Bertarione S, Bonino F, Cesano F, Damin A, Scarano D, Zecchina A (2008) J Phys Chem B 112:2580

18.

Zhou L, He Y, Ma L, Jiang Y, Huang Z, Yin L, Gao J (2018) Bioresour Technol 247:568

19.

Melero J, Morales G, Iglesias J, Paniagua M, Hernández B, Penedo S (2013) Appl Catal A-Gen 466:116

20.

Song D, An S, Sun Y, Guo Y (2016) J Catal 333:184

21.

Hu X, Song Y, Wu L, Gholizadeh M, Li C-Z (2013) ACS Sustain Chem Eng 1:1593

22.

Hu X, Jiang S, Wu L, Wang S, Li C-Z (2017) ChemComm 53:2938

23.

Hu X, Lievens C, Li CZ (2012) Chemsuschem 5:1427

24.

Wang C, Zhang Q, Chen Y, Zhang X, Xu F (2018) ACS Sustain Chem Eng 6:3154

25.

Guo H, Abe Y, Qi X, Smith RL Jr (2020) React. Chem Eng 5:1759

26.

Xiao H, Dai W, Kan Y, Clearfield A, Liang H (2015) Appl Surf Sci 329:384

27.

Kaushal S, Sharma PK, Mittal SK, Singh P (2015) Colloids Interface. Sci Commun 7:1

28.

Mosby BM, Díaz A, Clearfield A (2014) Dalton Trans 43:10328

29.

Martí AA, Colón JL (2003) Inorg Chem 42:2830

30.

Cheng L, Guo X, Song C, Yu G, Cui Y, Xue N, Peng L, Guo X, Ding W (2013) RSC Adv 3:23228

31.

Jain A, Shore AM, Jonnalagadda SC, Ramanujachary KV, Mugweru A (2015) Appl Catal A-Gen 489:72

32.

Weingarten R, Kim YT, Tompsett GA, Fernández A, Han KS, Hagaman EW, Conner WC Jr, Dumesic JA, Huber GW (2013) J Catal 304:123

33.

Liu B, Ba C, Jin M, Zhang Z (2015) Ind Crops Prod 76:781

34.

Das SK, Bhunia MK, Sinha AK, Bhaumik A (2011) ACS Catal 1:493

35.

Zima V, Svoboda J, Melánová K, Beneš L, Casciola M, Sganappa M, Brus J, Trchová M (2010) Solid State Ion 181:705

36.

Sinhamahapatra A, Sutradhar N, Roy B, Tarafdar A, Bajaj HC, Panda AB (2010) Appl Catal A-Gen 385:22

37.

Mohammadbagheri Z, Najafi Chermahini A (2018) J Ind Eng Chem 62:401

38.

Dash SS, Sahu MK, Sahu E, Patel RK (2015) New J Chem 39:7300

39.

Emeis C (1993) J Catal 141:347

40.

Babaei Z, Chermahini AN, Dinari M (2018) Chem Eng J 352:45

41.

Sinhamahapatra A, Sutradhar N, Pahari S, Bajaj HC, Panda AB (2011) Appl Catal A-Gen 394:93

42.

Hogarth WH, da Costa JCD, Drennan J, Lu GM (2005) J Mater Chem 15:754

43.

Casciola M, Capitani D, Donnadio A, Munari G, Pica M (2010) Inorg Chem 49:3329

44.

Jamali F, Najafi Chermahini A, Ayashi N (2021) Inorg Chem 5:149

45.

Saravanan K, Park KS, Jeon S, Bae JW (2018) ACS Omega 3:808

46.

Nazer S, Chermahini AN, Monjezi BH, Dabbagh HA (2020) J Taiwan Inst Chem Eng 114:168

47.

Peng L, Lin L, Li H, Yang Q (2011) Appl Energy 88:4590

48.

Song D, An S, Lu B, Guo Y, Leng J (2015) Appl Catal B 179:445

49.

Saravanamurugan S, Riisager A (2012) Catal Commun 17:71

50.

Zhang Z, Dong K, Zhao Z (2011) Chemsuschem 4:112

51.

Zhou X, Li ZX, Zhang C, Gao XP, Dai YZ, Wang GY (2016) J Mol Catal 417:71

52.

Neves P, Antunes MM, Russo PA, Abrantes JP, Lima S, Fernandes A, Pillinger M, Rocha SM, Ribeiro MF, Valente AA (2013) Green Chem 15:3367
Acknowledgements
The authors appreciate Isfahan University of Technology (Iran) for financially supporting this work (Research Council Grant).
Additional information
Publisher's Note
Springer Nature remains neutral with regard to jurisdictional claims in published maps and institutional affiliations.
Supplementary Information
Below is the link to the electronic supplementary material.
About this article
Cite this article
Dookheh, M., Najafi Chermahini, A. & Saraji, M. Preparation of Alkyl Levulinates from Xylose Over Modified Bifunctional Mesoporous Zirconium Phosphate Catalysts. Catal Lett (2021). https://doi.org/10.1007/s10562-021-03792-5
Received:

Accepted:

Published:
Keyword
Alkyl levulinates

Mesoporous zirconium phosphate (MZP)

Biomass conversion

Xylose

Catalytic dehydration