Abstract
With the overview of different kinds of phenol synthesis routes, dehydrogenation of cyclohexanone to phenol under sub-critical water condition using Pt, Pd, Rh, Ru and Re immobilized heterogeneous catalysts have been reported. Surface properties and characterizations of the catalysts were done. Binding of metal on a support and their relationship with zeta potential (ζ) and their effect on catalytic activity are discussed. Importance of sub-critical water reaction conditions in terms of thermodynamic favourability and phase equilibrium are evaluated through ASPEN simulator. Based on the results obtained, possible reaction pathways for the formation of product and the by-products are illustrated. The feasibility of a metal acting as a dehydrogenation catalyst according to M0/MII (E0) couple is also explained.
Graphic Abstract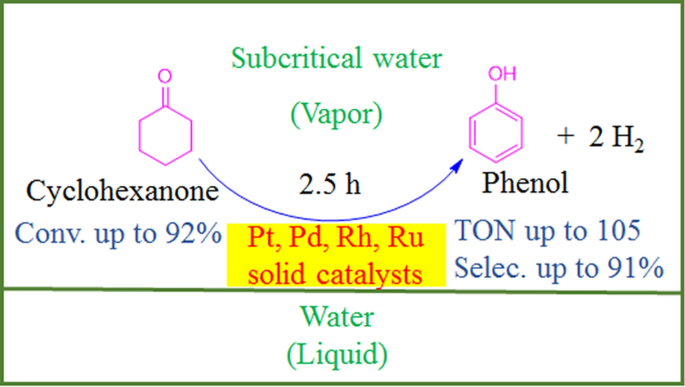 Access options
Buy single article
Instant access to the full article PDF.
US$ 39.95
Tax calculation will be finalised during checkout.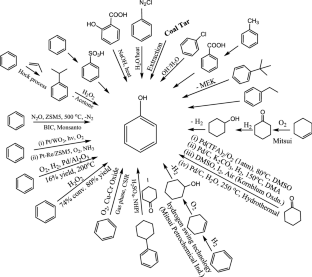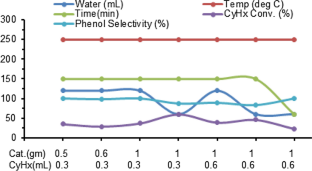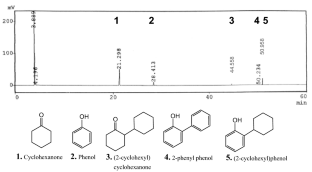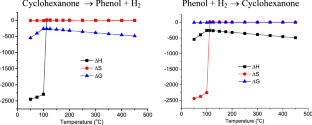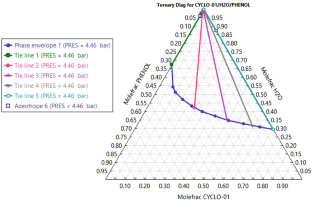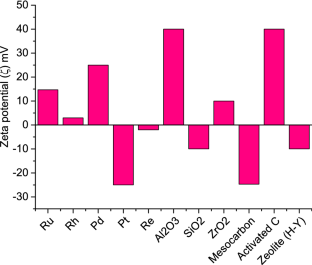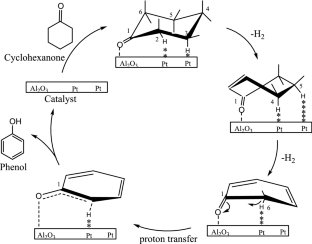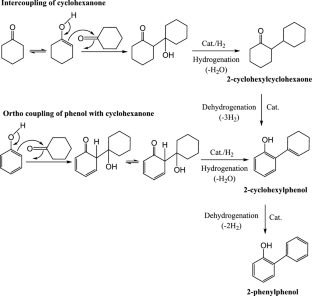 References
1.

Straathof AJJ, Bampouli A (2017) Biofuels Bioprod Biorefin 11:798–810

2.

Zhao Y, Mao X, Li W, Gu X, Wang G (2017) Int J Coal Sci Technol 4:333–341

3.

Granda M, Blanco C, Alvarez P, Patrick JW, Menéndez R (2014) Chem Rev 114:1608–1636

4.

Kenyon RL, Boehmer N (1950) Ind Eng Chem 42:1446–1455

5.

Hale WJ, Britton EC (1933) US Patent 1907246, 2 May 1933

6.

Weber M, Weber M, Kleine-Boymann M (2012) Ullmann's encyclopedia of industrial chemistry, vol 26. Wiley-VCH Verlag GmbH & Co. KGaA, Weinheim, pp 503–519

7.

Hale WJ, Britton EC (1928) Ind Eng Chem 20:114–124

8.

William KW (1962) US Patent 3061651A, 30 Oct 1962

9.

Carey FA, Sundberg RJ (2007) Advanced organic chemistry, Part A: structure and mechanisms, 5th edn. Springer, New York

10.

Buijs W (1999) J Mol Catal A 146:237–246

11.

Lyons JE, Suld G, Shinn RW (1980) US Patent 4225728, 30 Sep 1980

12.

Niwa SI, Eswaramoorthy M, Nair J, Raj A, Itoh N, Shoji H, Namba T, Mizukami FA (2002) Science 295:105–107

13.

Pirutko LV, Chernyavsky VS, Uriarte AK, Panov GI (2002) Appl Catal A 227:143–157

14.

Bal R, Tada M, Sasaki T, Iwasawa Y (2006) Angew Chem Int Ed 118:462–466

15.

Matsunaga F, Fukuhara H, Yasuhara M (1993) US Patent 5180871, 19 Jan 1993

16.

Tomita O, Abe R, Ohtani B (2011) Chem Lett 40:1405–1407

17.

Wang L, Yamamoto S, Malwadkar S, Nagamatsu S, Sasaki T, Hayashizaki K, Tada M, Iwasawa Y (2013) ChemCatChem 5:2203–2206

18.

Tišler Z, Vondrová P, Hrachovcová K, Štěpánek K, Velvarská R, Kocík Jv, Svobodová E (2019) Catalysts 9:1068–1083

19.

Masai M, Mori K, Muramoto H, Fujiwara T, Ohnaka S (1975) J Catal 38:128–134

20.

Pun D, Diao T, Stahl SS (2013) J Am Chem Soc 135:8213–8221

21.

Liang YF, Li X, Wang X, Zou M, Tang C, Liang Y, Song S, Jiao N (2016) J Am Chem Soc 138:12271–12277

22.

Romero A, Santos A, Ruiz G, Simón E (2011) Ind Eng Chem Res 50:8498–8504

23.

Song Z, Ren D, Fu J, Liu Y, Wang T, Jin F, Huo Z (2016) ChemistrySelect 1:2778–2782

24.

Akiya N, Savage PE (2002) Chem Rev 102:2725–2750

25.

Munshi P, Bhaduri S (2009) Curr Sci 97:63–72

26.

Carr AG, Mammucari R, Foster NR (2011) Chem Eng J 172:1–17

27.

Woodcock LV (2013) Fluid Phase Equilib 351:25–33

28.

Vora BV (2012) Top Catal 55:1297–1308

29.

Koichumanova K, Gupta KBSS, Lefferts L, Mojeta BL, Seshan K (2015) Phys Chem Chem Phys 17:23795–23804

30.

Liu C, Shih K, Gao Y, Li F, Wei L (2012) J Soils Sediments 12:724–733

31.

Chen T, Qiu J, Zhu K, Ji H, Fan C, Chen Q (2013) J Mater Sci Mater Electron 24:2013–2018

32.

Rahman MM, Hasnida N, Nik WBW (2009) J Sci Res 1:285–291

33.

Jiang B, Li C, Dag Ö, Abe H, Takei T, Imai T, Hossain Md SA, Islam MdT, Wood K, Henzie J, Yamauchi Y (2017) Nat Commun 8:15581–15588

34.

Veerakumar P, Dhenadhayalan N, Lin KC, Liu SB (2015) J Mater Chem A 3:23448–23457

35.

Kowalczyk Z, Jodzis S, Raróg W, Zieliński J, Pielaszek J, Presz A (1999) Appl Catal A 184:95–102

36.

Yu J, Qi C, Zhang J, Bao C, Xu H (2015) J Mater Chem A 3:5000–5006

37.

Reddy GK, Ling C, Pecka TC, Jiaa H (2017) RSC Adv 7:19645–19655

38.

Ivanova AS, Slavinskaya EM, Gulyaev RV, Zaikovskii VI, Stonkus OA, Danilova IG, Plyasova LM, Polukhina IA, Boronin AI (2010) Appl Catal B 97:57–71

39.

Cheng Y, Jiang SP (2015) Prog Nat Sci Mater Int 25:545–553

40.

Luo Z, Wang Y, He M, Zhao C (2016) Green Chem 18:433–441

41.

Kong X, Gong Y, Mao S, Wang Y (2018) ChemNanoMat 4:432–450

42.

Ghanadzadeh H, Sangashekan M, Asan S (2013) Int J Chemoinform Chem Eng 3:75–84

43.

Meyer EF, Hotz RD (1973) J Chem Eng Data 18:359–362

44.

Frolkova AV, Mayevskiy MA, Frolkova AK (2018) J Chem Eng Data 63:679–683

45.

Reamer HH, Fiskin JM, Sage BH (1949) Ind Eng Chem 41:2871–2875

46.

Guo XF, Jang DY, Jang HG, Kim GJ (2012) Catal Today 186:109–114

47.

Amrute AP, Jeske K, Łodziana Z, Prieto G, Schüth F (2020) Chem Mater 32:4369–4374

48.

Ongari D, Boyd PG, Barthel S, Witman M, Haranczyk M, Smit B (2017) Langmuir 33:14529–14538

49.

Zhang J, Jiang Q, Yang D, Zhao X, Dong Y, Liu R (2015) Chem Sci 6:4674–4680

50.

Liu C, Lu L, Rong Z, Liang C, Wang Y, Qu Q (2012) Catal Lett 142:1321–1329

51.

Song Y, Wang H, Gao X, Feng Y, Liang S, Bi J (2017) Lin SFu, Wu-Ling XA. ACS Catal 7:8664–8674

52.

Aboul-Gheit AK, Awadallah AE, Abdel-Hamid SM, El-Desouki DS (2011) Pet Sci Technol 29:1984–1994

53.

Julkapli NM, Bagheri S (2015) Rev Inorg Chem 36:1–41

54.

Triki M, Minh DP, Ksibi Z, Ghorbel A, Gallezot P, Besson M (2006) Stud Surf Sci Catal 162:609–616

55.

Deelen TWV, Mejía CH, de-Jong KP (2019) Nat Catal 2:955–970

56.

Liu L, Deng QF, Agula B, Zhao X, Renb TZ, Yuan ZY (2011) Chem Commun 47:8334–8336

57.

Parapat RY, Saputra OHI, Ang AP, Schwarzea M, Schomäckera R (2014) RSC Adv 4:50955–50963

58.

Liu X, Mäki-Arvela P, Aho A, Vajglova Z, Gunko VM, Heinmaa I, Kumar N, Eränen K, Salmi T, Murzin DYu (2018) Molecules 23:946–959

59.

Koh T, Koo HM, Yu T, Lim B, Bae JW (2014) ACS Catal 4:1054–1060

60.

Drzymała E, Gruzeł G, Pajor-Świerzy A, Depciuch J, Socha R, Kowal A, Warszyński P, Parlinska-Wojtan M (2018) J Nanopart Res 20:144–156

61.

Rostek A, Breisch M, Pappert K, Loza K, Heggen M, Köller M, Sengstock C, Epple M (2018) Beilstein J Nanotechnol 9:2763–2774

62.

Baca M, Aleksandrzak M, Mijowska E, Kaleńczuk RJ, Zielińska B (2019) Catalysts 9:1007

63.

Lahnafi A, Elgamouz A, Tijani N, Shehadi I (2020) Desalin Water Treat 182:175–186

64.

Keramati H, Saidi MH, Zabetian M (2016) J Dispers Sci Technol 37:6–13

65.

Dai M (1994) J Colloid Interface Sci 164:223–228

66.

Schaefer DW, Kohls D, Feinblum E (2012) J Inorg Organomet Polym 22:617–623

67.

Zhao M, Xia Y (2020) Nat Rev Mater 5:440–459

68.

Roy P, Biswas S, Pramanik A, Sarkar P (2017) Int J Res Soc Nat Sci 2:2455–5916

69.

Wang F, Xia C, de-Visser SP, Wang Y (2019) J Am Chem Soc 141:901–910

70.

Bermejo MD, Cocero MJ (2006) AIChE 52:3933–3951

71.

Kim J, Welch LA, Olivas A, Podkolzin SG, Koel BE (2010) Langmuir 26:16401–16411

72.

Jongerius AL, Bruijnincx PCA, Weckhuysen BM (2013) Green Chem 15:3049–3056

73.

Haro J, Gómez R, Ferreira JM (1976) J Catal 45:326–333

74.

Zhuang S, Wang X, Wei X, Wang Y, Ren S, Zhai R (1997) Surf Sci 376:L429–L433

75.

Postnova MV, Koshel SG, Lebedeva NV, Kuznetsova EA, Koshel GN (2003) Russ J Org Chem 39:1415–1417

76.

Moulijn JA, van Leeuwen PWNM, van Santen RA (eds) (1993) Chapter 4. In: Binding and elementary steps in catalysis, p 89. Stud Surf Sci Catal 79:89–158

77.

Weinberg NL, Weinberg HR (1968) Chem Rev 68:449–523

78.

Moya SA, Pastene R, Bozec HL, Fernandez M, Pardey AJ, Baricelli P, Lopez YR (1999) Bol Soc Chil Quím 44:423–426

79.

Minachev KhM, Shuikin NI, Rozhdestvenskaya ID (1954) Bull Acad Sci USSR Div Chem Sci 3:277–281

80.

Ma H, Jiao Y, Guo W, Liu X, Li Y, Wen XD (2020) J Phys Chem C 124:15920–15927

81.

Sato S, Takahashi R, Sodesawa T, Kobayashi C, Miura A, Ogura K (2001) Phys Chem Chem Phys 3:885–890

82.

Malpani V, Ganeshpure PA, Munshi P (2011) Ind Eng Chem Res 50:2467–2472

83.

Ranganathan P, Savithri S (2019) Bioresour Technol 284:256–265
Acknowledgements
Authors highly acknowledge Reliance Industries Limited to support the work. Authors also acknowledge J. Patel and V. Solanki for their support.
Ethics declarations
Conflict of interest
Authors declare they do not have any conflict of interest.
Additional information
Publisher's Note
Springer Nature remains neutral with regard to jurisdictional claims in published maps and institutional affiliations.
Supplementary Information
Below is the link to the electronic supplementary material.
About this article
Cite this article
Agrawal, S., Mantri, K., Sharma, V. et al. Catalytic Dehydrogenation of Cyclohexanone to Phenol Over the Ru, Rh, Pd and Pt Surfaces in Sub-critical Water. Catal Lett (2021). https://doi.org/10.1007/s10562-021-03789-0
Received:

Accepted:

Published:
Keywords
Cyclohexanone dehydrogenation

Phenol

Heterogeneous catalysts

Sub-critical water

Reaction mechanism