A Facile Synthesis of Pd–C3N4@Titanate Nanotube Catalyst: Highly Efficient in Mizoroki–Heck, Suzuki–Miyaura C–C Couplings
Abstract
A Pd–C3N4@titanate nanotube (Pd–C3N4@TNT) catalyst workable in water medium, robust against leaching and agglomeration was prepared in a facile synthetic procedure using quite common chemicals such as TiO2 powder, urea and palladium acetate. The Pd–C3N4@TNT catalyst has been characterized by BET surface area and pore size distribution, X-ray diffraction, solid-state 13C NMR spectroscopy, X-ray photoelectron spectroscopy and transmission electron microscopy. The Pd–C3N4@TNT is a green catalyst for the Miziroki–Heck and Suzuki–Miyaura C–C coupling reactions in water medium with high efficiency (˃ 99% product yields) due to atomic level immobilization of Pd in C3N4 networked titanate nanotubes. Pd–C3N4@TNT is robust against leaching and agglomeration due to stable and furthermore it is recyclable and usable at least for five repeated cycles. The use of water as solvent, absence of leaching and agglomeration, recyclability and reusability ascertains the greenness of Pd–C3N4@TNT) catalyst and process.
Graphic Abstract
Novel Pd–C
3
N
4
@titanate nanotube catalyst prepared from bulk TiO
2
and urea by simple hydrothermal and thermal pyrolysis followed by immobilization of Pd is active and selective for Mizoroki–Heck, Suzuki–Miyaura C–C couplings in water medium.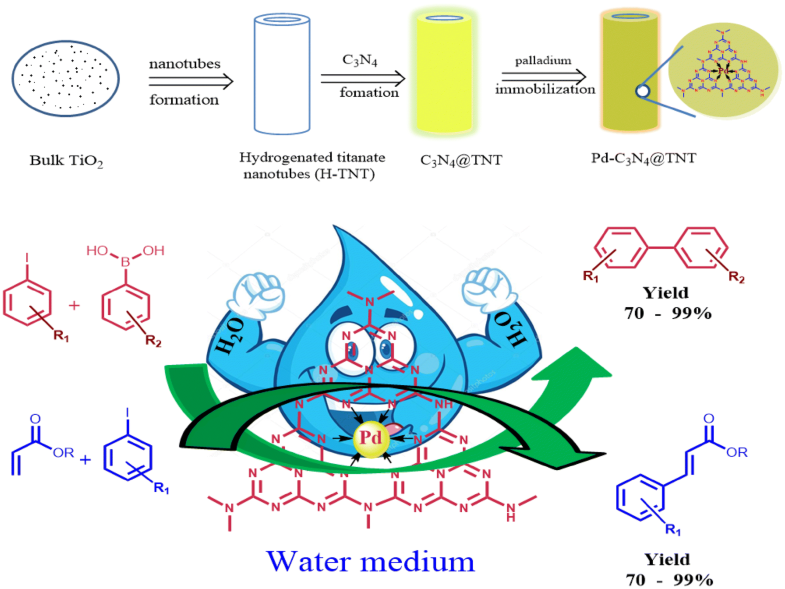 Keywords
Titanate nanotube 
C–C coupling 
Pd 
C3N4 
Abbreviations
TNT

Titanate nanotubes

H-TNT

Hydrogenated titanate nanotubes

GVL

Gamma-Valerolactone

DCM

Dichloromethane

GC

Gas chromatography

GC-MS

Chromatography–mass spectrometry
Notes
Acknowledgements
The author VVRK thanks Council of Scientific Industrial Research (CSIR), New Delhi, India for award of Fellowship. Manuscript Communication Number: IICT/Pubs./2019/215.
Copyright information
© Springer Science+Business Media, LLC, part of Springer Nature 2019