Higher Acetone Conversion Obtained Over a TiO2–Pd Bifunctional Catalyst for Liquid-Phase Synthesis of Methyl Isobutyl Ketone: The Role of Al2O3 Support
Abstract
We reported a bifunctional catalyst TiO2/Al2O3 and Pd/Cor for one-pot liquid-phase synthesis of MIBK from acetone in this paper. The characterizations of FT-IR, Raman spectra, TEM, XPS, CO2-TPD, NH3-TPD, Py-IR and TGA spectra revealed that the TiO2/Al2O3 could possess more acid sites and especially Lewis acid sites due to the coexistence of TiO2 and Al2O3. So a higher acetone conversion 35–45% at 150 °C and 2.0 MPa pressure was achieved than ever reported for MIBK liquid-phase synthesis. In addition, the catalyst could keep active for at least 90 h on stream at 80–90% MIBK selectivity. The phenomenon of carbonaceous accumulation on TiO2/Al2O leaded to the deactivation of catalyst.
Graphic Abstract
Because of the coexistence of TiO
2
and Al
2
O
3
. TiO
2
/Al
2
O
3
could have more acid sites and especially Lewis acid sites. For liquid-phase synthesis of methyl isobutyl ketone, bifunctional catalyst TiO
2
/Al
2
O
3
&Pd/Cor showed higher acetone conversion.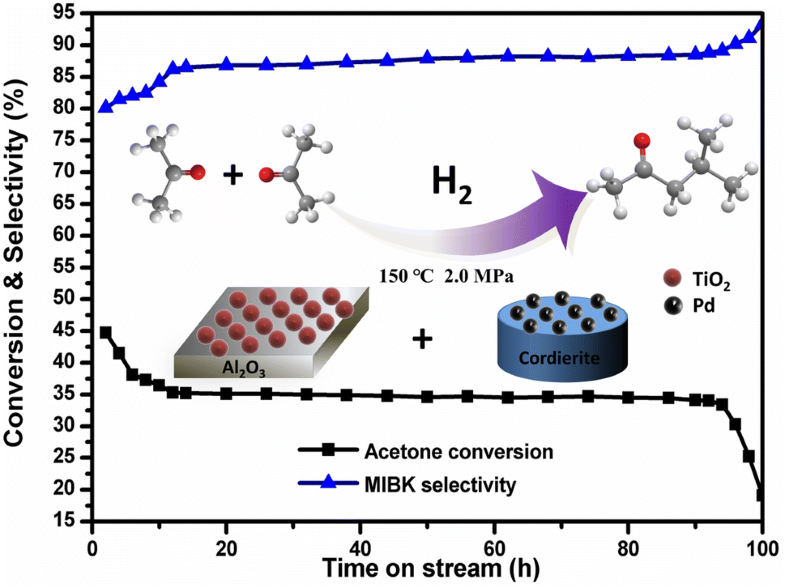 Keywords
Acetone 
Methyl isobutyl ketone 
TiO2/Al2O3 
Lewis acid sites 
Carbonaceous accumulation 
Notes
Acknowledgements
This work was supported by the National Natural Science Foundation of China (No. 21676303), the Fundamental Research Funds for the Central Universities of Central South University (No. 2018zzts382).
Compliance with Ethical Standards
Conflict of interest
The authors declare no competing financial interest.
Copyright information
© Springer Science+Business Media, LLC, part of Springer Nature 2019