Abstract
A new acidic mesoporous catalyst (FSM-16/AEPC-SO3H) was successfully synthesized and characterized by FT-IR, TGA, XRD, SEM, TEM, EDS and BET techniques. The FSM-16/AEPC-SO3H showed excellent catalytic activity for the synthesis of 1,8-dioxo-octahydroxanthene and tetrahydrobenzo[b]pyran derivatives. The synthesized catalyst can also be recycled.
Graphical Abstract

Access options
Buy single article
Instant access to the full article PDF.
USD 39.95
Price excludes VAT (USA)
Tax calculation will be finalised during checkout.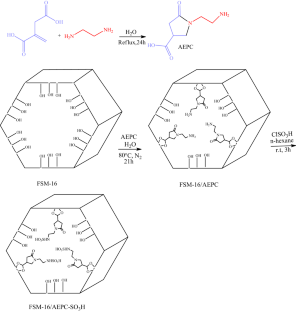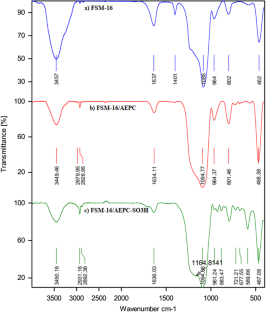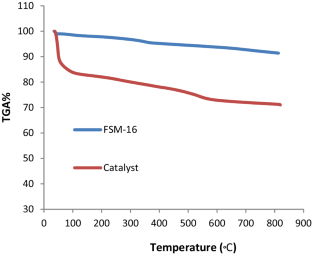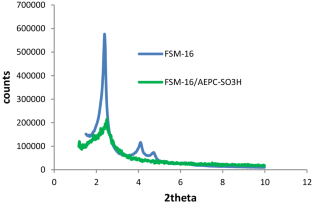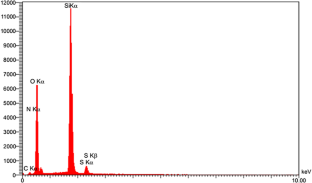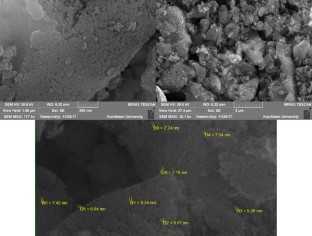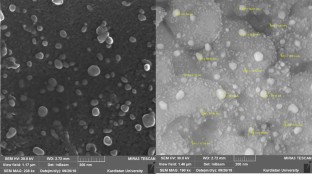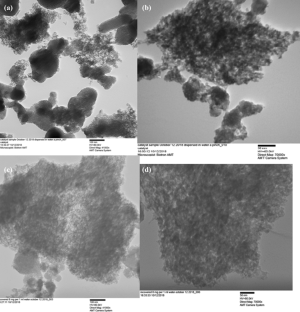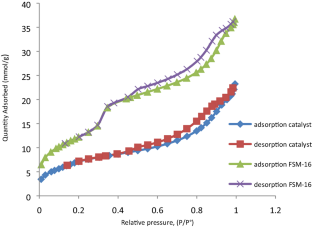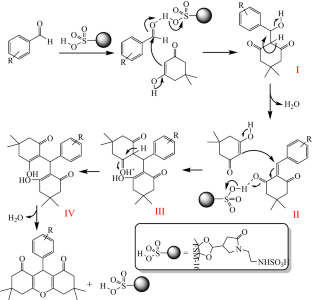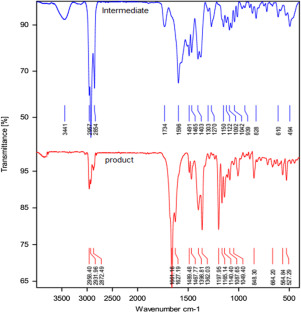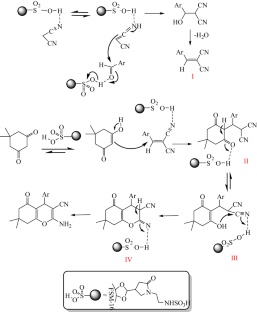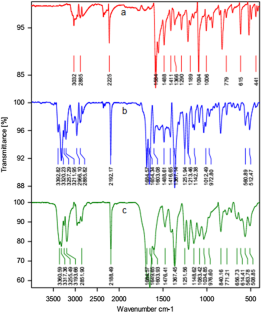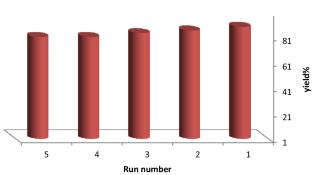 References
Nagata H, Takimura M, Yamasaki Y, Nakahira A (2006) Mater Trans 47:2103

Jakdetchai O, Takayama N, Nakajima T (2005) Kinet Catal 46:56

Das P, Silva AR, Carvalho AP, Pires J, Freire C (2009) Catal Lett 129:367

Das P, Silva AR, Carvalho AP, Pires J, Freire C (2008) Colloid Surf A 329:190

Medway AM, Sperry J (2014) Green Chem 16:2084

Quadri SA, Das TC, Malik MS, Seddigi ZS, Farooqui M (2016) Chem Select 1:4602

Makone S, Mahurkar S (2013) Green Sustain Chem 3:27

Arbosara FS, Shirini F, Abedini M, Moafi HF (2015) J Nanostruct Chem 5:55

Javid A, Heravi MM, Bamoharram FF (2011) J Chem 8:910

Kahandal SS, Burange AS, Kale SR, Prinsen P, Luque R, Jayaram RV (2017) Catal Commun 97:138

Sadat SN, Hatamjafari F (2015) Orient J Chem 31:1191

Zare A, Moosavi-Zare AR, Merajoddin M, Zolfigol MA, Hekmat-Zadeh T, Hasaninejad A, Khazaei A, Mokhlesi M, Khakyzadeh V, Derakhshan-Panah F, Beyzavi MH, Rostami E, Arghoon A, Roohandeh R (2012) J Mol Liq 167:69

Kumbhar A, Kamble S, Rashinkar G, Mote K, Salunkhe R (2010) Arch Appl Sci Res 2:235

Li JJ, Tao XY, Zhang ZH (2008) Phosphorus Sulfur Silicon 183:1672

dos Santos WH, Da Silva-Filho LC (2016) Chem Pap 70:1658

Li GC (2008) J Chem Res 1:484

Zhang ZH, Zhang P, Yang SH, Wang HJ, Deng J (2010) J Chem Sci 122:427

Davoodnia A, Yadegarian S, Nakhaei A, Tavakoli-Hoseini N (2016) Russ J Gen Chem 86:2849

Maleki A, Aghaei M, Ghamari N (2016) Appl Organomet Chem 30:939

Kshirsagar AK, Bankar SS, Khandebharad AU, Sarda SR, Soni MG, Agrawal BR (2016) J Med Chem Drug Discov 1:720

Hu H, Qiu F, Ying A, Yang J, Meng H (2014) Int J Mol Sci 15:6897

Azarifar D, Khatami SM, Zolfigol MA, NejatYami R (2014) J Iran Chem Soc 11:1223

Bodaghifard MA, Solimannejad M, Asadbegi S, Dolatabadifarahani S (2016) Res Chem Intermed 42:1165

Zhang P, Yu YD, Zhang ZH (2008) Synth Commun 38:4474

Matsumoto A, Sasaki T, Nishimiya N, Tsutsumi K (2002) Colloids Surf A 203:185

Qi P, Chen HL, Nguyen HTH, Lin CC, Miller SA (2016) Green Chem 18:4170

Zolfigol MA, Madrakian E, Ghaemi E (2002) Molecules 7:734

Hajjami M, Tahmasbi B (2015) RSC Adv 5:59194

Lu HY, Li JJ, Zhang ZH (2009) Appl Organomet Chem 23:165

Bayat M, Imanieh H, Hossieni SH (2009) Chin J Chem 27:2203

Nisar M, Ali I, Shah MR, Badshah A, Qayum M, Khan H, Khan I, Ali S (2013) RSC Adv 3:21753

Hazeri N, Masoumnia A, Mghsoodlou MT, Salahi S, Kangani M, Kianpour S, Kiaee S, Abonajmi J (2015) Res Chem Intermed 41:4123

Sheikhhosseini E, Ghazanfari D, Nezamabadi V (2013) Iran J Catal 3:197

Beheshtiha S, Oskoole H, Pourebrahimi F, Zadsirjan V (2015) Chem Sci Trans 4:689

Montazeri N, Noghani T, Ghorchibeigy M, Zoghi R (2014) J Chem 2014:1

Lu J, Fu XW, Zhang G, Wang C (2016) Res Chem Intermed 42:417

Ziarani GM, Abbasi A, Badiei A, Aslani Z (2011) J Chem 8:293

Azarifar D, Abbasi Y (2016) Synth Commun 46:745

Davarpanah J, Kiasat AR, Noorizadeh S, Ghahremani M (2013) J Mol Catal A 376:78

Esmaeilpour M, Javidi J, Dehghani F, Nowroozi Dodeji F (2015) RSC Adv 5:34:26625

Esmaeilpour M, Javidi J, Dehghani F, Nowroozi Dodeji F (2014) New J Chem 38:5453

Karami B, Hoseini SJ, Eskandari K, Ghasemib A, Nasrabadi H (2012) Catal Sci Technol 2:331

Mobinikhaledi A, Khajeh-Amiri A (2014) React Kinet Mech Catal 112:131
Acknowledgements
Financial support for this work by the Ilam University, Ilam, Iran is gratefully acknowledged. The Natural Sciences and Engineering Research Council of Canada is gratefully acknowledged for support (RHEH).
Ethics declarations
Conflict of interest
Authors declare that there is no conflict of interest involved.
Electronic supplementary material
Below is the link to the electronic supplementary material.
About this article
Cite this article
Hajjami, M., Gholamian, F., Hudson, R.H.E. et al. FSM-16/AEPC-SO3H: Synthesis, Characterization and Its Application for the Catalytic Preparation of 1,8-Dioxo-octahydroxanthene and Tetrahydrobenzo[b]pyran Derivatives. Catal Lett 149, 228–247 (2019). https://doi.org/10.1007/s10562-018-2623-x
Received:

Accepted:

Published:

Issue Date:

DOI: https://doi.org/10.1007/s10562-018-2623-x
Keywords
Mesoporous catalyst

FSM-16/AEPC-SO3H

1,8-Dioxo-octahydroxanthene

Tetrahydrobenzo[b]pyran