Evaluating the Intermetallic Interaction of Fe or Cu Doped Mn/TiO2 Catalysts: SCR Activity and Sulfur Tolerance
Abstract
The strength of intermetallic interaction could directly affect many properties of catalysts. In this study, it was found that the modification of Mn/TiO2 catalyst by Fe could enhance the SO2 tolerance, but had little effect on SCR activity. The doping of Cu had an improvement in both the SCR activity and SO2 tolerance of the catalyst. XRD, Raman, TGA-IR, XPS, H2-TPR, NH3-TPD, and BET were carried out to dissect the structures and properties of catalysts. The interaction between Fe or Cu and Mn resulted in some adverse effects on the acidity, Mn4+ and surface chemisorbed oxygen concentration. However, the reduction ability of Mn/TiO2 catalyst decreased after Fe doping, while Cu doping was just the opposite. In addition, the interaction between Cu and Mn was stronger, and a new CuMn2O4 phase was formed. What's more, the interaction between Fe or Cu and Mn could weaken the sulfation of Mn and the formation of ammonium salts in the environment of sulfur dioxide.
Graphical Abstract
Modification of Mn/TiO
2
by Cu could significantly enhance the SCR activity, whereas the effect of doping of Fe was not obvious. The causes of catalysts deactivation were found to be resulted from the sulfation of Mn and the formation of ammonium salts, the doping of Fe or Cu could effectively improve the SO
2
tolerance.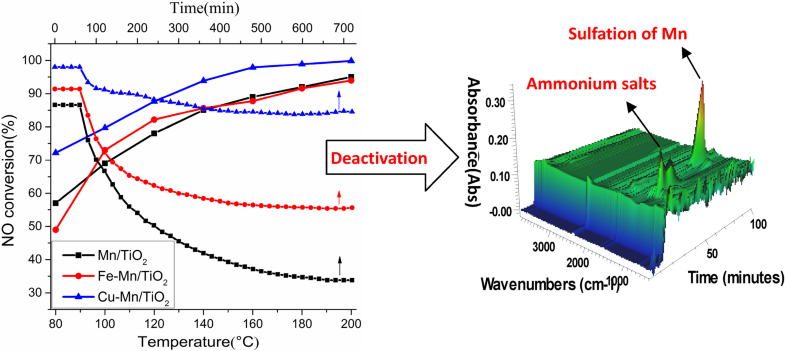 Keywords
NH3-SCR 
Fe doping 
Cu doping 
SO2 
Deactivation 
Notes
Acknowledgements
This work was financially supported by "National Key R&D Program of China" (2017YFB0304304) and "the Fundamental Research Funds for the Central Universities" (2017-YB-012). And the tests of XRD, SEM and XPS were supported by Research and Test Center of Materials, Wuhan University of Technology. TG, H2-TPR and NH3-TPD tests were supported by State Key Laboratory of Silicate Materials for Architectures, Wuhan University of Technology.
Compliance with Ethical Standards
Conflict of interest
The authors declare that they have no conflict of interest.
Copyright information
© Springer Science+Business Media, LLC, part of Springer Nature 2018