Abstract
The ability of a benchtop powder X-ray diffractometer with a solid state detector to observe the ambient oxidation of ultrasmall (sub 2.5 nm) Pt particles, previously seen only with synchrotron XRD, is demonstrated. The oxidation is corroborated with STEM imaging and fast Fourier transform analysis.
Graphical Abstract

Access options
Buy single article
Instant access to the full article PDF.
USD 39.95
Price excludes VAT (USA)
Tax calculation will be finalised during checkout.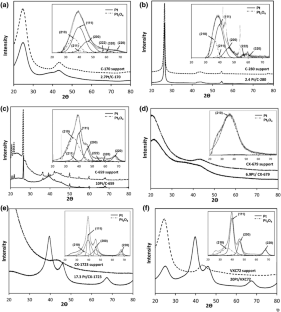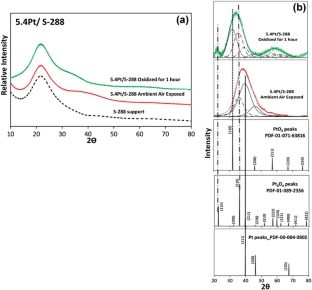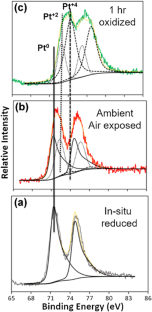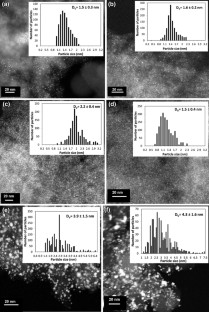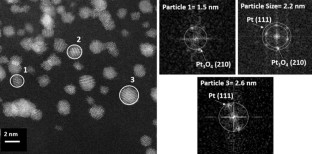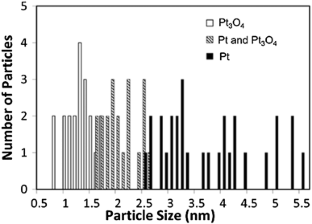 References
Klug HP, Alexander LE (1974) X-ray diffraction procedures: for polycrystalline and amorphous materials, 2nd edn. Wiley, New York, p 992

O'Connell K, Regalbuto JR (2015) Catal Lett 145:777–783

Gallagher J.R, Li T, Zhao H, Liu J, Lei Y, Zhang H, Ren Y, Elam J.W, Meyer R.J, Winans R.E, Miller J.T (2014) Catal Sci Technol 4: 3053–3063

Hudspeth J.M, Kvashnina K.O, Kimber S.A.J, Mitchell E.P (2015) Oil Gas Sci Technol 70:429–436

Ristanović Z, Weckhuysen BM (2014) Angew Chem Int Ed 53:8556–8558

Ingham B (2015) Crystallogr Rev 21:229–303

Jørgensen MRV, Hathwar VR, Bindzus N, Wahlberg N, Chen YS, Overgaarda J, Iversena BB (2014) IUCrJ 1: 267–280

Cats KH, Weckhuysen BM (2016) ChemCatChem 8:1531–1542

Chung HF, Smith F (1999) Industrial applications of X ray diffraction. CRC Press, Boca Raton

Taguchi T (2006) Powder Diffr 21:97–101

Singh RN, Awasthi R, Sharma CS (2014) Int J Electrochem Sci 9: 5607–5639

Gélin P, Primet M (2002) Appl Catal B 39:1–37

Bailón-García E, Maldonado-Hódar FJ, Pérez-Cadenas AF, Carrasco-Marín F (2013) Catalysts 3:853–877

Sattler JJHB, Ruiz-Martinez J, Santillan-Jimenez E, Weckhuysen BM (2014) Chem Rev 114:10613–10653

Cho YH, Park HS, Cho YH, Jung DS, Park HY, Sung YE (2007) J Power Sources 172:89–93

Liu Z, Gana LM, Hong L, Chen W, Lee JY (2005) J Power Sources 139:73–78

Tang Y, Zhang L, Wang Y, Zhou Y, Gao Y, Liu C, Xing W, Lu T (2006) J Power Sources 162: 124–131

Sen F, Gokagac G (2007) J Phys Chem C 111:5715–5720

Hao X, Barnes S, Regalbuto JR (2011) J Catal 279:48–65

Brunelle JP (1978) Pure Appl Chem 50:1211

Contreras MS, Páez CA, Zubizarreta L, Léonard A, Blacher S, Olivera-Fuentes CG, Arenillas A, Pirard JP, Job N (2010) Carbon 48:3157–3168

Zhao D, Huo Q, Feng J, Chmelka BF, Stucky GD (1998) J Am Chem Soc 120:6024–6036

Hao X, Quach L, Korah J, Spieker WA, Regalbuto JR (2004) J Mol Catal A 219:97–107

Wojdyr M (2010) J Appl Cryst 43:1126

Soboleva T, Zhao X, Malek K, Xie Z, Navessin T, Holdcroft S (2010) Appl Mater Interfaces 2:375–384

Ono LK, Croy JR, Heinrich H, Cuenya BR (2011) J Phys Chem C 115:16856–16866

Campos RP, Cuevas AC, Muñoz RE (2015) Materials characterization. Springer, Cham

Galloni EE, Roffo AE Jr (1941) J Chem Phys 9:875–877
Acknowledgements
This work was completed with partial support from NSF Grant IIP 1464630.
About this article
Cite this article
Banerjee, R., Liu, Q., Tengco, J.M.M. et al. Detection of Ambient Oxidation of Ultrasmall Supported Platinum Nanoparticles with Benchtop Powder X-Ray Diffraction. Catal Lett 147, 1754–1764 (2017). https://doi.org/10.1007/s10562-017-2060-2
Received:

Accepted:

Published:

Issue Date:

DOI: https://doi.org/10.1007/s10562-017-2060-2
Keywords
XRD

Spontaneous oxidation

Point of zero charge

Strong electrostatic adsorption

High resolution transmission electron microscopy

Fast Fourier transform