Abstract
The influence of light hydrocarbons, such as n-butane, isobutane, propylene, cis- and trans-2-butenes, and isobutene on the oxidative dehydrogenation of 1-butene to 1,3-butadiene over BiMoKNiCoFePOx/SiO2 catalyst has been studied using a gas flow reactor. The inhibition effect of the listed hydrocarbons on the target reaction increased in the order of n-butane ~ isobutane < propylene < 2-butenes < isobutene. In addition, in contrast to 1-butene, isobutene has shown significant contribution to coke formation. It was suggested, that the coke formation and therefore the rate of the catalyst regeneration exercise a significant influence on the efficiency of 1-butene transformation into 1,3-butadiene in the concurrent presence of other hydrocarbons.
Graphical Abstract

Access options
Buy single article
Instant access to the full article PDF.
US$ 39.95
Tax calculation will be finalised during checkout.
Subscribe to journal
Immediate online access to all issues from 2019. Subscription will auto renew annually.
US$ 119
Tax calculation will be finalised during checkout.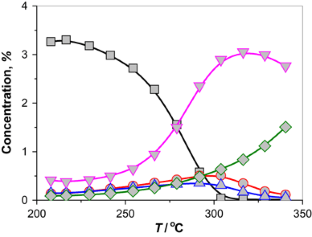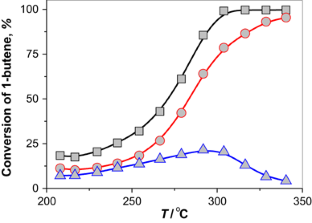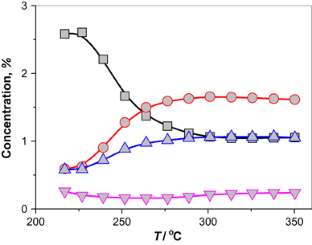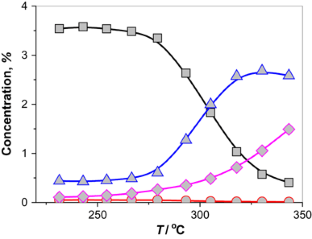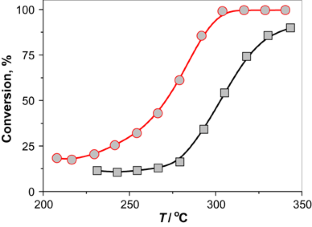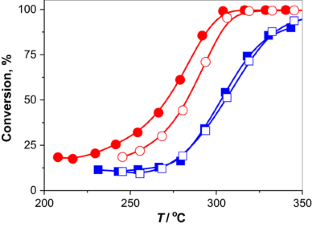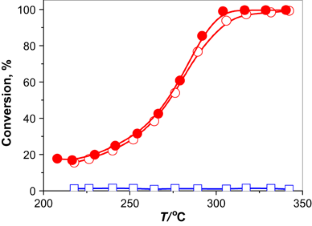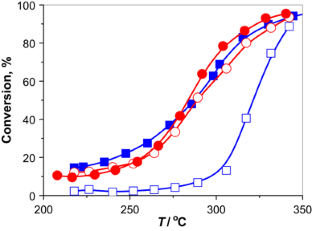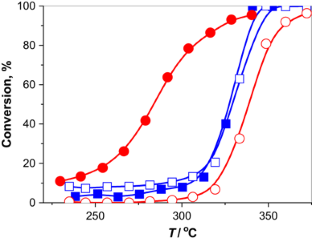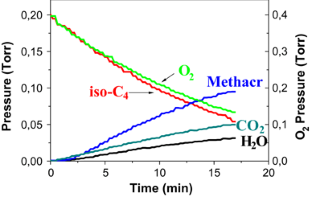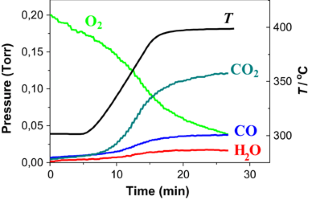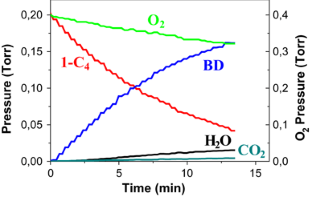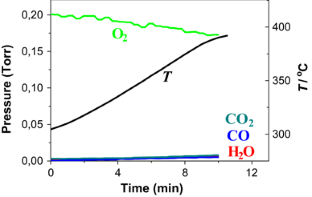 References
1.

White WC (2007) Chem Biol Interact 166:10–14

2.

Nawaz Z (2015) Rev Chem Eng 31:413–436

3.

Batist PhA, Bouwens JFH, Schuit GCA (1972) J Catal 25:1–11

4.

Linn WJ, Sleight AW (1976) J Catal 41:134–139

5.

Kung HH (1994) Adv Catal 40:1–38

6.

Soares APV, Dimitrov LD, Oliveira MCA, Hilaire L, Portela MF, Grasselli RK (2003) Appl Catal A 253:191–200

7.

Grasselli RK (2002) Top Catal 21:79–88

8.

Madeira LM, Portela MF (2002) Catal Rev 44:247–286

9.

Bhasin MM, McCain JH, Vora BV, Imai T, Pujado PR (2001) Appl Catal A 221:397–419

10.

Mamedov EA, Cortes Corberan V (1995) Appl Catal A 127:1–40

11.

Grzybowska B, Haber J, Komorek J (1972) J Catal 25:25–32

12.

Wolfs MWJ, Batist PhA (1974) J Catal 32:25–36

13.

Moro-Oka Y, Ueda W (1994) Adv Catal 40:233–273

14.

Jung JC, Kim H, Choi AS, Chung Y-M, Kim TJ, Lee SJ, Oh S-H, Song IK (2006) J Mol Catal A 259:166–170

15.

Jung JC, Lee HW, Kim HS, Chung YM, Kim TJ, Lee SJ, Oh SH, Kim YS, Song IK (2008) Catal Commun 9:1676–1680, and references cited therein

16.

Park JH, Row K, Shin CH (2013) Catal Commun 31:76–80

17.

Zhai Z, Wang X, Licht R, Bell AT (2015) J Catal 325:87–100

18.

Wan C, Cheng D, Chen F, Zhan X (2015) RSC Adv 5:42609–42615

19.

Jung JC, Lee H, Song IK (2009) Catal Surv Asia 13:78–93

20.

Keizer K, Batist PhA, Schuit GCA (1969) J Catal 15:256–266

21.

Portela MF (2001) Top Catal 15:241–245

22.

Hernadi K, Halasz J, Varga K, Fejes P (1992) React Kinet Catal Lett 47:221–226

23.

Forzatti P, Trifiro F, Villa PL (1978) J Catal 52:389–396

24.

Sobolev VI, Koltunov KYu (2011) J Mol Catal A 347:22–27

25.

Batist PhA, Heijden PSM, Schuit GCA (1971) J Catal 22:411–418

26.

Carrazan SRG, Martin C, Rives V, Vidal R (1996) Appl Catal A 135:95–123

27.

Jung JC, Lee HW, Kim H, Chung YM, Kim TJ, Lee SJ, Oh SH, Kim YS, Song IK (2008) Catal Commun 9:447–452

28.

Sun H, Law CK (2010) J Phys Chem A 114:12088–12098

29.

Michio T, Daisuke N, Tatsuya K (2003) US Patent 6545178 (B1)

30.

Di Capua A, Dubois J-L, Fournier M (2007) J Mol Catal A 263:62–69
Acknowledgements
This work was supported by Russian Academy of Sciences and Federal Agency of Scientific Organizations (project V.44.2.7).
About this article
Cite this article
Sobolev, V.I., Koltunov, K.Y. & Zenkovets, G.A. Oxidative Dehydrogenation of 1-Butene to 1,3-Butadiene over a Multicomponent Bismuth Molybdate Catalyst: Influence of C3–C4 Hydrocarbons. Catal Lett 147, 310–317 (2017). https://doi.org/10.1007/s10562-016-1947-7
Received:

Accepted:

Published:

Issue Date:
Keywords
Oxidative dehydrogenation

Multicomponent bismuth molybdate

1-Butene

1,3-Butadiene

Concurrent reactions