Abstract
Although large efforts have been dedicated to studying two-dimensional materials for catalysis, a rationalization of the associated trends in their intrinsic activity has so far been elusive. In the present work we employ density functional theory to examine a variety of two-dimensional materials, including, carbon based materials, hexagonal boron nitride (h-BN), transition metal dichalcogenides (e.g. MoS2, MoSe2) and layered oxides, to give an overview of the trends in adsorption energies. By examining key reaction intermediates relevant to the oxygen reduction, and oxygen evolution reactions we find that binding energies largely follow the linear scaling relationships observed for pure metals. This observation is very important as it suggests that the same simplifying assumptions made to correlate descriptors with reaction rates in transition metal catalysts are also valid for the studied two-dimensional materials. By means of these scaling relations, for each reaction we also identify several promising candidates that are predicted to exhibit a comparable activity to the state-of-the-art catalysts.
Graphical Abstract
Scaling relationship for the chemisorption energies of OH* and OOH* on various 2D materials.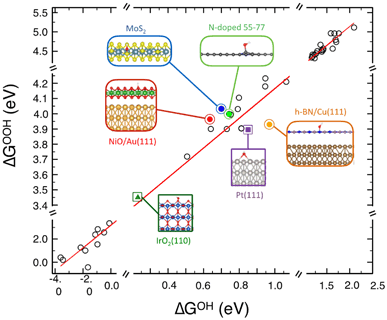 This is a preview of subscription content, log in to check access.
Access options
Buy single article
Instant access to the full article PDF.
US$ 39.95
Tax calculation will be finalised during checkout.
Subscribe to journal
Immediate online access to all issues from 2019. Subscription will auto renew annually.
US$ 199
Tax calculation will be finalised during checkout.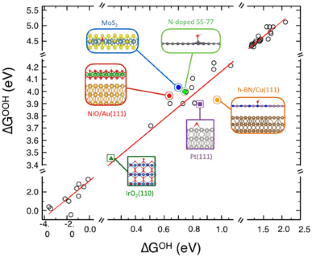 Acknowledgments
We gratefully acknowledge support from the U.S. Department of Energy, Office of Sciences, Office of Basic Energy Sciences, to the SUNCAT Center for Interface Science and Catalysis. S.S and M.K acknowledge support from the Global Climate Energy Project (GCEP) at Stanford University (Fund No. 52454).
Electronic supplementary material
Below is the link to the electronic supplementary material.
About this article
Cite this article
Siahrostami, S., Tsai, C., Karamad, M. et al. Two-Dimensional Materials as Catalysts for Energy Conversion. Catal Lett 146, 1917–1921 (2016). https://doi.org/10.1007/s10562-016-1837-z
Received:

Accepted:

Published:

Issue Date:
Keywords
MoS2

Adsorption Energy

Oxygen Reduction Reaction

Oxygen Evolution Reaction

Transition Metal Dichalcogenides