Abstract
Hydrothermal saline promoted grafting of sulfonic acid groups onto SBA-15 and periodic mesoporous organic silica analogues affords solid acid catalysts with high acid site loadings (>2.5 mmol g−1 H+), ordered mesoporosity and tunable hydrophobicity. The resulting catalysts show excellent activity for fatty acid esterification and tripalmitin transesterification to methyl palmitate, with framework phenyl groups promoting fatty acid methyl esters production.
Graphical Abstract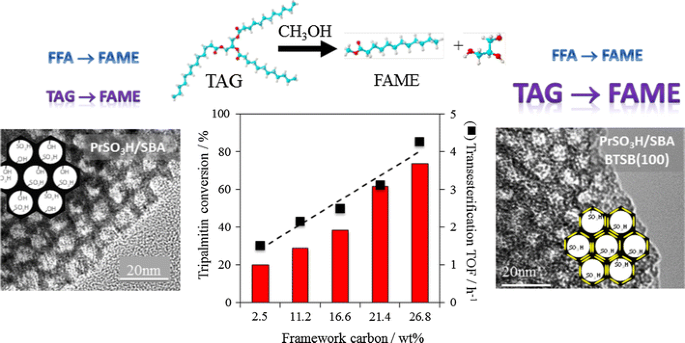 Access options
Buy single article
Instant access to the full article PDF.
USD 39.95
Price excludes VAT (USA)
Tax calculation will be finalised during checkout.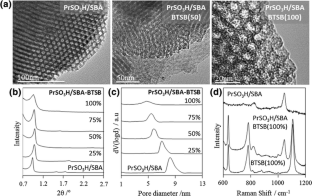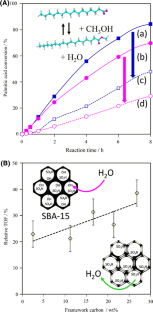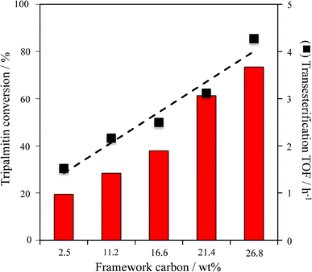 Acknowledgments
We thank the EPSRC (EP/K000616/1, EP/F063423/1 and EP/G007594/3) for financial support and a Leadership Fellowship (AFL), and the Royal Society for the award of an Industry Fellowship (KW). We also acknowledge the kind assistance of D.C. Apperley at the EPSRC UK National Solid-state NMR Service at Durham. VCS acknowledges CNPq (Conselho Nacional de Desenvolvimento Cientifico e Tecnológico) for the award of a postdoctoral scholarship.
Electronic supplementary material
Below is the link to the electronic supplementary material. Electronic Supplementary Information (ESI) available: [porosimetry data, XRD, XPS, MAS-NMR, TGA, DRIFT spectra and FFA esterification reaction profiles]. See DOI: 10.1039/c000000x/
About this article
Cite this article
Pirez, C., Reche, M.T., Lee, A.F. et al. Hydrothermal Saline Promoted Grafting of Periodic Mesoporous Organic Sulfonic Acid Silicas for Sustainable FAME Production. Catal Lett 145, 1483–1490 (2015). https://doi.org/10.1007/s10562-015-1559-7
Received:

Accepted:

Published:

Issue Date:

DOI: https://doi.org/10.1007/s10562-015-1559-7
Keywords
Heterogeneous catalysis

Biodiesel

Sulfonic acid

Solid acid

Esterification

Transesterification

Mesoporous materials