Abstract
The electrochemical promotion of C2H4 oxidation reaction has been investigated under various feed gas compositions and temperatures over a Pt/Y2O3-stabilized ZrO2 catalyst electrode. It was found that under oxidizing conditions the reaction exhibits electrophobic behavior, i.e. the catalytic rate of CO2 formation increases with anodic potential application, while it shifts to electrophilic behaviour, i.e. the rate increases with cathodic potential application, under near stoichiometric feed conditions. At intermediate C2H4 to O2 ratios and low temperatures volcano type behavior is observed, i.e. the rate is poisoned both with anodic and cathodic potential application. The effect of feed gas composition on the electrochemical promotion behaviour is related to changes in the reaction kinetic order with respect to C2H4 and O2. The results are in excellent agreement with the rules of electrochemical and chemical promotion.
Graphical Abstract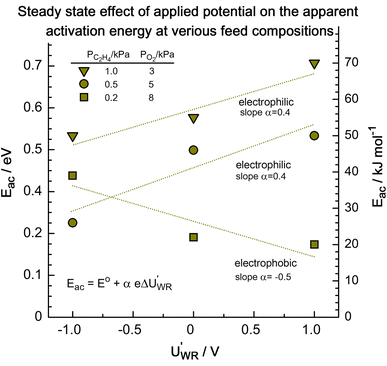 This is a preview of subscription content, log in to check access.
Access options
Buy single article
Instant access to the full article PDF.
US$ 39.95
Price includes VAT for USA
Subscribe to journal
Immediate online access to all issues from 2019. Subscription will auto renew annually.
US$ 199
This is the net price. Taxes to be calculated in checkout.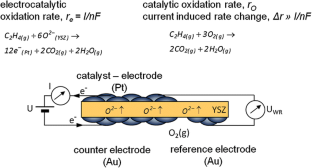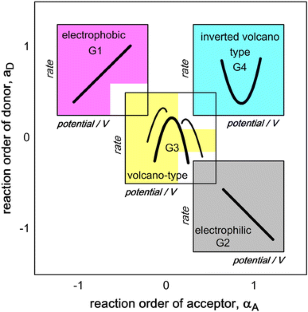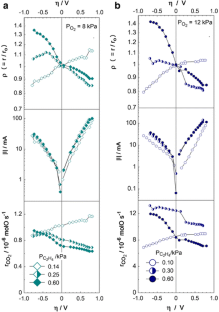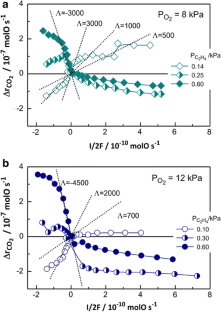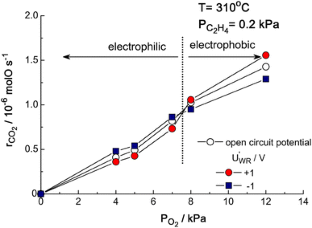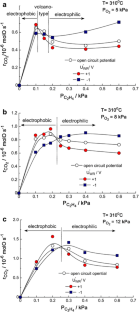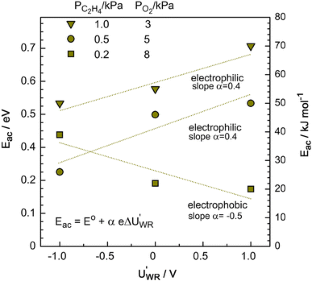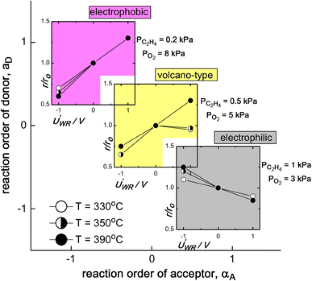 References
1.

Kiskinova M (1992) Poisoning and promotion in catalysis based on surface science concepts and experiments. Elsevier, Amsterdam

2.

Vayenas CG, Bebelis SB, Pliangos C, Brosda S, Tsiplakidis D (2001) Electrochemical activation of catalysis: promotion, electrochemical promotion and metal-support interactions. Kluwer, New York

3.

Foti G, Bolzonella I, Comninellis Ch (2003) In: Vayenas CG, Conway BE, White RE (eds) Modern aspects of electrochemistry, vol 36. Kluwer, New York

4.

Jiménez-Borja C, de Lucas-Consuegra A, Valverde JL, Dorado F, Caravaca A, Gonzáles J (2012) In: Taylor JC (ed) Advances in Chemical Research, vol 14, ch. 4. Nova Science Publishers, Huntington

5.

Vayenas CG, Koutsodontis CG (2008) J Chem Phys 128:182506

6.

Tsiplakides D, Balomenou S (2009) Catal Today 146:312

7.

Vayenas CG, J Appl Electrochem. doi: 10.1007/s10008-011-1336-5

8.

Katsaounis A (2010) J Appl Electrochem 40:885

9.

Vayenas CG, Brosda S, Pliangos C (2001) J Catal 203:329

10.

Brosda S, Vayenas CG (2002) J Catal 208:38

11.

Vayenas CG, Brosda S, Pliangos C (2003) J Catal 216:487

12.

Brosda S, Vayenas CG, Wei J (2006) Appl Catal B 68:109

13.

Ackerlid U, Olsson L, Petresson LG (1996) J Catal 161:143

14.

Vayenas CG, Lee B, Michaels J (1980) J Catal 66:36

15.

Vayenas CG, Georgakis C, Michaels J, Tormo J (1981) J Catal 67:348

16.

Bebelis S, Vayenas CG (1989) J Catal 118:125

17.

Marwood M, Vayenas CG (1998) J Catal 178:429

18.

Koutsodontis C, Katsaounis A, Figueroa JC, Cavalca C, Pereira CJ, Vayenas CG (2006) Top Catal 38:157

19.

Koutsodontis C, Katsaounis A, Figueroa JC, Cavalca C, Pereira CJ, Vayenas CG (2006) Top Catal 39:97

20.

Mutoro E, Koutsodontis C, Luerssen B, Brosda S, Vayenas CG, Janek J (2010) Appl Catal B 100:328

21.

Lizzaraga L, Guth M, Billard A, Vernoux P (2011) Catal Today 157:61
Acknowledgments
Saranya Peng-ont, Suttichai Assabumrungrat, and Piyasan Praserthdam would like to thank the financial supports from the Royal Golden Jubilee PhD program under the Thailand Research Fund and Chulalongkorn University, and the TRF senior researcher scholar under the Thailand Research Fund. Susanne Brosda and Constantinos G. Vayenas gratefully thank the "Synergasia" and "Aristeia" programs of the Greek Secretary of Research and Technology (GSRT) for partial financial support.
About this article
Cite this article
Peng-ont, S., Souentie, S., Assabumrungrat, S. et al. Reaction Kinetic-Induced Changes in the Electrochemically Promoted C2H4 Oxidation on Pt/YSZ. Catal Lett 143, 445–453 (2013). https://doi.org/10.1007/s10562-013-0982-x
Received:

Accepted:

Published:

Issue Date:
Keywords
Promotion

Electrochemical promotion

Catalytic kinetics

Promotional rules

Catalytic reaction classification

Ethylene oxidation

Pt catalyst-electrode

Yttria-stabilized zirconia