Abstract
A series of Ru/Al2O3 catalysts were prepared to study the effect of the amount and the origin of residual chlorine on chemisorptive property and the ammonia synthesis activity. The catalysts were characterized by X-ray fluorescence, CO chemisorption, transmission Electron Microscopy, X-ray photoelectron spectroscopy, hydrogen temperature-programmed desorption, hydrogen temperature-programmed reduction. It is found that the presence of chlorine had a limited impact on Ru particle size. Residual chlorine originated from RuCl3 would not influence on Ru 3d5/2 binding energy, but chlorine from HCl solution significantly increased Ru 3d5/2 binding energy. Regardless of their source, the presence of chlorine severely reduced the amount of hydrogen species corresponding to the desorption peak at medium temperature. The inhibition effect of chlorine on hydrogen adsorption was more strong for Ru catalyst with residual chlorine from the RuCl3 precursor. With a similar amount of residual chlorine, the catalysts with chlorine originated from the RuCl3 precursor showed much lower catalytic activity than those prepared by impregnation of HCl. These results suggest that chlorine mainly affects the catalytic properties of alumina supported Ru catalysts for ammonia synthesis by selective site blocking.
Graphical Abstract
Chlorine affects on the sites at the metal/support interface for Ru/Al2O3 catalysts, and then hydrogen adsorption and ammonia synthesis both are suppressed.

Access options
Buy single article
Instant access to the full article PDF.
USD 39.95
Price excludes VAT (USA)
Tax calculation will be finalised during checkout.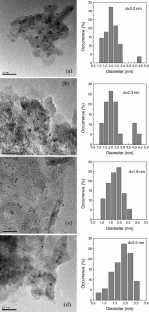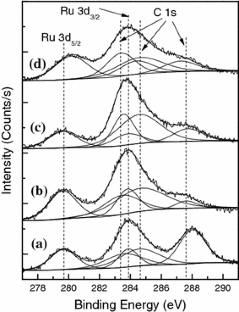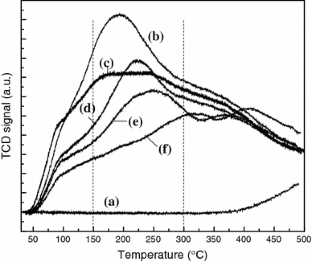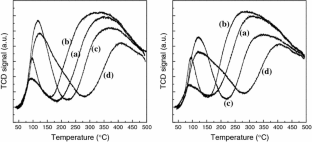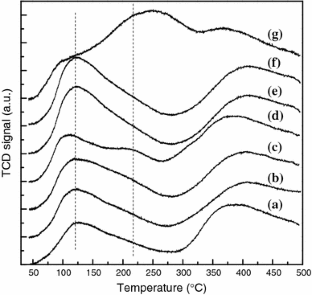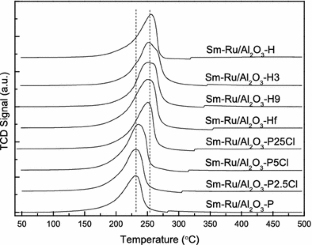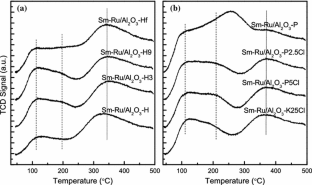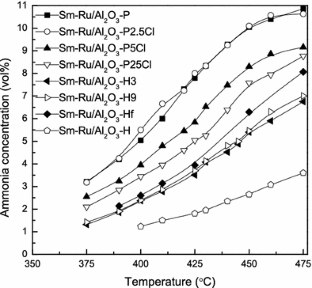 References
Aika K, Tamaru K (1995) In: Nielsen A (ed) Ammonia: catalysis and manufacture. Springer, Berlin, p 103

Bielawa H, Hinrichsen O, Birkner A, Muhler M (2001) Angew Chem Int Ed 40:1061

Schlogl R (2003) Angew Chem Int Ed 42:2004

Zeng HS, Inazu K, Aika K (2001) Appl Catal A 219:235

Murata S, Aika KI (1992) Appl Catal A 82:1

Murata S, Aika K (1992) J Catal 136:110

Rossetti I, Forni L (2005) Appl Catal A 282:315

Moggi P, Albanesi G, Predieri G, Spoto G (1995) Appl Catal A 123:145

Shiflett WK, Dumesic JA (1981) Ind Eng Chem Fund 20:246

Lu K, Tatarchuk BJ (1987) J Catal 106:166

Lu K, Tatarchuk BJ (1987) J Catal 106:176

Rosowski F, Hornung A, Hinrichsen O, Herein D, Muhler M, Ertl G (1997) Appl Catal A 151:443

Rambeau G, Amariglio H (1981) J Catal 72:1

Narita T, Miura H, Ohira M, Hondou H, Sugiyama K, Matsuda T, Gonzalez RD (1987) Appl Catal 32:185

Iyagba ET, Eddy Hoost T, Nwalor JU, Goodwin JG (1990) J Catal 123:1

Miyazaki A, Balint L, Aika K, Nakano Y (2001) J Catal 204:364

Seetharamulu P, Kumar VS, Padmasri AH, Raju BD, Rao KSR (2007) J Mol Catal A Chem 263:253

Lin B, Wang R, Lin J, Du S, Yu X, Wei K (2007) Catal Commun 8:1838

Lin B, Wang R, Yu X, Lin J, Xie F, Wei K (2008) Catal Lett 124:178

Lin B, Wang R, Lin J, Ni J, Wei K (2011) Catal Commun 12:553

Webb PA, Orr C (1997) Analytical methods in fine particle technology. Micromeritics Instrument Corp., Norcross, p 70

Borodzinski A, Bonarowska M (1997) Langmuir 13:5613

Wang X, Ni J, Lin B, Wang R, Lin J, Wei K (2010) Catal Commun 12:251

Yu X, Lin B, Gong B, Lin J, Wang R, Wei K (2008) Catal Lett 124:168

Gong B, Wang R, Lin B, Xie F, Yu X, Wei K (2008) Catal Lett 122:287

Mazzieri V, Coloma-Pascual F, Arcoya A, L'Argentiere PC, Figoli NS (2003) Appl Surf Sci 210:222

Mieth JA, Schwarz JA (1989) Appl Catal 55:137

Hua W, Xia Y, Yue Y, Gao Z (2000) J Catal 196:104

Yamamoto T, Tanaka T, Matsuyama T, Funabiki T, Yoshida S (2001) J Phys Chem B 105:1908

Hussein GAM (1996) J Anal Appl Pyrol 37:111

Narita T, Miura H, Sugiyama K, Matsuda T, Gonzalez RD (1987) J Catal 103:492

Nawdali M, Bianchi D (2002) Appl Catal A 231:45

Chan HYH, Takoudis CG, Weaver MJ (1997) J Catal 172:336

Okal J, Zawadzki M, Tylus W (2011) Appl Catal B Environ 101:548

DeKoven BM, Hagans PL (1986) Appl Surf Sci 27:199

Bou M, Martin JM, Le Mogne T, Vovelle L (1991) Appl Surf Sci 47:149

Liao HM, Sodhi RNS, Coyle TW (1993) J Vac Sci Technol A 11:2681

Larichev YV, Moroz BL, Zaikovskii VI, Yunusov SM, Kalyuzhnaya ES, Shur VB, Bukhtiyarov VI (2007) J Phys Chem C 111:9427

Briggs D, Seah MP (1993) Practical surface analysis, vol 1, 2nd edn. Wiley, Chichester

Santacesaria E, Gelosa D, Carrà S (1977) Ind Eng Chem Prod Res Dev 16:45

Bajaj SR, Pal P, Gupta JK, Sharma LD, Dhar GM, Rao TSRP (1998) Stud Surf Sci Catal 113:365

Aika K, Ohya A, Ozaki A, Inoue Y, Yasumori I (1985) J Catal 92:305

Muhler M, Rosowski F, Hinrichsen O, Hornung A, Ertl G (1996) Stud Surf Sci Catal 101:317

Lin HY, Chen YW (2004) Thermochim Acta 419:283

Panagiotopoulou P, Kondarides DI (2009) J Catal 267:57

Conner WC, Falconer JL (1995) Chem Rev 95:759

Miller JT, Meyers BL, Modica FS, Lane GS, Vaarkamp M, Koningsberger DC (1993) J Catal 143:395

Kondarides DI, Verykios XE (1998) J Catal 174:52

Okal J, Zawadzki M, Kepinski L, Krajczyk L, Tylus W (2007) Appl Catal A 319:202

Musso JC, Parera JM (1987) Appl Catal 30:81

Murata S, Aika K, Onishi T (1990) Chem Lett 19:1067

Capitan MJ, Malet P, Centeno MA, Munoz-Paez A, Carrizosa I, Odriozola JA (1993) J Phys Chem 97:9233

Mo X, Gao J, Umnajkaseam N, Goodwin JG Jr (2009) J Catal 267:167

Aika K, Kumasaka M, Oma T, Kato O, Matsuda H, Watanabe N, Yamazaki K, Ozaki A, Onishi T (1986) Appl Catal 28:57

Siporin SE, Davis RJ (2004) J Catal 225:359

Dahl S, Törnqvist E, Chorkendorff I (2000) J Catal 192:381

Dahl S, Logadottir A, Egeberg RC, Larsen JH, Chorkendorff I, Tornqvist E, Norskov JK (1999) Phys Rev Lett 83:1814
Acknowledgments
The authors are grateful for the financial support from National Natural Science Foundation of China (20576021), National Key Technology R&D Program of China (2007BAE08B02) and Science and Technology Development Foundation of Fuzhou University (2008-XY-7).
Electronic supplementary material
Below is the link to the electronic supplementary material.
About this article
Cite this article
Lin, B., Wang, R., Lin, J. et al. Effect of Chlorine on the Chemisorptive Properties and Ammonia Synthesis Activity of Alumina-Supported Ru Catalysts. Catal Lett 141, 1557–1568 (2011). https://doi.org/10.1007/s10562-011-0658-3
Received:

Accepted:

Published:

Issue Date:

DOI: https://doi.org/10.1007/s10562-011-0658-3
Keywords
Ammonia synthesis

Chlorine

Alumina supported Ru catalysts

Hydrogen temperature-programmed desorption