Abstract
The conversion of synthesis gas to hydrocarbon fuels by Co catalysts through the Fischer–Tropsch process has received renewed attention particularly with regard to the role of promoters. In this letter, we utilize scanning transmission electron microscopy imaging and electron energy-loss spectroscopy to elucidate the interaction between the Mn promoter, the Co nano-catalysts, and the TiO2 support. In-situ heating experiments show the diffusion of Mn and Ti-support onto the Co particle under reducing conditions.
Graphical Abstract
Changes in the elemental distribution during in-situ reduction at 350 °C of as-prepared Mn-promoted Co catalysts on TiO2. While the morphology of the Co particles does not change, the Mn appears to be distributed more homogeneously on the Co surface and some of the TiO2 support has migrated onto the Co particle during in-situ heating (broken line circle).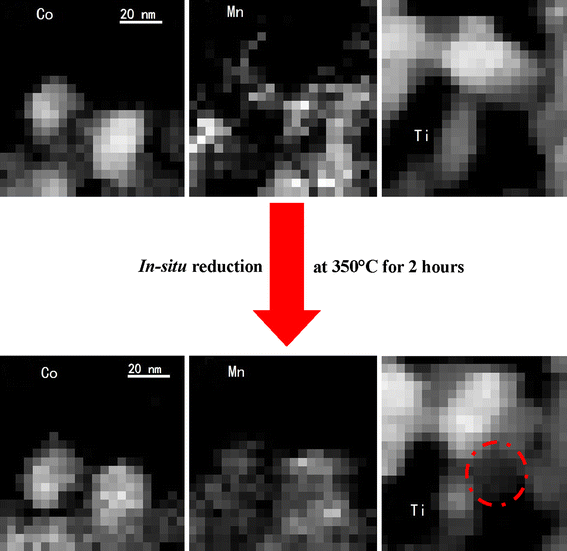 Access options
Buy single article
Instant access to the full article PDF.
USD 39.95
Price excludes VAT (USA)
Tax calculation will be finalised during checkout.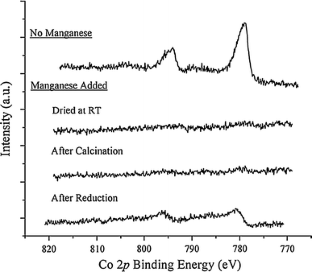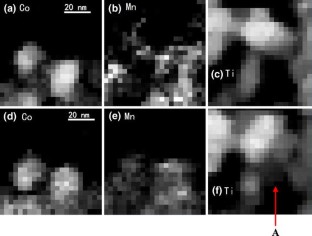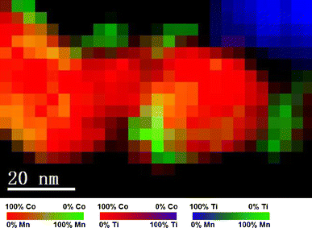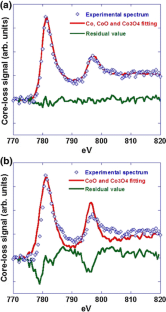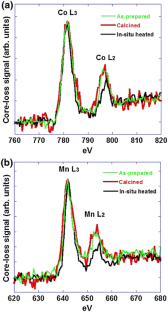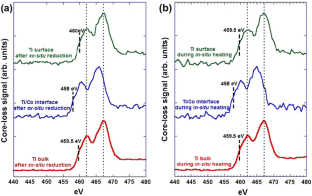 References
Iglesia E (1997) Appl Catal A Gen 161:59

Khodakov AY, Chu W, Fongarland P (2007) Chem Rev 107:1692

Tsakoumis NE, Ronning M, Borg O et al (2010) Catal Today 154:162

Dry ME (2002) Catal Today 71:227

Dry ME (2002) J Chem Technol Biotechnol 77:43

Schulz H (1999) Appl Catal A Gen 186:3

Feltes TE, Espinosa-Alonso L, de Smit E et al (2010) J Catal 270:95

Morales F, de Groot FMF, Gijzeman OLJ et al (2005) J Catal 230:301

Morales F, Grandjean D, Mens A et al (2006) J Phys Chem B 110:8626

Feltes TE, Zhao Y, Klie RF et al (2010) ChemCatChem 2:1065

Wang C-B, Cai Y, Wachs IE (1999) Langmuir 15:1223

Haber J (1984) Pure Appl Chem 56:1663

Ziolkowski J, Kozlowski R, Mocala K et al (1980) J Solid State Chem 35:297

Spivey JJ (1993) Catalysis: a review of recent literature. Royal Society of Chemistry

Stevenson SA, Dumesic JA, Baker RTK et al (1987) Metal-support interactions in catalysis singering, and redispersion. Van Nostrand Reinhold Company, NY

Chen JJ, Ruckenstein E (1981) J Phys Chem 85:1606

Ruckenstein E, Chen JJ (1982) J Colloid Interf Sci 86:1

Ruckenstein E, Hu XD (1985) Langmuir 1:756

Ruckenstein E, Lee SH (1987) J Catal 104:259

Sushumna I, Ruckenstein E (1985) J Catal 94:239

Tauster SJ (1987) Acc Chem Res 20:389

Tauster SJ, Fung SC, Baker RTK et al (1981) Science 211:1121

Tauster SJ, Fung SC, Garten RL (1978) J Am Chem Soc 100:170

Egerton RF (1996) Electron energy-loss spectroscopy in the electron microscope. Plenum, New York

de Groot FMF (2008) Inorg Chim Acta 361:850

de Groot FMF, Fuggle JC, Thole BT et al (1990) Phys Rev B 42:5459

de Groot FMF (1994) J Electron Spectros Relat Phenom 67:529

Sparrow TG, Williams BG, Rao CNR et al (1984) Chem Phys Lett 108:547

Wang ZL, Yin JS, Jiang YD (2000) Micron 31:571

Wong J, Lytle FW, Messmer RP et al (1984) Phys Rev B 30:5596

Sankararaman M, Perry D (1992) J Mater Sci 27:2731

Zhao Y, Feltes TE, Regalbuto JR et al (2010) J Appl Phys 108:063704

James EM, Browning ND (1999) Ultramicroscopy 78:125

James EM, Browning ND, Nicholls AW et al (1998) J Electron Microsc Tokyo 47:561

Bosman M, Watanabe M, Alexander DTL et al (2006) Ultramicroscopy 106:1024

Hu X, Sun Y, Yuan J (2008) Ultramicroscopy 108:465

Botton GA, Appel CC, Horsewell A et al (1995) J Microsc-Oxf 180:211

Klie RF, Browning ND (2000) Appl Phys Lett 77:3737

Xu X-L, Chen Z-H, Li Y et al (2009) Surf Sci 603:653

Maphanga RR, Parker SC, Ngoepe PE (2009) Surf Sci 603:3184

Lazzeri M, Vittadini A, Selloni A (2001) Phys Rev B 63:155409

Morales F, Grandjean D, de Groot FMF et al (2005) Phys Chem Chem Phys 7:568

Vitos L, Ruban AV, Skriver HL et al (1998) Surf Sci 411:186

Iddir H, Skavysh V, Ogut S et al (2006) Phys Rev B 73:041403

Lopez N, Norskov JK, Janssens TVW et al (2004) J Catal 225:86
Acknowledgments
The authors YZ and RFK would like to acknowledge support for this research by the American Chemical Society-Petroleum Research Fund (grant number 47307-G). TEF, RJM and JRR would like to acknowledge support from the National Science Foundation (CBET-#0626505). The authors acknowledge the Research Resource Center of UIC for providing instrumentation for the experiments.
About this article
Cite this article
Zhao, Y., Feltes, T.E., Regalbuto, J.R. et al. In-Situ Electron Energy Loss Spectroscopy Study of Mn-Promoted Co/TiO2 Fischer–Tropsch Catalysts. Catal Lett 141, 641–648 (2011). https://doi.org/10.1007/s10562-011-0559-5
Received:

Accepted:

Published:

Issue Date:

DOI: https://doi.org/10.1007/s10562-011-0559-5
Keywords
Mn/Co/TiO2 Fischer–Tropsch Catalyst

STEM

EELS

In-situ heating experiment