Synthesis of Nanorods with Ni Cores and Porous Silica Coatings
Abstract
Nanorods with a Ni core and a silica coating have been prepared using a one-step synthesis and characterized using a variety of methods. Nitrogen adsorption isotherms have been used to characterize the pore size and the internal surface area of the silica shells grown on the Ni nanorods. Spectroscopic characterization of CO adsorbed on the Ni nanoparticle cores has been used to verify that the pore structure of the silica shells allows CO to access the Ni core; this property is critical to the use of core–shell structures as industrial catalysts. To demonstrate their resistance to physical and chemical degradation, the properties of the silica-coated Ni nanoparticles have been measured both before and after treatment at high temperature (623 - 1073 K) and exposure to a reducing atmosphere (hydrogen gas). Annealing at high temperatures reduces, but does not eliminate, the porosity of the silica shells.
Graphical Abstract
Bright field TEM imaging of Ni nanorods encapsulated in porous silica coatings.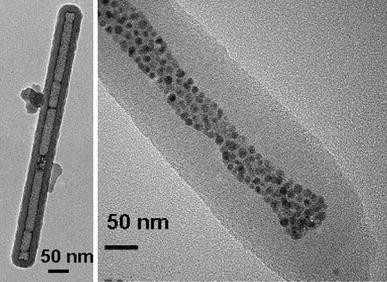 Keywords
Nanoparticulate catalyst 
Silica coatings 
Ni nanoparticles 
Notes
Acknowledgment
This effort was performed in support of the National Energy Technology Laboratory's on-going research in "Next generation, sinter-resistant, catalysts for syngas conversion", under the RES contract DE-FE0004000.
Copyright information
© Springer Science+Business Media, LLC 2010