Abstract
Injured nerves cannot regenerate on their own, and a lack of engraftable human nerves has been a major obstacle in cell-based therapies for regenerating damaged nerves. A monolayer culture approach to obtain adherent neural stem cells from human embryonic stem cells (hESC-NSCs) was established, and the greatest number of stemness characteristics were achieved by the eighth generation of hESC-NSCs (P8 hESC-NSCs). To overcome deficits in cell therapy, we used microvesicles secreted from P8 hESC-NSCs (hESC-NSC-MVs) instead of entire hESC-NSCs. To investigate the therapeutic efficacy of hESC-NSC-MVs in vitro, hESC-NSC-MVs were cocultured with dorsal root ganglia to determine the length of axons. In vivo, we transected the sciatic nerve in SD rats and created a 5-mm gap. A sciatic nerve defect was bridged using a silicone tube filled with hESC-NSC-MVs (45 μg) in the MVs group, P8 hESC-NSCs (1 × 106 single cells) in the cell group and PBS in the control group. The hESC-NSC-MVs group showed better morphological recovery and a significantly greater number of regenerated axons than the hESC-NSCs group 12 weeks after nerve injury. These results indicated that the hESC-NSC-MVs group had the greatest ability to repair and reconstruct nerve structure and function. As a result, hESC-NSC-MVs may have potential for applications in the field of nerve regenerative repair.
Access options
Buy single article
Instant access to the full article PDF.
US$ 39.95
Tax calculation will be finalised during checkout.
Subscribe to journal
Immediate online access to all issues from 2019. Subscription will auto renew annually.
US$ 79
Tax calculation will be finalised during checkout.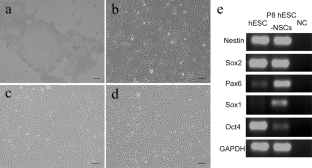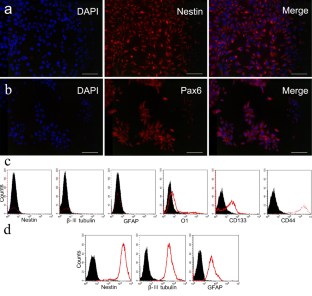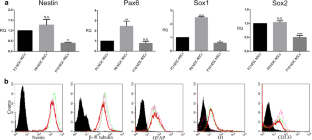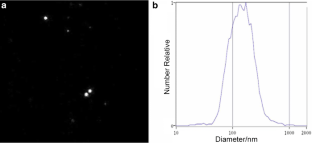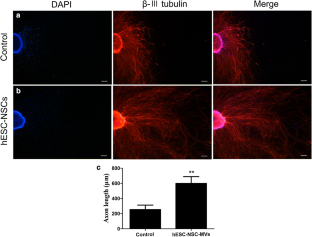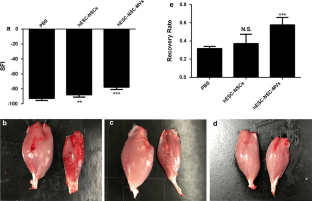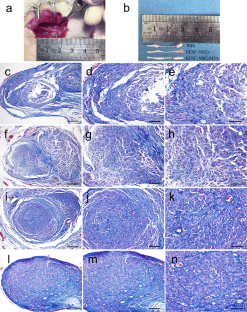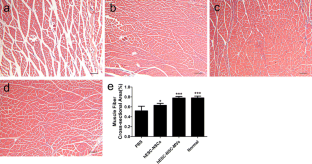 References
Banda E, Grabel L (2016) Directed differentiation of human embryonic stem cells into neural progenitors. Methods Mol Biol 1307:289–298

Bruno S, Collino F, Deregibus MC, Grange C, Tetta C, Camussi G (2013) Microvesicles derived from human bone marrow mesenchymal stem cells inhibit tumor growth. Stem Cells Dev 22:758–771

Cai C, Grabel L (2007) Directing the differentiation of embryonic stem cells to neural stem cells. Dev Dyn 236:3255–3266

Chen J, Liu Z, Hong MM et al (2014) Proangiogenic compositions of microvesicles derived from human umbilical cord mesenchymal stem cells. PLoS ONE 9(12):e115316

Cinteza D, Persinaru I, Maciuceanu ZB et al (2015) Peripheral nerve regeneration—an appraisal of the current treatment options. Maedica (Buchar) 10(1):65–68

Das MM, Avalos P, Suezaki P et al (2016) Human neural progenitors differentiate into astrocytes and protect motor neurons in aging rats. Exp Neurol 280:41–49

De ML, Freed WJ, Wyatt RJ (1982) An index of the functional condition of rat sciatic nerve based on measurements made from walking tracks. Exp Neurol 77(3):634–643

Fournier BP, Loison-Robert LS, Ferré FC et al (2016) Characterisation of human gingival neural crest-derived stem cells in monolayer and neurosphere cultures. Eur Cell Mater 31:40–58

Fu KY, Dai LG, Chiu IM et al (2011) Sciatic nerve regeneration by microporous nerve conduits seeded with glial cell line-derived neurotrophic factor or brain-derived neurotrophic factor gene transfected neural stem cells. Artif Organs 35(4):363–372

Fu X, Rong Z, Zhu S et al (2014) Genetic approach to track neural cell fate decisions using human embryonic stem cells. Protein Cell 5:69–79

Gadkari R, Zhao L, Teklemariam T, Hantash BM (2014) Human embryonic stem cell derived-mesenchymal stem cells: An alternative mesenchymal stem cell source for regenerative medicine therapy. Regen Med 9:453–465

Gaudet AD, Popovich PG, Ramer MS et al (2011) Wallerian degeneration: gaining perspective on inflammatory events after peripheral nerve injury. J Neuroinflam 8(1):110

Gonzalez-Perez F, Hernández J, Heimann C et al (2017) Schwann cells and mesenchymal stem cells in laminin- or fibronectin-aligned matrices and regeneration across a critical size defect of 15 mm in the rat sciatic nerve. J Neurosurg Spine 28(1):109–118

Hess JR, Brenner MJ, Fox IK et al (2007) Use of cold-preserved allografts seeded with autologous Schwann cells in the treatment of a long-gap peripheral nerve injury. Plast Reconstr Surg 119(1):246–259

Houschyar KS, Momeni A, Pyles MN et al (2016) The role of current techniques and concepts in peripheral nerve repair. Plast Surg Int 2016:1–8

Huang CW, Huang WC, Qiu X et al (2017) The differentiation stage of transplanted stem cells modulates nerve regeneration. Sci Rep 7(1):17401

Jie C, Li C, Chen L (2015) The role of microvesicles derived from mesenchymal stem cells in lung diseases. Biomed Res Int 2015:985814

Lee DC, Chen JH, Hsu TY et al (2017) Neural stem cells promote nerve regeneration through IL12-induced Schwann cell differentiation. Mol Cell Neurosci 79:1–11

Li B, Chen HW, Hu ZX (2007) Differentiation of human embryonic stem cells to neural progenitors. Zool Res 28:311–319

Li X, Wang W, Wei G et al (2010) Immunophilin FK506 loaded inchitosan guide promotes peripheral nerve regeneration. Biotechnol Lett 32(9):1333–1337

Li YC, Tsai LK, Wang JH et al (2014) A neural stem/precursor cell monolayer for neural tissue engineering. Biomaterials 35:1192–1204

Motti D, Lerch JK, Danzi MC et al (2017) Identification of miRNAs involved in DRG neurite outgrowth and their putative targets. Febs Lett 591(14):2091–2105

Oh JH, Jung CR, Lee MO et al (2018) Comparative analysis of human embryonic stem cell derived neural stem cells as an in vitro human model. Int J Mol Med 41:783–790

Pollard SM (2013) In vitro expansion of fetal neural progenitors as adherent cell lines. Methods Mol Biol 1059:13–24

Prajumwongs P, Weeranantanapan O, Jaroonwitchawan T et al (2016) Human embryonic stem cells: a model for the study of neural development and neurological diseases. Stem Cells Int 10:1–9

Roubal I, Park SJ, Kim Y (2016) Derivation of neural precursor cells from human embryonic stem cells for DNA methylomic analysis. Methods Mol Biol 1341:345–357

Salimi A, Nadri S, Ghollasi M et al (2014) Comparison of different protocols for neural differentiation of human induced pluripotent stem cells. Mol Biol Rep 41:1713–1721

Sando IC, Cederna PS (2016) Discussion: Growth hormone therapy accelerates axonal regeneration, promotes motor reinnervation, and reduces muscle atrophy following peripheral nerve injury. Plastic Reconstr Surg 137(6):1781–1783

Santos D, Wieringa P, Moroni L et al (2017) PEOT/PBT guides enhance nerve regeneration in long gap defects. Adv Healthc Mater. https://doi.org/10.1002/adhm.201600298

Sayad SF, Zaminy A (2017) Stem cell therapy for nerve injury. World J Stem Cells 9:144–151

Shin S, Sun Y, Liu Y et al (2007) Whole genome analysis of human neural stem cells derived from embryonic stem cells and stem and progenitor cells isolated from fetal tissue. Stem Cells 25:1298–1306

Shroff G, Dhanda Titus J, Shroff R (2017) A review of the emerging potential therapy for neurological disorders: human embryonic stem cell therapy. Am J Stem Cells 6:1–12

Sun Y, Campisi J, Higano C et al (2012) Treatment-induced damage to the tumor microenvironment promotes prostate cancer therapy resistance through WNT16B. Nat Med 18(9):1359–1368

Svendsen CN, Caldwell MA, Ostenfeld T (1999) Human neural stem cells: isolation, expansion and transplantation. Brain Pathol 9:499–513

Tsai MJ, Pan HA, Liou DY et al (2010) Adenoviral gene transfer of bone morphogenetic protein-7 enhances functional recovery after sciatic nerve injury in rats. Gene Ther 17(10):1214–1224

Tuffaha SH, Budihardjo JD, Sarhane KA et al (2016) Growth hormone therapy accelerates axonal regeneration, promotes motor reinnervation, and reduces muscle atrophy following peripheral nerve injury. Plast Reconstr Surg 137(6):1771–1780

Varejao AS, Meek MF, Ferreira AJ et al (2001) Functional evaluation of peripheral nerve regeneration in the rat: walking track analysis. J Neurosci Methods 108(1):1–9

Wang Y, Li WY, Jia H et al (2016) KLF7-transfected Schwann cell graft transplantation promotes sciatic nerve regeneration. Neuroscience 340:319–332

Wang C, Lu CF, Peng J et al (2017a) Roles of neural stem cells in the repair of peripheral nerve injury. Neural Regen Res 12(12):2106–2112

Wang S, Qiu J, Guo W et al (2017b) A nanostructured molybdenum disulfide film for promoting neural stem cell neuronal differentiation: toward a nerve tissue-engineered 3D scaffold. Adv Biosyst 1(5):1600042

Wei JJ, Chen YF, Xue CL et al (2016) Protection of nerve injury with exosome extracted from mesenchymal stem cell. Zhongguo Yi Xue Ke Xue Yuan Xue Bao Acta Academiae Medicinae Sinicae 38(1):33–36

Woo SM, Kim J, Han HW et al (2009) Notch signaling is required for maintaining stem-cell features of neuroprogenitor cells derived from human embryonic stem cells. BMC Neurosci 10:97

Wu R, Li W, Chen F et al (2016) Evaluation of artificial nerve conduit and autografts in peripheral nerve repair in the rat model of sciatic nerve injury. Neurol Res 38(5):461–466

Xu HF (2009) Optimized culture of human embryonic stem cells and differentiation into neural stem cells. Huazhong Univer Sci Technol 1–84

Xu L, Zhou S, Feng GY et al (2012) Neural stem cells enhance nerve regeneration after sciatic nerve injury in rats. Mol Neurobiol 46(2):265–274

Yasui T, Uezono N, Nakashima H et al (2017) Hypoxia epigenetically confers astrocytic differentiation potential on human pluripotent cell-derived neural precursor cells. Stem Cell Rep 8:1743–1756

Ying W, Li WY, Hua J et al (2016) KLF7-transfected Schwann cell graft transplantation promotes sciatic nerve regeneration. Neuroscience 340:319–332

Zhang Q, Nguyen P, Xu Q et al (2017) Neural progenitor-like cells induced from human gingiva-derived mesenchymal stem cells regulate myelination of schwann cells in rat sciatic nerve regeneration. Stem Cells Transl Med 6:458–470

Zhao ZR, Yu WD, Shi C et al (2017) Correlation between receptor-interacting protein 140 expression and directed differentiation of human embryonic stem cells into neural stem cells. Neural Regen Res 12:118–124

Zheng J, Jian S, Lu X et al (2016) BDNF promotes the axonal regrowth after sciatic nerve crush through intrinsic neuronal capability upregulation and distal portion protection. Neurosci Lett 621:1–8

Zuchero JB (2014) Purification and culture of dorsal root ganglion neurons. Cold Spring Harb Protoc 2014(8):813–814
Acknowledgments
We appreciate the stem cell bank of the Chinese Academy of Sciences under a Materials Transfer Agreement for providing us hESC lines (SHhES2). This work was supported by the National Natural Science Foundation of China (Grant No. 81571221), Natural Science Foundation of Jiangsu Province (Grant No. BK20151346) and Qing Lan Project of Jiangsu Province.
Ethics declarations
Conflicts of interest
The authors declare that there are no competing interests.
Ethical approval
All experimental procedures were conducted in accordance with Chinese legislation on animal protection and were approved by the Ethics Committee of Jiangsu University.
Additional information
Publisher's Note
Springer Nature remains neutral with regard to jurisdictional claims in published maps and institutional affiliations.
Electronic supplementary material
Below is the link to the electronic supplementary material.
Rats walked freely in the PBS group (MP4 755 kb)
Rats walked freely in the hESC-NSCs group (MP4 1254 kb)
Rats walked freely in the hESC-NSC-MVs group (MP4 1331 kb)
About this article
Cite this article
Chen, X., Ye, K., Yu, J. et al. Regeneration of sciatic nerves by transplanted microvesicles of human neural stem cells derived from embryonic stem cells. Cell Tissue Bank 21, 233–248 (2020). https://doi.org/10.1007/s10561-020-09816-5
Received:

Accepted:

Published:

Issue Date:
Keywords
Embryonic stem cells

Neural stem cells

Microvesicles

Sciatic nerve

Injury repair