Abstract
We evaluated the feasibility and performed a risk–benefit analysis of the storage and widespread distribution of stromal lenticules for clinical application using a new systematic tool (European Good Tissue and cells Practices II—EuroGTP II tool), specifically designed for assessing the risk, safety and efficacy of substances of human origin. Three types of potential tissue preparations for human stromal lenticules were evaluated: cryopreserved, dehydrated and decellularized. The tool helps to identify an overall risk score (0–2: negligible; 2–6: low; 6–22: moderate; > 22: high) and suggests risk reduction strategies. For all the three types of products, we found the level of risk to be as "moderate". A process validation, pre-clinical in vitro and in vivo evaluations and a clinical study limited to a restricted number of patients should therefore be performed in order to mitigate the risks. Our study allowed to establish critical points and steps necessary to implement a new process for safe stromal lenticule preparation by the eye banks to be used in additive keratoplasty. Moreover, it shows that the EuroGTP II tool is useful to assess and identify risk reduction strategies for introduction of new Tissue and Cellular Therapies and Products into the clinical practice.
Access options
Buy single article
Instant access to the full article PDF.
US$ 39.95
Tax calculation will be finalised during checkout.
Subscribe to journal
Immediate online access to all issues from 2019. Subscription will auto renew annually.
US$ 79
Tax calculation will be finalised during checkout.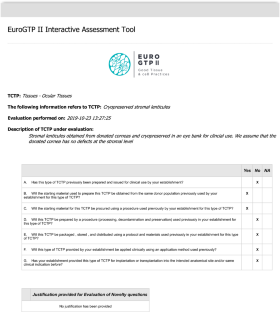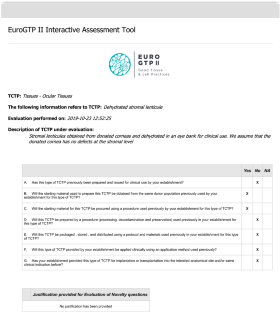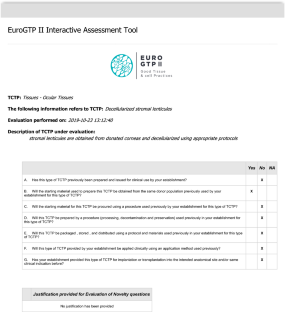 References
Alió Del Barrio JL, El Zarif M, Azaar A et al (2018) Corneal stroma enhancement with decellularized stromal laminas with or without stem cell recellularization for advanced keratoconus. Am J Ophthalmol 186:47–58

Angunawela RI, Riau AK, Chaurasia SS et al (2012) Refractive lenticule re-implantation after myopic ReLEx: a feasibility study of stromal restoration after refractive surgery in a rabbit model. Invest Ophthalmol Vis Sci 53:4975–4985

Centro Nazionale Trapianti (2016) Linee guida per il prelievo, la processazione e la distribuzione di tessuti a scopo di trapianto 9/2016

Damgaard IB, Riau AK, Liu YC et al (2018) Reshaping and customization of SMILE-derived biological lenticules for intrastromal implantation. Invest Ophthalmol Vis Sci 59:2555–2563

Ganesh S, Brar S (2015) Femtosecond intrastromal lenticular implantation combined with accelerated collagen cross-linking for the treatment of keratoconus-initial clinical result in 6 eyes. Cornea 34:1331–1339

Ganesh S, Brar S, Rao PA (2014) Cryopreservation of extracted corneal lenticules after small incision lenticule extraction for potential use in human subjects. Cornea 33:1355–1362

Hashimoto Y, Funamoto S, Sasaki S et al (2015) Corneal regeneration by deep anterior lamellar keratoplasty (DALK) using decellularized corneal matrix. PLoS ONE 10:e0131989

Hashimoto Y, Hattori S, Sasaki S et al (2016) Ultrastructural analysis of the decellularized cornea after interlamellar keratoplasty and microkeratome-assisted anterior lamellar keratoplasty in a rabbit model. Sci Rep 6:27734

Hjortdal JO, Vestergaard AH, Ivarsen A et al (2012) Predictors for the outcome of small-incision lenticule extraction for Myopia. J Refract Surg 28:865–871

Huh MI, Lee KP, Kim J et al (2018) Generation of femtosecond laser-cut decellularized corneal lenticule using hypotonic trypsin-EDTA solution for corneal tissue engineering. J Ophthalmol 2018:2590536

Jacob S, Kumar DA, Agarwal A et al (2017) Preliminary evidence of successful near vision enhancement with a new technique: PrEsbyopic Allogenic Refractive Lenticule (PEARL) corneal inlay using a SMILE lenticule. J Refract Surg 33:224–229

Komuro A, Hodge DO, Gores GJ et al (1999) Cell death during corneal storage at 4 degrees C. Invest Ophthalmol Vis Sci 40:2827–2832

Lambert NG, Chamberlain WD (2017) The structure and evolution of eye banking: a review on eye banks' historical, present, and future contribution to corneal transplantation. J Biorep Sci Appl Med 5:23–40

Lazaridis A, Reinstein DZ, Archer TJ et al (2016) Refractive lenticule transplantation for correction of iatrogenic hyperopia and high astigmatism after LASIK. J Refract Surg 32:780–786

Lie JT, Monnereau C, Groeneveld-van Beek EA et al (2015) Dehydration of corneal anterior donor tissue with polyethylene glycol (PEG)-enriched media. Cell Tissue Bank 16:399–409

Lim CH, Riau AK, Lwin NC et al (2013) LASIK following small incision lenticule extraction (SMILE) lenticule re-implantation: a feasibility study of a novel method for treatment of presbyopia. PLoS ONE 8:e83046

Liu H, Zhu W, Jiang AC et al (2012) Femtosecond laser lenticule transplantation in rabbit cornea: experimental study. J Refract Surg 28:907–911

Liu R, Zhao J, Xu Y et al (2015) Femtosecond laser-assisted corneal small incision allogenic intrastromal lenticule implantation in monkeys: a pilot study. Invest Ophthalmol Vis Sci 56:3715–3720

Liu YC, Teo EPW, Ang HP et al (2018a) Biological corneal inlay for presbyopia derived from small incision lenticule extraction (SMILE). Sci Rep 8:1831

Liu YC, Wen J, Teo EPW et al (2018b) Higher-order-aberrations following hyperopia treatment: small incision lenticule extraction, laser-assisted in situ keratomileusis and lenticule implantation. Transl Vis Sci Technol 7:15

Lynch AP, Ahearne M (2013) Strategies for developing decellularized corneal scaffolds. Exp Eye Res 108:42–47

Mastropasqua L, Nubile M (2017) Corneal thickening and central flattening induced by femtosecond laser hyperopic-shaped intrastromal lenticule implantation. Int Ophthalmol 37:893–904

Medawar PB (1948) Immunity to homologous grafted skin; the fate of skin homografts transplanted to the brain, to subcutaneous tissue, and to the anterior chamber of the eye. Br J Exp Pathol 29:58–69

Mohamed-Noriega K, Toh KP, Poh R et al (2011) Cornea lenticule viability and structural integrity after refractive lenticule extraction (ReLEx) and cryopreservation. Mol Vis 17:3437–3449

Oh JY, Kim MK, Lee HJ et al (2009) Comparative observation of freeze–thaw-induced damage in pig, rabbit, and human corneal stroma. Vet Ophthalmol 12:50–56

Parekh M, Baruzzo M, Favaro E et al (2017) Standardizing Descemet membrane endothelial keratoplasty graft preparation method in the eye bank-experience of 527 Descemet membrane endothelial keratoplasty tissues. Cornea 36:1458–1466

Parekh M, Ruzza A, Romano V et al (2018) Descemet membrane endothelial keratoplasty learning curve for graft preparation in an eye bank using 645 donor corneas. Cornea 37:767–771

Pradhan KR, Reinstein DZ, Carp GI et al (2013) Femtosecond laser-assisted keyhole endokeratophakia: correction of hyperopia by implantation of an allogeneic lenticule obtained by SMILE from a myopic donor. J Refract Surg 29:777–782

Riau AK, Angunawela RI, Chaurasia SS et al (2013) Reversible femtosecond laser-assisted myopia correction: a nonhuman primate study of lenticule reimplantation after refractive lenticule extraction. PLoS ONE 8:e67058

Romano V, Levis HJ, Gallon P et al (2019) Biobanking of dehydrated human donor corneal stroma to increase the supply of anterior lamellar grafts. Cornea 38:480–484

Sachdev MS, Gupta D, Sachdev G et al (2015) Tailored stromal expansion with a refractive lenticule for crosslinking the ultrathin cornea. J Cataract Refract Surg 41:918–923

Sekundo W, Kunert KS, Blum M (2011) Small incision corneal refractive surgery using the small incision lenticule extraction (SMILE) procedure for the correction of myopia and myopic astigmatism: results of a 6 month prospective study. Br J Ophthalmol 95:335–339

Shah R, Shah S, Sengupta S (2011) Results of small incision lenticule extraction: all-in-one femtosecond laser refractive surgery. J Cataract Refract Surg 37:127–137

Sun L, Yao P, Li M et al (2015) The safety and predictability of implanting autologous lenticule obtained by SMILE for hyperopia. J Refract Surg 31:374–379

The EuroGTP II Study Group. http://goodtissuepractices.eu/. Accessed 30th Oct 2019

Trias E, Lomas R, Tabera J et al (2019) EuroGTP II: a tool to assess risk, safety and efficacy of substances of human origin. Int J Qual Health Care. https://doi.org/10.1093/intqhc/mzz048

Tripathi H, Mehdi MU, Gupta D et al (2016) Long-term preservation of donor corneas in glycerol for keratoplasty: exploring new protocols. Br J Ophthalmol 100:284–290

Williams GP, Wu B, Liu YC et al (2018) Hyperopic refractive correction by LASIK, SMILE or lenticule reimplantation in a non-human primate model. PLoS ONE 13:e0194209

Wilson SL, Sidney LE, Dunphy SE et al (2013) Keeping an eye on decellularized corneas: a review of methods, characterization and applications. J Funct Biomater 4:114–161

Yam GH, Yusoff NZ, Goh TW et al (2016) Decellularization of human stromal refractive lenticules for corneal tissue engineering. Sci Rep 6:26339

Zhao J, Sun L, Shen Y et al (2016) Using donor lenticules obtained through SMILE for an epikeratophakia technique combined with phototherapeutic keratectomy. J Refract Surg 32:840–845

Zhao J, Shen Y, Tian M et al (2017) Corneal lenticule allotransplantation after femtosecond laser small incision lenticule extraction in rabbits. Cornea 36:222–228
Acknowledgements
We thank all EuroGTP II Study Group (Associates and Collaborative Partners and Invited experts) who provided insight and expertise that greatly assisted the EuroGTP II Project. For more details on the Associated Partners and the Collaborative Partners and Invited Experts: http://goodtissuepractices.eu/index.php/partners.
Funding
This work was supported by the European Union's Health Programme (2014–2020), Grant Agreement Number: 709567—EuroGTP II—HP-PJ-2015. This study represents the views of the authors only and is their sole responsibility; it does not reflect the views of the European Commission and/or the Consumers, Health, Agriculture and Food Executive Agency or any other body of the European Union. The European Commission and the Agency do not accept any responsibility for use that may be made of the information it contains.
Ethics declarations
Conflict of interests
Authors declare no conflict of interests.
Ethical approval
This article does not contain any studies with human participants or animals performed by any of the authors.
Additional information
Publisher's Note
Springer Nature remains neutral with regard to jurisdictional claims in published maps and institutional affiliations.
About this article
Cite this article
Trias, E., Gallon, P., Ferrari, S. et al. Banking of corneal stromal lenticules: a risk-analysis assessment with the EuroGTP II interactive tool. Cell Tissue Bank 21, 189–204 (2020). https://doi.org/10.1007/s10561-020-09813-8
Received:

Accepted:

Published:

Issue Date:
Keywords
Stromal lenticules

Eye banking

Additive keratoplasty

Storage

SMILE

Risk assessment