Abstract
Freezing is the most common method for storing bones until use in skeletal reconstruction. However, the effect of freezing at different temperatures on antibiotic delivery from antibiotic-coated bone chips has not been evaluated. In this study, we compared antibiotic delivery in vitro from gentamicin-coated human bone stored at different temperatures impregnated for different time periods. Bone chips obtained from human femur heads were chemically cleaned and mixed with gentamicin sulfate solution for 1 h and 10 h respectively. Samples of both groups were cryopreserved for 4 months at − 20 °C, 4 months at − 80 °C, or evaluated immediately without freezing. Antibiotic release from the bone chips was measured using Bacillus subtilis as an indicator strain. Zones of inhibition and rates of gentamicin were higher for the samples impregnated for 10 h as compared to 1 h. There was no significant difference between non-cryopreservation, cryopreservation at different temperatures of − 20 and − 80 °C on the release of gentamicin from bone chips even after storage for 4 months.
Access options
Buy single article
Instant access to the full article PDF.
US$ 39.95
Tax calculation will be finalised during checkout.
Subscribe to journal
Immediate online access to all issues from 2019. Subscription will auto renew annually.
US$ 79
Tax calculation will be finalised during checkout.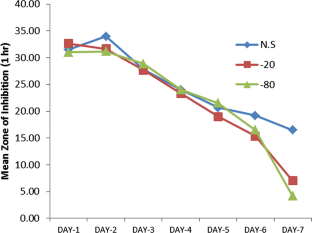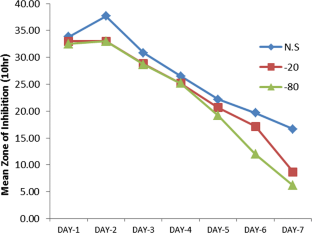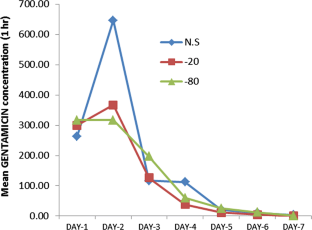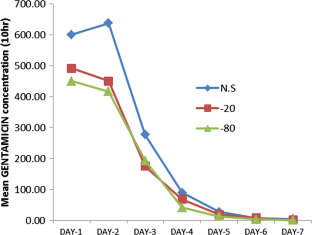 References
Anagnostakos K, Schroder K (2012) Antibiotic-impregnated bone grafts in orthopaedic and trauma surgery: a systematic review of the literature. Int J Biomater 2012, Article ID 538061, 9p

Atkinson BA (1986) Species incidence and trends of susceptibility to antibiotics in the United States and other countries: MIC and MBC. In: Antibiotics in laboratory medicine, 2nd edn, Williams & Wilkins, Baltimore, pp 1086–1089

Buttaro MA, Morandi A, Rivello HG, Piccaluga F (2005a) Histology of vancomycin-supplemented impacted bone allografts in revision total hip arthroplasty. J Bone Joint Surg 87(12):1684–1687

Buttaro MA, Gimenez MI, Greco G, Barcan L, Piccaluga F (2005b) High active local levels of vancomycin without nephrotoxicity released from impacted bone allografts in 20 revision hip arthroplasties. Acta Orthop 76(3):336–340

Buttaro MA, Pusso R, Piccaluga F (2005c) Vancomycin supplemented impacted bone allografts in infected hip arthroplasty. Two stage revision results. J Bone Joint Surg 87(3):314–319

Chambers WB (1977) Pallagrosi AU 1977 Gentamicin in the treatment of staphylococcal infections. J Int Med Res 5(6):442–449

Chan YS, Ueng SWN, Wang CJ, Lee SS, Chen CY, Shin CH (2000) Antibiotic-impregnated autogenic cancellous bone grafting is an effective and safe method for the management of small infected tibial defects: a comparison study. J Trauma Inj Infect Crit Care 48(2):246–255

Coraça-Huber DC, Hausdorfer J, Fille M, Nogler M (2013) Effect of storage temperature on gentamicin release from antibiotic-coated bone chips. Cell Tissue Bank 14(3):395–400

Coraça-Huber DC, Putzer D, Fille M, Hausdorfer J, Nogler M, Kühn KD (2014a) Gentamicin palmitate as a new antibiotic formulation for mixing with bone tissue and local release. Cell Tissue Bank 15(1):139–144

Coraça-Huber D, HausDorfer J, Fille M, Nogler M, KüHn KD (2014b) Calcium carbonate powder containing gentamicin for mixing with bone grafts. Orthopaedics 37(8):e669–e672

DePaula CA, Truncale KG, Gertzman AA, Sunwoo MH, Dunn MG (2005) Effects of hydrogen peroxide cleaning procedures on bone graft osteoinductivity and mechanical properties. Cell Tissue Bank 6(4):287–298. https://doi.org/10.1007/s10561-005-3148-2

Friedlander GE (1987a) Bone banking in support of reconstructive surgery of the hip. Clin Orthop Relat Res. Dec, (225):17–21

Friedlander GE (1987b) Bone Grafts- the basic science rationale of clinical application. J Bone Joint Surg Am. Jun; 69(5):786–90

Richards F, McCall C, Cox C (1971) Gentamicin treatment of staphylococcal infections. JAMA 215(8):1297–1300

Winkler H, Stoiber A, Kaudela K, Winter F, Menschik F (2008) One stage uncemented revision of infected total hip replacement using cancellous allograft bone impregnated with antibiotics. J Bone Joint Surg 90(12):1580–1584

Witsø E, Persen L, Loseth K, Bergh K (1999) Adsoprtion and release of antibiotics from morselized cancellous bone. In vitro studies of 8 antibiotics. Acta Orthop Scand 70:298–304

Witsø E, Persen L, Benum P, Bergh K (2005) Cortical allograft as a vehicle for antibiotic delivery. Acta Orthop 76(4):481–486
Acknowledgements
The authors gratefully thank Dr. Archana Thakur, Director, G.B. Pant Hospital, New Delhi for her support and contribution to this study. We would also like to thank the Department of Microbiology, G.B. Pant Hospital, New Delhi for their help with the completion of this study.
Ethics declarations
Conflict of interest
The authors declare that they have no conflict of interest.
Informed consent
Informed Consent was obtained from the tissue donor.
Additional information
Publisher's Note
Springer Nature remains neutral with regard to jurisdictional claims in published maps and institutional affiliations.
About this article
Cite this article
Kamra, P., Lamba, A.K., Faraz, F. et al. Effect of antibiotic impregnation time on the release of gentamicin from cryopreserved allograft bone chips: an in vitro study. Cell Tissue Bank 20, 267–273 (2019). https://doi.org/10.1007/s10561-019-09765-8
Received:

Accepted:

Published:

Issue Date:
Keywords
Bone transplantation

Allograft

Gentamicin

Storage

Bone bank