Abstract
Human samples are commonly collected and long-term stored in biobanks for current and future analyses. Even though techniques for freezing human blood are well established, the storage time can compromise the cell viability as well as the yield and quality of nucleic acids (RNA and DNA) extracted from them. In this study, a protocol to obtain peripheral blood mononuclear cells (PBMCs) from 70 subjects, which were stored at − 196 °C from EDTA tubes for a long-term, was assessed. In parallel; a protocol to obtain DNA from the same subjects, which were stored at − 80 °C from citrate tubes, was also studied. Samples stored from 2008 to 2012 were studied and the results obtained showed that there were no statistically significant differences in the RNA or DNA extracted in terms of purity, integrity and functionality The freezing protocol used by the Málaga Biobank shows that viable PBMCs and DNA could be kept for a period of, at least, 10 years, with a high quality and performance. Furthermore, RNA extracted from these PBMCs presents also a good quality and performance. Therefore, the samples frozen according to the conditions of the protocols assessed in this study could be optimal for biomedical research.
Access options
Buy single article
Instant access to the full article PDF.
US$ 39.95
Tax calculation will be finalised during checkout.
Subscribe to journal
Immediate online access to all issues from 2019. Subscription will auto renew annually.
US$ 79
Tax calculation will be finalised during checkout.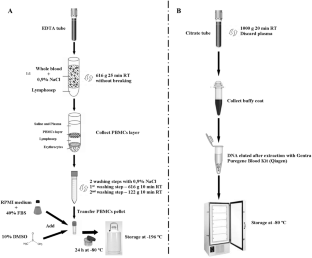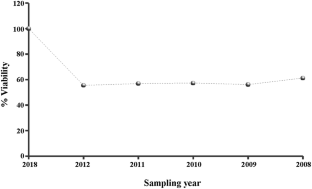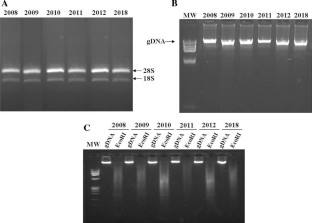 References
Abba ML et al (2017) MicroRNAs as novel targets and tools in cancer therapy. Cancer Lett 387:84–94

Adli M (2018) The CRISPR tool kit for genome editing and beyond. Nat Commun 9(1):1911

Ahn SJ et al (1996) PicoGreen quantitation of DNA: effective evaluation of samples pre-or post-PCR. Nucleic Acids Res 24:2623–2625

Arosio B et al (2014) Peripheral blood mononuclear cells as a laboratory to study dementia in the elderly. Biomed Res Int 2014:169203

Aziz N et al (2013) Value of a quality assessment program in optimizing cryopreservation of peripheral blood mononuclear cells in a multicenter study. Clin Vaccine Immunol 20:590–595

Barbaro A et al (2004) Detection of STRs from body fluid collected on IsoCode paper-based devices. Forensic Sci Int 2(146 Suppl):S127–S128

Bastard JP et al (2002) RNA isolation and purification methods. Ann Biol Clin 60(5):513–523

Best A et al (2007) Issues concerning the large scale cryopreservation of peripheral blood mononuclear cells (PBMC) for immunotherapy trials. Cryobiology 54:294–297

Bourguignon P et al (2014) Processing of blood samples influences PBMC viability and outcome of cell-mediated immune responses in antiretroviral therapy-naive HIV-1-infected patients. J Immunol Methods 414:1–10

Calleros-Basilio L et al (2016) Quality assurance of samples and processes in the spanish renal research network (REDinREN) biobank. Biopreserv Biobank 14(6):499–510

Chaisomchit S et al (2005) Stability of genomic DNA in dried blood spots stored on filter paper. Southeast Asian J Trop Med Public Health 36(1):270–273

Cheret A et al (2015) Intensive five-drug antiretroviral therapy regimen versus standard triple-drug therapy during primary HIV-1 infection (OPTIPRIM-ANRS 147): a randomised, open-label, phase 3 trial. Lancet Infect Dis 15:387–396

Consuegra I et al (2017) Isolation methods of peripheral blood mononuclear cells in spanish biobanks: an overview. Biopreserv Biobank 15(4):305–309

Coolins A et al (2017) Sensitive detection of DNA oxidation damage induced by nanomaterials. Free Radic Biol Med 107:69–76

De Souza YG et al (2013) Biobanking past, present and future: responsibilities and benefits. AIDS 27(3):303–312

Debey-Pascher S et al (2011) RNA-stabilized whole blood samples but not peripheral blood mononuclear cells can be stored for prolonged time periods prior to transcriptome analysis. J Mol Diagn 13(4):452–460

Di Francesco A et al (2015) Global changes in DNA methylation in Alzheimer's disease peripheral blood mononuclear cells. Brain Behav Immun 45:139–144

Di Prieto F et al (2011) Genomic DNA extraction from whole blood stored from 15- to 30-years at -20 & #xB0;C by rapid phenol-chloroform protocol: a useful tool for genetic epidemiology studies. Mol Cell Probes 25(1):44–48

Duale N et al (2014) Long-term storage of blood RNA collected in RNA stabilizing Tempus tubes in a large biobank-evaluation of RNA quality and stability. BMC Res Notes 7:633

Franco-Tormo MJ, Salas-Crisostomo M, Rocha NB, Budde H, Machado S, Murillo-Rodríguez E (2018) CRISPR/Cas9, the powerful new genome-editing tool for putative therapeutics in obesity. J Mol Neurosci. https://doi.org/10.1007/s12031-018-1076-4

Gauffin F et al (2009) Quantitation of RNA decay in dried blood spots during 20 years of storage. Clin Chem Lab Med 47(12):1467–1469

Gilboa E (2004) The promise of cancer vaccines. Nat Rev Cancer 4:401–411

Hara M et al (2016) Effects of storage conditions on forensic examinations of blood samples and bloodstains stored for 20 years. Leg Med 18:81–84

Harris SA et al (2014) Process of assay selection and optimization for the study of case and control samples from a phase IIb efficacy trial of a candidate tuberculosis vaccine, MVA85A. Clin Vaccine Immunol 21:1005–1011

Holden MJ et al (2009) Factors affecting quantification of total DNA by UV spectroscopy and PicoGreen fluorescence. J Agric Food Chem 57(16):7221–7226

Huang LH et al (2017) The effects of storage temperature and duration of blood samples on DNA and RNA qualities. PLoS ONE 12(9):e0184692

Ivanova NV et al (2013) Protocols for dry DNA storage and shipment at room temperature. Mol. Ecol. Resour 13(5):890–898

Jolly P et al (2016) Oligonucleotide-based systems: DNA, microRNAs DNA/RNA aptamers. Essays Biochem 60(1):27–35

Junge A et al (2002) Successful DNA typing of a urine sample in a doping control case using human mitochondrial DNA analysis. J Forensic Sci 47(5):1022–1024

Karlsson H et al (2003) Extraction of RNA from dried blood on filter papers after long-term storage. Clin Chem 49(6):979–981

Kenmochi T et al (2008) Cryopreservation of human pancreatic islets from non-heart-beating donors using hydroxyethyl starch and dimethyl sulfoxide as cryoprotectants. Cell Transplant 17:61–67

Lahiri DK et al (1993) DNA isolation by a rapid method from human blood samples: effects of MgCl2, EDTA, storagetime, and temperature on DNA yield and quality. Biochem Genet 31(7–8):321–328

Loenen WA et al (2014) Highlights of the DNA cutters: a short history of the restriction enzymes. Nucleic Acids Res 42(1):3–19

Luciano AM et al (2009) Effect of different cryopreservation protocols on cytoskeleton and gap junction mediated communication integrity in feline germinal vesicle stage oocytes. Cryobiology 59:90–95

Mlotshwa M et al (2010) Fluidity of HIV-1-specific T-cell responses during acute and early subtype C HIV-1 infection and associations with early disease progression. J Virol 84:12018–12029

Nazarpour R et al (2012) Optimization of human peripheral blood mononuclear cells (PBMCs) cryopreservation. Int J Mol Cell Med 1(2):88–93

Olivieri EH et al (2014) Biobanking practice: RNA storage at low concentration affects integrity. Biopreserv Biobank 12(1):46–52

Paskal W, Paskal AM, Dębski T, Gryziak M, Jaworowski J (2018) Aspects of modern biobank activity—comprehensive review. Pathol Oncol Res. https://doi.org/10.1007/s12253-018-0418-4

Pfeifer GP et al (2011) Next-generation sequencing: emerging lessons on the origins of human cancer. Curr Opin Oncol 23(1):62–68

Ramos TV et al (2014) Standardized cryopreservation of human primary cells. Curr Protoc Cell Biol 64:A.3I.1–A.3I.8

Riccio EK et al (2002) Cryopreservation of peripheral blood mononuclear cells does not significantly affect the levels of spontaneous apoptosis after 24-h culture. Cryobiology 45:127–134

Röder B et al (2010) Impact of long-term storage on stability of standard DNA for nucleic acid-based methods. J Clin Microbiol 48(11):4260–4262

Sambor A et al (2014) Establishment and maintenance of a PBMC repository for functional cellular studies in support of clinical vaccine trials. J Immunol Methods 409:107–116

Sanchéz AM et al (2014) Introduction to a special issue of the journal of immunological methods: building global resource programs to support HIV/AIDS clinical trial studies. J Immunol Methods 409:1–5

Sarzotti-Kelsoe M et al (2014) The Center for HIV/AIDS Vaccine Immunology (CHAVI) multi-site quality assurance program for cryopreserved human peripheral blood mononuclear cells. J Immunol Methods 409:21–30

Sastre L (2011) New DNA sequencing technologies open a promising era for cancer research and treatment. Clin Transl Oncol 13(5):301–306

Seelenfreund E et al (2014) Long term storage of dry versus frozen RNA for next generation molecular studies. PLoS ONE 9(11):e111827

Sester M et al (2010) Management of tuberculosis in HIV infection: where T-cells matter. Eur Respir J 35:475–476

Simeon-Dubach D et al (2012) Quality really matters: the need to improve specimen quality in biomedical research. J Pathol 228(4):431–433

Smith HS, Swint JM, Lalani SR, Yamal JM, de Oliveira Otto MC, Castellanos S, Taylor A, Lee BH, Russell HV (2018) Clinical application of genome and exome sequencing as a diagnostic tool for pediatric patients: a scoping review of the literature. Genet Med. https://doi.org/10.1038/s41436-018-0024-6

Smith S et al (2005) Optimal storage conditions for highly dilute DNA samples: a role for trehalose as a preserving agent. J Forensic Sci 50(5):1101–1108

Torresi J et al (2004) Neutralising antibody, CTL and dendritic cell responses to hepatitis C virus: a preventative vaccine strategy. Curr Drug Targets 5:41–56

Wang R, Mo Y, Feng L, Chien S, Tollerud DJ, Zhang Q (2012) DNA damage caused by metal nanoparticles: the involvement of oxidative stress and activation of ATM. Chem Res Toxicol 25(7):1402–1411

Wieczorek L et al (2015) Comparable antigenicity and immunogenicity of oligomeric forms of a novel, acute HIV-1 subtype C gp145 envelope for use in preclinical and clinical vaccine research. J Virol 89:7478–7493

Yang J et al (2016) The effects of storage temperature on PBMC gene expression. BMC Immunol 17:6

Zhang YH et al (1992) RNA analysis from newborn screening dried blood specimens. Hum Genet 89(3):311–314
Acknowledgements
This work has been (partially) supported by Instituto de Salud Carlos III and Red Nacional de Biobancos (Hospital Regional Universitario Carlos Haya, Málaga RD09/0076/0112 and PT13/0010/0006). The authors thank all technical personnel of the genetic platform of the Instituto de Investigación Biomédica de Málaga (IBIMA).
Ethics declarations
Conflict of interest
The authors declare that they have no conflict of interest.
Informed consent
All individuals gave written informed consent to participate in research prior to blood collection in accordance with the Andalusian Public Health System Biobank located in Málaga, and approved by the Ethics Committee of Clinical Research (CEIC) from IBIMA.
Additional information
Publisher's Note
Springer Nature remains neutral with regard to jurisdictional claims in published maps and institutional affiliations.
About this article
Cite this article
Ortega-Pinazo, J., Díaz, T., Martínez, B. et al. Quality assessment on the long-term cryopreservation and nucleic acids extraction processes implemented in the andalusian public biobank. Cell Tissue Bank 20, 255–265 (2019). https://doi.org/10.1007/s10561-019-09764-9
Received:

Accepted:

Published:

Issue Date:
Keywords
PBMCs

Whole blood

Cryopreservation

DNA

RNA

Biobank

PCR