Abstract
Tendon injury is a very common type of sports trauma, and its incidence has increased over the past decades. Surgical reconstruction with tendon allograft has been increasingly used to restore the motor function and stability of the injured site. However, the risk of disease transmission caused by allogeneic tendon transplantation has been a major problem for tissue bank researchers and clinicians. In order to eliminate the risk of disease transmission, a process of terminal sterilization is necessary. Ionizing irradiation, including gamma irradiation and electron beam irradiation is the most commonly used method for the terminal sterilization, which has been widely proved to be able to effectively inactivate the contained pathogens. Nevertheless, some accompanying damage to the mechanical and histological properties of collagen fibers in tendons will be caused. Therefore, more and more studies have begun to pay attention to the protective effect of radiation protection agents, including the radical scavengers and cross-linking agents, in the irradiation sterilization of allogeneic tendons.
Access options
Buy single article
Instant access to the full article PDF.
US$ 39.95
Tax calculation will be finalised during checkout.
Subscribe to journal
Immediate online access to all issues from 2019. Subscription will auto renew annually.
US$ 79
Tax calculation will be finalised during checkout.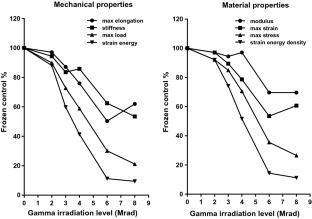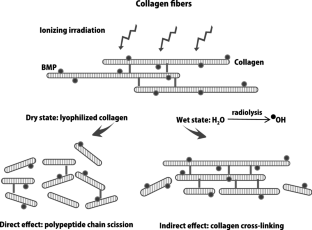 References
Akkus O, Belaney RM, Das P (2005) Free radical scavenging alleviates the biomechanical impairment of gamma radiation sterilized bone tissue. J Orthop Res 23:838–845

Amiel D, Kuiper S (1990) Experimental studies on anterior cruciate ligament grafts: histology and biochemistry. In: Daniel DM, Akeson WH, O'Connor JJ (eds) Knee ligaments: structure, function, injury, and repair. Raven Press, New York, pp 319–388

Azar FM (2009) Tissue processing: role of secondary sterilization techniques. Clin Sports Med 28:191–201

Bailey AJ (1968) Effect of ionizing radiation on connective tissue components. In: Hall DA (ed) International review of connective tissue research, vol 4. Academic Press, New York, pp 233–281

Bailey AJ, Rhodes DN, Cater CW (1964) Irradiation-induced crosslinking of collagen. Radiat Res 22:606–621

Bernier J, Hall EJ, Giaccia A (2004) Radiation oncology: a century of achievements. Nat Rev Cancer 4:737–747

Busch MP, Dodd RY (2000) NAT and blood safety: what is the paradigm? Transfusion 40:1157–1160

Centers for Disease Control and Prevention (CDC) (2003) Hepatitis C virus transmission from an antibody-negative organ and tissue donor-United States, 2000–2002. MMWR Morb Mortal Wkly Rep 52(13):273-4–276

Cerulli G, Placella G, Sebastiani E et al (2013) ACL reconstruction: choosing the graft. Joints 1(1):18–24

Cornu O, Banse X, Docquier PL, Luyckx S, Delloye C (2000) Effect of freeze-drying and gamma irradiation on the mechanical properties of human cancellous bone. J Orthop Res 18(3):426–431

Cornu O, Boquet J, Nonclercq O, Docquier PL, Van Tomme J, Delloye C, Banse X (2011) Synergetic effect of freeze-drying and gamma irradiation on the mechanical properties of human cancellous bone. Cell Tissue Bank 12(4):281–288

Cusinato R, Pacenti M, Martello T, Fattori P, Morroni M, Palù G (2016) Effectiveness of hydrogen peroxide and electron-beam irradiation treatment for removal and inactivation of viruses in equine-derived xenografts. J Virol Methods 232:39–46

De Deyne P, Haut RC (1991) Some effects of gamma irradiation on patellar tendon allografts. Connect Tissue Res 27:51–62

Desobry GE, Boyer AL (1991) Bremsstrahlung review: an analysis of the Schiff spectrum. Med Phys 18(3):497–505

Dodd RY, Notari EP, Stramer SL (2002) Current prevalence and incidence of infectious disease markers and estimated window-period risk in the American Red Cross blood donor population. Transfusion 42:975–979

Dziedzic-Goclawska A, Kaminski A, Uhrynowska-Tyszkiewicz I, Stachowicz W (2005) Irradiation as a safety procedure in tissue banking. Cell Tissue Bank 6:201–219

Elenes EY, Hunter SA (2014) Soft-tissue allografts terminally sterilized with an electron beam are biomechanically equivalent to aseptic, nonsterilized tendons. J Bone Joint Surg Am 96(16):1321–1326

Eyre DR (1990) The collagens of musculoskeletal soft tissues. In: Leadbetter WB, Buckwalter JA, Gordon SL (eds) Sports-induced inflammation. American Academy of Orthopaedic Surgeons, Park Ridge, pp 161–170

Eyre DR, Koob TJ, van Ness KP (1984) Quantitation of hydroxypyridinium crosslinks in collagen by high-performance liquid chromatography. Anal Biochem 137:380–388

Fertey J, Bayer L, Grunwald T, Pohl A, Beckmann J, Gotzmann G, Casado JP, Schönfelder J, Rögner FH, Wetzel C, Thoma M, Bailer SM, Hiller E, Rupp S, Ulbert S (2016) Pathogens Inactivated by low-energy-electron irradiation maintain antigenic properties and induce protective immune responses. Viruses 8(11):pii: E319

Fideler BM, Vangsness CT Jr, Moore T, Li Z, Rasheed S (1994) Effects of gamma irradiation on the human immunodeficiency virus. A study in frozen human bone-patellar ligament-bone grafts obtained from infected cadavera. J Bone Joint Surg Am 76(7):1032–1035

Fideler BM, Vangsness CT Jr, Lu B, Orlando C, Moore T (1995) Gamma irradiation: effects on biomechanical properties of human bone patellar tendon-bone allografts. Am J Sports Med 23(5):643–646

Fujimoto D, Akiba K-Y, Nakamura N (1977) Isolation and characterization of a fluorescent material in bovine tendon and dentin. Biochem Biophys Res Commnun 76:1124–1129

Ganestam A, Kallemose T, Troelsen A et al (2016) Increasing incidence of acute Achilles tendon rupture and a noticeable decline in surgical treatment from 1994 to 2013. A nationwide registry study of 33,160 patients. Knee Surg Sports Traumatol Arthrosc 24(12):3730–3737

Gelberman R, Goldberg V, An KN, Banes A (1988) Tendon. In: Woo SL-Y, Buckwalter JA (eds) Injury and repair of the musculoskeletal soft tissues. American Academy of Orthopaedic Surgeons, Park Ridge, pp 5–40

Gerbi BJ, Antolak JA, Deibel FC, Followill DS, Herman MG, Higgins PD, Huq MS, Mihailidis DN, Yorke ED, Hogstrom KR, Khan FM (2009) Recommendations for clinical electron beam dosimetry: supplement to the recommendations of task group 25. Med Phys 36:3239–3279

Gibbons MJ, Butler DL, Grood ES, Bylski-Austrow DI, Levy MS, Noyes FR (1991) Effects of gamma irradiation on the initial mechanical and material properties of goat bone-patellar tendon-bone allografts. J Orthop Res 9(2):209–218

Greaves L, Poole N (2008) Bringing sex and gender into women's substance use treatment programs. Subst Use Misuse 43(8–9):1271–1273

Grieb TA, Forng RY, Bogdansky S, Ronholdt C, Parks B, Drohan WN, Burgess WH, Lin J (2006) High-dose gamma irradiation for soft tissue allografts: high margin of safety with biomechanical integrity. J Orthop Res 24(5):1011–1018

Hafeez YM, Zuki AB, Yusof N, Asnah H, Loqman MY, Noordin MM, Ainul-Yuzairi MY (2005) Effect of freeze-drying and gamma irradiation on biomechanical properties of bovine pericardium. Cell Tissue Bank 6(2):85–89

Hall EJ (1985) Radiation biology. Cancer 55:2051–2057

Hawkins CL, Davies MJ (1997) Oxidative damage to collagen and related substrates by metal ion/hydrogen peroxide systems: random attack or site-specific damage? Biochim Biophys Acta 1360:84–96

Hedbom E, Heinegard D (1993) Binding of fibromodulin and decorin to separate sites on fibrillar collagens. J Biol Chem 268:27307–27312

Hiemstra H, Tersmette M, Vos AHV, Over J, van Burkel MP, de Bree H (1991) Inactivation of human immunodeficiency virus by gamma irradiation and its effects on plasma and coagulation factors. Transfusion 31(2):32–39

Hoburg AT, Keshlaf S, Schmidt T, Smith M, Gohs U, Perka C, Pruss A, Scheffler S (2010) Effect of electron beam irradiation on biomechanical properties of patellar tendon allografts in anterior cruciate ligament reconstruction. Am J Sports Med 38:1134–1140

Hoburg A, Keshlaf S, Schmidt T, Smith M, Gohs U, Perka C, Pruss A, Scheffler S (2011) Fractionation of high-dose electron beam irradiation of BPTB grafts provides significantly improved viscoelastic and structural properties compared to standard gamma irradiation. Knee Surg Sports Traumatol Arthrosc 19(11):1955–1961

Hoburg A, Keshlaf S, Schmidt T, Smith M, Gohs U, Perka C, Pruss A, Scheffler S (2015) High-dose electron beam sterilization of soft-tissue grafts maintains significantly improved biomechanical properties compared to standard gamma treatment. Cell Tissue Bank 16(2):219–226

Jones D, Huddleston P, Zobitz M, Stuart MJ (2007) Mechanical properties of patellar tendon allografts subjected to chemical sterilization. Arthroscopy 23:400–404

Kamiński A, Gut G, Marowska J, Lada-Kozłowska M, Biwejnis W, Zasacka M (2009) Mechanical properties of radiation-sterilised human Bone-Tendon-Bone grafts preserved by different methods. Cell Tissue Bank 10(3):215–219

Manjunatha HC (2014) A dosimetric study of Beta induced bremsstrahlung in bone. Appl Radiat Isot 94:282–293

McAllister DR, Joyce MJ, Mann BJ, Vangsness CT Jr (2007) Allograft update: the current status of tissue regulation, procurement, processing, and sterilization. Am J Sports Med 35(12):2148–2158

McGuire D, Hendricks S (2009) Allograft tissue in ACL reconstruction. Sports Med Arthrosc 17:224–233

Monboisse JC, Borel JP (1992) Oxidative damage to collagen. EXS 62:323–327

Monboisse JC, Gardes-Albert M, Randoux A, Borel JP, Ferradini C (1988) Collagen degradation by superoxide anion in pulse and gamma radiolysis. Biochim Biophys Acta 965:29–35

Prub A, Katthagen BD (2008) Musculoskeletal tissue banks. Legal foundations and graft safety. Orthopade 37(8):749–755 (in German)

Pruss A, Caspari G, Krüger DH, Blümel J, Nübling CM, Gürtler L et al (2010) Tissue donation and virus safety: more nucleic acid amplification testing is needed. Transpl Infect Dis 12:375–386

Rasmussen TJ, Feder SM, Butler DL, Noyes FR (1994) The effects of 4 Mrad of γ irradiation on the initial mechanical properties of bone-patellar tendon-bone grafts. Arthroscopy 10(2):188–197

Rigney PR (2004) AATB Bulletin No. 04-42 - Implementation of nucleic acid testing (NAT). http://www.aatb.org/files/2004bulletin42.pdf. Accessed 25 Sep 2007

Salehpour A, Butler DL, Proch FS et al (1995) Dose-dependent response of gamma irradiation on mechanical properties and related biochemical composition of goat bone-patellar tendon-bone allografts. J Orthop Res 13(6):898–906

Schmidt T, Hoburg A, Broziat C, Smith MD, Gohs U, Pruss A, Scheffler S (2012a) Sterilization with electron beam irradiation influences the biomechanical properties and the early remodeling of tendon allografts for reconstruction of the anterior cruciate ligament (ACL). Cell Tissue Bank 13(3):387–400

Schmidt T, Hoburg AT, Gohs U, Schumann W, Sim-Brandenburg JW, Nitsche A, Scheffler S, Pruss A (2012b) inactivation effect of standard and fractionated electron beam irradiation on enveloped and non-enveloped viruses in a tendon transplant model. Transfus Med Hemother 39(1):29–35

Schmidt T, Grabau D, Grotewohl JH, Gohs U, Pruß A, Smith M, Scheffler S, Hoburg A (2017) Does sterilization with fractionated electron beam irradiation prevent ACL tendon allograft from tissue damage? Knee Surg Sports Traumatol Arthrosc 25(2):584–594

Schwartz HE, Matava MJ, Proch FS, Butler CA, Ratcliffe A, Levy M, Butler DL (2006) The effect of gamma irradiation on anterior cruciate ligament allograft biomechanical and biochemical properties in the caprine model at time zero and at 6 months after surgery. Am J Sports Med 34(11):1747–1755

Seto A, Gatt CJ Jr, Dunn MG (2008) Radioprotection of tendon tissue via crosslinking and free radical scavenging. Clin Orthop Relat Res 466(8):1788–1795

Seto A, Gatt CJ Jr, Dunn MG (2009) Improved tendon radioprotection by combined cross-linking and free radical scavenging. Clin Orthop Relat Res 467(11):2994–3001

Sheng Z, Sentoku Y, Mima K, Zhang J, Yu W, Meyer-ter-Vehn J (2000) Angular distributions of fast electrons, ions, and Bremsstrahlung x/gamma-rays in intense laser interaction with solid targets. Phys Rev Lett 85(25):5340–5343

Sikka RS, Narvy SJ, Vangsness CT Jr (2011) Anterior cruciate ligament allograft surgery: underreporting of graft source, graft processing, and donor age. Am J Sports Med 39(3):649–655

Simonds RJ, Holmberg SD, Hurwitz RL, Coleman TR, Bottenfield S, Conley LJ, Kohlenberg SH, Castro KG, Dahan BA, Schable CA et al (1992) Transmission of human immunodeficiency virus type 1 from a seronegative organ and tissue donor. N Engl J Med 326(11):726–732

Smith RA, Ingels J, Lochemes JJ, Dutkowsky JP, Pifer LL (2001) Gamma irradiation of HIV-1. J Orthop Res 19(5):815–819

Spire B, Dormont D, Barre-Sinoussi F, Montagnier L, Chermann JC (1985) Inactivation of lympliadenopathy-associated virus by heat, gamma rays, and ultraviolet light. Lancet 1:188–189

Stramer SL, Glynn SA, Kleinman SH, Strong DM, Caglioti S, Wright DJ, Dodd RY, Busch MP, National Heart, Lung, and Blood Institute Nucleic Acid Test Study Group (2004) Detection of HIV-I and HCV infections among antibodynegative blood donors by nucleic acid-amplification testing. N Eng J Med 351(8):760–768

Tomford WW, Doppelt SH, Mankin HJ, Friedlaender GE (1983) Bone bank procedures. Clin Orthop Relat Res 174:15–21

Toritsuka Y, Shino K, Horibe S, Nakamura N, Matsumoto N, Ochi T (1997) Effect of freeze-drying or gamma-irradiation on remodeling of tendon allograft in a rat model. J Orthop Res 15(2):294–300

Vogel KG, Ordog A, Pogany G, Olah J (1993) Proteoglycans in the compressed region of human tibialis posterior tendon and in ligaments. J Orthop Res 11:68–77

West RV, Harner CD (2005) Graft selection in anterior cruciate ligament reconstruction. J Am Acad Orthop Surg 13(3):197–207

Yusof N (2000) Irradiation for sterilising tissue grafts for viral inactivation. Malays J Nucl Sci 18(1):23–35

Yusof N (2006) Radiation in tissue banking: basic science and clinical applications of irradiated tissue allografts. World Scientific Publishing Co., Ptc. Ltd, Singapore

Zbrojkiewicz D, Vertullo C, Grayson JE (2018) Increasing rates of anterior cruciate ligament reconstruction in young Australians, 2000–2015. Med J Aust 208(8):354–358
Acknowledgements
I would like to express my special thanks to my partners for the encouragement and support they gave me during my study.
Ethics declarations
Conflict of interest
The authors declare that they have no conflict of interest.
Additional information
Publisher's Note
Springer Nature remains neutral with regard to jurisdictional claims in published maps and institutional affiliations.
About this article
Cite this article
Yang, X., Feng, J., Wang, F. et al. Irradiation sterilization used for allogenetic tendon: a literature review of current concept. Cell Tissue Bank 20, 129–139 (2019). https://doi.org/10.1007/s10561-019-09756-9
Received:

Accepted:

Published:

Issue Date:
Keywords
Tendon allograft

Irradiation sterilization

Biomechanics

Histological property

Radiation protectant