Abstract
The purpose of the current study was to compare the effects of drying and fresh-freezing on human amniotic membrane (HAM) and amnion/chorion membrane (HACM) in terms of histological and structural characteristics and cytokine levels. HAM and HACM samples, obtained from six placentae, were investigated. HAM and HACM were dried, electron beam-irradiated (dehydration group; d-HAM/d-HACM), or fresh-frozen (freezing group; f-HAM/f-HACM). Luminex assay was used to assay the levels of 15 cytokines. The ultrastructural characteristics of HAM and HACM were evaluated using light and transmission electron microscopies. Total cytokine contents did not show the statistical difference between dehydration and fresh-freezing process. Significantly higher levels of total cytokines were observed in HACM than in HAM. Epidermal growth factor (EGF) level was significantly higher in d-HAM than in the other samples. The levels of most of the other growth factors were higher in HACM than in HAM, but there was no statistical difference between the dehydration process and the fresh-freezing process. The levels of the cytokines, other than the growth factors, were higher in HACM than in HAM, and higher concentrations of cytokines were observed in the freezing group than in the dehydration group. Histological examination revealed that the dehydration group had thinner tissues than the freezing group, but the structural stability, including the basement membrane, did not differ between the two groups. Microscopic structures such as microvilli and nuclei were well-preserved in the freezing group, based on the results of the transmission electron microscopy. Our dehydration process maintained the histological structure of HAM/HACM and a variety of growth factors and cytokines were identified. Especially, the HAM, processed with the dehydration method, had a higher EGF level than that processed with the fresh-freezing method. Therefore, dehydration method can be used to effectively promote wound repair.
Access options
Buy single article
Instant access to the full article PDF.
US$ 39.95
Tax calculation will be finalised during checkout.
Subscribe to journal
Immediate online access to all issues from 2019. Subscription will auto renew annually.
US$ 79
Tax calculation will be finalised during checkout.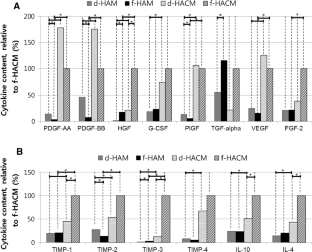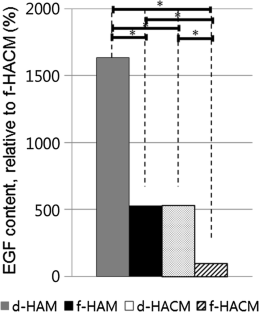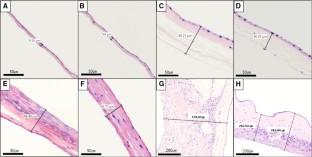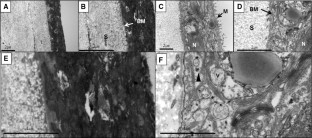 References
Adds PJ, Hunt CJ, Dart JK (2001) Amniotic membrane grafts, 'fresh' or frozen? A clinical and in vitro comparison. Br J Ophthalmol 85(8):905–907

Allen CL, Clare G, Stewart EA, Branch MJ, McIntosh OD, Dadhwal M, Dua HS, Hopkinson A (2013) Augmented dried versus cryopreserved amniotic membrane as an ocular surface dressing. PLoS ONE 8(10):e78441

Azuara-Blanco A, Pillai CT, Dua HS (1999) Amniotic membrane transplantation for ocular surface reconstruction. Br J Ophthalmol 83(4):399–402

Davis JW (1910) Skin transplantation with a review of 550 cases at the Johns Hopkins Hospital. Johns Hopkins Med J 15:307

De Rötth A (1940) Plastic repair of conjunctival defects with fetal membranes. Arch Ophthalmol 23:522–525

Dua HS, Azuara-Blanco A (1999) Amniotic membrane transplantation. Br J Ophthalmol 83(6):748–752

Dua HS, Gomes JA, King AJ, Maharajan VS (2004) The amniotic membrane in ophthalmology. Surv Ophthalmol 49(1):51–77

Hao Y, Ma DH, Hwang DG, Kim WS, Zhang F (2000) Identification of antiangiogenic and antiinflammatory proteins in human amniotic membrane. Cornea 19(3):348–352

Houlihan JM, Biro PA, Harper HM, Jenkinson HJ, Holmes CH (1995) The human amnion is a site of MHC class Ib expression: evidence for the expression of HLA-E and HLA-G. J Immunol 154(11):5665–5674

Jang IK, Ahn JI, Shin JS, Kwon YS, Ryu YH, Lee JK, Park JK, Song KY, Yang EK, Kim JC (2006) Transplantation of reconstructed corneal layer composed of corneal epithelium and fibroblasts on a lyophilized amniotic membrane to severely alkali-burned cornea. Artif Organs 30(6):424–431

Khalil A, Muttukrishna S, Harrington K, Jauniaux E (2008) Effect of antihypertensive therapy with alpha methyldopa on levels of angiogenic factors in pregnancies with hypertensive disorders. PLoS ONE 3(7):e2766

Kitagawa K, Yanagisawa S, Watanabe K, Yunoki T, Hayashi A, Okabe M, Nikaido T (2009) A hyperdry amniotic membrane patch using a tissue adhesive for corneal perforations and bleb leaks. Am J Ophthalmol 148(3):383–389

Koizumi NJ, Inatomi TJ, Sotozono CJ, Fullwood NJ, Quantock AJ, Kinoshita S (2000) Growth factor mRNA and protein in preserved human amniotic membrane. Curr Eye Res 20(3):173–177

Koob TJ, Rennert R, Zabek N, Massee M, Lim JJ, Temenoff JS, Li WW, Gurtner G (2013) Biological properties of dehydrated human amnion/chorion composite graft: implications for chronic wound healing. Int Wound J 10(5):493–500

Koob TJ, Lim JJ, Zabek N, Massee M (2015) Cytokines in single layer amnion allografts compared to multilayer amnion/chorion allografts for wound healing. J Biomed Mater Res B Appl Biomater 103(5):1133–1140

Lee SH, Tseng SC (1997) Amniotic membrane transplantation for persistent epithelial defects with ulceration. Am J Ophthalmol 123(3):303–312

Lei J, Priddy LB, Lim JJ, Massee M, Koob TJ (2017) Dehydrated human amnion/chorion membrane (dHACM) Allografts as a therapy for orthopedic tissue repair. Tech Orthop 32(3):149–157

Li DQ, Lee SB, Tseng SC (1999) Differential expression and regulation of TGF-beta1, TGF-beta2, TGF-beta3, TGF-betaRI, TGF-betaRII and TGF-betaRIII in cultured human corneal, limbal, and conjunctival fibroblasts. Curr Eye Res 19(2):154–161

Lopez-Valladares MJ, Teresa Rodriguez-Ares M, Tourino R, Gude F, Teresa Silva M, Couceiro J (2010) Donor age and gestational age influence on growth factor levels in human amniotic membrane. Acta Ophthalmol 88(6):211–216

Meller D, Tseng SC (1999) Conjunctival epithelial cell differentiation on amniotic membrane. Invest Ophthalmol Vis Sci 40(5):878–886

Meller D, Pires RT, Tseng SC (2002) Ex vivo preservation and expansion of human limbal epithelial stem cells on amniotic membrane cultures. Br J Ophthalmol 86:463–471

Paolin A, Trojan D, Leonardi A, Mellone S, Volpe A, Orlandi A, Cogliati E (2016) Cytokine expression and ultrastructural alterations in fresh-frozen, freeze-dried and γ-irradiated human amniotic membranes. Cell Tissue Bank 17(3):399–406

Prabhasawat P, Barton K, Burkett G, Tseng SC (1997) Comparison of conjunctival autografts, amniotic membrane grafts, and primary closure for pterygium excision. Ophthalmology 104(6):974–985

Rodriguez-Ares MT, López-Valladares MJ, Touriño R, Vieites B, Gude F, Silva MT, Couceiro J (2009) Effects of lyophilization on human amniotic membrane. Acta Ophthalmol 87(4):396–403

Russo A, Bonci P, Bonci P (2012) The effects of different preservation processes on the total protein and growth factor content in a new biological product developed from human amniotic membrane. Cell Tissue Bank 13(2):353–361

Sekiyama E, Nakamura T, Kurihara E, Cooper LJ, Fullwood NJ, Takaoka M, Hamuro J, Kinoshita S (2009) Novel sutureless transplantation of bioadhesive-coated, freeze-dried amniotic membrane for ocular surface reconstruction. Invest Ophthalmol Vis Sci 48(4):1528–1534

Tseng SC, Prabhasawat P, Lee SH (1997) Amniotic membrane transplantation for conjunctival surface reconstruction. Am J Ophthalmol 124(6):765–774

Tseng SC, Prabhasawat P, Barton K, Gray T, Meller D (1998) Amniotic membrane transplantation with or without limbal allografts for corneal surface reconstruction in patients with limbal stem cell deficiency. Arch Ophthalmol 116(4):431–441

Tseng SC, Li DQ, Ma X (1999) Suppression of transforming growth factor-beta isoforms, TGF-beta receptor type II, and myofibroblast differentiation in cultured human corneal and limbal fibroblasts by amniotic membrane matrix. J Cell Physiol 179(3):325–335

van Herendael BJ, Oberti C, Brosens I (1978) Microanatomy of the human amniotic membranes. A light microscopic, transmission, and scanning electron microscopic study. Am J Obstet Gynecol 131(6):872–880

von Versen-Höynck F, Syring C, Bachmann S, Mo¨ller DE (2004) The influence of different preservation and sterilization steps on the histological properties of amnion allografts–light and scanning electron microscopic studies. Cell Tissue Bank 5(1):45–56
Acknowledgements
We thank all the patients, their families, the investigators, and the medical staff.
Ethics declarations
Conflict of interest
The authors declare that they have no conflict of interest.
Ethical approval
The study was approved by the Institutional Review Board of Kyung Hee University Hospital at Gangdong [2017-05-018].
Informed consent
Informed consent was obtained from all human tissue donors.
Additional information
Publisher's Note
Springer Nature remains neutral with regard to jurisdictional claims in published maps and institutional affiliations.
About this article
Cite this article
Kim, T.G., Do Ki, K., Lee, MK. et al. Comparison of cytokine expression and ultrastructural alterations in fresh-frozen and dried electron beam-irradiated human amniotic membrane and chorion. Cell Tissue Bank 20, 163–172 (2019). https://doi.org/10.1007/s10561-019-09748-9
Received:

Accepted:

Published:

Issue Date:
Keywords
Amniotic membrane

Chorion

Growth factor

Drying

Ultrastructure