Abstract
Mesenchymal stem cells derived from adipose tissue have the capacity to differentiate into endodermal, mesoderm and ectodermal cell lineages in vitro, which are an ideal engraft in tissue-engineered repair. In this study, mouse adipose-derived stem cells (ADSCs) were isolated from subcutaneous fat. The markers of ADSCs, CD13, CD29, CD44, CD71, CD73, CD90, CD105, CD166, Nestin, GFAP and MAP-2 were detected by immunofluorescence assays. The ADSCs were cultured in cocktail factors (including ATRA, GGF-2, bFGF, PDGF and forskolin) for neurogenic differentiation. The neurogenic cells markers, Nestin, GFAP and MAP-2 were analyzed using immunofluorescence and real-time PCR after dramatic changes in morphology. Neurogenic cells from ADSCs were autologous transplanted into the mouse of spinal cord injury for observation neurogenic cells colonization in spinal cord. The result demonstrated that the mouse ADSCs were positive for the CD13, CD29, CD44, CD71, CD73, CD90, CD105 and CD166 but negative for neurogenic cell markers, MAP-2, GFAP and Nestin. After neurogenic differentiation, the neurogenic cells were positive for neurogenic cell special markers, gene expression level showed a time-lapse increase, and the cells were successful colonized into spinal cord. In conclusion, our research shows that a population of neuronal cells can be specifically generated from ADSCs and that induced cells may allow for participation in tissue-repair.
Access options
Buy single article
Instant access to the full article PDF.
USD 39.95
Price includes VAT (USA)
Tax calculation will be finalised during checkout.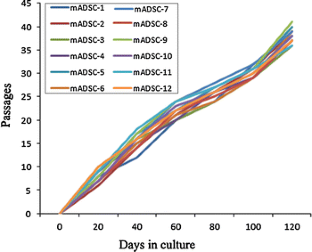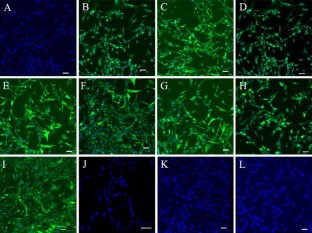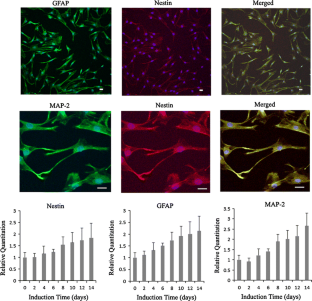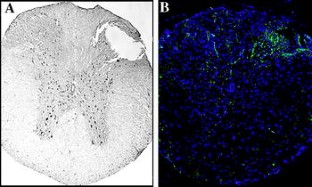 References
Banas A (2012) Purification of adipose tissue mesenchymal stem cells and differentiation toward hepatic-like cells. Methods Mol Biol 826:61–72. doi:10.1007/978-1-61779-468-1_6

Banas A, Teratani T, Yamamoto Y, Tokuhara M, Takeshita F, Osaki M, Kawamata M, Kato T, Okochi H, Ochiya T (2008) IFATS collection: in vivo therapeutic potential of human adipose tissue mesenchymal stem cells after transplantation into mice with liver injury. Stem Cells 26(10):2705–2712. doi:10.1634/stemcells.2008-0034

Black IB, Woodbury D (2001) Adult rat and human bone marrow stromal stem cells differentiate into neurons. Blood Cells Mol Dis 27(3):632–636. doi:10.1006/bcmd.2001.0423

Chomczynski P, Sacchi N (1987) Single-step method of RNA isolation by acid guanidinium thiocyanate-phenol-chloroform extraction. Anal Biochem 162(1):156–159. doi:10.1006/abio.1987.9999

Chung BH, Lim SW, Doh KC, Piao SG, Heo SB, Yang CW (2013) Human adipose tissue derived mesenchymal stem cells aggravate chronic cyclosporin nephrotoxicity by the induction of oxidative stress. PLoS One 8(3):e59693. doi:10.1371/journal.pone.0059693

Dezawa M, Kanno H, Hoshino M, Cho H, Matsumoto N, Itokazu Y, Tajima N, Yamada H, Sawada H, Ishikawa H, Mimura T, Kitada M, Suzuki Y, Ide C (2004) Specific induction of neuronal cells from bone marrow stromal cells and application for autologous transplantation. J Clin Investig 113(12):1701–1710. doi:10.1172/JCI20935

Fleming JE Jr, Haynesworth SE, Cassiede P, Baber MA, Caplan AI (1998) Monoclonal antibody against adult marrow-derived mesenchymal stem cells recognizes developing vasculature in embryonic human skin. Dev Dyn 212(1):119–132. doi:10.1002/(SICI)1097-0177(199805)212:1<119:AID-AJA11>3.0.CO;2-2

Gimble JM, Katz AJ, Bunnell BA (2007) Adipose-derived stem cells for regenerative medicine. Circ Res 100(9):1249–1260. doi:10.1161/01.RES.0000265074.83288.09

Herberg S, Fulzele S, Yang N, Shi X, Hess M, Periyasamy-Thandavan S, Hamrick MW, Isales CM, Hill WD (2013) Stromal cell-derived factor-1 beta potentiates bone morphogenetic protein-2-stimulated osteoinduction of genetically engineered bone marrow-derived mesenchymal stem cells in vitro. Tissue Eng Part A 19(1–2):1–13. doi:10.1089/ten.TEA.2012.0085

Ho IA, Toh HC, Ng WH, Teo YL, Guo CM, Hui KM, Lam PY (2013) Human bone marrow-derived mesenchymal stem cells suppress human glioma growth through inhibition of angiogenesis. Stem Cells 31(1):146–155. doi:10.1002/stem.1247

Kingham PJ, Kalbermatten DF, Mahay D, Armstrong SJ, Wiberg M, Terenghi G (2007) Adipose-derived stem cells differentiate into a Schwann cell phenotype and promote neurite outgrowth in vitro. Exp Neurol 207(2):267–274. doi:10.1016/j.expneurol.2007.06.029

Levy YS, Merims D, Panet H, Barhum Y, Melamed E, Offen D (2003) Induction of neuron-specific enolase promoter and neuronal markers in differentiated mouse bone marrow stromal cells. J Mol Neurosci 21(2):121–132. doi:10.1385/JMN:21:2:121

Lin BN, Whu SW, Chen CH, Hsu FY, Chen JC, Liu HW, Liou HM (2013) Bone marrow mesenchymal stem cells, platelet-rich plasma and nanohydroxyapatite-type I collagen beads were integral parts of biomimetic bone substitutes for bone regeneration. J Tissue Eng Regen Med 7(11):841–854. doi:10.1002/term.1472

Majumdar MK, Thiede MA, Mosca JD, Moorman M, Gerson SL (1998) Phenotypic and functional comparison of cultures of marrow-derived mesenchymal stem cells (MSCs) and stromal cells. J Cell Physiol 176(1):57–66. doi:10.1002/(SICI)1097-4652(199807)176:1<57:AID-JCP7>3.0.CO;2-7

Martin J, Helm K, Ruegg P, Varella-Garcia M, Burnham E, Majka S (2008) Adult lung side population cells have mesenchymal stem cell potential. Cytotherapy 10(2):140–151. doi:10.1080/14653240801895296

Moon MH, Kim SY, Kim YJ, Kim SJ, Lee JB, Bae YC, Sung SM, Jung JS (2006) Human adipose tissue-derived mesenchymal stem cells improve postnatal neovascularization in a mouse model of hindlimb ischemia. Cell Physiol Biochem 17(5–6):279–290. doi:10.1159/000094140

O'Driscoll L, Daly C, Saleh M, Clynes M (1993) The use of reverse transcriptase-polymerase chain reaction (RT-PCR) to investigate specific gene expression in multidrug-resistant cells. Cytotechnology 12(1–3):289–314

Oh JS, Kim KN, An SS, Pennant WA, Kim HJ, Gwak SJ, Yoon DH, Lim MH, Choi BH, Ha Y (2011) Cotransplantation of mouse neural stem cells (mNSCs) with adipose tissue-derived mesenchymal stem cells improves mNSC survival in a rat spinal cord injury model. Cell Transplant 20(6):837–849. doi:10.3727/096368910X539083

Park BW, Kang EJ, Byun JH, Son MG, Kim HJ, Hah YS, Kim TH, Mohana Kumar B, Ock SA, Rho GJ (2012) In vitro and in vivo osteogenesis of human mesenchymal stem cells derived from skin, bone marrow and dental follicle tissues. Differentiation 83(5):249–259. doi:10.1016/j.diff.2012.02.008

Pittenger MF, Mackay AM, Beck SC, Jaiswal RK, Douglas R, Mosca JD, Moorman MA, Simonetti DW, Craig S, Marshak DR (1999) Multilineage potential of adult human mesenchymal stem cells. Science 284(5411):143–147

Saiki RK, Gelfand DH, Stoffel S, Scharf SJ, Higuchi R, Horn GT, Mullis KB, Erlich HA (1988) Primer-directed enzymatic amplification of DNA with a thermostable DNA polymerase. Science 239(4839):487–491

Sato Y, Araki H, Kato J, Nakamura K, Kawano Y, Kobune M, Sato T, Miyanishi K, Takayama T, Takahashi M, Takimoto R, Iyama S, Matsunaga T, Ohtani S, Matsuura A, Hamada H, Niitsu Y (2005) Human mesenchymal stem cells xenografted directly to rat liver are differentiated into human hepatocytes without fusion. Blood 106(2):756–763. doi:10.1182/blood-2005-02-0572

Sinclair K, Yerkovich ST, Chambers DC (2013) Mesenchymal stem cells and the lung. Respirology 18(3):397–411. doi:10.1111/resp.12050

Strem BM, Hicok KC, Zhu M, Wulur I, Alfonso Z, Schreiber RE, Fraser JK, Hedrick MH (2005) Multipotential differentiation of adipose tissue-derived stem cells. Keio J Med 54(3):132–141

Tateishi-Yuyama E, Matsubara H, Murohara T, Ikeda U, Shintani S, Masaki H, Amano K, Kishimoto Y, Yoshimoto K, Akashi H, Shimada K, Iwasaka T, Imaizumi T (2002) Therapeutic angiogenesis for patients with limb ischaemia by autologous transplantation of bone-marrow cells: a pilot study and a randomised controlled trial. Lancet 360(9331):427–435. doi:10.1016/S0140-6736(02)09670-8

Tse HF, Kwong YL, Chan JK, Lo G, Ho CL, Lau CP (2003) Angiogenesis in ischaemic myocardium by intramyocardial autologous bone marrow mononuclear cell implantation. Lancet 361(9351):47–49. doi:10.1016/S0140-6736(03)12111-3

Villanueva S, Carreno JE, Salazar L, Vergara C, Strodthoff R, Fajre F, Cespedes C, Saez PJ, Irarrazabal C, Bartolucci J, Figueroa F, Vio CP (2013) Human mesenchymal stem cells derived from adipose tissue reduce functional and tissue damage in a rat model of chronic renal failure. Clin Sci (Lond) 125(4):199–210. doi:10.1042/CS20120644

Yan ZJ, Hu YQ, Zhang HT, Zhang P, Xiao ZY, Sun XL, Cai YQ, Hu CC, Xu RX (2013) Comparison of the neural differentiation potential of human mesenchymal stem cells from amniotic fluid and adult bone marrow. Cell Mol Neurobiol 33(4):465–475. doi:10.1007/s10571-013-9922-y

Yoshimura H, Muneta T, Nimura A, Yokoyama A, Koga H, Sekiya I (2007) Comparison of rat mesenchymal stem cells derived from bone marrow, synovium, periosteum, adipose tissue, and muscle. Cell Tissue Res 327(3):449–462. doi:10.1007/s00441-006-0308-z

Zuk PA, Zhu M, Mizuno H, Huang J, Futrell JW, Katz AJ, Benhaim P, Lorenz HP, Hedrick MH (2001) Multilineage cells from human adipose tissue: implications for cell-based therapies. Tissue Eng 7(2):211–228. doi:10.1089/107632701300062859
Additional information
Yong Zhao and Hui Jiang have contributed equally to this work.
About this article
Cite this article
Zhao, Y., Jiang, H., Liu, Xw. et al. Neurogenic differentiation from adipose-derived stem cells and application for autologous transplantation in spinal cord injury. Cell Tissue Bank 16, 335–342 (2015). https://doi.org/10.1007/s10561-014-9476-3
Received:

Accepted:

Published:

Issue Date:
Keywords
Adipose-derived stem cells

Neurogenic differentiation

Autologous transplantation